Larry Fitzgerald Jr. needs no introduction to the fans of football. Those who have been on the internet know exactly who he is. He is an American football receiver playing with Arizona Cardinals.
Not only is he a versatile player, but he is also, in fact, considers one of the greatest receivers in NFL history.
Thus it should not come as a surprise when we tell you that he played Pro Bowl 11 times, which was the most played by the Cardinals. So how did a Vikings ballboy turned to be one of the greatest NFL players?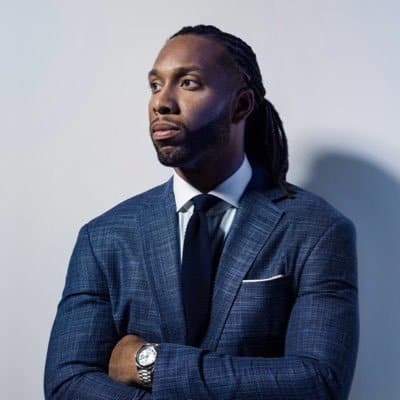 Before going into detail, let us look at the quick facts of Larry Fitzgerald Jr.
Quick Facts
Full Name
Larry Darnell Fitzgerald Jr
Birth Date
August 31, 1983
Birth Place
Minneapolis, Minnesota
Age
39 Years Old
Nick Name
Fitz
Religion
Christianity
Nationality
American
Ethnicity
Black
Alma Mater
Academy of Holy Angels, Minnesota
University of Pittsburgh
Horoscope
Virgo
Father's Name
Larry Fitzgerald
Mother's Name
Carol Fitzgerald
Siblings
Marcus Fitzgerald
Height
6 feet 3 inches
Weight
100 kg
Relationship Status
Unmarried
Girlfriend
Melissa Blakesley

(former), Angela Nazario (former)

Children
Devine Fitzgerald
Apollo Fitzgerald
Awards

Fred Biletnikoff Award (2003)
Walter Camp Player of the Year (2003)
Best NFL Players ESPY (2009)
Art Rooney Award (2015)
Walter Payton NFL Man of the Year (2017)
Anything but Ordinary Player of the Year (2020)

Net Worth
$50 million
Social Media
Facebook, Instagram, Twitter
Merch
Arizona Cardinal's jersey, Plush Doll, Card Plaque, Rookie Card,

2004 Upper Deck Rookie Premiere Card PGI 10

Last Update
March, 2023
Larry Fitzgerald Jr. | Early Life, Family, and Education
Larry Fitzgerald Jr was born to his parents Carol and Larry Fitzgerald, on August 31, 1983. He was born in St. Joseph Hospital in St. Paul. and brought up in Minnesota. Larry also has a younger brother Marcus.
His father was a sportswriter and television personality who covered Larry Jr in Super Bowl XLIII.
Furthermore, he is the first reporter to cover his son during a game. Junior lost his mother in 2003 due to a brain hemorrhage, who was being treated for breast cancer during that time.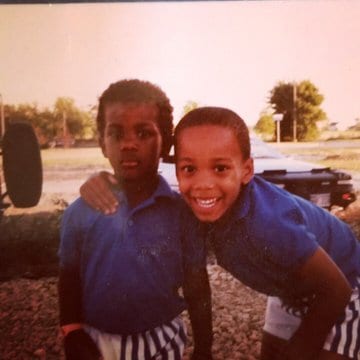 Growing up, he attended the Academy of Holy Angels in Richfield, Minnesota, where he played high school football.
Being an exceptional player, he earned All-America and All-State awards. Despite his achievements, he did not meet the National Collegiate Athletic Association (NCAA) requirements due to his grades.
Thus he joined Valley Forge Military Academy in Pennsylvania to improve his grades for a year. He described his time in the academy as "lonely" and "homesick" in an interview.
Larry attended the University of Pittsburg in 2002 to get a degree in Communication. Larry had promised her mother to complete his education.
But it was only in 2016 that he graduated as he left university for the 2003 NFL Draft.
You may also be interested in Colt Brennan.
College Career
During his brief years in college, he played for the Pittsburgh Panthers football. Furthermore, he was considered one of the best wide receivers during his time in college.
In fact, in 2013, his jersey number 1 was retired from the university, and he was the ninth player to join Pitt Retired Jerseys.
During his freshman year, he proved himself to be an asset to the team and qualified for the 2002 Insight Bowl game. Overall he led the Big East conference with 1,005 yards and twelve touchdowns for the 2002 season.
His sophomore year was even more extraordinary. For his exceptional performances, he was awarded the best player in NCAA 2003, the best wide receiver in college football, the 2003 Walter Camp Award, and the Touchdown Club of Columbus's Chic Harley Award.
Moreover, he made it to the 2003 All-America selection and was runner-up for the Heisman Trophy.
During his two years in college, he played 26 games with rushed 2,677 yards. Unsurprisingly, he is the first player in college history to rush 1,000 yards in back-to-back receiving seasons.
Besides, he also broke the record of Antonio Bryant's 13 games with at least 100 yards in 14 games.
Professional Career
Larry's college journey was cut short when he petitioned the NFL for the 2004 NFL Draft. His two years combined with Valley Forge Military Academy allowed him to enter the draft.
Larry was drafted third in the 2004 NFL Draft by the Arizona Cardinals and has been with the team. Therefore, Larry Fitzgerald Jr. has been synonymous with Arizona Cardinals.
Larry made his NFL debut on September 12 against St. Louis Rams. He was the youngest player to set a record for scoring two touchdowns in a single game at the of 21.
He held this record till 2010 when Aaron Hernandez broke it in 2010.
After being named NFL's all-star game in 2005, he made his Pro Bowl debut in 2006. At the end of the 2007 season, he signed four years contract with Arizona Cardinals worth $40 million.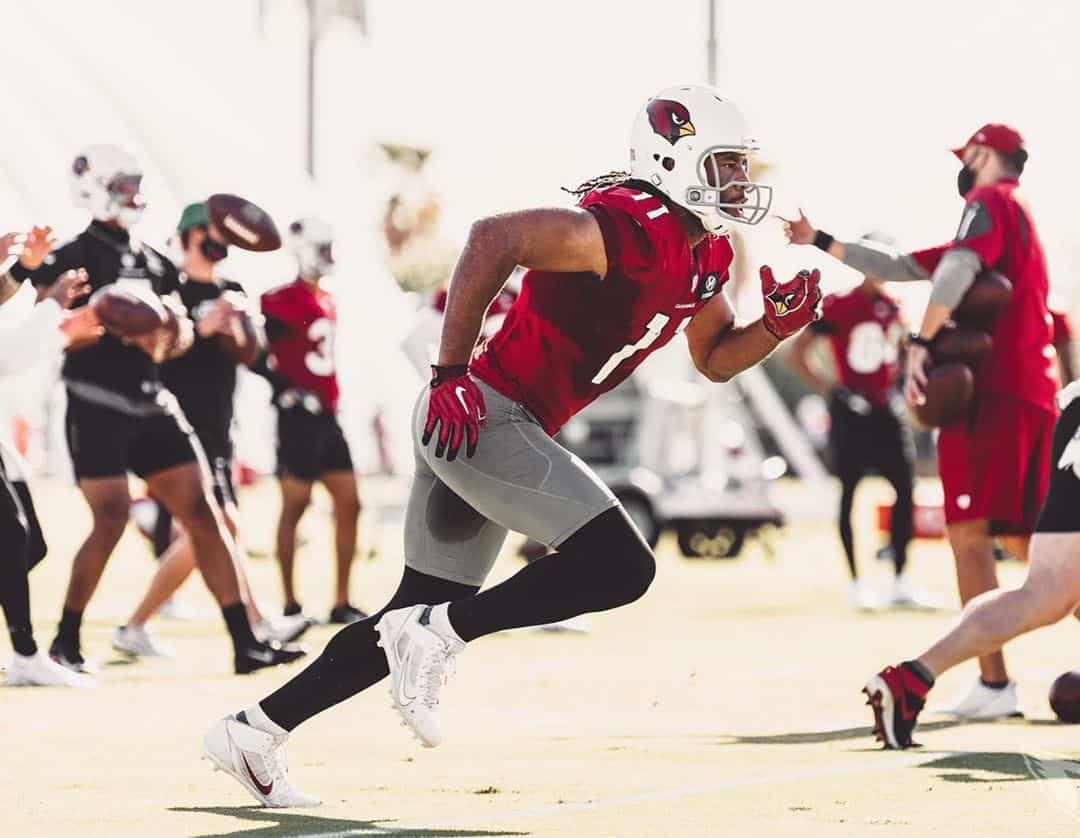 One of the most successful seasons for Fitzgerald has to be 2008. Not only did he have a legendary performance but also had a record-breaking performance. Fitzgerald finished the regular season with 1,431 yards and made it to the playoffs.
For his performance in 2009, he made it to the third consecutive year of the Pro Bowl.
Fitzgerald has been one steady rock for Arizona Cardinals.
Besides, he has continued to lead the team ever since. He has recorded over five 1,000 receiving yards and over 70+ reception seasons.
Even as a man in his late 30s, he has been running in the yards and leading the team. Although there were rumors that he would retire in 2020, in January 2020, he signed one year contract for the 2020 season.
You may also be interested in Kyle Sloter.
Highlights and Achievements
Fred Biletnikoff Award, the most outstanding receiver (2003)
Big East Offensive Player of the Year (2003)
Unanimous All-American (2003)
First-team All-Big East (2003)
Biletnikoff Award (2003)
Walter Camp Player of the Year, the most outstanding player (2003)
Best NFL Players ESPY (2009)
Art Rooney Award (2015)
Walter Payton NFL Man of the Year (2016)
Anything but Ordinary Player of the Year (2020)
11× Pro Bowl (2005, 2007–2013 & 2015–2017)
2× First-team All-Pro (2008 & 2015)
Larry Fitzgerald | Playing Style and Stats
Starting since the early days of Fitzgerald, he has always been that solid hefty guy that always stood out. As of now, he has improvised his skills and never let those broad statures of his backlash him.
Furthermore, Larry creates his own paces making acrobatic catches. Altogether, his most prized possession is his hands which have an ideal blend of strength and softness.
Speaking of his recent year statistics in 2020, Fitzgerald has maintained 1,432 receptions with 17,492 receiving yards. Furthermore, he has posted 12.2 yards per reception and 121 receiving touchdowns.
What's more interesting is his career drops record. Until today, we can figure out that he has more tackles than his drops. As for the count, he has only dropped 29 passes in his NFL career, while his career tackles are 39.
Career Stats in Numbers
| | |
| --- | --- |
| Receptions: | 1,432 |
| Receiving yards: | 17,492 |
| Yards per reception: | 12.2 |
| Receiving touchdowns: | 121 |
Larry Fitzgerald | Injury
Unlike every athlete, no matter how fit and healthy you may occur, an injury is unpredictable.
Similar case Larry faced a groin injury after his first ankle injury in 2014 which has kept him off the games for time being. Before his injury as well, Fitzgerald had appeared on the injured list due to Covid.
In the beginning, Larry Fitzgerald was put on the reserve/COVID-19 list on Thanksgiving and had symptoms two days after. As explained by Larry, his 13-day quarantine was quite scary vibes.
"I think the scariest part, and I think anybody that's had it, is nobody really can give you any answers. I mean, there's no real answer, so your mind kind of wonders and you're sitting at home, and you're watching TV and you see the cases. You see the deaths across the nation. So, that kind of thing really puts put life in perspective, and you really appreciate the things that you do have in life."
-Larry Fitzgerald
Injury 2021
As Fitzgerald was put aside with a groin injury in January 2021, he missed a game of his career.
Altogether, he has only nine games missed so far in his career due to his injuries sustained. Therewith, he has been inactive for two weeks due to his injury.
Larry Fitzgerald Jr. | Relationship
Larry has highlighted many news headlines for his achievements and also for his love affairs.
He was in a relationship with Angela Nazario, a former cheerleader who was 13 years older than him.
Regardless of the age difference, they were involved in the year 2006. The couple together gave birth to Devine Fitzgerald, Larry's first son.
In 2008, Larry was charged with domestic violence after he grabbed Angela by her hair and tossed her across the room.
Larry was ordered to stay away from Angela and Devine, who were 11 months old at that time. Shortly after, the couple broke up.
It was reported that Larry was dating Melissa Blakesley, a social media influencer, in the early 2010s. They were very open about their relationship and were spotted many times during public events.
On April 23, 2013, Melissa gave birth to Larry's second son Apollo. After going through many ups and downs, they eventually broke up.
From time to time, Melissa has thrown shades at him on social media. Also, it is said that Larry is not the father of two but three sons; as cited on his official site.
But we only found Devine's and Apollo's names while there is no information on the third one.
Read more on Melissa Blakesley here >>
Larry Fitzgerald Jr. | Net Worth
It is without a doubt that Larry lives a comfortable life. In 2011, he signed an eight-year deal worth $120 million.
In 2014, his base salary was $11.75 million. Furthermore, this deal was ranked the second largest ever to be handed out to a non-quarterback.
As a high-demand public figure, he has endorsement deals with Nike, Nokia, Lenovo, and the University of Phoenix.
In 2014, Forbes ranked him 89 among The World's Highest-Paid Athletes. According to celebritynetworth.com, as of 2023,
Fitzgerald has a net worth of $50 million.
Having a massive amount of wealth, in January 2020, Fitzgerald became the partial team owner of Phoenix Sun. After years of negotiation, he bought shares in the Phoenix Suns.
Fitzgerald now will take the role of an advisor for Sun's business and player advisor for the Suns and Phoenix Mercury.
Pulling in $18 million for his Paradise Valley, AZ state
The 15 years veteran player, Larry Fitzgerald made the third-largest sum for a house in Arizona history as per Phoenix Business Journal.
Well, it cannot be taken as a surprise because the mansion itself is situated n the state's most expensive ZIP code.
Fitzgerald's 13,929 square-foot mansion, comprising four bedrooms and seven bathrooms in Paradise Valley got sold for $18 million in November 2019.
He bought the home in 2015 for $3 million previously which was allocated on three acres of land near Camelback Mountain. The castle also had a dusted lawn, basketball court, swimming pool, and a separate guest house.
However, the buyer's name still remains unknown but yes, the deal was cracked in a single day with someone linked with a San Francisco accounting firm.
Larry Fitzgerald Jr. | Personality
Larry is a wonderful father and son. He offers protection, warmth, and love to people close to him. His positive energy and infectious big smile have brought many fans in awe.
Besides fulfilling the promise of her mother to complete his degree, he recalls that he wants to make his children aware of education's value and importance.
Moreover, he wants to raise his kids to believe that having is degree is much more important than having money in the bank.
Ryan Lindley describes him as someone who always takes care of his team. He is as normal as one can be and a very down-to-earth kind of person.
Larry loves to goof around, but when it comes to the game, he is very focused. Moreover, he is quite respectful of those who are around him.
Larry Jr. is a firm believer in God and believes the road to success is faith in God, hard work, and a positive mindset.
Rather than just being a sympathetic ear, he wants to be in service of those in need. This led him to establish 'Larry Fitzgerald First Down Fund' and 'Carol Fitzgerald Memorial Fund.'
Eulogy At John McCain Service
More than just an athlete, Larry Fitzgerald has always been a step ahead in every piece of social work.
Back in 2018, Larry delivered a eulogy at the service for the late Senator John McCain held at North Phoenix Baptist Church.
To illustrate, McCain had represented Arizona in the U.S. Senate since 1987 and passed away after ending treatment for brain cancer.
Therefore, Fitzgerald gave short but heart-touching words bidding farewell to his friend and honored to get to know him.
"McCain didn't judge individuals based on the color of their skin, their gender, their backgrounds, their political affiliations, or their bank accounts. I'm thankful that through these moments, (we had) the opportunity to share our lives and more importantly our stories. While from very different worlds, we developed a meaningful friendship."
-Larry Fitzgerald
Philanthropic Work and Foundation
Larry established the 'Larry Fitzgerald Foundation' which aimed to promote reading facilities and technology access for K-12 youths to put a step forward in every single possibility of paving the path to success.
The organization also comes forward in supporting breast cancer survivors and showers their efforts to prevent this illness.
Under his foundation, Larry organized a program and named it, "the Larry Fitzgerald First Down Fund" which formulated activities for kids during the summer and supports health-related organizations.
Besides, it also supports families and kids during the crisis. They have also donated sports equipment and tablets to Minnaeopolis schools and the Parks and Recreation football program.
In the previous year, the Larry Fitzgerald Foundation has made grants of over $ 1 million and has rendered over 100 grants to favor reading and optimum use of technology, improving the educational experience for thousands of K-12 students.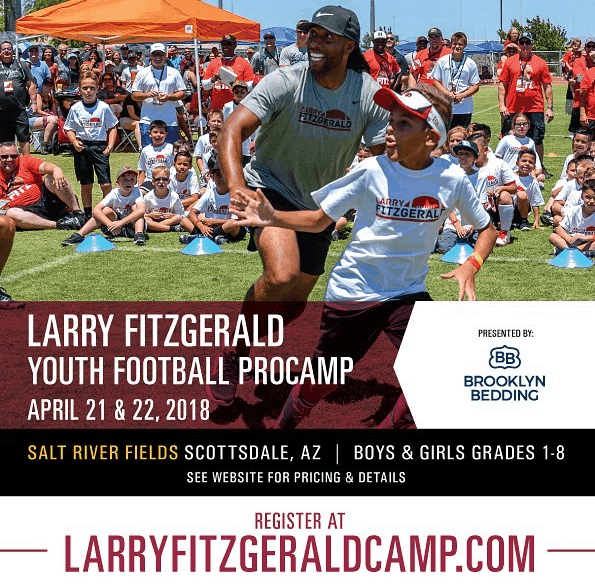 In 2003, he established Carol Fitzgerald Memorial Fund, alongside his father, to honor his late mother's memory.
It is a not-for-profit organization, which raises money for breast cancer-HIV research and urban education. It also holds youth football camps every summer.
Every October, which is breast cancer awareness month, he makes donations to breast cancer organizations.
For his efforts, he won the Arthur S. Arkush Humanitarian Award in 2012. This award is presented to NFL players who contribute to the community and charitable organizations.
He has traveled to Africa, India, Thailand, and the Philippines, supporting economic development projects during the 2011, 2012, and 2014 offseasons.
Larry also appeared as a spokesperson for the NFL's A Crucial Catch campaign.
Social Media Presence
Larry Fitzgerald regularly posts on his social media. As of 2020, he has 787k followers on Instagram, 990k likes on Facebook, and 2.2 million followers on Twitter.
Larry Fitzgerald | FAQs
Did Larry Fitzgerald retire?
Although, the news of Fitzgerald's retirement has been circulating around the Internet. However, the athlete, himself hasn't Publicized his decision on that topic.
Having said this, most people have been sure that he might retire now since his 17th NFL career came to an end not so long ago.
What is the jersey number of Larry Fitzgerald?
Larry Fitzgerald features in jersey number 11 for the Arizona Cardinals.
What is Larry Fitzgerald's 40-yard dash time?
Larry Fitzgerald's 40-yard dash time is 4.63 seconds.
Has Larry Fitzgerald won a Super Bowl?
Although Larry Fitzgerald has featured in the Super Bowl games, he hasn't won one to date.
Even Larry himself had stated how his lone dream to win a Super Bowl game had not been achieved.