If you are an avid football fan, then you must have heard the name Maxx Williams multiple times. Why would you not? He is one of the prominent sports personalities to get such fame in the states.
Maxx Williams is an American Professional football player who plays in the Arizona Cardinals' tight end position. Before the Cardinals, the young player played at the University of Minnesota and Baltimore Ravens.
So, the real question that has been hovering around is his present condition at the moment. Like, where is he? And how is he doing?
If you are eager to know his current whereabouts and his life, then make sure to read this article till the end.
Quick Facts about Maxx Williams
Full Name
Maxx Williams
Birth Date
April 12, 1994
Birth Place
Waconia, Minnesota
Nick Name
Unknown
Religion
Unknown
Nationality
American
Ethnicity
White
Education
Waconia High School

University of Minnesota

Horoscope
Aries
Father's Name
Brian Williams
Mother's Name
Rochelle Williams
Siblings
Unknown
Age
29 Years Old
Height
6 ft 4 in (1.93 m)
Weight
252 lb (114 kg)
Hair Color
Reddish Brown
Eye Color
Dark Brown
Body Measurement
Unknown
Profession
Football Player
Position
Tight end
Active Years
2015-Present
Sexual Orientation
Straight
Marital Status
Single
Wife
No
Kids
No
Net Worth
$2 Million
Social Media
Twitter
Last Update
November, 2023
Maxx Williams – Early Life, Family, and Education
Maxx Williams was born on April 12, 1994, somewhere in Waconia, Minnesota. He is the son of parents Brian Williams and Rochelle Williams.
The American footballer spent his childhood in Waconia, creating beautiful memories with his parents and grandparents.
Born to a sports family from an early age, Maxx showed a keen interest in sports activities. Brian Williams is a former American professional football player in the NFL(National Football League).
He played college football at the University of Minnesota and played for New York Giants from 1989 to 1999.
Williams's grandfather, Robert Williams, is a former American football player in the NFL. He played for the University of Notre Dame.
He is a three-time championship with G.A.R. Memorial High School. Moreover, Robert was selected by Chicago Bears in the 1959 NFL Draft.
Rochelle Williams, Mother of Maxx Williams, served as a volleyball player in Minnesota. She also received the Big Ten Medal of Honor award is 1988, the second Gopher volleyball player ever to receive the award.
Maxx's uncle Ron Goetz also played football at Minnesota and the American world league championship.
According to his academic records, Williams attended Waconia High School for a high schooling degree. Later on, he joined the University of Minnesota to complete his university degree.
Furthermore, we do not have any information regarding the subjects, or programs Maxx attended at his university. However, the young football player started his career in football after joining the University of Minnesota.
Maxx Williams – Age, Height, and Physical Appearances
After research, we've found quite a lot about the NFL football player. As of now, Maxx is 26 years now.
According to horoscope charts, he belongs to the Aries sun sign. And from what we know, the people of this sign are known to be gifted with a direct, fiery nature that makes them one step ahead of the crowd. Moreover, Williams somewhere matches with this character.
Maxx's Haircut > Your Haircut pic.twitter.com/58bA2oy2dt

— Arizona Cardinals (@AZCardinals) December 20, 2020
The young player is also blessed when it comes to height and weight. He is a tall boy with a stunning and remarkable height of 6 ft 4 in (1.93 m) and weighing around 252 lb (114 kg).
Very strict with his physical fitness and diet, Williams possesses a stunning body appearance among other players of his age. Unfortunately, his body measurements are still unknown to the public.
Maxx's physical look is incomplete with Reddish Brown hair color and a brown pair of eyes, which complement his smooth skin, not to mention his muscular body structure.
Despite much research, we cannot uncover Williams's shoe size, hobbies, and many more. With American nationality, the young player belongs to the white ethnicity.
However, there is no information regarding Maxx's religion he follows.
Maxx Williams – Career
Early Career
'If the seed is good, there will be sleek leaves.' Like this, the proverb says it all. Maxx started playing football after joining Waconia High School, where he played high school football.
After that, he attended the University of Minnesota and played for them.
In the university, he went on to redshirt his first year at Minnesota in 2012. In his freshman year in 2013, he completed the season with 25 receptions for 417 yards and five touchdowns.
Likewise, in his sophomore season in 2014, his records for the whole season became 36 receptions for 569 yards and eight touchdowns.
With this achievement in a short period, Maxx also became the finalist for the John Mackey Award given to college football's most outstanding tight end.
During the beginning of his senior season and after his redshirt sophomore, Williams joined the 2015 NFL Draft.
However, the NFL advisory board advised Maxx to return to his university to complete his junior and senior seasons.
But Williams found it better to stay with NFL rather than go back to university to complete his junior and senior seasons.
Professional Career
Williams lacked the depth at the tight end position, and NFL decided to go with the tight end position in the upcoming season. So Maxx worked with Minnesota Vikings and a professional tight end player Kyle Rudolph.
After receiving an invitation from the NFL combine, Maxx completed all the requirements and practices.
In the 40-yard dash, he came out to be in the third position among other tight ends. After giving such an outstanding performance, he distinguishes himself to be a top tight end over others.
At Minnesota's pro day on March 2, 2015, he participated along with David Cobb, Cedric Thompson, and 11 other teammates.
Overall he showed impressive performance on the pro day, and all the multiple scouts and representatives enjoyed Maxx's performance.
With this, he was ranked as the top tight end in the draft by NFL analyst Charles Davis, Mike Mayock, Lance Zierlein, NFLDraftScout.com, and Sports Illustrated.
In the second round of the 2015 NFL draft, Baltimore Ravens selected Maxx. Later on, the Baltimore Ravens signed a 4-year contract with Williams.
At the first training camp with the Ravens, The young player competed against Crockett Gilmore, Nick Boyle, Dennis Pitta, and Konrad Reuland for the vacant job as the starting tight end.
Also, Maxx was named as Raven's second tight end after Crockett Gilmore.
In the regular season of Ravens, at the Denver Broncos and made a career reception by 11-yard pass by Joe Flacco( American quarterback player) with 19-13 loss.
At the Oakland Raiders, Williams made a career start and caught one pass for eight yards in a 37–33 loss.
After competing against Jacksonville Jaguars on November 15, 2015, Maxx scored a record of catching one pass for 8-yards in a 37-33 loss.
Similarly, the native American made his first career touchdown with 4 receptions for 40 receiving yards with a 22-20 loss to the Jacksonville Jaguars.
On January 3, 2016, he recorded the season-high six passes 53 yards in a 24-16 loss to Cincinnati Bengals.
One of the Bengals' linebacker players, Vontaze Burfict, blindsided Williams when he was running a route in the end zone on the opposite side where the actual playing was happening.
This incident fined Burfict $50,000. However, Maxx completed the 2016 season with 32 receptions, 268 receiving yards, and a touchdown in 14 games.
Again in Ravens' training camp for the job as the second tight end, the tight end player competed against Crockett Gilmore, Dennis Pitta, and Nick Boyle.
After completing the training season, the head coach John Harbaugh named Williams as the third tight end behind Dennis Pitta and Crockett Gilmore in the regular season.
After suffering from knee surgery, the native American was placed on an injured list in October 2016. So with several health issues and surgeries, the young boy finished the 2016 season without any catches and featured only 4 games.
In the year 2017, Maxx competed against Benjamin Watson, Dennis Pitta, Crockett Gilmore, Nick Boyle, Ryan Malleck, and Larry Donnell for the job as the starting tight end. He was named the third tight end behind Boyle and Watson to start the season.
At the Baltimore Ravens season opener, he scored 1 reception for 5-yards with a 20-0 victory.
The same week against Cleveland Browns, Maxx completed the season with high four passes for 21-yards with a total score of 24-10. Unfortunately, after an injury, Williams missed the next three games of the season.
After returning from the injury, Maxx competed against Chicago Bears with a 6-yards pass. During the week 9 match at Tennessee Titans, Williams scored 3 passes for a season-high 29 yards in a 23-20 loss.
Maxx completed the 2018 season with 16 passes for 143 yards and a touchdown in the 13 games he appeared with the Baltimore Ravens.
As his contract with Baltimore Ravens ended in 2018, he signed with Arizona Cardinals on May 3, 2019. During the starting of the season, he was also named as a starting tight end.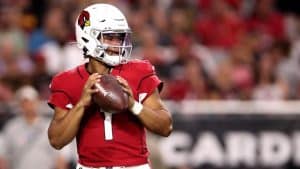 Moreover, Maxx extended the contract with the Cardinals for two more years on November 16, 2019.
Similarly, at the training camps starting on August 2, 2020, he was placed on the active/non-football illness list.
Max was also placed on the injury list after an ankle injury on September 21, 2020. After a complete recovery, he joined the season on November 7, 2020.
Howard Long Jr Bio: Raiders, Football, Net Worth, Wiki>>
Maxx Williams – Recruiting
Williams' gameplay with the University of Minnesota was impressive. In fact, his market share with the team's offense was good as well.
Maxx gathered more than 28 percent of Minnesota's total receptions along with more than 30 percent of the team's receiving yards in the past season.
Also, his 13 touchdowns were considered quite remarkable. He is huge and has great leaping ability and athleticism. He creates mismatches with linebackers and safeties and is especially good as a red-zone threat.
Maxx is also good as an outside receiver or as a fullback/H-back while in the backfield.
Blocking
Maxx Williams is one of the best run-blocking tightened in the industry. He is a really smart player and can act as an additional lineman for the team.
He sharpened his blocking skills in his initial career days and now fills the gap the Cardinals.
#madden18 pic.twitter.com/n3rkh2KNUY

— Maxx Williams (@williams_maxx) August 30, 2017
Maxx Williams – Personal Life, Girlfriend
Like most celebrities, Maxx Williams tries to keep his personal and love life private. Previously he had 1 relationship, but there is no information about the lady he dated.
As of now, Maxx is not dating anyone, nor is he rumored with any lady. The young player is focusing more on his growing career rather than on his love life. Williams is enjoying his single life and is seen roaming around different places for vacations.
Maxx Williams – Net Worth and Salary
As mentioned above, Maxx started his career from a very early stage of his life as well as his earnings.
So there is no doubt that the NFL football player earns a handsome salary from his career. The talented football player has accumulated great fortune since his early days.
As per the source, Williams is earning a good amount of money from his football career. Many sources talk about Maxx Williams's net worth, salary, and income, but online estimates of his worth vary.
Maxx Williams' Net-Worth is expected to be around $2 Million.
However, his salary is not as high when compared with other senior players. In May 2015, he signed a four-year contract with Baltimore worth $4.05 million, including $1.82 million guaranteed and a signing bonus of $1.20 million.
According to the different reports, before the 2019 season, Maxx's salary was $987,646. In 2019 after signing a contract with Arizona Cardinals, his receiving salary became$805,000.
Also, the Arizona Cardinals announced Williams' contract extension in November 2019. NFL Network's Ian Rapoport believed that the contract extension was worth $7 million.
Unfortunately, Maxx has not shared details regarding his personal assets like his mansion, car, and other business involvement.
If found any, the readers will be updated soon. Not much is disclosed about how he spends his salary, and he keeps this a secret.
Looking at this impressive net worth and salary amount, it seems that the football player is enjoying and living a lavish life.
Maxx Williams – Social Media Presence
Maxx has received a lot of recognition and is one of the most famous faces in America, but despite this fact, he doesn't have a huge social profile, as one would assume.
On Twitter, Maxx is available as @williams_maxx and has only around 14.2k followers at present.
He joined the site in January 2015 and had tweeted 229 posts until now. However, he occasionally keeps it updated with the different posts related to the football world.
Besides that, the player is not seen active anywhere on other social platforms. Maybe he does not want to share his private life stuff publically.
Having a great time in Ocean City… Our fans are awesome! Shout out to Jace… This little man rocks! #flocktothebeach pic.twitter.com/wiYlE9TeOf

— Maxx Williams (@williams_maxx) June 2, 2018
Some FAQs about Maxx Williams
How much did the Madden NFL 21 give Maxx Williams?
The Madden NFL 21 rated Maxx Williams 74. Check Madden NFL 21 – Maxx Williams for more information.
Who is Maxx Williams playing for?
As of 2020, Maxx is playing for Arizona Cardinals.
Is Maxx Williams Injured?
In 2017, he suffered from an ankle injury and missed 3 matches.
What's Maxx Williams also renowned for?
After being the finalist John Mackey Award in 2014, he was named Kwalick–Clark Tight End of the Year.