Michael Wacha, an American baseball pitcher, found his MLB debut & his future wife, Sarah, both in St. Louis. The former St. Louis Cardinals player Wacha had other major league stints with NY Mets, Tampa Bay Rays & Red Sox.
The 2015 All-Star played with Boston Red Sox in the 2022-23 season before he declared free agency.
Michael Wacha's baseball potential came after he enrolled at Texas A&M University, where he played college baseball. Later, the promising prospect became the Round-one pick of the Cardinals in the 2012 MLB Draft.
Ever since his major league debut on May 30, 2013, he has been on fire in the field.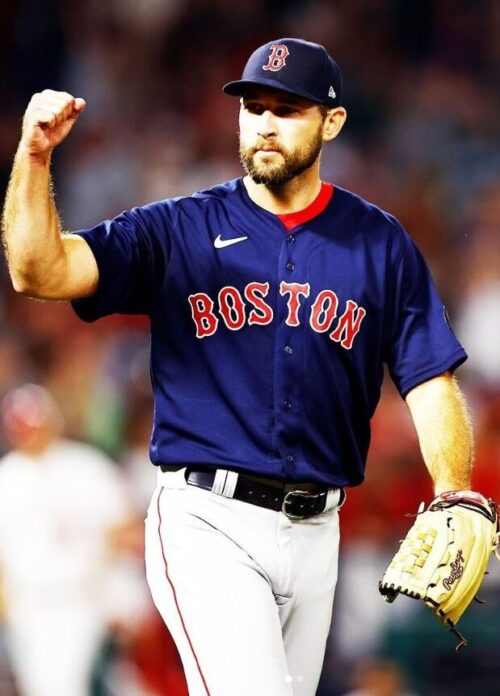 The Iowa City-born led the Cardinals to World Series Finals in 2013 with a victory over the Dodgers in the National League Championship Series. He even became the 2013 NCLS MVP.
Though the team lost the finale to Boston Red Sox, slipping off their 12th World Series Championship title.
Want to know more about Michael Wacha's family, career, net worth & relationships? There here you go!
Michael Wacha | Quick Facts
Full Name
Michael Joseph Wacha
Birth Date
July 1, 1991
Birth Place
Iowa City, Iowa
Age
31 Years Old
Nickname
Wachamole, Wacha Flocka Flame
Religion
Christianity
Nationality
American
Ethnicity
White
Father
Tom Wacha
Mother
Karen Wacha
Siblings
Three (Brette Wacha, Lucas Wacha & Charlie Wacha)
Zodiac
Cancer
Chinese Zodiac
Goat
Height
6 feet 6 inches (1.98 m)
Weight
97 kg (215 lbs)
Build
Athletic
Eye color
Dark Brown
Hair Color
Dark Brown
Profession
Baseball player
Playing Position
Pitcher
Active years
2013 – present
Win Loss record
70 – 50 (until the 2022-23 season)
Earned average
4.05
Strikeouts
976
Teams

St. Louis Cardinals (2013–2019)
New York Mets (2020)
Tampa Bay Rays (2021)
Boston Red Sox (2022)

Bats
Right Hand
Throws
Right Hand
Career Highlights

All-Star (2015)
NLCS MVP (2013)

Marital Status
Married
Wife
Sarah Wacha
Children
One Daughter
Net Worth
$10 million (approx.)
Salary
$7 million (in the 2022 season)
Social Media
Instagram, Twitter
Merch
Autographed Baseball
Last Update
March, 2023
Michael Wacha | Parents & Family Background
Wacha, the son of Tom Wacha and Karen Wacha, was born on July 1, 1991, in Iowa City, Iowa.
The baseball player is the second eldest of four- he has an elder brother named Charlie & two younger siblings: sister Brette & brother Lucas (birthday on May 20).
Michael's sister Brette (b. May 16, 1998) is a registered nurse, while his younger brother Lucas Ryne Wacha is a personal trainer. He is also a football alumnus of Wyoming University.
When Michael Wacha was three, his family moved to Texarkana, Texas, where he completed his schooling.
The MLB star thanks his father for inspiring him to pursue competitive sports.
Moreover, during an American Legion game, Michael pitched while his sister was a batgirl & his dad coached him. His pitching caught the eye of his future college coach, Rob Childress.
Did You Know? Wacha's uncle Dusty Rogers is a retired baseball player who pitched for the Cincinnati Reds from 1984 to 1988.
Played Basketball At High School
Michael was not into a baseball career from the start but turned to an MLB dream while in high school & later in college.
An attendee of Pleasant Grove High School, Wacha played with the high school basketball team for three years as a forward.
He also played baseball during his junior & senior seasons leading his school to finals & semi-finals, respectively. Not to mention, Wacha also excelled in academics- he was a member of the National Honor Society.
Michael Wacha | College Career & Stats
The former NY Mets pitcher Michael Wacha enrolled at Texas A&M University & played baseball with the Aggies for three years in Big-12.
His college pitching speed was recorded between 84 mph (135 km/h) and 88 mph (142 km/h).
As a freshman in 2011, Wacha started in 10 out of 25 games with a 9-4 record- took 97 strikeouts and 22 walks in 129.2 innings pitched. By this sophomore season in 2012, he had a 2.07 ERA in 113 innings, taking 116 strikeouts.
By the end of his sophomore year, he pitched in the College World Series, NCAA College Station Regional, and Big 12 Championship.
Moreover, Michael Wacha was a member of the USA Baseball Collegiate National Team.
Michael Wacha | MLB Draft Of St. Louis Cardinals
In June 2012, the American baseball prospect became the round-one (19th overall) pick of the St. Louis Cardinals in the 2012 MLB Draft. Subsequently, he inked a deal of $1.9 million with the team on June 14.
Michael was one of only four Texas A&M alum selected in the draft, joining Tyler Naquin, Ross Stripling, and Kyle Martin.
Among the top 5 prospects of the draft were Carlos Correa, Byron Buxton, Mike Zunino, Kevin Gausman, and Kyle Zimmer.
One Season In Minor League
The head of scouting for the Cardinals, Dan Kantrovitz, predicted the potential start for Wacha in the future due to his size and competitiveness. It sought him in comparison on par with right-handers Chris Carpenter and Adam Wainwright.
Michael Wacha spent his 2011-12 season in minor leagues.
He started with the St. Louis Cardinals' rookie affiliate Florida Complex League Cardinals. Shortly after, he ascended to the Single-A affiliate team Palm Beach Cardinals & then to Springfield Cardinals (Double-A team) before the 2012 season.
Then in the early 2013 season, the player pitched for Triple-A affiliate Memphis Redbirds in Pacific Coast League.
In 15 games with the Memphis, he averaged a 2.65 ERA, allowing 65 hits & 26 runs in 85 innings, securing 73 strikeouts.
Michael Wacha Made A MLB Debut With The Cardinals
On May 30, 2013, Wacha made his major league debut against the Kansas City Royals.
Later, the then-22-year-old saw himself pitching in the postseason- he earned NLCS MVP in the 4-2 victory against the Dodgers.
However, the Cardinals lost the World Series to Boston Red Sox. A few of the Cardinals' rosters in the game series were John Axford, Rob Johnson, Matt Carpenter, Carlos Beltrán & Jermaine Curtis.
Since 2013, Wacha was never able to throw 200 innings in a season, with his maximum being just over 180 due to what appear to be persistent shoulder problems and other injuries.
In his seven years with the franchise, the player averaged just 124 innings and has only been selected to one All-Star squad.
Throughout his career, Michael did display outright dominance, but he just couldn't manage to do it consistently.
For instance, Michael had a difficult 2016. With a career-high 5.09 earned run average, 1.48 walks plus hits per inning pitched, and a 7-7 record in 27 games (24 starts), he missed more than a month of action due to right shoulder irritation.
Although the player spent a healthy 2017 season, his inconsistencies were back again in 2018.
Due to a left oblique strain, the player was put on the 10-day disabled list on June 21 and was unable to pitch the rest of the season.
Even though Wacha was in the 2019 season starting lineup of the Cardinals, his depreciation 5.59 ERA saw him a shift to the bullpen at the end of May.
Major Baseball Games With NY Mets, Tampa Bay & Red Sox
On December 13, 2019, Michael signed with the New York Mets on a one-year deal & appeared in 8 games. He averaged 6.62 ERA allowing 46 hits & 26 runs in 34 innings managing 37 strikeouts.
Then, the baseball player went to Tampa Bay Rays on December 16, 2020. Through 29 appearances (23 starts), he pitched 124 innings, earning 121 strikeouts, & allowed 132 hits for a 5.05 ERA.
On November 27, 2021, Michael Wacha signed with Boston Red Sox & started in 23 games in the 2022-23 season. He went with a 3.32 ERA in 127.1 innings & allowed 111 hits for 101 strikeouts.
What Is Michael Wacha Doing Now?
Even after a bunch of injuries & absences throughout the 2022 season, he returned to Boston's active roster on August 14, 2022.
There he would join the 2023-24 rosters alongside Matt Barnes, Rafael Devers, Jarren Duran & Reese McGuire.
But on November 6, 2022, Wacha declared to go free agent.
Michael Wacha | Wife, Children & Relationship!
After dating for six long years, Sarah Hoffman Wacha and Michael Wacha married on November 28, 2020, in the backyard of their house in Jupiter, Florida.
They had planned for a big wedding, but COVID-19 resulted in altered plans.
In their closed ceremony, there were only 15 attendees, including their family & closest friends. They set up a Zoom call to allow other friends to attend their wedding virtually.
View this post on Instagram
The duo often shares the throwback of their wedding pictures on their anniversary.
Michael's wife, Sarah, who was born and reared in St. Louis, graduated from the University of Arizona DNA Tucson School of Education with a degree in elementary education.
Mrs. Wacha has been a teacher of English for a time. Sarah and Michael began dating after meeting in a bar in St. Louis, Missouri, in 2014.
Sarah has an identical twin brother named Johnny Hoffmann.
In early May 2022, the couple confirmed their pregnancy via an Instagram post that featured a picture of sonography. Sarah wrote:
"BABY WACHA coming fall 2022! Our hearts are full, grateful, and SO excited! 👶🏼🤍"
On October 21, 2022, they welcomed their first child, daughter Marcia Raye.
The duo's Instagram posts were full of their newly born. The family of three often shares adorable pictures on their social media profiles.
The Wacha Wacha Phenomenon
The phrase "Wacha Wacha," a play on his last name and the pronunciation of his first and last names together, shot to fame in 2013.
It was after becoming Fozzie Bear of The Muppets' go-to catchphrase and sounding a lot like the Pac-Man arcade game's sound effects.
Following his 2013 NLCS Most Valuable Player award, a St. Louis restaurant dubbed a milkshake the "Wacha Wacha."
The player couldn't recall the restaurant's name, but he said the Cracker Jack "gave a little baseball flair to it" and that it was probably Fozzie's.
Michael Wacha | Age, Height & Body Measurements
Michael Wacha was born in the year 1991. Hence, he is 31 years old. Michael was born in the Goat year, according to the Chinese zodiac.
The player's zodiac sign is Cancer. Talking about his physique, the player weighs 210 pounds (95 kg) and is 6 feet 6 inches (1.98 m) tall.
Similarly, Michael has a very charming personality and is liked by almost all the people around him.
Pitching Profile
Michael uses the same delivery for all of his pitches. The American player frequently displays velocities up to 97 mph (156 kph) with a sinking fastball that typically travels between 92 mph (148 km/h) and 95 mph (153 km/h).
Likewise, his fastball has a significant downward motion because of his high arm angle and release point.
The player's fastball complement, the changeup, has deep, fading movement to right-handed hitters and a velocity drop from his fastball of 10 to 12 mph (16 to 19 km/h).
Michael Wacha | Contract & Net Worth
Michael Wacha agreed to a one-year, $7,000,000 contract with the Boston Red Sox, with a $7,000,000 guaranteed minimum pay.
The player will have total compensation of $7,000,000 in 2022, with a base salary of $7,000,000.
According to estimates, Michael Wacha's net worth is currently more than $10 million. Further, the player makes a tremendous amount of money from numerous endorsement deals.
Frequently Asked Questions
What number is Michael Wacha?
The baseball player wore jersey no. 52 for the Boston Red Sox.
Michael was called "Wachamole" by Carlos Martinez when he first met him. The nickname stuck, and Michael is still referred to as such. Likewise, the player is also referred to as "Wacha Flocka Flame."