From a family with an athletic bloodline, Miles McBride followed his father's footsteps to basketball. Currently, he plays as a point guard for the New York Knicks.
McBride was the second-round (36th overall) pick of the Oklahoma City Thunder in the 2021 NBA draft before the draft rights transfer to the Knicks.
The West Virginia alumnus signed a three-year deal with the Knicks in 2021 that includes a club option for the 2023-24 season.
From a two-sport athlete to a consensus three-star basketball prospect & now into the NBA, McBride's family supported him throughout his journey.
No wonder the athletic impressions in the family gave him inspiration & mentorship. Miles' father played college basketball, while his mother is a former tennis player at Ohio State.
Not to mention, the NBA star's brother Trey & sister Kristen is into sports too; one is a basketball player, while the latter plays volleyball.
Let's get more about Miles McBride's personal life, family & NBA journey. Be sure to read the article to the end.
Quick Facts
Full Name
Miles James McBride
Known As
Miles McBride
NickName
Deuce
Date of Birth
September 8, 2000
Age
22 Years Old
Birth Place
Cincinnati, Ohio
Nationality
American
Father's Name
Walt McBride
Mother's Name
Kim McBride
Siblings
Two
Siblings' Name
Trey, Kristen
Zodiac Sign
Virgo
Relationship Status
Dating
Girlfriend
Ana Zortea
Height
6 feet 2 inches/ 188 cm/ 1.88 m
Weight
200 lbs/ 90 kg
Education

High School: Moeller
College: West Virginia (2019-2021)

NBA Draft
2021/ Round:2/ Pick: 36th Overall
Playing Career
2021-Present
Current Team

New York Knicks (2021- Present)
Westchester Knicks (G League team of the New York Knicks)

Awards & Achievements

Second-team All-Big 12 (2021)
Big 12 All-Freshman Team (2020)

Position
Point Guard
Jersey Number
2
Average Annual Salary
$1.4 Million
Net Worth
$500- $1 Million
Social Media
Instagram, Twitter
Merch
Signed Rookie Card
Last Update
June 2023
Family Of Athletes, Details Here!
Miles McBride was born in Cincinnati, Ohio, on September 8, 2000, to Walt and Kim McBride.
The NBA player's father Walt McBride (born in 1974), formerly played college basketball at Xavier University from 1982 to 1986, averaging 9.8 points per game.
Currently, he works as the director of student services at Roger Bacon High School.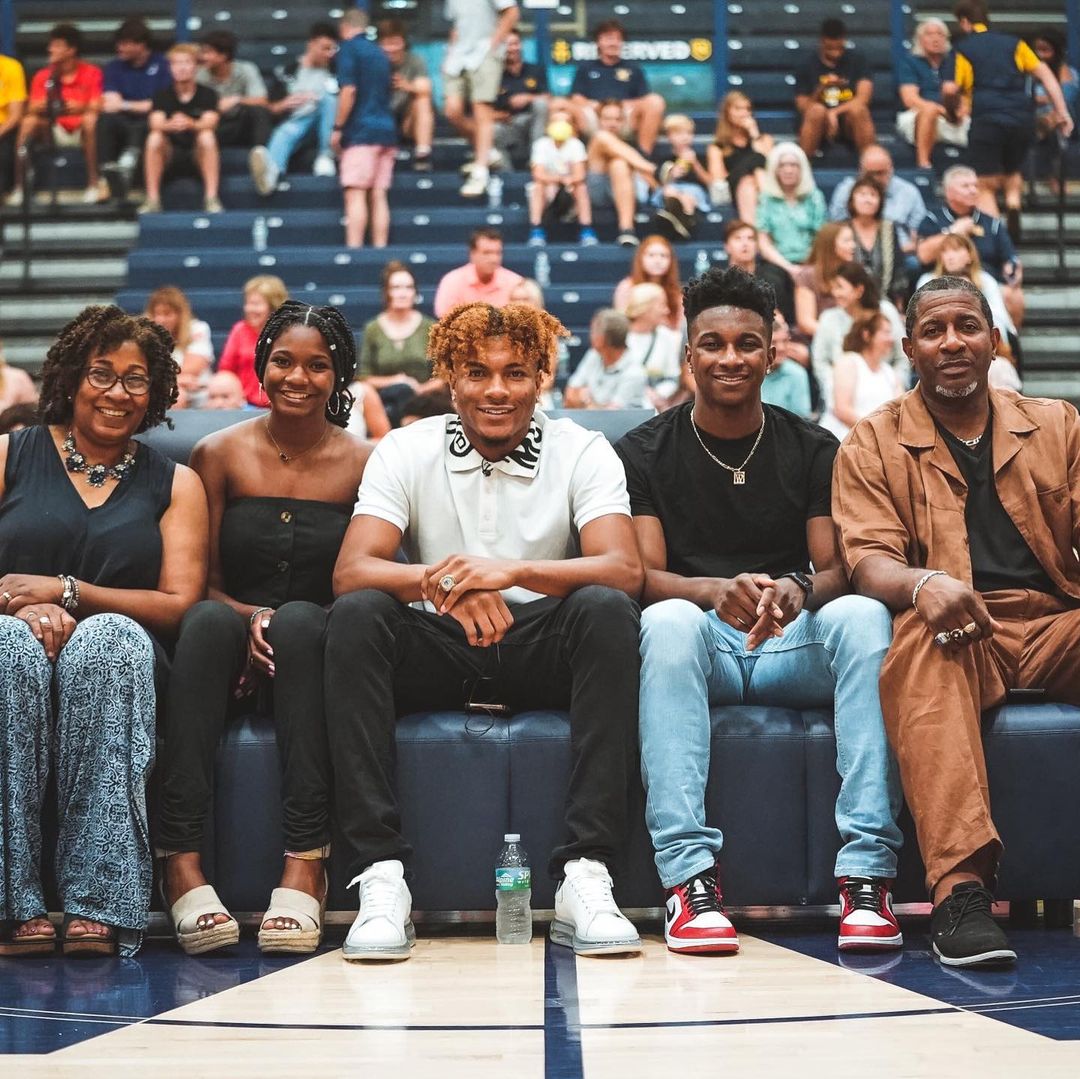 McBride's mother, Kim, was the captain of Ohio State's women's tennis team during her senior year.
There, she graduated with a Bachelor of Science in Business Administration (BSBA) degree in Marketing.
According to her LinkedIn profile, Kim is the corporate outreach manager at Beacon Orthopaedics & Sports Medicine (October 2021- present).
Second-Eldest Of Three Siblings
McBride has an older brother named Trey, who was born on November 7, 1997, and a younger sister named Kristen (her birthday is on August 16).
Both of his siblings are athletes.
Miles' brother Trey played college basketball at Mount Vernon Nazarene University as a freshman before transferring to Northwood University.
After going undrafted in the 2020 NBA draft, he joined the Serbian basketball club Radnicki 1950 Kragujevac for the 2020-21 season. Currently, Trey plays basketball for the Itzehoe Eagles in Germany.
As for his younger sister, Kristen, a 2021 enrollee at West Virginia University, plays college volleyball & is also pursuing her Bachelor's degree in health and well-being.
She attended Mount Notre Dame High School, where she played both basketball & volleyball.
With victory in the Basketball State Championships (in 2019 and 2021) and the Volleyball State Championship in 2021, she became the second female athlete in the school's history to win two state championships in the same year.
High School & Collegiate Basketball
McBride went to Moeller High School, where he was a two-sport athlete, playing basketball & football as a quarterback.
During his senior year, he withdrew from football to focus solely on basketball, which proved to be a wise decision.
He led Moeller to an undefeated 29-0 record, averaging 13.8 points, 5.3 rebounds, and 4.1 assists per game.
While at Moeller from 2015 to 2018, he played along with Jaxson Hayes.
Then, for his collegiate basketball career, he enrolled at West Virginia University (2019-21).
With an average of 9.5 points and 2.4 rebounds per game in his first year, he was named to the Big 12 All-Freshman Team.
As a sophomore, he was named to Second Team All-Big 12 honors, averaging 15.9 points, 4.8 assists, and 3.9 rebounds per game.
On April 2, 2021, McBride announced his decision to enter the 2021 NBA draft.
NBA Career
The Oklahoma City Thunder selected McBride in the second round (36th overall) of the 2021 NBA draft.
As a draft-right transfer, he was traded to the New York Knicks along with Rokas Jokubaitis in exchange for Jeremiah Robinson-Earl.
He made his debut for the Knicks on October 22, 2021, playing for three minutes against the Orlando Magic.
During the 2021-22 season, McBride appeared in 40 games, starting two of them, and averaged 2.2 points per game.
In the 2022-23 season, on March 14, 2023, he recorded his NBA career-high 18 points in a win over Portland Trail Blazers, where Damian Lillard made a team-high 38 points in the counter.
Net Worth & Earnings
Net Worth
Miles McBride's estimated net worth ranges from $600k to $800k as of June 2023, with the primary source of income being his basketball career.
In addition to his basketball earnings, McBride has secured an endorsement deal with Nike, one of the world's leading sportswear brands.
He announced the endorsement deal via Twitter on September 15, 2021.
While the contract details have not been publicly announced, this endorsement deal is expected to contribute significantly to his net worth.
Contracts & Salary
McBride, the 2021 NBA draft pick of the City Thunder, was traded to the Knicks.
After the trade, McBride signed a fully guaranteed three-year contract with the Knicks on August 6, 2021, worth $4.32 million.
The contract, with an annual average salary of $1.44 million, also has a club option for the 2023-24 season.
Miles McBride's salary in the 2022-23 season is $1.563 million, which is $500K more than his paycheck in the 2021-22 season, i.e. $925K.
At the conclusion of the 2023-24 season, McBride will become a restricted free agent with a qualifying offer of $2.29 million.
Relationship & Social Media
Miles McBride is currently in a romantic relationship with Ana Zortea, a Brazilian actress and model.
In 2012, Ana Zortea acted in the TV show Avenida Brasil, which was sold to over 180 countries.
She also worked as a TV presenter for two years and appeared in numerous commercials in Brazil.
Ana was born on May 4 in Brazil and attended Escola Presidente Durta for high school.
She earned her Bachelor's degree in international relations and affairs from Florida State University, where she also competed as a swimmer.
She then pursued a Master of Business Administration at West Virginia University in June 2021.
During her academic career, she completed an internship at Pittman Law Group.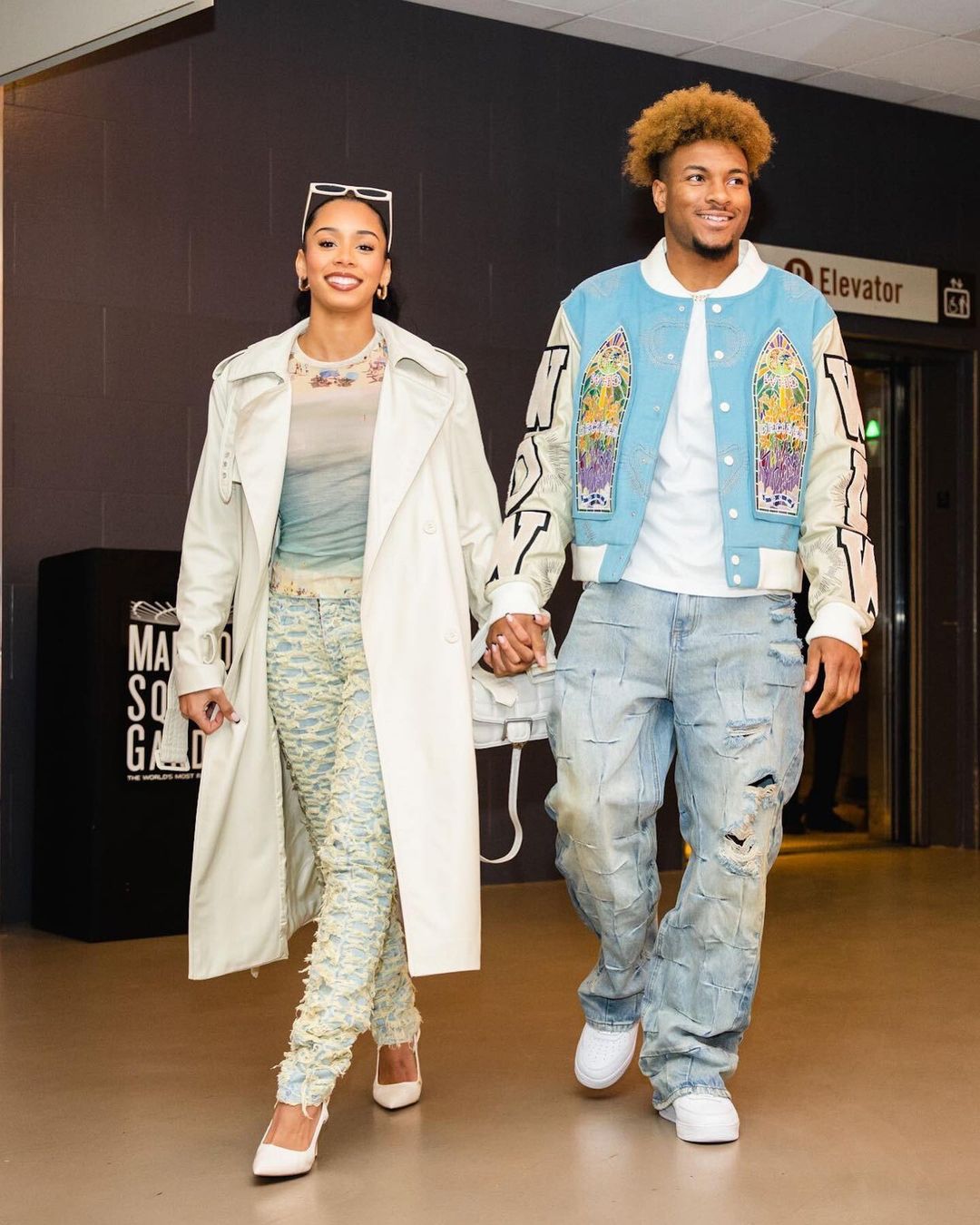 Miles McBride is an active user of social media platforms like Instagram and Twitter, where he has amassed 90.6k and 23.9k followers, respectively, at the time of writing.
On his Instagram account, he shares pictures related to his basketball career, training, and with his loved ones.
His girlfriend Ana Zortea also uses social media to showcase her affection for Miles, posting on Instagram and TikTok showcasing their love.
Moreover, she also attends Miles' basketball games, indicating her support for him.
Age, Height & Body Measurements
Miles McBride is 22 years old as of 2023. He stands 6 feet 2 inches (1.88 m) tall and weighs 200 lbs (90 kg).
Additionally, his wingspan is 6 feet 8.75 inches, and his standing reach is 8 feet 3.25 inches.
Interesting Facts
Miles McBride has been called "Deuce" since he was in the third grade. The nickname came from his resemblance to a cartoon character named "Deuce" from the popular show "Courage the Cowardly Dog."
During his junior year at high school, he sustained a season-ending severe injury to his left foot during a football game. Consequently, he chose to forgo playing football during his senior year & focused on basketball instead.
In his final year of high school, McBride played an instrumental role in leading his school to a Division I state championship, where his team completed the first undefeated season in their division since 1995.
Popularity Graph
The graph below illustrates the search interest trends for Miles McBride over the past year, with the peak occurring in February 2023.
This surge in searches is due to the NBA trade deadline on February 9, which sparked trade rumors about Miles McBride.
Frequently Asked Questions (FAQs)
What is Miles McBride salary?
Miles McBride earns a base salary of $1.56 million in the 2022-23 season.
What team does Miles McBride play for?
McBride plays as a point guard for the New York Knicks & wears jersey number #2.