Miranda Brooke is a self-proclaimed fashionista and a rapper who got married to a famous football player AJ Green who plays for the National Football League (NFL).
She garnered people's attention when she was in a romantic relationship with AJ Green. However, she also gained quite a fame after the release of her single 'Hater.'
The ProBowler has constant support from his wife and is often seen in his game cheering for AJ. Miranda is the mother of three children.
There is not enough information about AJ's wife, Miranda Brooke. So in this article, we will peek into the life of Miranda and her relationship with AJ Green.
The article here includes information about Miranda's career her early life and her children. But before anything, let's take a glance at quick facts about her.
Miranda Brooke: Quick Facts
Full Name
Miranda Brooke Green
Date of Birth
November 1, 1990
Nickname
Miranda
Religion
Christianity
Sexuality
Straight
Father Name
Not Available
Mother Name
Not Available
Place of Birth
Chattanooga, Tennessee, United States
House Location
Durango, Colorado
Gender
Female
Ethnicity
Black
Age
33
years old
Profession
Rapper & Song-writer
First Single
Hater
Famous For
Wife of AJ Green
Nationality
American
Highest Qualification
Not Available
School
Not Available
Height
5'6″ (1.67 m)
Weight
62 kg (136 lbs)
Eye color
Black
Hair color
Black
Body Measurements
Not Available
Body
Slim
Shoe Size
Not Available
Favorite Sports
Football
Relationship Status
Married
Husband
AJ Green
Children
Two: Easton Ave Green and Gunnar Blaze Green (sons)
Siblings
Lyric (sister)
Zodiac Sign
Scorpio
Social Media
Instagram, Twitter
Marital Status
Married
Net Worth
$1 million – $5 million
AJ Green's Merch
Jersey, Rookie Card
Last Update
December, 2023
About Miranda Brooke
Miranda Brooke was born in Chattanooga, Tennessee, United States, on November 1, 1990. She is a performer specializing in rapping, singing, and dancing.
She released her single 'Hater' in 2011. The official music video gained more than 1 million views after it was put up.
Miranda developed a passion for the field of music in her very early years. At just the age of four, Miranda was a child prodigy and started singing in public places. Later, she joined the church choir and school.
Miranda gained an independent recording contract only at the age of 10 after performing locally at various events. It gave her and her family a great sense of pride.
She has a sister named Lyric. Similarly, her sister is also a rapper and dancer, also known as Ricci Bitti. Lyric appeared in season 4 of The Rap Game.
Miranda Brooke Husband: AJ Green
Adriel Jeremiah Green, born on July 31, 1988, generally known as AJ Green, is an American football wide receiver. He presently plays for the Arizona Cardinals of the National Football League (NFL).
Born to a steelworker, Woodrow, and truck driver Dora Green, Green has endured a lot of struggles in life alongside his family. Unfortunately, he lost his older brother Avionce at the age of four.
The Cincinnati Bengals drafted him the fourth overall in the 2011 NFL Draft. He played ten seasons before joining the Cardinals. Adriel Green played college football at the University of Georgia.
In his first season with the Bengals, Adriel made the 2012 Pro Bowl and became the first rookie receiver to appear in Pro Bowl in eight years.
Over eight years, he accumulated the first rookie receiver to make a Pro Bowl appearance.
Green achieved more passes (260) than any other athlete in NFL history during their first three seasons from 2012 to 2013. However, that record was later broken by Odell Beckham Jr (288) and Jarvis Landry.
He has a record of 1000 or more receiving yards for six seasons. In 2021, Green signed with the Cardinals.
Miranda Brooke: Body Measurements
Mirinda Brroks stands tall at the height of 5 feet 6 inches. She weighs 62 kg (136.68 lbs). Similarly, her husband AJ Green is almost a foot taller than her.
Miranda's body measurement is 32 inches. She has dark black eyes and dark shading hair.
Also, read about; Johnny Manziel's Wife: Everything About Breana Tiesi Life >>
Miranda Brooke & AJ Green
Miranda is the wife of prominent American football wide receiver AJ Green. She has happily tied knots with her husband.
The couple met for the first time at Georgia State University when they were both students. After exchanging messages on Facebook and getting to know each other, Miranda and Adriel started as college lovebirds.
Of all the things Miranda loves most about her husband is it's his humility.
She said lovingly of AJ that he never gets too high on himself. Green signs every autograph. He shakes every hand. He smiles at everyone.
The sweet duo dated for several years before exchanging vows for a lifetime together on March 21, 2015. The wedding was intimate and attended by their closest family and friends.
Her husband's well-known teammates like Andy Dalton, Mohamed Sanu, and Carlos Dunlap attended their private ceremony.
Miranda and AJ were baptized alongside each other in March 2016 through the Pro Athletes Outreach.
It is an organization that seeks to bring together pro athletes and pairs to grow in their walk with Lord Jesus.
Miranda Brooke & AJ Green: Wedding
Miranda and AJ Green had a blast wedding ceremony where they shared their first dance to John Legend's song 'So High.' The dance video went viral on both Instagram and Twitter and took social media by storm.
AJ Green married his longtime girlfriend, Miranda, in a star-studded wedding in 2015.
The video reflects the apparent affection they shared on their big day.
They tied the know in the heart of Altlanta in a lavish April of 2015. The duo loved the city and couldn't think of getting married anywhere else.
Their wedding reception was ornated by the fresh and clean color pallet of white, and silver coupled with an abundance of sparkle and a magical setting created by candlelight.
The beautiful bling menu cards were custom-created. Tiffany Cooks planned the wedding.
Likewise, the venue that Miranda & AJ picked was what the industry calls a "room flip," meaning the reception and ceremony were in the exact location.
They ordered the cheesecake for the wedding, which was six steps tall.
The fantastic wedding and the entire evening were filled with laughter, love, and non-stop fun and energy the whole night.
Miranda Brooke & AJ Green: Kids
AJ Green and his wife, Miranda, have two sons. Easton Ave Green was born on September 21, 2016, and Gunnar Blaze Green was born on February 20, 2019.
AJ Green revealed that he would choose to witness the birth of his kid over playing in a football game if it came down to it.
However, he won't have to make that huge decision now.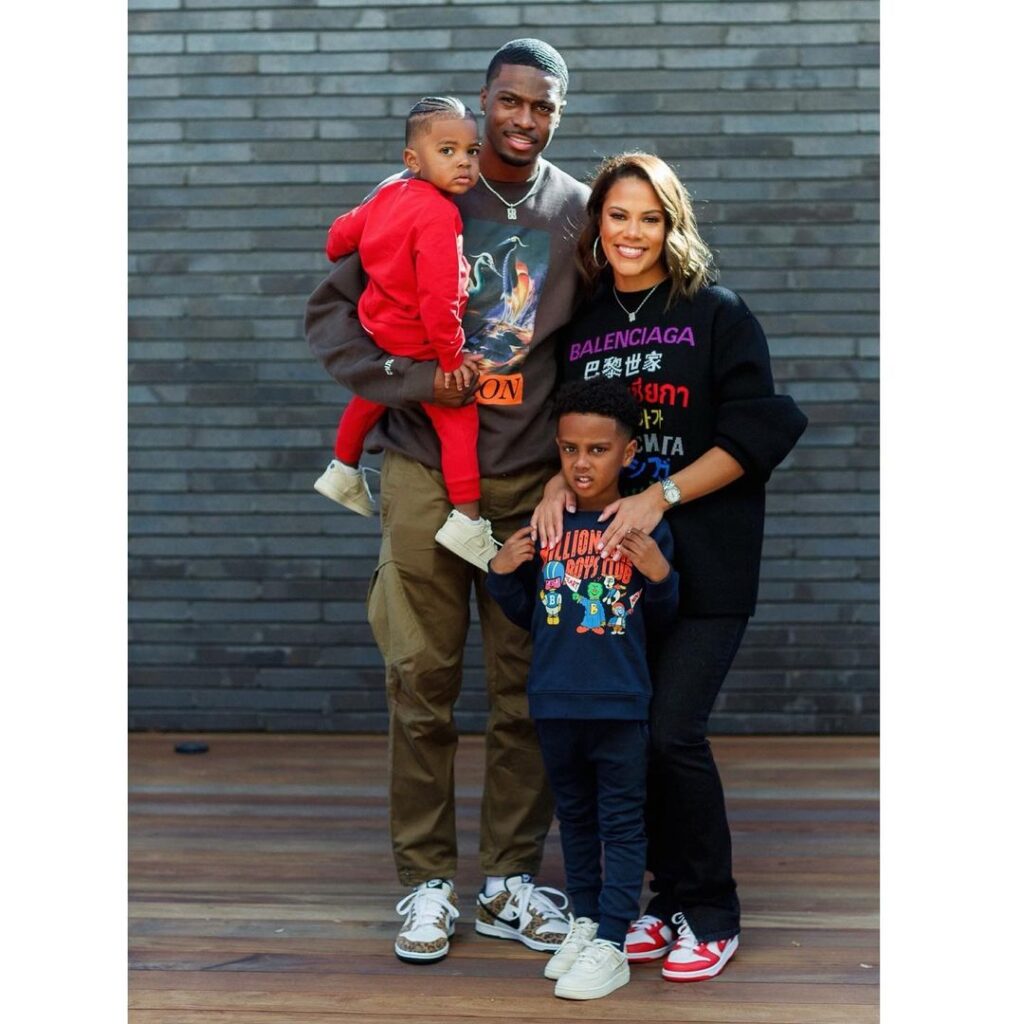 Green didn't attend the practice game during the birth of his first son. During his firstborn, he admitted that fatherhood was a joyous journey.
Everything was unbelievable for him as he helped create a being which made him very emotional.
AJ has enormous respect for his wife and the mother of his children. He thinks that Miranda is tougher than him.
The family of four is living a blissful and happy life. The boys are already playing football, and we hope that at least one of them will continue the family legacy and walk in the footsteps of AJ Green.
Miranda Brooke: Net Worth
Miranda Brooke is a successful singer today who frequently appears as backing vocals performing duets. Brooke has an estimated net worth of $1 million- $5 million approximately.
The majority of her wealth is accumulated from her professional career as a singer. As per different online sources, she earns an average salary of $20,000 to $50,000 per month.
Besides her professional career, Miranda has also been involved in various endorsement and promotion activities of famous brands.
Likewise, her husband, A J Green, has an estimated net worth of $40 million, mostly from his professional American Football career. His numerous endorsements and ventures also have added to his wealth.
Presently, Green has a salary of $3.5 million and earns $500k from his endorsement deals.
However, 2015 was his most successful financial year as he made a $ 60 million contract with Cincinnati Bengals.
Don't miss out; Who is Anna Burns? Everything About Wes Walker's Wife >>
Miranda Brooke Praises AJ Green's Bengals Journey
When Miranda's husband AJ Green played his last game with the Bengals in late 2020. However, the ending was not a fairy tale, as Baltimore crushed Cincinnati 38-3.
But the previous defeat will not change the past decade and what AJ has meant to Bengals fans worldwide.
Green's wife, Miranda, reflected on his future via Instagram posts. She captioned in a post what a role model Green has been to the city for ten years.
She also added how much work he has put in, on and off the field, to put on a show for the hopeful fans of the Cincinnati Bengals.
According to Miranda, he has faced so much adversity and dealt with a lot more than most of his fans know.
He yet held his head high, remained humble, and stayed true to who he was. She also praised that she is amazed by what Green has accomplished in those stripes.
Miranda indicated that she is very excited about the future and is more than proud of him. Moreover, Green finished that season with 47 receptions for two touchdowns and 523 yards.
Social Media Presence
Miranda Brooke is very active on various social media platforms. The Jamaican model constantly shares pictures of her and her family which are adorable. In addition, she also posts dance videos of herself.
She has lured 263k followers on Instagram. You can find her on Instagram.
Moreover, she is also present on Twitter with almost 8k followers on there.
Read next; Skip Bayless Wife: Ernestine Sclafani Bio & Net Worth >>
Frequently Asked Questions
Does Miranda Green have TikTok?
Miranda Green is pretty active on Tiktok, where she usually shares her dance videos. You can find her on Tiktok. Currently, the singer has more than 7k followers on there.
What is the deal with AJ Green now?
AJ Green, one of the most prolific players who spent a decade with the Cincinnati Bengals, signed a one-year deal with the Arizona Cardinals in May 2021.
The contract is worth up to $8.5 million and consists of $6 million guaranteed.