Mo Farah is a Somali-British long-distance runner with four Olympic gold medals and six World titles. He is one of the world's greatest distance runners and Great Britain's greatest-ever track athlete.
The all-time most excellent long-distance runner, Mo Farah, net worth is estimated at $5 million.
To begin with, Mo Farah is a Somalian-born British long-distance runner who has never settled for anything less than gold medals.
Further, he won gold medals at the 2012 and 2016 Olympics in 5000-meter and 10,000-meter races.
As a result, he is just the second athlete behind Lasse Virén to win the 5000 and 10,000-meter races at successive Olympic Games.
He also secured gold in the 2013 and 2015 IAAF World Championships in the 5000 and 10,000 meters.
Similarly, he again became the second man to win long-distance doubles at successive Olympics and World Championships.
Moreover, with this feat, he became the first athlete in history to defend distance titles in major global competitions.
Therefore, Farah is considered one of the modern era's most successful British track and field athletes.
Sadly, the runner couldn't qualify for the Tokyo Olympics as he couldn't secure the needed points in 2020.
Hence, he will not defend his Olympics title for the first time in over a decade.
According to news released in November 2022 that Farah would participate in the Taskmaster "New Year Treat III."
Before getting into details about the champion long-distance runner's net worth and endorsements, here are some quick facts about him.
Mo Farah | Quick Facts
| | |
| --- | --- |
| Full Name | Sir Mohamed Muktar Jama Farah |
| Birth Date | 23 March 1983 |
| Birth Place | Mogadishu, Somalia |
| Nick Name | Fly Mo |
| Religion | Muslim |
| Nationality | British |
| Ethnicity | Somalian-born British |
| Education | St. Mary's University, Twickenham |
| Horoscope | Aries |
| Father's Name | Amran Farah |
| Mother's Name | Muktar Farah |
| Siblings | Seven; Hassan, Nimo, Mahad, Omar, Ahmed, Ifrah, Wahib |
| Age | 40 Years Old |
| Height | 5 ft 9 in / 175 cm / 1.75 m |
| Weight | 143 lb / 65 kg |
| Hair Color | Black |
| Eye Color | Black |
| Build | Athletic |
| Profession | Long-Distance Runner |
| Club | Newham & Essex Beagles |
| Active Years | 1996 – Present |
| Marital Status | Married |
| Wife | Tania Nell |
| Kids | Four; Rhianna, Aisha, Amani, and Hussein |
| Net Worth | $5 Million |
| Social Media | Instagram, Twitter |
| Merchandise | Twin Ambitions(Book) |
| Last Updated | June, 2023 |
Mo Farah | Net Worth, Income, & Endorsements
The Somalian-born runner mostly earned his wealth through prize money and endorsements from his elite running career. Mo Farah's net worth is roughly estimated at $5 million.
Besides that, with 25 years in the running business, he has accumulated about $5 million. There is no information regarding his salary.
Likewise, he earns around $2 million from his highly lucrative sponsorship deals.
Further, he has dealt with some of the world's giant companies like Louis Vuitton, Hyundai, Nike, PACE, Sports Magazine, Bupa, Virgin Media, and many more.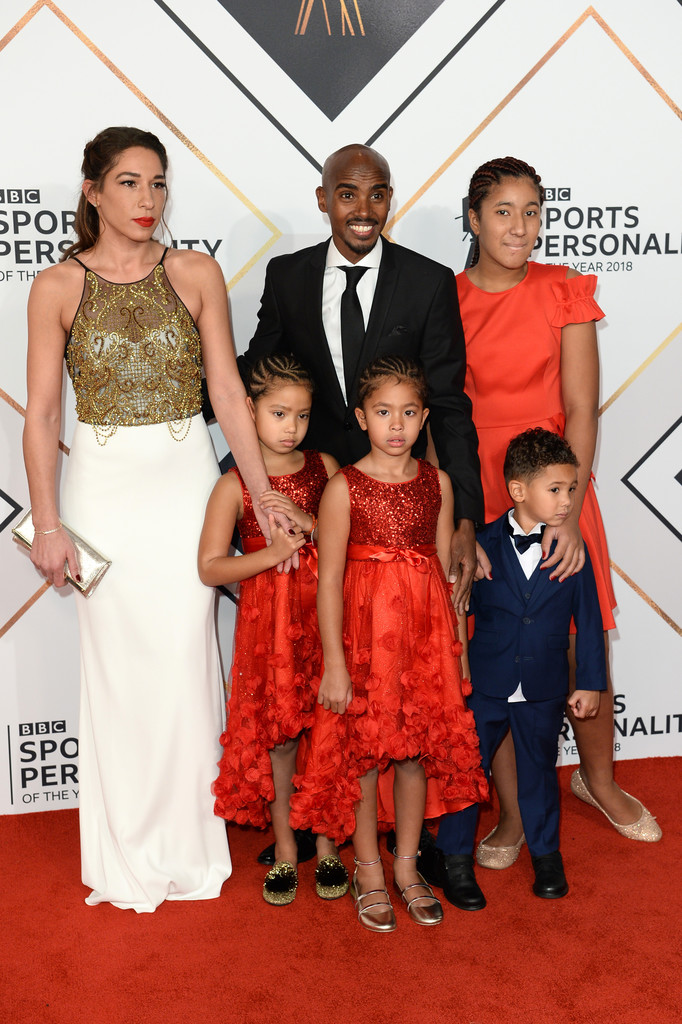 The British Olympian has a long-term relationship with the U.S. footwear company, Nike where he collaborates with them to market clothing and shoes.
Not to mention, he makes six-figure annually through his contract with Nike. Similarly, he deals with Virgin Media, which generates more than a million pounds yearly.
Moreover, the four-time Olympic gold medalist made marketing deals with Quron. It was a part of a multimillion-pound campaign that promised to double their sales.
Aside from that, he charges about $306,881 per marathon exhibition. Above all, Mo is set to make $11.89 million over the next two years.
Furthermore, he also endorses HuaweiMobileUk as he has updated a post, "Feels great to start getting some mileage under my belt again."
"The @HuaweiMobileUK Watch GT Runner will be with me every step of the way as I step up my training and runners will be delighted to know that Strava is now fully compatible with all Huawei smartwatches! Let's goooooooooo!!"
Learn More About Pole Vaulting Athlete Sandi Morris: Pole Vault, Husband & Net Worth >>
Mo Farah | Net Worth In Different Currencies
Currency
Net Worth
Euro
€

5,043,600

Pound Sterling
£

4,294,050

Australian Dollar
A$

8,110,302

Canadian Dollar
C$

7,460,100

Indian Rupee
₹

446,193,000

BitCoin
฿

151
Mo Farah | House & Cars
House
Mo resides in a beautiful house just above southwest London in England, United Kingdom, with his beautiful wife, Tania and four children.
Moreover, the house looks like a holiday villa with great open space and interior design.
Further, the house is worth $1.59 million, including a stunning kitchen, huge living room, massive garden, and a luxurious outdoor pool.
Likewise, the kitchen has a large marble island for hosting dinners. Also, they have glass shelving which brightens up the place with well-arranged pottery.
Their living room features a large sofa and some gym equipment, including a rowing machine and treadmill.
On top of that, the room also has a pool table and a foosball table.
Aside from that, the elite runner also has a house in Portland, Oregon, U.S. Furthermore, he brought the house in 2013 to preserve his earnings after taxes.
Therefore, he has changed his main residence from London to Portland. Likewise, he is seen spending most of his time in Portland training.
However, his family stays in London and rarely travels to Portland.
Cars
Similarly, the four-time Olympic gold medalist is passionate about owning luxurious cars. Currently, he holds an orange Bentley Continental GT.

Moreover, Sir Mo mentioned it as one of his favorite purchases at over $20 million.
The 6.0 Liter engine car has a stunning design and has 626 horsepower. The athlete is frequently seen driving it to the workplace. Likewise, he also has a second model with a panoramic roof which he adores.
Further, he and his wife have been spotted multiple times going out in the Bentley Continental GT with a panoramic roof.
Don't Forget To Check Out The World's Famous Pole Dancer Sarah Jade, Ex-wife Of Bautista: Wedding, Child & Birthday>>
Mo Farah Net Worth | Lifestyle & Vacation
The four-time gold medalist has a luxurious lifestyle. Likewise, he lives in a million-dollar mansion with his equally expensive cars.
Moreover, he wears branded sneakers and owns many shoes from Nike, Jordan, etc. Not to mention, Farah is invited to several famous and well-respected events.
Furthermore, he attended the 2018 royal wedding between Meghan Markle and Prince Harry. Sir Mo is a perfect friend of the now Duchess of Sussex.
Due to his fame, he is well acquainted with the royal families and some of the U.K.'s top officials and athletes worldwide.
The long-distance runner is also well acquainted with many high-profile people, such as the late Kobe Bryant, Usain Bolt, and Lewis Hamilton, to name a few.
As a result, hardly any person doesn't know him. In addition, due to being an elite athlete, the Olympic gold medalist gets to travel worldwide.
Similarly, before the Covid-19 pandemic, Farah frequently traveled with his entire family. Further, they have been to France and enjoyed a great time at the Eiffel Tower.
In 2018, he and his entire family went on a trip to Dubai, where they had a lot of fun.
Mo Farah | Charity
Sir Mo is also a philanthropist. He launched the Mo Farah Foundation, which was founded in 2011. The foundation's main aim was to provide aid to people affected by drought in Somalia.
Further, he established this foundation after a trip to Somalia in 2011. Also, this was very personal to the runner as he was from Somalia.
He and his wife ensured the Somalian family had the basic needs they required. Hence, they partnered with many companies to make that dream come true.
The couple, through their foundation, has used up over $1,225,829 for different camping, which has lifted the Somalian family's living standard.
Moving on, they also built 50 water wells and established three medical clinics for mothers and newborn babies. Likewise, the clinic has treated over 10,000 families for free.
Aside from that, he participated in the 2012 Olympic hunger summit, which helped hunger become a high-profile global issue.
Similarly, he won $306,764 for his foundation by participating in a reality show, The Cube. In addition, he helped launch a campaign for Save the Children in March 2017.
With his help, they successfully raise over $5.27 million. Furthermore, he became a global ambassador for Marathon Kids, helping raise awareness about being active.
On November 18, 2022, he volunteered at the Celebrity Call Centre to raise funds for #ChildreninNeed.
Mo Farah Net Worth | Professional Career
Early Carrer
You would rarely meet a long-distance runner as great as Mo Farah in the current era. He debuted as a junior athlete in 1996 at the English school's cross-country.
The elite Olympian has made every moment count in his life as a professional track and field athlete.
Finally, he rose to fame after winning his first 500-meter title at European Athletics Junior Championship in 2001.
Farah was driven to be named amongst the great in sports history from an early age. Ever since he started training at St. Mary's University, Twickenham, he knew sports would change his life.
Indeed it did, as slowly and steadily he qualified for the 2008 Beijing Olympics. But, as the saying goes, rainbows won't exist without rain. Similarly, he had failed to reach where he is now.
Consequently, Mo could not qualify for the finals of the 5000-meter race in the 2008 Olympics.
But, with dedication, he proved his worth and was selected for the 2012 London Olympics.
The BBC documentary The Real Mo Farah revealed a valid account of Farah's childhood in July 2022.
It shows Farah with his wife and son Hussein as he investigates his past, reuniting with his Somali family and the woman who raised him after he escaped domestic servitude. Critics acclaimed it.
Moreover, Farah had a hip injury and was forced to pull out from this year's (2022) London Marathon, which would have been his first since finishing fifth in the same marathon in 2019.
He is disappointed, but Mo has immediately set his sight forward to 2023, which he expressed in an interview.
On November 30, in one of the interviews, he shared, "But yeah, London 2012 is the proudest moment of my career."
Additionally, he expressed that winning in front of his hometown, where he grew up, was his proudest moment. He represented his country, and the whole nation was watching him- it drives him daily to continue to get out and keep pushing himself.
Also, Sir Mo attended Mobo Awards 2022 red carpet ahead of the event's 25th-anniversary ceremony with Craig David.
Olympic Medals
Hence, with more experience, he started his journey of winning his first gold medal in the 10,000-meter race. It was Great Britain's first Olympic gold medal in that category.
Nevertheless, his effort didn't stop there; he also won the 5000-meter race to win his second gold medal.
He then repeated gold in the 2016 Rio Olympics to successfully defend his title. In doing so, Farah became the first person to win back-to-back gold medals in successive Olympics.
Aside from that, he has also won multiple titles in both national and international games.
He has twenty-five gold medals, twelve silver medals, and three bronze medals from different racing events.
Mo Farah came second behind compatriot Ellis Cross, who beat him to the 2022 Vitality London 10,000m title on 2 May.
It was his first race since June 2021, when he could not qualify for the Tokyo 2020 Olympics.
Facts About Mo Farah
Farah also has a twin brother named Hassan, who got separated for twelve years.
Mo loves football and wants to play for Arsenal.
The elite Olympian runner has a famous victory pose called 'Mobot.'
Social Media Presence
Mo Farah is available on social media handles such as Instagram and Twitter.
View this post on Instagram
You can find updates here:
Instagram: 1.1 m followers
Twitter: 1.4 m followers
Popularity Graph
Sir Mo Farah is a Somalian-born British who has won 10 gold medals, making him the most successful male track distance runner ever.
Mo's search rate hiked after the documentary was released, which documented that he was one of the trafficked children.
Frequently Asked Questions (FAQs)
What is Mo Farah's diet?
The four-time Olympic gold medalist has a nutritious, high-protein meal such as pasta, chicken, rice, tuna, salad, and vegetables.
Is Sir Mo retired?
No, Farah has not provided any official statement regarding his retirement. However, the -year-old runner will be forty for the next Olympics in Paris.
Hence, it is doubtful that he will continue at that age so we might be hearing his retirement news soon.
What is the name of the Mo Farah documentary?
The name of the Mo Farah documentary is The Real Mo Farah.
The documentary portrays his biography, from being one of the trafficked children and becoming one of the world's leading long-distance runners.
Find More About Track And Field Athlete Luvo Manyonga Bio: Career, Olympics & Suspension >>