None of the jobs you see are ever easy! It's just the matter of decoration and delusion that runs it. Even as an athlete, they have much more than their fame and gameplay: criticism, comments, hatred, and many more.
Amidst all those decorated athletes stands one of the most controversial players, Neil O'Donnell.
Neil O'Donnell is a retired football quarterback featured in the National Football League (NFL) to those who aren't aware. O'Donnell had played for teams like the Pittsburgh Steelers, New York Jets, Cincinnati Bengals, and Tennessee Titans during his days.
Even naturally explained, a human sees a tiny dirt spot first, then the huge white decorated cloth. Similarly, most fans chose to see the few unimpressive plays of Neil O'Donnell rather than his hard-earned career.
However, Neil is also known as one of the best quarterbacks in the long and glorious history of the Pittsburgh Steelers franchise.
Quick Facts
Full Name
Neil Kennedy O'Donnell
Date of Birth
July 3, 1966
Birth Place
Morristown, New Jersey
Nick Name
skinny
Religion
Christianity
Nationality
American
Ethnicity
White
Zodiac Sign
Cancer
Age
56 Years Old
Height
6 ft 3 in (1.91 m)
Weight
230 lb (104 kg)
Hair Color
Dark Brown
Eye Color
Brown
Build
Athletic
Father's Name
Jack O'Donnell
Mother's Name
Barbara O'Donnell
Siblings
Four sisters; Jackie O'Donnell, Patty O'Donnell, Florence O'Donnell, and Rosemary O'Donnell
Four brothers; Michael O'Donnell, Steven O'Donnell, Peter O'Donnell, and Matthew O'Donnell
Education
Madison High School
University of Maryland
Marital Status
Married
Wife
Leslie O'Donnell
Kids
Not available
Profession
Football player
Position
Quarterback
Affiliations
Pittsburgh Steelers
New York Jets
Cincinnati Bengals
Tennessee Titans
Active Years
1990-2003
Net Worth
around $5 million
Social Media
None
Merch
Pittsburgh Steelers Hoodies, New York Jets Apparel
Last Update
March, 2023
Neil O'Donnell | Early Life
O'Donnell (fully named Neil Kennedy O'Donnell) was born on July 3, 1966, under Cancer's sun sign. Additionally, his parents are Barbara O'Donnell and Jack O'Donnell, and he has eight siblings, including four sisters and four brothers.
Furthermore, his whole family is into sports and is athletic in nature. Among all, his father was an avid lover of football and taught his children from an early age.
Looking as a whole now, all of his daughters (Jackie O'Donnell, Patty O'Donnell, Florence O'Donnell, and Rosemary O'Donnell) are athletic.
"I believe my toughness came from my father, my poise from my mother. My mom raised nine beautiful children, and I've never seen her mad. I've never seen her swear. She's an angel; she really is. My toughness, no doubt, came from my father. He never let anything stop him if he wanted something or set a goal."
– Neil O'Donnell
Neil O'Donnell | Brothers
Similar to his sisters, Neil has all of his brothers into sports who were also highly recruited by colleges. As a fun fact, Neil O'Donnell is the youngest among his brothers. His eldest brother, Michael O'Donnell, became a wide receiver at Penn State.
Besides, his second eldest brother Steven O'Donnell initially commenced as a quarterback at Michigan before transferring to Duke.
Following it, his other brother, Matthew O'Donnell, starred as the high school linebacker. However, he later moved into a law school.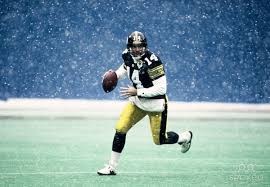 Moreover, his brother, Peter O'Donnell, was a tight end in New Hampshire. Similarly, let's dive into his own academics and initial days.
High School
As Neil O'Donnell was born in Morristown, New Jersey, he spent most of his childhood in Madison, New Jersey. Altogether, he had a peaceful and happy childhood, given the situation with his family and loving environment.
All in all, O'Donnell went on to attend Madison High School, where he featured in the school's football team. Back then, it was coach Monica who guided Neil even after retiring from high school.
Overall, Neil stood as the star of the Dodgers varsity team during his sophomore and junior years. Advancing forward, Neil posted a 4-2-3 for the season as a senior.
You might want to know about James Harrison Bio: NFL, Wife, Net Worth >>
College
Unfortunately, staring back into his high school stats, O'Donnell wasn't successful with a required report like everyone else's. However, he enrolled in the University of Maryland, as he commenced with a redshirted freshman.
In the beginning, O'Donnell played for his college team for a season and then played with the Terrapins for 3 seasons. Therewith, he only featured as the quarterback in 1988 and 1989 under Head Coach Joe Krivak.
Following it, Neil struggled with his gameplay and career; thus, he was even backed up by QB Scott Zolak. Apparently, their college team also had posted very few losses in that tenure.
O'Donnell maintained 26 touchdown passes, 3 rushing touchdowns, and 5,069 total yards as an overall statistic. In the meantime, he also bagged the Ray Krouse Award for Maryland team MVP.
Neil O'Donnell | Professional Career
O'Donnell partook in the 1990 NFL draft, where the Pittsburgh Steelers drafted him as 70th overall pick in the third round.
However, he didn't play instantly, as he sat for his whole rookie season on the bench. Likewise, Neil's foremost professional coach was Chuck Noll.
Pittsburgh Steelers
Altogether, Neil's foremost gameplay came in the season 1991, where he started in eight games. The very next season, O'Donnell became the full quarterback and, at the same time, also gained the only Pro Bowl selection of his career.
Additionally, that season, Neil had 2,283 passing yards, 13 touchdowns, and 9 interceptions. Apparently, the next year, O'Donnell maintained his career-high 3,208 passing yards, 14 touchdowns, and 7 interceptions.
Moreover, it was also closely followed by his lowest 1.4 interception percentage of his career. Neil O'Donnell led his team to the Super Bowl XXX with the ongoing fine career, where he gained his foremost controversy.
During the event, O'Donnell had thrown two interceptions to Dallas Cowboys cornerback Larry Brown. After the season, he was kept as the free agent.
New York Jets
Following it, O'Donnell joined the New York Jets on a 5-year $25 million contract, although Steelers had made an offer. With his first season in the team, O'Donnell posted 0–6 and had to suffer through an injury.
Layer as the head coach changed, and new coach Bill Parcells took over; Neil was doing well until he lost his starting position. Therewith, it ended the relationship between them, and O'Donnell was later waived from the team.
Cincinnati Bengals
Thereafter, Neil made a 4-year $17M contract with the Cincinnati Bengals on July 7, 1998. Besides his team, O'Donnell had recorded a 90.2 passer rating; however, he was seen as weak with the defense.
Hereby, they released him right during the end of the season.
Tennessee Titans
On July 24, 1999, Tennessee Titans signed in O'Donnell with a multi-year contract as Steve McNair's backup. During the absence of McNair due to injury, O'Donnell posted four wins out of five starts he made.
Following it, O'Donnell was also a winning team member in the AFC Championship and Super Bowl XXXIV. Right then, Neil O'Donnell announced his retirement in 2002; however, when McNair and Billy Volek got injured, Neil was called again to cover the spot.
For the 2003 game, Neil started the season and posted 232 yards and two touchdowns, leading the Titans to a 33–13 victory over the Tampa Bay Buccaneers.
Altogether, that season, Neil recorded the lowest interception percentage in NFL history (2.11 interceptions for every 100 pass attempt).
The Decline of a Year's Gameplay
After the compilation of a year playing out of his retirement, O'Donnell was also asked for another year's gameplay for the Pittsburgh Steelers.
However, he declined his former coach, Bill Cowher's offer to return even though starting quarterback Tommy Maddox sustained a season-ending injury.
Overall, the reason behind his rejection was the jersey number he was being provided.
"I'm a little superstitious. Everyone knows what number I wore [No. 14]…If I could write a storyline saying I played in the NFL for 14 years, with knock-on-wood, no really major surgeries…I didn't want to take the chance going back one more year."
– Neil O'Donnell
Read about Johnny Knox Bio: Early Life, Family, Football, Net worth, Injury >>
Neil O'Donnell | NFL Statistics and Highlights
Unlike other athletes, Neil O'Donnell didn't have a long career and history of gameplay. However, during his shortened career of over a decade, he has maintained Touchdowns and interceptions of 120 and 6, respectively.
Additionally, he has 21,690 yards and a quarterback rating of 81.8. Furthermore, Neil hasn't collected or bagged an array of awards during his career, so he has his only two highlights, which are;
Pro Bowl selection (1992)
AFC Completion Percentage leader (1998)
Post Football
With almost a total of 13 years of career in the NFL, Neil O'Donnell moved on to become a sports analyst.
To illustrate, he commenced his sports analyst's career in 2005, covering the Titans at WTVF, Nashville's CBS affiliate. Apparently, two years into the job, he left it in 2007.
Later, Neil worked for the FieldTurf representing the industry's leading synthetic turf manufacturer, Tennessee and Kentucky.
Net Worth
Although the athlete O'Donnell hasn't revealed his net worth to date, he is expected to have around $5 million.
In contrast, back in his career days, Neil O'Donnell had an average annual salary of $872,500 with a $90,000 signing bonus.
Residence (House)
As Neil O'Donnell used to live in 6 Coppertree Ln, Harding Township, New Jersey before, he resides in Nashville, Tennessee (TN), US. Back in 2018 March, Neil sold his Harding Township home for $3.7 million.
Designed as the sophisticated New Vernon French Normandy with a dramatic turret, his mansion boasted of a luxurious landscape.
Apparently, his mansion portrayed intricate moldings, which was a five-bedroom, 5 bathroom home.
Furthermore, the mansion stood at the 3.2 acres of land, including two fireplaces, a library, a gourmet kitchen, a mini-prep Kitchen, and a luxurious master suite.
Neil O'Donnell | Controversy
Today, the NFL's history holds an uncertain mystery in the air and the controversies surrounding the former athlete Neil O'Donnell. Back when Neil O'Donnell was out of the Pittsburgh Steelers, he chose to go away with New York Jets' new team.
Apparently, that time, the Jets were offering Neil a five-year contract, worth $25
million, including a $7 million signing bonus. In the meantime, Neil was again called by his former team, Steelers, to continue playing with them.
However, Neil rejected Steeler's offer to join the Jets when O'Donnell faced criticisms all over.
To elaborate, Neil was called someone who went for gold rather than the glory after he exceeded John Elway, Dan Marino, and Emmitt Smith on the NFL salary list.
Most Disliked Athlete?
Neil O'Donnell had his last game in the Pittsburgh steelers through the Super Bowl XXX. This particular event has been called one of the worst gameplay of Neil O'Donnell and the Steelers.
Many news flashed with this heading, and many even said how banned it was to take O'Donnell's name alongside Steelers. This is because it is known as the game that ruined Pittsburgh's legacy.
Altogether, the Steelers had a scrappy fight in the event, pulling off as one of the biggest upsets in Super Bowl history. Both the inception that O'Donnell threw to Larry Brown in the game lacked defense thus, giving the victory to Dallas.
To illustrate, his first throw was simply below average for athletes, while his second throw was a miscommunication between the teammates.
Therewith, Neil had been criticized for his gameplay and skills, which remain intertwined to date alongside the 90s era worst games.
Neil O'Donnell | Personal Life
Like everyone, Neil had his share of ups and downs both in his professional and personal life. Let's dive into some of his ups and downs real quick.
Father, Jack O'Donnell's Death
Nothing in this world claims to be more painful than the closest person with you leaves you behind. In June 1994, Neil's father, Jack O'Donnell, took his last breath after struggling with life since 1992.
Neil had ever been so close with his father, and actually, Jack O'Donnell was a meticulous man when it comes to children. Infact, he was the one who generated the idea for Poor Herbie's restaurant and Michael B. Fitness.
Things were in place when suddenly, in 1992, Jack had a stroke, which led him to the hospital in an emergency. Apparently, Neil was in his training camp during the incident, and thus, it was his other siblings taking care of Jack.
Seeing his father's condition, Neil had decided to skip the preseason opener; however, his mother wanted to keep him playing as his father loved to see him doing that.
Following it, Jack O'Donnell had suffered through many strokes in the time being and finally found his peace in the summer of 1994.
Before his death, Jack had his left side paralyzed and needed brain surgery.
"It was just a total shocker. You never think it could happen to your family, especially my dad, just knowing how tough my dad was. I always believed no one could ever hurt him. He went through six hours of brain surgery, and he wasn't out of the woods, and I was thinking about blowing home immediately. I kept telling myself I didn't want to fly home to bury my father."
– Neil O'Donnell
Wife and Kids
Neil O'Donnell is a married man who tied his knot to Leslie O'Donnell in the early 90s. Back then, Leslie was a Madison High School physical education teacher.
Unfortunately, there is no information regarding his wife more than this, nor is there information about his children.
Apart from it, Neil doesn't have any social media accounts that he uses. Therefore, it's hard to know more about his personal life.
Neil O'Donnell | FAQs
Did Neil O'Donnell win the Super Bowl?
Unfortunately, no. Neil O'Donnell didn't win the Super Bowl; instead had many shortcomings during the event that is still in history's pages.
Does Neil O'Donnell regret his decision to choose the Jets over the Steelers?
According to Neil's interview with ESPN, O'Donnell said he didn't regret his decision back then. Also, it came as a change of environment for him.