Nick Young is a basketball player from the United States who last played his game for Denver Nuggets.
Young has played professionally for twelve years and is an NBA championship winner.
Moreover, he is also popular with the name, Swaggy p. Nick's ability to make even the most difficult shots feel simple, and his command of the game is outstanding.
Nick has inked a contract with Enemies of the Big3 for the 2021 season, giving his supporters hope for a comeback.
He also demonstrates excellent ball-handling and defending skills. Nick was assigned to the role of shooting guard.
Let's take a deeper look at Nick Young's personal life, career, and other aspects of his life. Here are some quick facts about him before that.
Nick Young | Quick Facts
Full Name
Nicholas Aaron Young
Birth Date
June 1, 1985
Birth Place
Los Angeles, California
Nick Name
Swaggy P
Religion
Christian
Nationality
American
Ethnicity
Black
Education
Horoscope
Gemini
Father's Name
Charles Young Sr
Mother's Name
Mae Young
Siblings
Charles Young Jr.
John Young, T
Age
38 years old
Height
6'7″ (2.01 meters)
Weight
210 lb. (95 kg)
NBA Draft
2007/Round:1/Pick:16th overall
Hair Color
Black
Eye Color
Black
Career Highlights & Awards

NBA champion (2018)
2× First-team All-Pac-10 (2006, 2007)

Build
Athlete
Marital Status
Unmarried
Girlfriend / Wife
Keonna Green
Children's
Navi Young, Nick Young jr., Nyce Young
Position
Shooting guard
Profession
Former Basketball player
Net Worth
Around $25 million
Salary
$ 39,375,829
Last Played for
Denver Nuggets
League
NBA
Active Since
2007-2018
Social Media
Instagram, Twitter, Facebook
Merch
Trading Card
Last Update
November, 2023
Nick Young | Early Life, Family & Education
Young was born in Los Angeles, California, on June 1, 1985, to Charles and Mae Young.
Nick's father traveled to LA from Milwaukee and Chicago to pursue a career as an actor, and Nick was born there. His father had a one-hit movie, which he constantly reminds Nick of.
Young grew up with his brothers, Charles Young Jr. and John Young. Nick's brother, Charles Young Jr., was murdered when he was six years old.
Nick had a difficult upbringing, which was even more complicated when he lost his brother when he needed him the most.
But his basketball love was influenced by his brother, T, who won MVP in the competition, and Nick went to high school the next day and joined a basketball team.
That's how he became interested in basketball, to the point where he almost skipped school to play it in a park.
Nick Young | Careers
Early Career
Early in his career, he had a fantastic time since he was utterly devoted to basketball and was frequently praised for his efforts.
Nick chose Hamilton High School before deciding to go to Cleveland, but he was expelled after causing a stir at the school and being busted in the valley.
Similarly, Nick joined Cleveland High School later and completed his high school education there. He used to be the best basketball player in his high school days.
When he was playing basketball, Hoop Scoop named him the sixth most outstanding player in the country, and he was ranked among the top 50 recruits in 2004.
He enrolled in the University of Southern California to finish his undergraduate career once he completed his high school degree.
Similarly, Nick spent four years in college playing as a member of the Trojans.
Nick led USC to a 77-60 first-round triumph against Arkansas and a second-round victory over the Texas Longhorns.
Following his junior season, Young declared to the Los Angeles Times on April 15, 2007, that he would forego his senior year and join the 2007 NBA Draft, as predicted.
Young was drafted by the Washington Wizards with the 16th overall selection, beginning his career as a professional basketball player.
Professional Career
Young started his professional player journey with Washington Wizards, making his first NBA debut on December 15, 2007, over the Sacramento Kings.
A month later, Nick was charged $10,000 by the Wizards for participating in antics before the game over the Philadelphia 76ers. Nick scored career-high 43 points in 2011 against the Kings.
Nick played six seasons with the Wizards, and in 2012, he was traded to Los Angeles Clippers in a three-way trade.
He put on a spectacular effort against the Oklahoma City Thunder on April 16, securing the Clippers' first playoff berth.
Similarly, on July 12, Nick made out a year deal with the Philadelphia 76ers. Next year in 2013, Young made a contract with Los Angeles Lakers.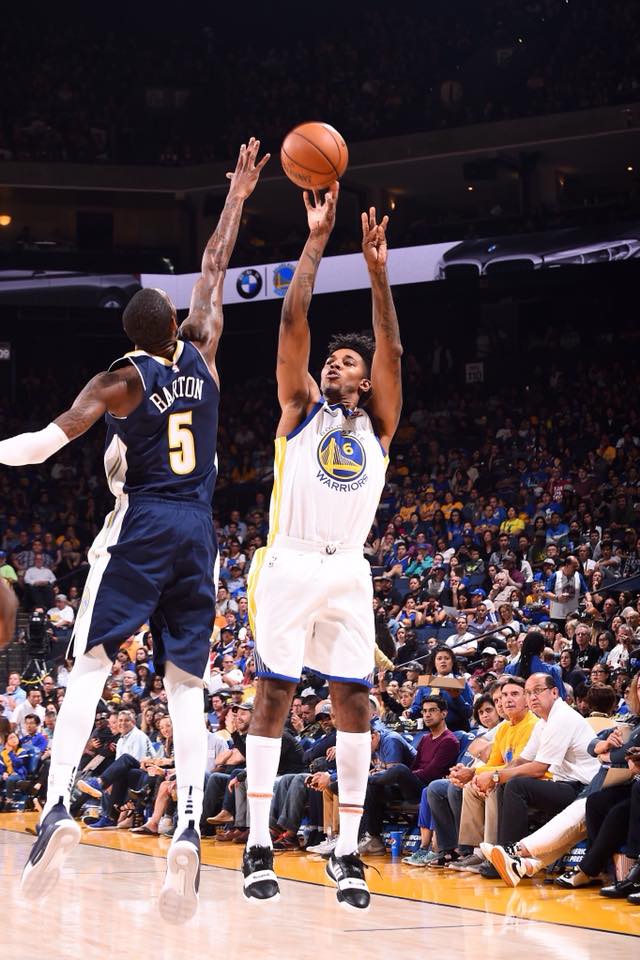 Nick resigned from a four-year and $21.5 million deal with the Lakers in 2014. Young had a terrible season in 2014 due to a radial collateral ligament injury on his right thumb.
He was out for six to eight weeks due to a thumb injury, and after ten games missing, he finally made a comeback in November and made a win against the Hawks.
Likewise, in 2016, he suffered from a right calf muscle injury which made him be out for two to four weeks, and he made his return in December. After his contract expired, the Lakers stated that they would not re-sign him, making him a free agent.
Nick signed with Golden State Warriors in 2017 and helped the Warriors reach the finals of the 2018 NBA and win against Cleveland Cavaliers in four-game.
Moreover, his last game was in 2018, when he signed with Denver Nuggets and appeared in only four games.
Recently in 2021, he signed with the Big 3.
Awards and career Highlights
Nick has always been praised for his basketball abilities and dedication, and he has garnered several distinctions and trophies during his basketball career.
The following are some of Nick Young's career highlights and awards:
NBA champion

(

2018

)

2× First-team

All-Pac-10

(2006, 2007)
Uncover everything about Klay Thompson. He is an American basketball player who currently plays for Golden State Warriors.
Nick Young | Age, Height & Weight
Speaking of his Age and Horoscope, Young is currently 36 years old, and his zodiac sign is Gemini.
Young is a highly fit athlete who is worried about his exercise and practices to achieve his goal of becoming a champion.
He is 6 feet 7 inches tall, or 2.01 meters. He stands at the proper height to play basketball and score.
Speaking of his Weight, Young is 95 kg or 210 lbs.
Nick Young lives true to his moniker with colorful and unabashed wardrobe choices.
Swaggy P, who is known for wearing OFF-WHITE and Fear of God, Saint Laurent, and Supreme, is attempting to launch his label, Most Hated.
Learn about Troy Brown Jr's Net worth, career, and more. He is an American basketball player who currently plays for the Washington wizards.
Nick Young | Net Worth & Career Earning.
Nick, a seasoned player, has made a nice living off his basketball passion. His earnings have allowed him to live a comfortable and happy life with his family.
However, Nick's actual net worth is unknown, although it is estimated to be $25 million.
He has earned $39,375,829 while playing for four different NBA teams. You can check out his past salary history on HOOPSHYPE.com.
Nick Young | Personal life
Nick has been seeing Keonna Green, his high school sweetheart. The couple had been together for a long time, and they also created a family together.
Young and Keonna are the parents of three children: two sons, Nick Young Jr. (2012) and Nyce Young (2019), and one girl, Navi Young (2016).
The eldest, Nick Young Jr., is in high school and, like his father, is a basketball fan. The other two kids aren't old enough to go to school yet.
On December 25, 2019, the duo engaged and shared a cute video of young proposing to Keonna on his Instagram account.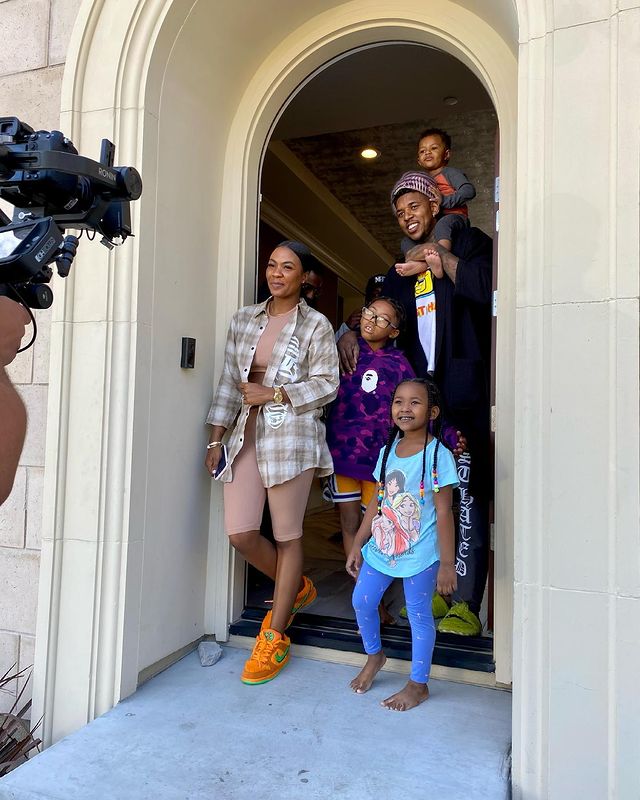 Beautiful Keonna Green is a full-time DMS student who has been on the reality show OWN: Behind Every Man.
Nick is a family man who values his loved ones above anything else. He appreciates and enjoys spending time with his children.
Moreover, Nick is a cousin of NBA player Kevon Looney and a cousin of rappers Kendrick Lamar and Baby Keem.
Young filmed a Second Chance Season in 2007, in which he exposes his escapades, flaws, and achievements in the film.
Nick Young on the origin of his Nickname, "Swaggy P."
Nick's nickname, Swaggy P, has stirred people's interest in the origins of this moniker.
Nick revealed in one of his previous interviews that he had a dream where an angel came into his dream and called him Swaggy P, and that's when he started calling himself Swaggy P.
When questioned about Swaggy in NBA Game Time, he stated that it all starts with how he got inside the arena, and the P in his moniker is a secret that he can't reveal right now.
Nick Young with Ex-girlfriend, Iggy Azalea
Young, the charming man, has an unusual dating history that was once the talk of the town.
NBA player Young once shocked his followers with rumors that he was dating Australian rapper Iggy Azalea.
The rumor took a turn as a duo announced their engagement on June 1, 2015. However, Iggy broke off their engagement in 2016.
On her Twitter account, she stated why she broke up with Nick. She claimed that she observed him with another woman in her house while she was away.
Iggy went on to say that she had no idea Nick's baby's mother was pregnant and expressed her heartbreak, explaining that she had no idea who she had loved all this time.
Nick Young | Memes
In 2014, Nick appeared in the web series called "Thru The Lens," featuring a day in his life.
Nick's perplexed look went viral during a talk with his mother about his being a clown when he was younger.
The @worldstarFunny Twitter account released a photo of Nick with a confused expression with the word "Que?" and a joke in 2015, and it quickly became a meme.
Check out Nick's response to his meme, which was shared on Lamorne Morris' Instagram account and will undoubtedly make you laugh.
Discover about Jayson Tatum's career, net worth, and more. He is an American basketball player who has played for NBA and American National teams.
Nick Young on Social Media
Young interacts with his followers on Instagram, Twitter, and Facebook on social media platforms.
Nick is social media savvy, with most of his postings centered on himself, basketball, and his family.
Please use the links below to follow him on social media.
Instagram: 3.4M followers
Twitter: 527.2k followers
Facebook: 643k followers
Frequently Asked Questions (FAQs)
Is Nick Young retired from the NBA?
Nick has signed with Enemies for the 2021 season after taking a break from basketball after his last game with the Wizards.
What numbers jersey did Nick wear throughout his basketball career?
Nick has worn jersey number 0 with Lakers, 1 with 76ers, 6 with Warriors, and 34 with Nuggets.