Quinton Ramone Jackson or Rampage Jackson is an American mixed martial artist, an actor, and a former professional wrestler.
Widely known as "Rampage" because of his wildly fighting nature, Jackson has also fought kickboxing. He has a record of 38 MMA fight wins.
Jackson fought most of his matches in Japan. Japan's pride organization marketed him because he was penniless at that time.
From rags to riches, Jackson turned himself into a very successful person. He was homeless during his career's start, and now Rampage has become a rich person.
Acting in over 40 films and TV serials, Jackson has become a television celebrity. However, he likes to call himself an MMA fighter.
Let's know more about Rampage Jackson, how he managed to become a star in wrestling and television. But before that, let's explore quick facts about Rampage Jackson:
Rampage Jackson | Quick Facts
| | |
| --- | --- |
| Full Name | Quinton Ramone Jackson |
| Birth Date | June 20, 1978 |
| Birth Place | Memphis, Tennessee, United States |
| Nick Name | Rampage |
| Religion | Christianity |
| Nationality | American |
| Ethnicity | African-American |
| Education | Completed High School from Raleigh-Egypt High School |
| Horoscope | Gemini |
| Father's Name | Charles Jackson |
| Mother's Name | Information Not Available |
| Siblings | One Younger Sister |
| Age | 44 Years Old |
| Height | 6 feet 1 inch |
| Weight | 120 Kilograms |
| Hair Color | Brown Black |
| Eye Color | Black |
| Build | Muscular |
| Profession | MMA Fighter, Wrestler, Actor |
| Professional Career Winnings | 38 |
| Active Years in MMA | 13 Years |
| Sexual Orientation | Straight |
| Marital Status | Single |
| Wife's Name | Yuki Jackson |
| Kids | Four; Darnell, Elijah, Raja, and Name Jackson |
| Net Worth | $12 Million |
| Social Media | Instagram, Twitter, Facebook |
| Merch | Books, Poster |
| Last Update | June, 2023 |
Early Life, Parents, and Education
Jackson was born on June 20, 1978, in Memphis, Tennessee. His father, Charles Jackson, and his mother belong to a low-class family. They used to do small business.
Furthermore, Jackson has a sister who is currently living in America. But he doesn't want to tell who she is. People have not spotted her till now.
Jackson had a challenging childhood. He left his home when he was ten years old. Jackson sometimes regrets his decision. But to forget his past, he now supports the family.
However, there is not much information about his father and mother. However, they are currently residing with Jackson in California.
Education
After disappearing from home for seven years, Jackson returned. After that, he joined Raleigh-Egypt High School to complete his studies.
In school, Rampage developed an interest in wrestling. Jackson joined combat sports to become an amateur wrestler.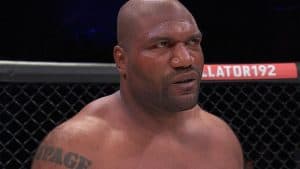 Quinton Jackson moved to Lassen Community College for further studies. He studied wrestling and practiced it with his collegemates.
Rampage Jackson | Career
Rampage's career started in high school. A keen interest in wrestling attracted him to different competitions.
High school coach Jacob Noe trained him for amateur wrestling. Noe is a professional Bellator light heavyweight champion.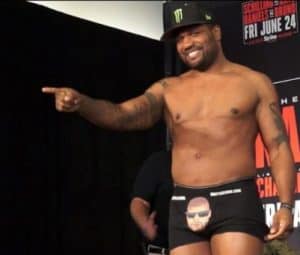 After competing in high school, Jackson joined the college to do amateur wrestling. There, he competed with different teammates. However, the college fired him regarding issues with his teammate.
Rampage shifted to Las Vegas after that incident. He was penniless at that moment. Therefore Jackson decided to train Bellator MMA fighter, Lewis Rumble.
Professional Career
Jackson started to fight cage matches at the beginning of his professional career. He had a decent record of ten wins and one defeat.
He used to fight in King of the Cage competitions. Jackson won his first MMA title shot in the tournament.
After winning a handful of matches, professional trainers caught him. Japan's pride organization invited him to fight in the kickboxing games.
Jackson fought in opponent with numerous professional Japanese fighters.
The pride organization took his expenses and sponsored him to play the matches. Jackson was fortunate because he didn't think of playing in Japan for free.
In Pride 17, he won his first knockout match against Yuki Ishikawa. Furthermore, Jackson was unsuccessful in winning his title in Pride 17. Aginst the match with Dajiro Matsui, he lost.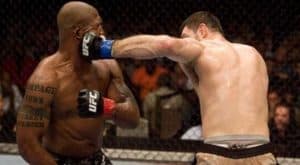 Yet, Jackson returned to win more matches in kickboxing after that defeat. He defeated famous kickboxers, including Masaaki Satake, Igor Vovchanchyn, and Kevin Randleman.
Read more, Bob Sapp – Football, Movies, Wrestling, Facts & MMA.
Rampage played his last pride match with Hirotaka Yokoi. He won that match with a unanimous decision from the referee.
From Pride 15 to Pride 31, Jackson played so many matches that have not been recorded in the database.
UFC Career
Jackson decided to play for the UFC in 2006. But he was not allowed to play because of the legal disputes regarding his contract.
However, the dispute ended in 2007, and Jackson played his debut fight in the UFC 67.
In his first UFC match, Rampage knocked out Marvin Eastman. In an ESPN interview, Jackson told the media that he was happy to avenge Marvin in the UFC.
Furthermore, Quinton Jackson entered into the group stage in UFC 67. But he faced defeats. So he was disqualified from the championship.
Rampage won his first UFC title in May 2007 by beating Chuck Liddell and Dan Henderson.
From then on, Rampage has fought over in 52 UFC fights. He has won 28 and lost 14 matches.
His UFC career is satisfying because he has gained numerous titles, including Fighter of the Year.
Wrestling Career
Jackson decided to retire from the UFC and continue his dream for wrestling. He signed a contract with TNA, a professional wrestling tournament.
Are you enjoying reading? Read more: Sergio Pettis Wiki: Girlfriend, Career, Net Worth & Instagram.
Rampage only wrestled for a year in the Impact Wrestling program for TNA. He did not perform well in wrestling.
After having arguments with the director of the program, Jackson decided to withdraw his contract. He decided to discontinue wrestling. It left his fans shocked.
Acting Career
Jackson started acting in 2001. The television series Jackass, a comedy-reality show, invited him to do a cameo role. Quinton did his debut in Jackass.
Rampage has acted in over 40 films and television series. Jackson is famous for playing as B.A Baracus in the film The A-Team. This film stars some of the famous Hollywood actors such as Liam Nesson and Bradley Cooper.
Also, he has acted in the famous adult television series The Cleveland Show. Despite these, Jackson has made cameo roles in numerous films.
Rampage Jackson | Career Records and Stats
Professional record breakdown
52 matches
38 wins
14 losses
By knockout
20
4
By submission
4
2
By decision
14
7
By disqualification
0
1
Wife, Kids, and Personal Life
While fighting for pride in Japan, he was in a relationship with a Japanese girl. After dating for a year, the couple decided to marry.
Rampage Jackson tied his knots with a Japanese citizen Yuki Jackson in 2002.
Want to read more? Read this: Who is Dan Hooker? Early Career, UFC, and Net Worth.
The couple has three children together, Darnell, Elijah, and Naname Jackson. They were living a happy life until something about Rampage was revealed.
The media reported that Jackson had fathered a child in 2000 with another woman. Through a paternity test, it proved that Raja was his biological son.
After that incident, Yuki decided to separate from Jackson. The couple divorced in 2006.
Nowadays, Yuki and Jackson meet with each other as good friends. Sometimes, they are spotted together in his home.
Rampage Jackson | Controversies
Rampage has been stuck in a lot of controversies in his whole life. From childhood, he has done a lot of wrong things, which made his image degraded.
In 2009, Jackson intentionally rushed into a cage reporter and beat him. He also frightened his fans, who were sitting on the chairs. Rampage was fined for the incident.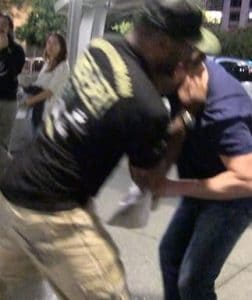 However, he did not stop doing the wrong things. Jackson allegedly commented vulgar words for sports reporter Karyn Bryant.
He also tried to assault Bryant. Jackson also acted in a misogynistic video that appeals to sneak up on women with chloroform in the parking lot.
It doesn't stop here. Jackson's controversies have long lists. He has been arrested for reckless driving in a hit-and-run case.
He accidentally hit a pregnant woman with a car. Jackson stayed in prison for three days.
Drug Addiction
In his early teenage, Jackson began to sell drugs to earn money. His father, Charles Jackson, was also a drug user. He learned things from his father.
Jackson used to do street fights and stay away from home. He also used drugs from a young age. As a result, Jackson left home and disappeared for many years.
But when he returned home, Jackson decided to stay away from drugs. From then, he stopped using drugs.
Salary and Net Worth
Rampage Jackson earns $300,000 per year. He has recently signed a contract with Bellator MMA, which endorses him as an old fighter.
Combining his total earnings Jackson's net worth is $12 million. Most of his earnings comes from his fighting career and prize money after winning championships.
Jackson is living a great life with his children. He earns a lot and expends it for his children.
He also earns a lot of money through brand promotions. Jackson is an ambassador of the famous brand Nike.
Rampage earns a sufficient amount from acting too. Jackson was grown-up as a homeless child, but now, Jackson has achieved a lot. He has a lot of income sources.
Taking about his other personal assets. he owns a lavish house with variety collection of Cars.
Rampage Jackson on Social Media
Jackson is currently active on three social media platforms. He actively uses Twitter, Instagram. But doesn't use Facebook much.
Instagram – 604k Followers
Twitter – 742.4k Followers
Facebook – 876k Followers
Some Queries about Rampage Jackson
Is Rampage Jackson a drug addict?
No, Rampage Jackson is not a drug addict. However, he used to do drugs during his childhood.
When did Jackson Retired from his Career?
The MMA Fighter announced his retirement in the year 2009 from a blog on his website. Later on, he decided return back to his career and continue fighting on December 4,2009.
Is Rampage Jackson sick?
Yes, Rampage Jackson suffers from a medical condition known as low testosterone disorder. He currently goes to the hospital for testosterone hormone therapy.
Who did Jackson Fought in the last match before retirement?
Before Retirement, he was scheduled to fight with the winner of the Machida vs. Evans but the match did not happened.
What is the diet plan of the MMA Fighter?
Jackson has a very strict diet plan. As a fighter, he focuses on high protein food and low carbs to lose weight quickly. He only eats cheat meal once a week.
Similarly he also do lot of exercises and workout to maintain his body and keep it stronger.
What is Rampage Fighting Style?
Rampage Fighting style is Striker.
Where did Jackson started his Training in MMA?
He started his training in MMA in Las Vegas with BAMMA fighter Lewis Rumble