Reshad Jones has become a free agent as of 2020. He is an American football strong safety.
The American National Football League club Miami Dolphins released the 32-year-old in March 2020.
He had been playing for the Dolphins since 2010 in American Football Conference East Division. However, the Dolphins cut him off because of his old age in terms of sports.
They are in the pursuit of rebuilding the club and are in search of younger talents.
After a 10-year career in top-flight American football, Jones is now nearing very much towards the dusk of his career.
The tough challenge for him right now is to pass a physical test for a team to continue his playing journey.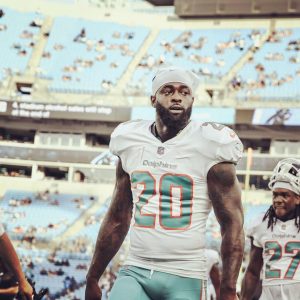 Nonetheless, Reshad has had a pretty good career as a Dolphins player and a college player.
Additionally, there are speculations that he will consider a real estate career if no club will show interest in him.
That would be an interesting decision and good for him to accumulate more fortune.
So let's have a glance at how it all began for Jones since his birth and through a wonderful college career.
Quick Facts
Full Name
Reshad Monique Jones
Birth Date
February 25, 1988
Birth Place
Atlanta, Georgia, United States
Nickname
Reshad Jones
Religion
Christianity
Nationality
American
Ethnicity
Black
Education
Booker T. Washington High School, Atlanta

University of Georgia

Horoscope
Pisces
Cousin
Adam 'Pacman' Jones
Age
35 Years Old
Height
6 feet 1 inch (185 cm)
Weight
98 kg (215 lbs)
Shoe Size
16
Build
Athletic
Eye color
Dark Brown
Hair Color
Black
Profession
NFL player
Playing Position
Strong safety
Active years (Senior Career)
2010 – present
Team
Free Agent

Miami Dolphins (2010 – 2020)

Sexual Orientation
Straight
Marital Status
Unmarried (Single)
Ex-Girlfriend's Name
Darnell Nicole
Children
One daughter; Carson
Jersey Number
20
Net Worth
$12 million
Career Earnings
$58 million
Salary
$12 million
Social Media
Twitter, Instagram
Merch
Football card, Player Plaque
Last Update
November, 2023
Reshad Jones | Early Life and Education
Jones was born on the 25th of February, 1988, in Atlanta, Georgia. He was raised there. Also, he joined Booker T. Washington High School.
Jones immediately joined the school's football team as a defensive player.
The Atlanta Journal-Constitution and the Georgia Sports Writers Association awarded him AAAA All-State and Defensive Player of the Year titles.
He earned those titles at the senior level in high school.
Moreover, PrepStar 100 and Rivals Top 100 entitled him as the best safety in America.
Besides, he was also featured in the Fox Sports Net South Countdown to Signing Day All-South First Team as a defensive back.
Accordingly, he got instant recognition in his days at high school, developing a brilliant talent in himself.
Kia Nurse Bio: Instagram, Australia, Salary, Contract, Career Wiki >>
Reshad Jones |fag College career
Jones attended the University of Georgia for higher studies. He played with the varsity team at college for three years.
After that, he joined the starting main team, Georgia Bulldogs.
Overall in his college career, he started 27 games out of 39 in which he appeared. In terms of stats, he had 206 tackles with 10 stops for losses.
Besides, he recorded 13 passes and 11 interceptions for 174 yards.
Jones got recognition as the leader in interceptions for two consecutive years. Besides, he was included in the Sophomore All-American second-team and All-SEC second-team.
Also, he was entitled to the team's Most Improved Defensive Back.
Furthermore, as a junior, he was honored with the team's Most Improved Player Award for defense and the All-SEC second-team feature.
Reshad Jones | Professional career
Jones had dinner with team personnel of the Miami Dolphins while he had a two-day visit there. Immediately, there was news in the media linking him with the club.
Besides, he had attended the NFL Scouting Combine in Indianapolis. Similarly, NFLDraftScout.com ranked him as the third-best safety during the draft period in 2010.
Drafted by Miami Dolphins and debut
The Dolphins poached Reshad in the fifth round of the NFL Draft in 2010. Jones was the 13th safety that was selected in the same season.
Eventually, he signed a four-year $1.95 million contract with the Dolphins.
The contract included a $160,400 signing bonus. After the departure of Gibril Wilson, the position of safety was vacant. Jones was a backup to Chris Clemons for it.
The season-opening 15-10 win against the Buffalo Bills was the debut match for Jones.
However, he had to wait until late November to secure his position in the starting lineup for the first time.
Overall, his debut season provided him with 21 tackles, an interception, and two pass deflections with two starts.
Frequent starts
Jones got a position in the starting lineup against Julian Edelman's New England Patriots in the season-opening match.
After that, however, injuries took away his starts, and he was a backup for Tyrone Culver.
After the new coach was assigned to the club, he received frequent starts.
In the 2011 season, he had a total of 67 combined tackles, four pass deflections, and an interception. Also, he had started 12 games out of 15 he appeared.
He joined free safety Chris Clemons in strong safety starts in the 2012 season too. Notably, he had 14 combined tackles against the Buffalo Bills, where the Dolphins lost 14-19.
Similarly, he had intercepted a pass from Tom Brady during a match against the New England Patriots. No doubt, he had the most interceptions among the Dolphin's players.
Jennifer Jo Cobb Bio: Net Worth, Career, Salary, Husband, Instagram Wiki >>
Establishment of the team and the new contract
Jones signed a four-year $28.01 million contract with the Dolphins, including a $5 million sign bonus.
Now, he had already been a key player of the team and made a safety duo with Clemons.
Jones made his first career touchdown against the Baltimore Ravens in October 2013.
After all, he ended the 2013 season with 107 combined tackles with four pass deflections, an interception, and a touchdown.
He had started all the 16 games he played that season. But in August 2014, he was alleged to use a performance-enhancing drug.
Consequently, he was suspended for the first four games of the season. But he had clearly denied the intentional use of any such substances.
Eventually, his season debut came late against Desmond Howard's Green Bay Packers in week 8.
Jones ended the season with a total of 80 combined tackles, three interceptions, and seven deflections. Furthermore, he was in the starting XI of each of the 12 games he played the season.
Improvement in stats
In the 2015 season, Walt Aikens paired with him in safety. He started the season-opener against the Washington Redskins with a 17-10 victory.
After all, he saw his performance boost up in terms of numbers in the season.
The strong safety made 135 tackles and five interceptions in the season. Besides, he was named to the Dolphins' Pro Bowl roster in 2016.
Adam Gase was the new head coach of the team in 2016. But, again, this season, too, he started the season opener.
It was against the Seattle Seahawks, resulting in a 12-10 loss. Against Mike Golic Jr.'s Pittsburgh Steelers, he had an interception and five tackles for a 30-15 win.
However, he had to miss the remaining season since October due to a torn rotator cuff.
Second Pro Bowl appearance and contract extension
In early 2017, Jones extended his contract with the Dolphins for five years with a $60 million deal. Later, in December, he made his second Pro Bowl appearance.
Overall, he had 124 combined tackles with five deflections, two interceptions, and 1.5 sacks.
Besides, he was ranked in the 29th position in the top safeties list by Pro Football Focus in 2017.
In the 2018 season, he made two interceptions in the season opener against the Tennessee Titans.
For the first time in his professional career, he could do it in a single game. Unfortunately, an injury in November ruined almost all of his remaining 2019 season.
Alexa Grasso Bio: Career, Age, Height, Salary Wiki >>
Free-agent and probable step in the career
Because of injuries and increasing age, recoveries were delayed for Jones. Consequently, the Miami Dolphins released him in March 2020 despite having two years left on his contract.
As of now, no club has hired him. As a result, some sources speculate that he intends to pursue a settled career in the real estate business.
Reshad Jones | Career Stats
| | | | | | | | | | | | | |
| --- | --- | --- | --- | --- | --- | --- | --- | --- | --- | --- | --- | --- |
| Year | GP | GS | Total | Solo | Ast | Sck | SFTY | PDef | Int | Yds | Lng | TDs |
| Total | 128 | 113 | 776 | 599 | 177 | 10.5 | 0 | 55 | 21 | 361 | 54 | 6 |
Reshad Jones | Awards and titles
Jones's professional career in the NFL did not bring any titles at both individual as well as club levels.
Being selected in the 2010 NFL draft remained the biggest success for him. But he had received several recognitions in his college and school career.
Jones was named the Most Improved Defensive Player of the team two times at Georgia University.
Besides, he clinched the AAAA All-State and Defensive Player of the Year in his high school.
They were provided by The Atlanta Journal-Constitution and the Georgia Sports Writers Association.
Also, a few sports journals ranked him the best safety in America at the high school level.
Reshad Jones | Net Worth and Salary
Jones has been playing professional matches in National Football League for a decade. Accordingly, he has accumulated a fair sum of fortune from the club and other sponsors.
Although he is a free agent now, he was paid $12 million annually as part of a $60 million/five-year contract.
Besides, the Dolphins have to provide him $2 million for cutting off the contract.
Reshad Jones has a net worth of around $12 million as of 2023.
Overall, Jones earned more than $58 million in ten years of his professional career. But, currently, no club showed any interest in him.
Thus, he is willing to divert toward the real estate business. No doubt, it will certainly boost his economic condition.
Besides that, he lives in a lavish house in Plantation, Florida. The house has 6 beds and a 7-bath house.
Reshad Jones | Dating, Fiancé, and Children
Reshad Jones previously was in a relationship with WAGS Miami star Darnell Nicole. The two had a daughter named Carson in September 2013.
Also, they were engaged in 2016. But, unfortunately, the couple separated, breaking their engagement in the same year.
As of now, the 32-year-old is a single man. He is having a rough time in his career dealing with club departures. Thus, he is totally focused on rebuilding his career off or on the pitch.
Reshad Jones | Social Media Presence
Reshad uses Instagram and Twitter as his social media handles. He reaches out to his fans frequently through the posts on those accounts.
Twitter: 37.8 thousand followers
Instagram: 93.1 thousand Followers
Reshad Jones | FAQs
Has Reshad Jones retired?
No, the footballer hasn't retired just yet. However, he might pursue that road as his injuries have been nagging him a lot lately.
Due to the pandemic, he couldn't get neck surgery for his injury, so he did not play in the 2020 season. Moreover, he hasn't signed with any team since the Dolphins released him in 2019.
Nevertheless, the strong safety does not seem so sad about his NFL career potentially coming to an end. He said,
"I went out every week for 10 years and laid everything I had on the line. That's why I say no regrets."
Nonetheless, the exceptional player will be missed in the league a lot. During the post-practice quotes, the former Dolphins head coach said,
"If his body parts are working, he's going to do everything, everything he can to be on the field."
Where is Reshad Jones being traded?
The footballer is not being traded anywhere. The Dolphins released him in 2019, and Jones hasn't signed with another team since then.
Does Reshad Jones play Valorant?
The video game looks quite interesting. The athlete might play Valorant.
Was Reshad jones involved in a shooting?
No, the NFL player was not involved in any shooting. Instead, it was a person with a similar-sounding name to his.
What is Reshad Jone's zip code?
Reshad lived in Plantation, Florida. You can check Plantation's zip code at Zipcodes.com.