There are barely any words that sum up the career of Richard Jefferson, who has given seventeen years of his life to the game of basketball. Even today, he still associates himself with the sport.
From the Nets to the Warriors, Cavaliers, and Nuggets, he has played for many of the well-known teams in the National Basketball Association League. Richard is a sports analyst for one of the biggest American sports channels, ESPN.
Furthermore, the basketballer can be widely seen over various ESPN platforms such as NBA Countdown, The Jump, First Take, Get Up, SportsCenter, and Hoop Streams.
Similarly, the former NBA player appears as a game commentator, especially for the Brooklyn Nets. Coincidentally, Richard started his basketball career with the New Jersey Nets, now known as the Brooklyn Nets.
Furthermore, he was the 13th overall pick in the 2001 NBA Draft. Aside from that, the athlete had a splendid NBA career as an exceptional role player.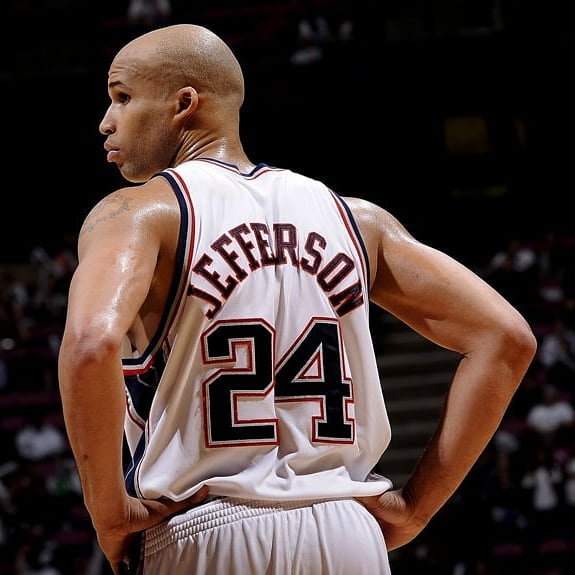 Given Jefferson's skills, he should have won more than one NBA championship. Nonetheless, that one championship truly defines his career as a great role player.
He was the Party of the glorious 2016 Cavaliers team that came down 3 to 1 deficient to win the title. They are the only NBA team to achieve this accomplishment.
Not to mention, Jefferson was outstanding throughout the seven-game NBA final series. Richard felt his presence on both sides of the floor, defensively and offensively.
Before going into details about the basketballer's life and career, here are some quick facts about him.
Quick Facts
| | |
| --- | --- |
| Full Name | Richard Allen Jefferson |
| Birth Date | June 21, 1980 |
| Birth Place | California, Los Angeles, United States |
| Nick Name | RJ |
| Religion | Christian |
| Nationality | American |
| Ethnicity | African/American |
| Education | University of Arizona |
| Horoscope | Cancer |
| Father's Name | Richard Allen Jefferson Senior |
| Mother's Name | Meekness LeCato |
| Siblings | None |
| Age | 42 Years Old |
| Height | 6 feet 7 inches |
| Weight | 233lbs (106kg) |
| Hair Color | None |
| Eye Color | Dark Brown |
| Build | Athletic |
| Profession | ESPN annalist |
| Current Team | None |
| Position | Small Forward |
| Active Years | 2001 – 2018 |
| Marital Status | Married |
| Wife | Teresa Lourenco |
| Kids | A son |
| Net Worth | $50 million |
| Social Media | Twitter, Instagram |
| Merchandise | Trading Card |
| Jersey Number | #24, #44, #22 |
| Last Updated | March, 2023 |
Richard Jefferson | Early Life, Family, and Education
Richard Jefferson was born in California, Los Angeles, United States. His parents, Richard Jefferson Sr and Meekness LeCota, originate from the state.
He grew up in a normal household as a single child. Further, his parents raised him fully Christian and even made him join a Christian religious group.
Due to Jefferson's parents being fully devoted to this group, they frequently used to move around. Therefore, he attended multiple schools throughout their journey.
However, finally, they settled in Phoenix, Arizona, for a long time, during which he graduated from Moon Valley High School.
By this time, young Richard had already picked up great skills in basketball. Hence, he helped the high school team win a state championship in his senior year.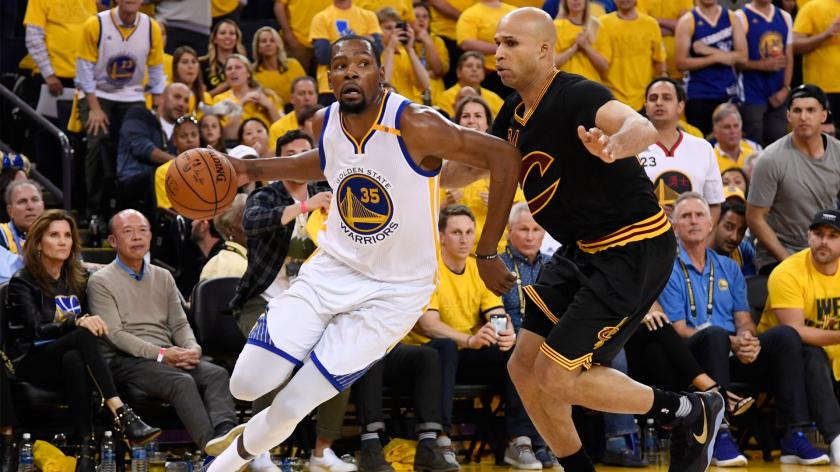 Seeing his great potential, the University of Arizona offered him a scholarship which Jefferson happily accepted. He was also a key player on the University's men's basketball team during his three years.
RJ started in 77 out of 84 collegiate games, where he performed exceptionally. Nevertheless, their efforts fell short in the 2001 national championship game to Duke.
As a result, he decided to enter the NBA draft as his projection from NBA scouts was very high.
Besides that, the former NBA player is well characterized as a wise, responsible, and hard-working individual by his family and peers.
His teammates recognized him as a solid team player throughout his seventeen-year basketball career.
Richard Jefferson | Age, Height, and Weight
The one-time NBA champion was born on June 21, 1980, and is 42 years old as of 2023. As a former athlete, he still takes terrific care of his health and diet.
Hence, Jefferson is in great shape despite not having to undergo intense training. He still frequently works out at the gym.
Furthermore, he weighs 233 lb (106 kg) and is 6 ft 7 in tall.
Richard Jefferson | Basketball Career
High School Career

Jefferson played high school basketball in various schools because his family constantly moved. However, for his senior year, the Jefferson family settled in Arizona.
Hence, he played high school basketball for Moon Valley High School. He played the small forward position and wreaked havoc on the rim due to his height advantage.
Despite having a height advantage, Richard preferred to shoot rather than take it down the post. As a result, he developed good shooting skills that helped him through his career.
Further, RJ was the center of his high school basketball team's offense. The former NBA player led his team to a state championship win in his senior year.
You might be interested in Warriors' star player Klay Thompson Bio: Early Life, Girlfriend, Net Worth & Injury.
College Career
The basketball analyst's skills were nourished after joining the University of Arizona. Despite being a rookie, he started the majority of the season games.
He always picked up the slack for his team in offense or defense. Richard was the best player on the court game after game.
Hence, the rookie quickly earned a spot in the permanent starting lineup for his sophomore year. Unfortunately, they were unable to reach the national championship finals.
This quickly changed in Jefferson's junior year as they not only went to the finals but were favored to win the tournament.
To their surprise, Duke Blue Devils' opponents were not going down without a fight. No team ever built a strong momentum through the game as the Blue Devils.
However, the Devils prevailed and gave Richard's team a loss they will always remember in the end. Regardless of their loss, Jefferson was widely praised for his outstanding performance.
As a result, he decided not to finish college and instead entered the 2001 NBA draft.
NBA Career
Jefferson entered the NBA draft in 2001 as a junior out of college. Further, the New Jersey Net picked him as the first-round 13th overall pick.
Initially, he didn't get much playtime as a rookie. However, this quickly changed in his second season as he started raining Fire, as his offensive game was very well crafted.
Season by season, Richard was turning into a bucket machine. Nevertheless, the Nets as a team were very dysfunctional. Even though they made the playoffs, the Nets were always eliminated early.
Hence, the Nets decided to trade RJ to the Bucks after seven seasons. This was a very unusual trade because Jefferson was just coming off his career-high average in points, which was 22.6 points per game.
The Bucks were not a fit for him. That's why they let him walk in free agency. Richard joined the Spurs and was productive for the team.
Nonetheless, that also didn't work out in three years. As a result, Jefferson went to the Warriors, the Jazz, and the Mavericks for one season each.
After moving from team to team, the player found a home in Cavaliers. During this time, he formed a very brotherly bond with LeBron, which can still be seen in the media.
Furthermore, in his first season with the Cavs, he won his first historical NBA championship. Due to his excellent support in winning the title, the Cavs extended his deal by one year.
This could have been his changing point, but it was clear that the age factor was playing its role. Therefore, he was traded to the Nuggets, which was his final NBA season.
Post Basketball and Analyst Career

Following the 2017-18 season with the Denver Nuggets, Jefferson announced his retirement on October 13, 2018.
Shortly after that, he joined YES Network to start his broadcasting career.
At YES Network, he became the Nets' game and studio analyst. Furthermore, the former basketballer has also provided FS1, ESPN, and the Pac-12 Network with his analyst skills.
Basketball Achievements and Highlights
2016 NBA Champion with the Cleveland Cavaliers
Named to the 2002 NBA All-Rookie Second Team
1998 McDonald's All-American
Named to the Fourth-team Parade All-American in 1998
Bronze medalist at the Athens 2004 Summer Olympics
Gold medalist at the 2003 FIBA Americas Championship in San Juan
Richard Jefferson | Marriage, Wife, and Kids
The basketball analyst is rumored to be happily married to Teresa Lourenco.
However, the two dated for a short period during Jefferson playing career. Not to mention, Lourenco was a former model that was relatively successful during her prime.
She was awarded the "Best New Face" and the "Best New Generation Model" awards at a beauty pageant. Following her success, Lourenco pursued a modeling career.
Therefore, she began modeling for multiple private agencies. Slowly, Teresa began to lead the modeling community by working as a Victoria's Secret and Christian Dior model.
During this phase of her life, the model met Richard, who had recently called off his wedding. Hence, they started dating one another, which led to a serious relationship.
Nevertheless, they always preferred to keep their life out of the media's limelight while dating. Hence, there are very few pictures of them on the internet.
Besides that, the pair didn't have any kids. Nevertheless, Lourenco had two kids from her previous relationship, and Jefferson had a son.
Currently, the basketballer's relationship status remains unknown, and he barely talks about it in the media.
Richard Jefferson Calling Off the Wedding at the Very Last Moment
The ESPN analyst was very committed to Kesha Ni'Cole Nichols from the start of his NBA career.
They were very vocal about their relationship, as they frequently admired each other in the media. Therefore, when the news of Richard marrying former Nets dancer Kesha spread, everyone took it seriously.
Of course, some people made a huge mess about his news as it was a bit unethical for a Nets player to date a Nets dancer.
Hence, the media stretched this topic as wide as they could by running it repeatedly. Nevertheless, these media stories didn't seem to affect the couple as they confirmed the news of their marriage.
As a result, everything was set. The bride and the guest had already arrived at the altar. However, Jefferson got cold feet and called off the wedding.
He called his friend two hours before the wedding and said he wouldn't come. The news was a great shock and tragedy for everyone attending the wedding.
Not to mention, the wedding that never took place cost the NBA player $2 million. That's a huge price for not showing up at your wedding.
Learn more about Nets' player Kevin Durant's Bio: Career, NBA, Net Worth & Girlfriend.
Richard Jefferson | Net Worth, Salary, and Career Earnings
The former NBA champion has built a tremendous amount as a former NBA player and ESPN analyst. However, his exact wealth amount is unknown.
Nevertheless, many sources believe his net worth ranges from $50 million.
Further, most of his earnings are accumulated through his NBA career. For example, he earned $2.3 million in his final season just sitting out the whole season.
Not to mention, the broadcaster's career earnings amount to $115,046,209.
His highest salary in the NBA was during the 2009-10 NBA season with the Milwaukee Bucks, where he earned $14,200,000.
Furthermore, he made $13.2 million with the Bucks and over $40.2 million with the Nets. Likewise, the athlete made over $30 million with the San Antonio Spurs.
Similarly, the ESPN analyst earned over $10 million with the Warriors during the 2012-13 season and over $11 million with the Spurs during the 2013-14 season.
On top of that, Richard earns a fair amount through appearing on multiple ESPN platforms. Nonetheless, his good earnings from his current job are not disclosed.
However, it can be estimated that he makes plenty to live a luxurious life.
Don't forget to check out Bucks' power forward Giannis Antetokounmpo: Stats, Brothers & Net Worth.
Richard Jefferson | Social Media Presence
Jefferson is quite active on various social media platforms. He is active on Instagram with over 280 thousand followers.
He mostly shares his life as a post-NBA player and broadcaster through his handle. Hence, the host is on his job alongside his colleagues in most of his posts.
Moreover, RJ can enjoy his job by taking friendly hits against NBA players and teams. Likewise, he has many memes related to NBA and basketball.
Besides that, he is on Twitter with nearly 109 thousand followers. The sports analyst usually shares basketball and NBA-related news, events, and highlights through his account.
He is followed by well-known broadcasters and athletes like LeBron James, Kevin Love, etc. Furthermore, Jefferson recently made a Tiktok account with over 572 thousand followers and 13 million likes.
Many well-known NBA players, like Luka Doncic, etc., are featured in his videos.
Frequently Asked Questions (FAQs)
Did Richard Jefferson play with Steph Curry?
Yes, the basketballer turned analyst has played with and against Stephen Curry during his playing career. After the Spurs traded Jefferson to the Warriors, Richard had a chance to play with the Warriors' star player for the 2012-13 NBA season.
What is Richard Jefferson known for?
Jefferson is well-known as an NBA player who played for eight major NBA teams. Furthermore, he is known for winning the 2016 NBA Championship with the Cleveland Cavaliers.
Besides that, he is a popular figure in the sports broadcasting world. The athlete has worked as an analyst for ESPN since 2019 and has also appeared on other sports networks.
Is Richard Jefferson in the Basketball Hall of Fame?
No, the former NBA player has not yet been inducted into the Basketball Hall of Fame. However, he was inducted into the Pac-12 Basketball Hall of Honor in 2012.