Ricciardo is a Formula Racer known by his nickname, honey badger. He returned to Red Bull as a third driver for the year 2023 and last appeared in the 2022 Abu Dhabi Grand Prix.
Anyone who enjoys racing tournaments is familiar with the name Daniel Ricciardo. One of the celebrated Australian racing drivers, he currently drives for McLaren in Formula One.
Before this, he had a two-year contract with Renault.
Because of his fearlessness, Ricciardo is famous as "the Honey Badger" in the racing world.
Daniel, who has several trophies to his name, has recently decided to pursue a career in the wine industry. Also, with the help of renowned winemaker St. Hugo, he launched his wine label.
Moreover, in other news, Ferrari was supposed to be partnering with Daniel Ricciardo.
In 2022, Daniel went to many countries to compete; for that, the states were added, and her rumored girlfriend too.
Below, you will learn every detail there is to know about the star Daniel Ricciardo in this post.
Quick Facts |

Daniel Joseph Ricciardo
| | |
| --- | --- |
| Full Name | Daniel Joseph Ricciardo |
| Common Name | Daniel Ricciardo |
| Nick Name | Honeybadger |
| Birthdate | July 01, 1989 |
| Age | 34 Years Old |
| Zodiac Sign | Cancer |
| Mother's Name | Grace Ricciardo |
| Father's Name | Joe Ricciardo |
| Siblings | Sister – Michelle Ricciardo |
| Birthplace | Perth, Western Australia |
| Home Town | Perth |
| Citizenship | Australian |
| Residence | Los Angeles, USA |
| Religion | Christianity |
| School | N/A |
| College | Dropped Out |
| Education | N/A |
| Height | 1.8 m (5'11″) |
| Weight | 66 kg (146 lb) |
| Eye Colour | Dark Brown |
| Hair Colour | Dark Brown |
| Shoe Size | 11 U.S. |
| Martial Status | Unmarried |
| Partner | Heidi Berger |
| Children | N/A |
| Profession | Formula One Racing Driver |
| Debut | 2011 British Grand Prix |
| Current Team | McLaren |
| Car Number | 3 |
| Career Points | 1185 |
| Fastest Laps | 15 |
| Status | Active |
| Net Worth | $50 million |
| Hobbies | Surfing, Hiking |
| Brands | Amazon, Go Pro |
| Social Media | Twitter, Facebook, Instagram |
| Website | www.danielricciardo.com |
| Merch | Cap, Toy Vehicle |
| Last-Update | March 2023 |
Daniel Ricciardo: Early Life & Nickname
Ricciardo was born in Australia and is a Catholic of Italian ethnicity.
Daniel frequently pronounces his last name as 'Ricardo,' as opposed to the Italian pronunciation of 'Ricciardo,' as he was raised in Australia.
The Aussie man began referring to himself as the honey badger and referred to it as his spirit animal.
As we all know, Honey badgers are cute and cuddly on the outside, he remarked in an interview. But they are the kingdom's most brave animals.
Learn About Other Racers Randy LaJoie Bio: Family, Racing, Wife & Net Worth >>
Daniel Ricciardo: Childhood & Family
The Formula Racer, Ricciardo, was born on 1989 July 01 in Melbourne, Australia.
Guiseppe Ricciardo, also known as Joe, is his father. He was an Italian racer who was born in Ficarra. Grace Ricciardo, his mother, was born in Australia but raised in Italy.
Honey Badger has a sister named Michelle Ricciardo. The two are exceptionally close and have a solid bond to this day.
One of his first memory is of his father, racing at Wanneroo's Barbagallo Raceway. He began his Karting career at nine, inspired by this.
As for his education, the racer attended Newman College for his high school education. He never went to university because he immediately began his career in Formula One after graduating.
Racing is a dangerous sport, yet his parents encouraged him to pursue it. Ricciardo's parents always encouraged their children to be achievers rather than quitters.
Daniel Ricciardo: Professional Career
Daniel began his profession when he was still a teenager. In 2005, he and his 15-year-old Van Demien entered the Western Australian Formula Ford Championship.
He won the Formula BMW Asian Championship with Eurasia Motors after being unsuccessful in his first few races. Additionally, this was his first of many victories as a racer.
Ricciardo made the jump to Formula Renault in 2007. He won the Western European Cup for the second year in a row towards the following year.
After David Brabham in 1989, Daniel became the first Australian to win a British Formula 3 championship. He won the race with a Volkswagen-powered car as well.
Daniel won the BRDC The Bruce Mclaren Trophy in 2013 in an invitation-only game hosted by the British Racing Drivers Club.
He won the Trofeo Lorenzo Bandini and the Confartigianoto Motodriver of the Year in 2014.
That same year, the Aussie was named G.Q.: Australia Sportsman of the Year. He then went on to win the BRDC's Bruce Mclaren Trophy two years in a row.
In 2014 and 2015, he won the Innes Ireland Trophy two years in a row.
Likewise, in 2015, he received the Laureus World Sports Award for Breakthrough Performance of the Year.
2022 Update
In 2022, update the last he took part in a competition was the 2022 Abu Dhabi Grand Prix, in which he got the 9th (2 pts) position.
Formula One World Championship career
Last entry
2022 Abu Dhabi Grand Prix
2022 position
9th (2 pts)
Daniel Ricciardo has admitted that he will not be on the Formula 1 grid for 2023, followed by his end-of-season departure from McLaren.
2022, F1 Driver Standings: Daniel Ricciardo
| GRAND PRIX | DATE | RACE POSITION | PTS |
| --- | --- | --- | --- |
| Bahrain | March 20, 2022 | 14 | 0 |
| Saudi Arabia | March 27, 2022 | DNF | 0 |
| Australia | April 10, 2022 | 6 | 8 |
| Emilia Romagna | April 24, 2022 | 18 | 3 |
| Miami | May 08, 2022 | 13 | 0 |
| Spain | May 22, 2022 | 12 | 0 |
| Monaco | May 29, 2022 | 13 | 0 |
| Azerbaijan | June 12, 2022 | 8 | 4 |
| Canada | June 19, 2022 | 11 | 0 |
| Great Britain | July 03, 2022 | 13 | 0 |
| Austria | July 10, 2022 | 9 | 2 |
| France | July 24, 2022 | 9 | 2 |
| Hungary | July 31, 2022 | 15 | 0 |
| Belgium | August 28, 2022 | 15 | 0 |
| Netherlands | September 04, 2022 | 17 | 0 |
| Italy | September 11, 2022 | DNF | 0 |
| Singapore | October 02, 2022 | 5 | 10 |
| Japan | October 09, 2022 | 11 | 0 |
| United States | October 23, 2022 | 16 | 0 |
| Mexico | October 30, 2022 | 7 | 6 |
| Brazil | November 13, 2022 | DNF | 0 |
| Abu Dhabi | November 20, 2022 | 9 | 2 |
Business And Investments
Daniel uses his celebrity fame to bring some fantastic merchandise to the market. This merch is sold directly to fans on his website and Facebook page.
RIC3 is the name of his latest apparel line, which includes helmets, hoodies, beanie caps, and socks.
He launched his wine line, DR3, in 2021. In addition, he collaborated on this project with the well-known winery St Hugo.
Likewise, Honeybadger appears to be well aware of his shaky job prospects. He has, nevertheless, made investments in real estate and other areas for long-term security.
His investments are now worth $4.8 million.
Daniel Ricciardo: Drive To Survive
If you are a true lover of Formula One racing, you might have seen the Netflix original series Drive to Survive. Daniel was the focus of the documentary series, which centered around Formula One races.
The Aussie was almost unknown before the premiere of the show. Because racers are usually covered with helmets, they are difficult to spot.
However, following the episode's premiere, Daniel claims that people have begun to approach him and converse with him.
Since then, the broadcast has benefited the entire F1 racing community, as people have begun to take the sport more seriously.
Learn About Other Racers Cordell Broadus Bio: Net Worth, Wife & Kids >>
Daniel Ricciardo: Lifestyle
F1 racing is arguably one of the most daring sports available. Daniel leads an exciting and outdoorsy lifestyle for someone who has made a career out of it.
The Australian star's favorite pastimes are beach basketball, surfing, hiking, and bicycling. At the same time, he adores the seaside and the scorching heat.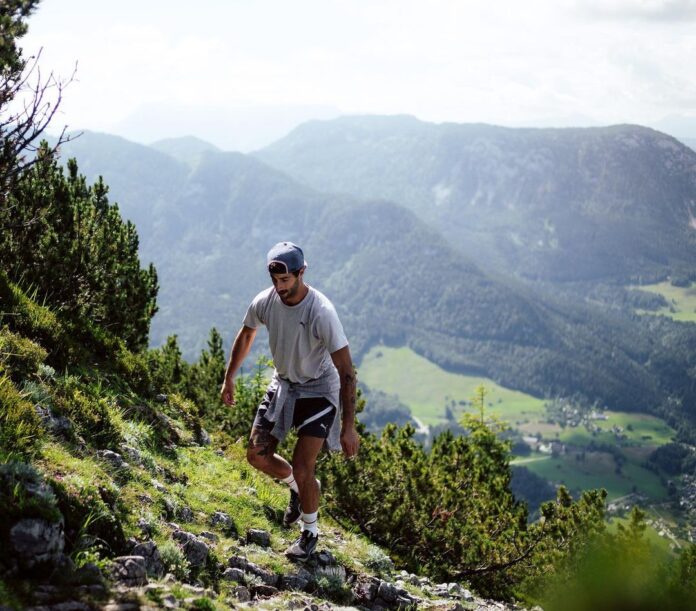 If you follow Formula One closely, you may recall that Red Bull celebrated the 2018 break with an enormous road tour throughout the United States.
Ricciardo and his racing squad visited famous American landmarks like the Golden Gate Bridge, Las Vegas Boulevard, and Monument Valley. Aside from his homeland, Daniel enjoys the city-state of Singapore. While he wants the ambiance of Los Angeles, he has yet to explore the United States.
Daniel Ricciardo: Net Worth
Daniel is one of the athletes whose pay has increased significantly in recent years. He makes the most of his money through races and brand endorsement deals.
His compensation was 35 million dollars when he worked for Renault. He is one of the world's highest-paid racers.
RICCIARDO HAS An ESTIMATED NET WORTH OF $50 MILLION.
Likewise, the famous racer is accustomed to living an extravagant life and has a $1.1 million mansion in his hometown. He also has a $4.8 million house in Monaco.
For a racer, he has a relatively minor automobile collection. His collection includes a $600,000 Ford and Range Rover.
Endorsements
A variety of endorsement and sponsorship partnerships boosts Daniel's revenue. Amazon, GoPro, Puma, Stance Socks, Blue Coast, Renault, and Aston Martin supported him.
He has previously worked with Dior, Eye Respect, JMD, and Qantas, among others.
All of his formal partners are listed on his webpage. He credits Optus, aws, amazon, beatsbydre, EAsports, Thorne, St Hugo, and Go Pro as his numerous partners, in addition to McLaren as the official racing partner.
Charity
During his time with Red Bull, Daniel served as an ambassador for the Wings for Life initiative. Red Bull supported this charity; thus, it's no surprise that Daniel served as a Red Bull racer.
Further, the racer even auctioned off his Aston Martin V8. The auction's revenues and income were donated to the Racing for MNDi (Motor Neuron Disease International) organization.
Honeybadger even made gifts to IRES animal rescue and the Australian Red Cross in the aftermath of the catastrophic Australian bushfires in 2019. He also appealed to his fans to assist in any manner they could.
Similarly, Daniel has already auctioned his race suit to generate funds for charity.
The Inner Ninja Foundation, a charity for mental health based in Australia, is also supported by the honey badger. He has been the face of McLaren's humanitarian endeavors since joining the Company.
Daniel Ricciardo: Controversy
While racing is one of the most thrilling sports, it is also one of the most dangerous. Daniel sparked a debate by pointing out a potentially hazardous aspect of Formula One racing.
In an interview, he became enraged and began cursing the Formula in a fit of rage. The whole saga started when F1 continued to focus attention on Romain Grosjean's fiery crash in Bahrain.
He said that the sport's popularity has skyrocketed in recent years. Some people may even find the risky aspect alluring. The racer even said that only children under twelve will find that content interesting to watch since they don't know any better.
According to Daniel, the crashes expose less of their potential. Ricciardo went on to say that he would take back the wording and the way he framed it at the time.
Trend Graph
The popularity graph of Daniel illustrates a wide range of fluctuating as we can see how popular formula one is, including his performance in the sport.
Daniel is not only famous but wealthy too and deserves the fame he is living in now as he worked equally hard for it.
Relationship Affairs
Daniel has spawned numerous relationship rumors throughout the years, several of them being true.
The F1 racer prefers to keep his dating life private and out of the media, but his family makes it difficult. He was dating Jemma Boskovich, his long-time lover, until 2016. They had been childhood sweethearts.
However, they chose to split for unknown reasons, which Ricciardo did not reveal. Then he swiftly started relationship rumors with Annemarie Horbass, a former Redbull team member.
Likewise, Redbull employed Annemarie Horbass, a German citizen, as an event management professional. After Ricciardo's triumph, the couple was photographed partying in Monaco.
Not only that, but they were getting close. When Daniel was asked about it, he stated it wasn't anything significant. The romance ended quickly, and they both moved on without any resentment. In 2018, Daniel began dating model Jessica Gomes.
In December 2018, the couple dated for a short time. They attempted but failed to keep their romance out of the spotlight for a while.
Jessica Gomes is a model who was born in Australia and had a Portuguese father and a Chinese mother. Gomes was also seen on the cover of Sports Illustrated's Swimsuits edition for eight years, while IMG models signed her.
Moreover, Jessica has modeled for Vogue, Hyundai, and L.G. and walked on Victoria's Secret runway. She has also worked with some of the most well-known brands and has starred alongside Bruce Willis in the film 'Once Upon a Time in Venice.'
However, their relationship didn't perform as well as their careers.
Heidi Berger (Rumoured Girlfriend)
Recently rumored girlfriend of this racer is Heidi Berger, an aspiring actor who is 26 years old.
And the daughter of Portuguese model Ana Corvo and 10-time Grand Prix winner Gerhard Berger.
The news that the daughter of the former F1 star is currently Ricciardo's girlfriend was almost confirmed by the Australian's most recent Instagram post, as well as by Heidi's post after that.
After celebrity gossip Instagram page Deux Moi posted about the couple in October of last year, rumors began to circulate that the McLaren driver was seeing Berger.
In addition, an unidentified source suggested that the F1 superstar couple had been together since 2019, as Berger was reportedly filmed riding in a helicopter with the other person in June, hinting at daniel being that person.
Daniel Ricciardo: Social Media Presence
Daniel is a frequent user of social media. He uses social media platforms such as Twitter, Instagram, and Facebook.
View this post on Instagram
Interesting Facts
Ricciardo has had a passion for racing since he was a child. Additionally, as a member of the Tiger kart club, he even won national titles. His abilities were recognized, and he was awarded a scholarship with Eurasia Motorsport in 2006, which proved to be quite beneficial to him.

When Daniel was only 17 years old, the star dropped out of school because he found it uninteresting and didn't see his interest there. Since the time he dropped out, racing has been his sole focus.

Since his childhood, Daniel has always been a die-heart fan of driver Dale Earnhardt of NASCAR. His fandom was up to the point that his first go-kart number was three. As a result, when formula one asked him to choose a number, he decided on 3 in honor of Dale.

Daniel has also contacted Earnhardt Jr. over social media, expressing his support for his intention to race with his father in Formula One.
FAQs |
Daniel Ricciardo
When was it when Daniel had a big crash?
In Formula 1 sport, crashes are inevitable, and in 2018, he was involved in a collision in Baku alongside Max Verstappen, which was very notable.
At McLaren, who did Daniel Ricciardo take over from?
The 2021 report says that McLaren signed a contract with Daniel, a replacement for Carlos Sainz after that, Carlos joined the Ferrari team.
Do you know if Ricciardo is joining Mercedes or not?
The Australian, who was previously linked with a reserve driver position with Mercedes, will instead fill that position for his former team, Red Bull. That means he'll have to find a new team in 2024.
Learn About Other Racers Sebastian Vettel: Career, Wins, Wife & Net Worth >>