Serena Williams, the Queen of Tennis, is a professional tennis player who has achieved legendary status in the world of sports.
So, we can only imagine how happy she must have been to be a mother. But when Serena Williams's daughter was born in 2017, things did not go as expected.
As of now, she has won a total of 23 grand slams, which is just one shy from the absolute best; Margaret Court's 24.
She is still active in the world of tennis, so matching Margaret's record is a possibility we can hope for.
Likewise, she has been at the top spot in the Women's Tennis Association (WTA) several times throughout her incredible career.
On top of that, she is also a mother who resumed her tennis career just ten months after giving birth to her precious daughter under abnormal and distressing circumstances. What a woman! What a will to thrive!
This article will inform you about Serena William's daughter, so without further ado, let us jump right into it.
Alexis Olympia Ohanian Jr. | Quick Facts
| | |
| --- | --- |
| Full Name | Alexis Olympia Ohanian Jr. |
| Birth Date | September 1st, 2017 |
| Birth Place | West Palm Beach, Florida, United States |
| Nick Name | None |
| Religion | Christianity |
| Nationality | American |
| Ethnicity | Black |
| Education | N/A |
| Horoscope | Virgo |
| Father's Name | Alexis Ohanian |
| Mother's Name | Serena Williams |
| Siblings | None |
| Age | 6 years old |
| Height | N/A |
| Weight | N/A |
| Hair Color | Black |
| Eye Color | N/A |
| Build | N/A |
| Net Worth | N/A |
| Serena Williams's Merch | Documentary, Signed Items |
| Last Updated | November, 2023 |
Alexis Olympia Ohanian Jr.'s Bio and Early Years
Serena William's daughter, Alexis Olympia Ohanian Jr., was born at St. Mary's Medical Center, located at West Palm Beach in Florida.
She was born a healthy baby girl at six pounds and 13 ounces at noon. Also, Alexis was born before the couple put a ring on their finger.
Being born the first child to Tennis star Serena and co-founder of Reddit, Alexis, Serena William's daughter has all the luxury in the world a four-year-old needs.
Fun fact, Serena Williams accidentally posted a photo of her belly with a baby bump on Snapchat but later deleted it. The post captioned "20 weeks."
Even before being born, Alexis Olympia made a wave on the internet after Serena shared a photo of her baby bump. Likewise, discussions on her birth were a trending topic after the Snapchat slipup.
Serena Williams posted her daughter's picture on her official Instagram page, therefore, introducing her to the fans and followers.
The picture was well-received by the fans and followers and managed to gather millions of likes and thousands of "congratulations" comments.
Top 13 Rude Tennis Players of All Time >>
Serena William's Daughter Education
Being born in 2017, Alexis Olympia is just 6 years old. Her kindergarten days were a year ago, but due to the COVID-19 pandemic, her parents decided not to join her in any institution.
There is the possibility that she might have been homeschooled, but none of the credible sources have pointed to it as affirmative.
Alexis Olympia Ohanian Jr. is now a student at the Mouratoglou Tennis Academy, located in Biot, France.
Looks like Alexis Olympia will be following in her mother's footsteps.
Serena William's 23rd grand slam and birth of her daughter
The former number one won her 23rd grand slam title in the 2017 Australian Open. No one knew about it until she revealed that she was two months pregnant during the match.
She gave birth to Alexis Olympia in September of the same year and returned to the court three months later in December to defend her Australian Open title.
She was expecting to get in her best form and defend her title, but that did not go as planned.
Apparently, she did not quite think that she was in good shape, that she was not in full spirits.
A read about Chris Evert might be what you need.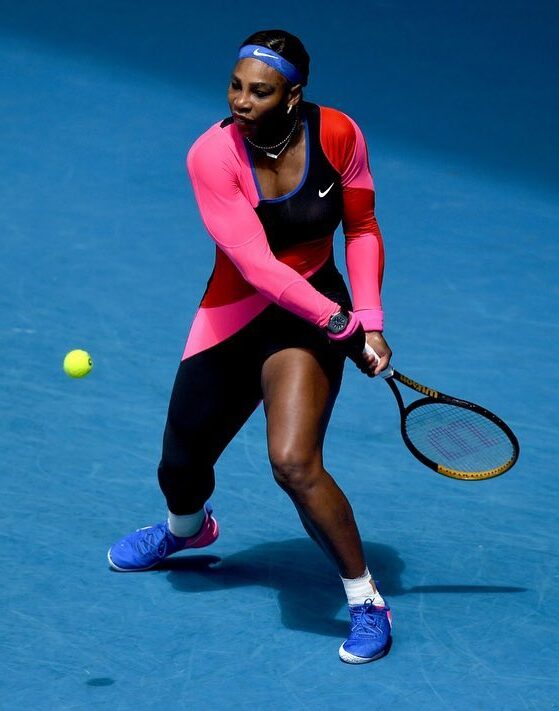 "I can compete, but I do not want just to compete; I want to do far better than that, and to do so, I will need a little more time," said Serena Williams.
She also clarified that the complications during the delivery of her daughter were a factor affecting her performance.
Moreover, Serena Williams had to go through a C-section procedure, which is usually done when problems arise during the natural delivery process.
Serena returned to the court on February 11th of 2018.
Her first match after giving birth to Olympia was when she teamed up with her sister Venus in Fed Cup for a doubles match.
The Health Complications After Delivery
Serena Williams had to go through an emergency cesarean section procedure after being faced with issues.
After the unprecedented surgery she had to go through; she began experiencing shortness of breath. This resulted in disclosing the fact that she had blood clots in her lungs.
Furthermore, the doctors also detected a massive hematoma in her midriff.
Apparently, that was a side effect of the cesarean section procedure caused by hemorrhaging.
After undergoing several surgeries and procedures, Selena was finally able to return to her sweet home only to be unable to leave her bed for six whole weeks.
Selena has said that she could have another child but is not in a rush to do so despite all the commotion and physical and mental stress she had to go through.
Here's an interesting article highlighting Serena's 79 best quotes.
Alexis Olympia Ohanian Jr.'s Parents
A brief bio on Serena Williams
Serena, the 'Queen of Tennis,' was born on the 26th of September, 1981, with the full name "Serena Jameka Williams."
She was born in Saginaw, Michigan, to her father, Richard Williams, and her mother, Oracene Williams. She grew up along with her four older sisters; Serena was the youngest of the bunch.
Likewise, Serena's father Richard was a sharecropper; he grew crops on another person's land and paid some amount of produce to the owner as rent.
Though he did not have much to give to his five daughters financially, Serena's father did provide them with useful knowledge which would shape their future.
Moreover, Richard Williams taught Venus and Serena whatever he had learned from tennis books and videos; he was Serena and Venus's first-ever coach.
When Serena was just three years old, the family had moved to Compton, California, where her father made sure that she trained two hours per day.
The idea behind moving to Compton was to show the five siblings how nasty and dangerous situations could get if they were not well-educated.
By her 10th birthday, Serena was already showing signs of being an extraordinary tennis player.
Serena had a record of 46-3 on the junior United States Tennis Association tour, which helped her rank 1st in the 10-and-under division.
After seeing Serena's excellence in the game, Richard made the wise decision to send Venus and Serena to a professional trainer.
To do so, he decided to move again. The Williams family moved to Florida, where Richard trained his two daughters, but he did not stop managing them.
Alexis Ohanian bio
Nicknamed 'kn0thing', Alexis Ohanian was born on the 24th of April, 1983, in Brooklyn, New York. His zodiac sign is Taurus.
Also, his birth name is Alexis Kerry Ohanian.
Likewise, Alexis Ohanian is a philanthropist, investor, internet entrepreneur, activist, etc. Most popularly known as the co-founder of Reddit, a social media platform accounting for over 400 million users.
His initial plan was to become a lawyer, but it did not go as planned as we all know by now.
After attending a lecture by Paul Graham on how to start start-ups at the Cambridge University, he came up with an online food delivery idea.
But online food delivery was not an innovative idea, so it did not gain any investors.
After his first plan had failed, Alex then came up with the idea of Reddit. The perspective and idea behind Reddit were kind of innovative; hence, it found investors.
In 2005, Y Combinator, an American seed money startup accelerator, liked the idea of Reddit and decided to invest in it.
Reddit became a huge success in the virtual world and gained millions of users in months. The name 'Reddit' is made of two words, 'read' and 'it.'
Similarly, he launched another app named 'Breadpig' in 2007, specializing in producing 'geek' focused products. The earnings from the company as donated to charities.
Moreover, as a philanthropist, he worked in microfinance with Kiva, a non-profit organization, for three whole months.
The project aimed to help startups financially in over 80 different countries.
Alexis and Serena as a couple
It is said that there is always a woman behind a successful man. But their story is unorthodox.
Similarly, Alexis Ohanian has decided to support his wife and tennis queen, Serena Williams, shine the brightest she can.
Alexis also compliments Serena's ability to balance her professional and personal life.
"Something that she is really good at is shutting it off and focusing on family time or personal time."
On the 17th of February, 2021, Alexis was spotted wearing a t-shirt with Serena's print, which had "Greatest Athlete" written on the side. Such a supportive husband!
Alexis also went to the 2020 Women's ASB Classic held in Auckland. He visited the site and his little daughter to congratulate Serena after she won the finals against Jessica Pegula.
Moreover, in January of 2019, Alexis was on the sidelines supporting Serena during the Hopman Cup.
"You have to show up. You have to be supportive. These are the things that matter," said Alexis.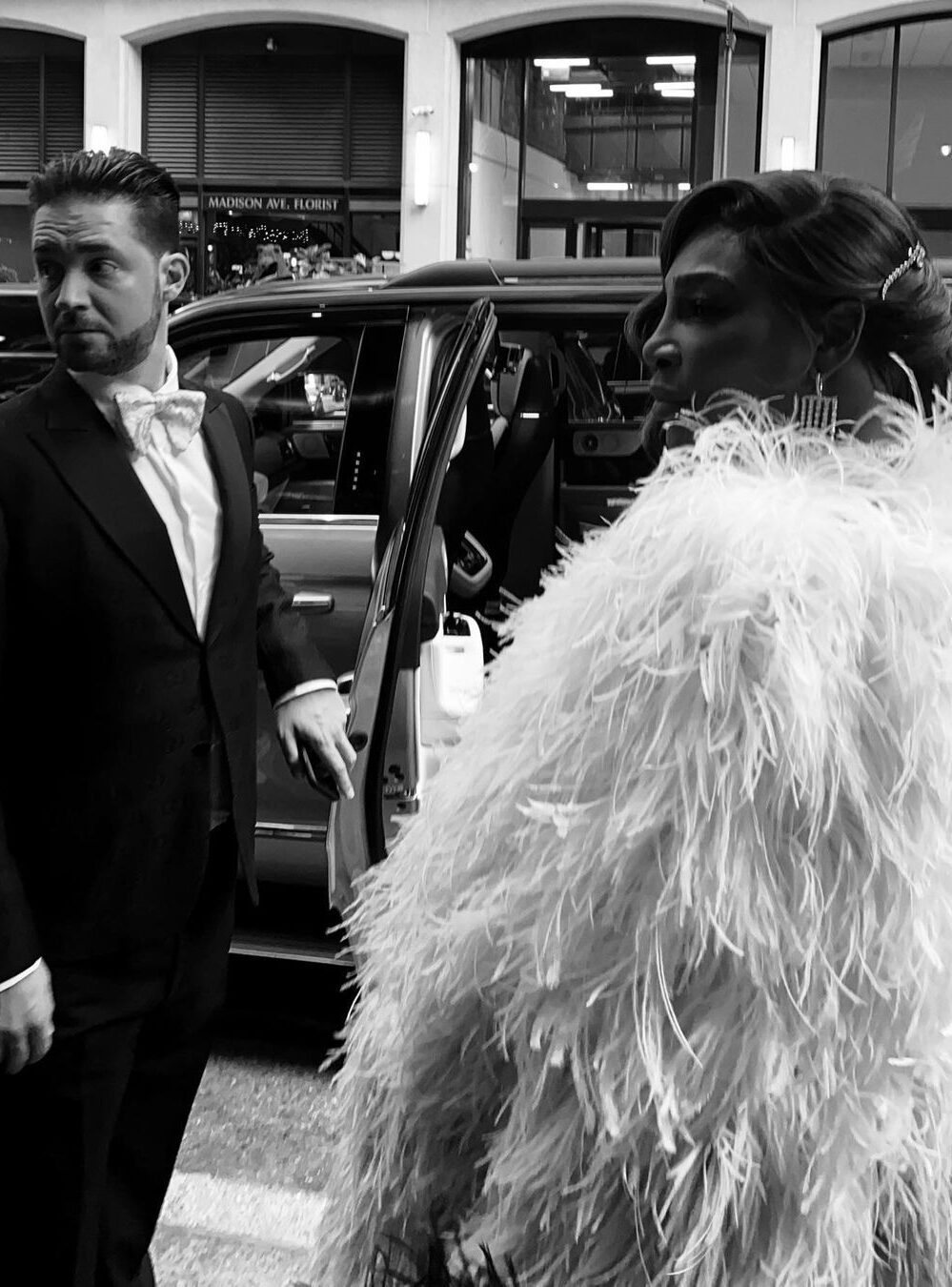 Alexis was a huge fan of Serena Williams before the couple started dating.
According to Serena's Instagram post, the couple met for the first time in Roma.
The story goes like this: Alexis came up to Serena and sat with her at her table. At first, Serena asked him to leave, but Alexis refused. "I found that hot," said Serena.
After that, Serena asked him if he liked truffles, to which he answered yes, and eventually, they got along well.
But Serena has also stated that their marriage is not bliss as it seems on the media and the internet unless they work together.
Alexis and Serena's Wedding
After their first unusual meet, the duo got engaged in December of 2016. Alexis and Serena got married on the 16th of November, 2017, in New Orleans.
Serena wore a beautiful Sarah Burton dress for the special occasion.
As expected on a tennis star who has gained popularity, the wedding guest list included big names such as Beyonce, Kim Kardashian West, Anna Wintour, etc.
The couple got married just a month after Olympia's birth in September at the Contemporary Arts Center.
Serena William's Daughter on Instagram
Serena and her ever-supportive husband Alexis decided to make a separate Instagram account for their newborn baby girl. The reason behind it was to keep the followers updated about Olympia's life.
Since her birth, Olympia has been a center of attention, gaining over six hundred thousand followers.
Similarly, she boasts 44.3k followers on Twitter.
Serena William's daughter is already a mother.
Before you jump to the wagon, hear us out. Serena William's Daughter is the mother of her favorite toy doll, which she has named 'Qai Qai.'
Olympia's Twitter account is flooded with Qai Qai; there are pictures of her and Qai Qai spending mother-and-daughter time together.
Qai Qai seems to have its own Instagram and Twitter accounts with over three hundred thousand followers and 25.6k followers, respectively.
Vogue Magazine and Serena William's Daughter?
Alexis Olympia became the youngest person ever to feature on Vogue magazine's cover. Vogue in February of 2018.
Mario Testino, a famous world-class fashion photographer, was the head of the photoshoot.
Serena William's Daughter Net Worth
Olympia's net worth is estimated to be around $1.5 million, which mostly came from being on the cover of Vogue magazine.
Other than that, our sources indicate that her verified Instagram account also makes her a few bucks, enough for a four-year-old to buy the entire candy shop.
Moving on to her parents' net worth.
Williams has an estimated net worth of a whopping $225 million. In addition, her annual income is estimated to be around $30 million.
Read more about Serena Williams's net worth, salary, and endorsements in this article.
Similarly, as reported by Forbes, Alexis Ohanian Sr.'s net worth is estimated to be around $40 million.
Regarding his annual income, we do not have any info on that. Although our sources are trying their best, we will update the information as soon as possible.
Social Media Links
Instagram: 629k followers
Twitter: 44.7k followers
Alexis Ohanian Sr.'s Instagram: 717k followers
Alexis Ohanian Sr.'s Twitter: 426.3k followers
Serena William's Instagram: 13.6 million followers
Serena William's Twitter: 10.7 million followers
FAQs
Who is older, Serena or Venus?
Serena is the youngest of the five sisters. Serena was born in 1981, while Venus was born a year earlier in 1980.
Is Serena Williams married to a billionaire?
No, Alexis Ohanian Sr. is not a billionaire. He sold Reddit to a company for somewhere between $10 million to $20 million. The exact amount is unknown.
Is Serena retired?
No, Serena Williams has not retired from her professional tennis career. On the contrary, she is an active player though she is on a hiatus following a leg injury during a match in June 2021.