American NFL is home to some of the mighty and strongest men, where the strength and agility of the players play a vital role in turning the outcome of a game. Legendary players such as Aron, Bobby, and Chris, to name a few, are the synonyms of men's physical strength. This listicle will discuss the top 1o strongest NFL players in the world to date.
NFL is one of the world's most popular and physically demanding sports.
While categorizing the players is not easy and justiciable, we will attempt to include the strongest players without bias.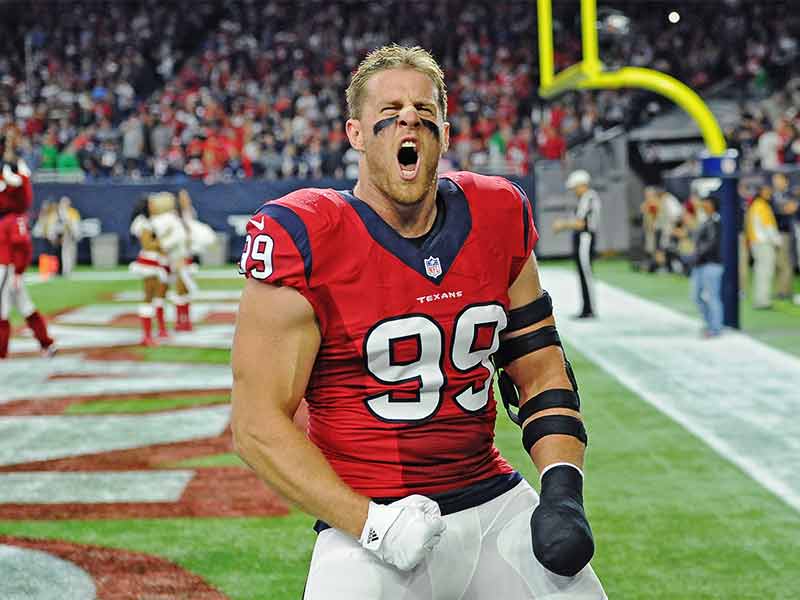 This list incorporates the world's strongest NFL players who are active on the scene and a few who have retired but still cannot be forgotten for their immense capability.
New stronger players might step in, but their legacy continues to date.
We have made a compilation of the strongest players in NFL today. So, here are the strongest NFL players.
Ten Strongest NFL Players In The World
All the players mentioned in the list have unique talents and capabilities. Their "can do" attitude and unparalleled strength have brought them where they are now.
Without further ado, let's learn about the strongest players in the NFL right now.
| | |
| --- | --- |
| Name | Current Team |
| 1. Aaron Donald | Los Angeles Rams |
| 2. Adrian Peterson | Detroit Lions |
| 3. Bobby Wagner | Seattle Seahawks |
| 4. Connor Barwin | Philadelphia Eagles |
| 5. Chris Carson | Seattle Seahawks |
| 6. Danielle Hunter | Minnesota Vikings |
| 7. Larry Allen | Retired |
| 8. DK Metcalf | Seattle Seahawks |
| 9. Nigel Bradham | Free Agent |
| 10. Saquon Barkley | New York Giants |
1. Aaron Donald
Born: May 23, 1991
Height: 1.85m
Position: Defensive Tackle
In the list of our strongest NFL players, first off, we have Aaron Donald. Donald is an LA Rams player who plays Defensive Tackle. Over the years, he has a record of 29.5 sacks and 66 tackles.
By 14, Donald had already aspired to become an athlete as he trained for 2 hours every day with his father.
Initially, he started with high school football and continued to play college football in Pittsburg. He made a name for himself as one of the best defensive players in the NCAA.
His workout consists of squats, lifts, deadlifting, bench press, lower weight arm exercises, abs, and crunches.
Aaron also won the title of the ACC Defensive Player of the Year.
Aaron began his professional career in 2014. He signed a four-year contract with the RAMS worth $10.13 million approximately.
He resigned with the RAMS again in 2018, worth a $135 million contract.
In 2020, he recorded his first sack on Dak Prescott and two sacks on Josh Allen. Against Washington Football Team, he was titled NFC Defensive Player of the Week.
Donald will also appear in the Pro Bowl in 2021. The Rams stated on June 7, 2022, that they had renegotiated Donald's previous contract extension, which he signed in 2018.
The extension, which adds $40 million to the initial six-year, $135 million contract, makes Donald the first non-quarterback to earn more than $30 million each season.
You may also like to read about the NLF:15 Greatest Football Teams of all Time.
2. Adrian Peterson
Born: May 21, 1985
Height: 1.85m
Position: Running Back
Born in Palestine, Texas, Peterson was also a college star athlete. He got into sports after he witnessed his brother's death and used sports as a coping mechanism.
Peterson had a rough childhood, but this didn't stop him from being one of the world's strongest NFL players right now.
Talking about his workout, he has mentioned he loves stretching exercises with a supervised mentor. He believes in eating clean and maintaining a healthy diet. He goes to the gym five times a week for his intense training.
Peterson loved playing basketball, football, and track. However, it was in football that Rivals named him the Best Running back in 2004. He played professionally from 2007 as he entered the 2007 NFL Draft.
Everyone's eyes were on him as Peterson displayed never seen strength, aggression, and agility in the field.
By 2019, he bagged a two-year contract with the Washington Redskins worth $8 million. Following year, he signed with Detroit Lions.
Recently in February 2022, Peterson was detained by Los Angeles Airport Police for domestic abuse with his wife, Ashley, while on a trip from Los Angeles International Airport to Houston, Texas.
3. Bobby Wagner
Born: June 27, 1990
Height: 1.83m
Position: Middle Linebacker
The football linebacker Wagner plays for the Seattle Seahawks of the NFL. He started his career playing college football at Utah State. During the 2nd round of the Seahawks, he was drafted in 2012.
He is also called the king of consistency. Wagner is consistent with his workouts such as boxing sessions, yoga, martial arts, swimming, and massages to avoid getting injured.
Previously, Bobby played high school football at Colony High School, Ontario. Rivals.com rated him a two-star recruit. However, he received an offer from Utah State, which was his only offer.
From 2008-2011 his records are Tackles (445), Sacks (4.5), and four interceptions. In the 2012 Senior Bowl, he kicked off his professional career, becoming the first player from Utah State.
Wagner was awarded the North's Most Outstanding Player and Senior Bowl MVP. In 2019, he signed a $54 million contract with the Seahawks for another three years.
Wagner signed a five-year, $65 million contract with the Los Angeles Rams on March 31, 2022.
4. Connor Barwin
Born: October 15, 1986
Height: 1.93m
Position: Special Assistant to the manager
Former outside linebacker and football executive Barwin serves as Philadelphia Eagle's Special Assistant.
He has played college football for Cincinnati and Houston Texans, where he kicked off his NFL start.
Houston Texans selected Barwin in the second round. However, due to an injury, he shifted to an outside backline. In 2013, he was confirmed for a $36 million contract with Philadelphia Eagles.
In 2019, Bobby announced his retirement. He played in LA Rams, New York Giants, Philadelphia Eagles, and more.
Barwin rejoined the Eagles as a special assistant to general manager Howie Roseman on January 17, 2020.
You may also like reading The 15 Highest Paid NFL Players' Salaries.
5. Chris Carson
Born: September 16, 1994
Height: 1.80m
Position: Running back
Carson played high school football in his hometown. Before he decided to enroll in Oklahoma State, he received numerous offers. He also played for Butler Community College before Oklahoma.
Carson consistently works out fierce upper body workouts to remain the warrior he is.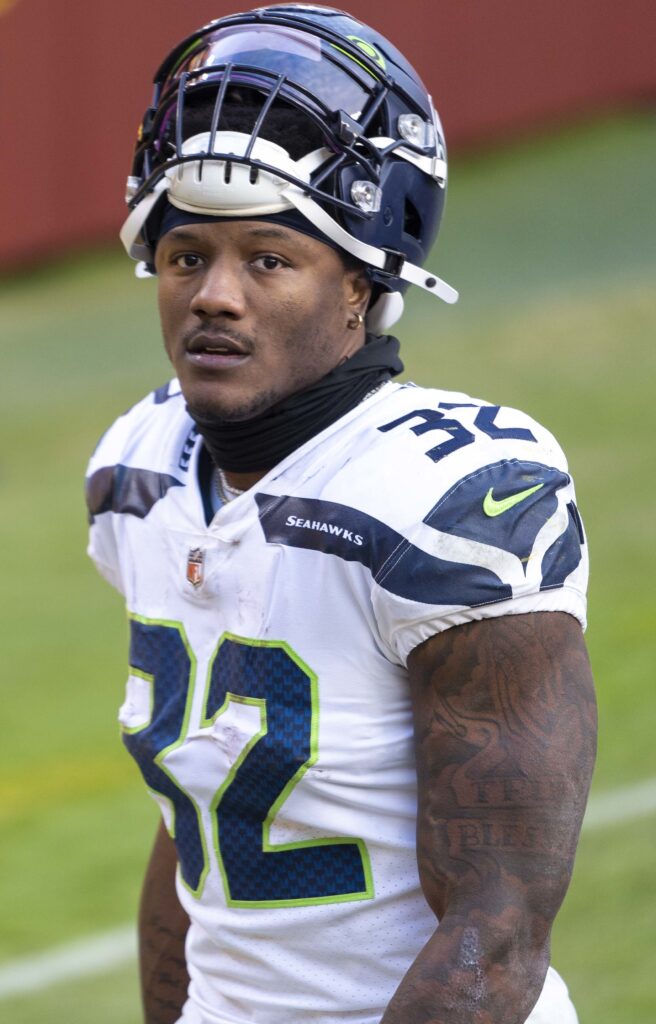 He started his NFL career in 2017 with Seattle Seahawks. Carson finalized approximately a $2.5 million contract of four years with them.
Since then, he has played against Sanfransico 49ers, Tennesse Titans, Indianapolis Colts, Dallas Cowboys, and many more. He has had several injuries and has always made an admirable comeback.
It has been reported that Carson has re-signed with the Seahawks for another two years. The finalization of their contract amounts to $14.7 million approximately.
Carson re-signed with the Seahawks on a two-year contract on March 27, 2021.
Carson announced his retirement from football on July 26, 2022, after five seasons due to a neck injury suffered in the 2021 season.
6. Danielle Hunter
Born: October 29, 1994
Height: 1.96m
Position: Defensive End
Next on our list of the strongest NFL players is Danielle Hunter. While eight years old, Hunter was playing catch with his friends, a coach recognized his talent and signed him up for the school football team.
By the end of his high school, he had completed 108 tackles. He is also highly flexible as he is known to do pilates regardless of his muscular body. Hunter also does 80lb bicep curls with ease.
From 2012-14 he studied at LSU and played for the LSU Tigers Football Team. Then, in 2015 got finalized to play in the NFL.
Hunter was the youngest NFL Rookie player in the 2015 NFL draft. In 2018, he signed a $72 million contract with the Vikings for five years. In 2020, he underwent herniated disc surgery.
Hunter had a blistering start to the season, racking up six sacks in the first seven games before suffering a season-ending torn pectoral muscle, putting him on injured reserve for the second straight season.
Also, read about: The 13 Best Safeties in the NFL This Year.
7. DK Metcalf
Born: December 14, 1997
Height: 1.93m
Position: Wide Receiver
Metcalf was recognized by Rivals.com as a wide receiver in his high school football days because of his outstanding records.
During his college football days, Metcalf suffered an injury that caused a suspension in his career. However, he continued playing again in 2017.
It was in the 2019 NFL Draft that he was confirmed to play. The Seattle Seahawks extended a $4.6 million contract to Metcalf for four years, which he happily obliged.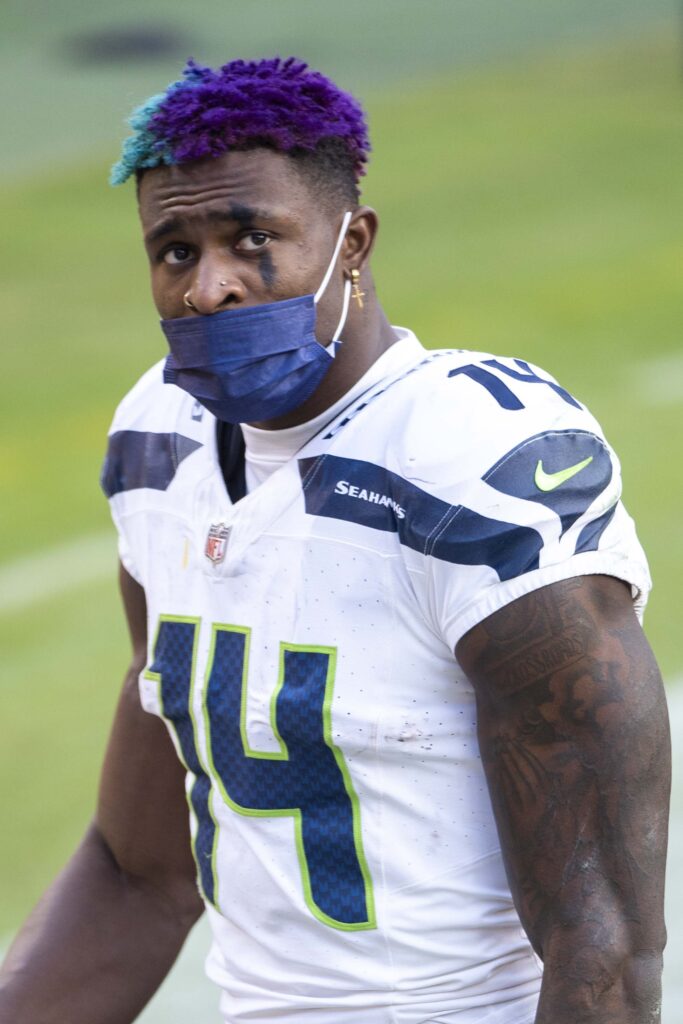 He has played against Tampa Bay Buccaneers, Philadelphia Eagles, Atlanta Falcons, Pittsburg Steelers, etc. As a result, Metcalf was named as one of the top NFL Players of 2021.
Metcalf trained and participated in the 100m USATF Golden Games to qualify for the Olympic Trials.
Unfortunately, this strong NFL player couldn't be eligible for it but achieved a remarkable record of 10.37 seconds.
Talking about his fitness, he swears by intermittent fasting and combining it with reverse pyramid workouts.
His workouts include heavy chest training, abs, lower body, and emphasis on the shoulder and back. He earned the title of Most receiving yards by a rookie in a playoff game in 2020.
8. Larry Allen
Born: November 27, 1971
Height: 1.91 m
Position: Guard
Known for his 700-pound bench presses, Allen does extreme workouts to keep in shape. His activities mainly consist of back pulls, pound curls, pound squats, and shoulder presses.
Larry Allen had a troubled childhood. Allen has faced it all, from health difficulties to being violently attacked by his neighbor. But, these circumstances didn't deter his enthusiasm for sports.
Allen's professional journey began in the 1994 NFL Draft. But before that, he was selected for the NFL's All-Decade Team.
In addition, Larry has been consistently praised for being one of the best offensive and influential players.
Currently, he enjoys his retired life as a Dallas Cowboy. However, Allen's legacy continues as his son plays for the Harvard Crimson Football team.
On February 2, 2013, Allen was voted into the Pro Football Hall of Fame.
You may also like to read about: The Top 12 Best NFL Wide Receivers in the World.
9. Nigel Bradham
Born: September 4, 1989
Height: 1.88m
Position: Linebacker
Bradham started his NFL career in 2012 when he got selected for the 2012 NFL Draft. In the same year, he signed with Buffalo Bills for $2.6 million approximately.
He completed his first season with 37 solo tackles, 57 combined tackles, and 11 stars.
Since he has played against Tampa Bay Buccaneers, New England Patriots, San Diego Chargers, and more. In 2016, he became a free agent after resigning from his duty with the Bills.
In 2016, he signed a contract with Philadelphia Eagles worth $7 million for two years. Then in 2018 extended his contract for another five years, worth $40 million.
Afterward, in 2020, his contract with The Eagles ended, so he signed with the New Orleans Saints.
The Denver Broncos added Bradham to their practice squad on October 5, 2020.
10. Saquon Barkley
Born: February 9. 1997
Height: 1.83m
Position: Running Back
Born in an athletic family, Barkley was a star football player in high school. Moreover, he also played basketball and track and won several awards for the same.
Barkley played college football at Penn State in 2015 and hit several records. They are "Most career rushing touchdowns," "rushing yards (freshman and sophomore)," and "most total yards."
In 2018, he entered the 2018 NFL Draft. The same year, he signed an approximately $32 million contract with New York Giants.
He scored his first touchdown in NLF in 2018 against Jacksonville Jaguars.
Barkley was named the Top 100 Players of 2019 by the NFL. Finally, in April 2021, he extended his contract with the Giants for another year.
He does extensive training to keep in shape to play in his demanding position, from 700 pounds squads, pound lifts, defensive tackles, and power clean.
He tends to challenge himself physically with his constantly changing workouts.
The Giants activated Barkley's fifth-year option on April 28, 2021, for a guaranteed $7.217 million for the 2022 season.
You may also like to read: The Top 10 Richest NFL Club Owners in the World.
Conclusion
The ten mentioned players above maintain a strict and disciplined day-to-day life to remain consistent with their performance. However, their enthusiasm and focus remain the pivotal points for their success.
Did you like our list? Who else, according to you, deserves to be on the list? Mention them in the comment section!