Taoufik Makhloufi is a track and field athlete and a middle-distance runner. Moreover, he is a two-time Olympian and one-time Olympic gold medalist.
Besides that, he is also a two-time Olympic silver medalist. He won gold at the London Olympics' 1500m race while the silver at the 2016 Rio Olympics' 800 and 1500m race.
The athlete mostly runs 800m and 1500m events. Recently, the runner was qualified to represent Algeria in the Tokyo 2020 Olympics.
Taoufik was determined to win his second gold medal in Tokyo, but the athlete recently withdrew, citing knee injuries. The athlete said that he needed to listen to his body and give it the most desperately needed.
As Makhloufi is one of the most successful and decorated runners, his withdrawal from the Tokyo Olympics disappointed many fans. However, the gold medalist informed that he was not in good form to run.
Nevertheless, he promised his fans that he would be back bigger and better. Furthermore, the runner is set on giving his undivided attention to the 2022 World Athletics Championships.
The Algerian athlete recently won a silver medal at the 2019 World Championships' 1500m race. Likewise, he has won gold medals at the 2011 African Games and 2012 Africa Championships' 800m race.
Before getting into details about the Algerian runner's life and career, here are some quick facts about him.
Quick Facts
| | |
| --- | --- |
| Full Name | Taoufik Makhloufi |
| Birth Date | 29 April 1988 |
| Birth Place | Souk Ahras, Algeria |
| Nick Name | Not Available |
| Religion | Muslim |
| Nationality | Algerian |
| Ethnicity | Algerian |
| Education | Not Available |
| Horoscope | Taurus |
| Father's Name | Not Available |
| Mother's Name | Not Available |
| Siblings | Not Available |
| Age | 35 Years Old |
| Height | 5'9″ (176 cm) |
| Weight | 154 lb (70 kg) |
| Hair Color | Black |
| Eye Color | Brown |
| Build | Athletic |
| Profession | Middle distance runner, Olympian |
| Current Club | GS Pétroliers |
| Olympic Medals | 3 |
| Coach | Philippe Dupont |
| Active Years | 2007 – Present |
| Marital Status | Unmarried |
| Girlfriend | Not Available |
| Kids | 7; two brothers, five sisters |
| Net Worth | $1 Million to $5 Million |
| Social Media | Instagram, Twitter |
| Merchandise | Not Available |
| Last Updated | December, 2023 |
Taoufik Makhloufi | Early Life, Family, and Education
Taoufik Makhloufi was born in Souk Ahras, Algeria. His parents' names, as well as details, are not available to the general public yet.
Nevertheless, the runner claims that his parents are one of his biggest sources of inspiration. Many sources claim that his father was a police officer while his mother was a homemaker.
Moreover, he has seven siblings; two brothers and five sisters. The athlete grew up in a middle-class household where his father's salary barely covered the family's basic needs.
Hence, he wanted to be a big champion from a young age and help solve his family problems. However, the Olympic gold medalist barely wanted to touch books to make that change.
Instead, he focused on tracks and decided to excel at it. So, the Algerian athlete started training and put his entire focus and dedication into it.
His former trainer described him as a quiet and serious boy. Makhloufi's work ethic and passion for running his well appreciated by his peers and trainers.
The Olympian has completed high school but not college. His parents insist that he get a college degree as his sports career might not be reliable if he ever gets career-threatening injuries.
Taoufik Makhloufi | Age, Height, and Weight
The one-time Olympic gold medalist is 35 years old as of December, 2023. Being a professional athlete, he takes great care of his body and diet.
Likewise, Taoufik has a regular workout and training routine. Hence, the Algerian runner is quite fit and has a toned physique.
Furthermore, the two-time Olympian is 5 ft 9 in (176 cm) tall and weighs 154 lb (70 kg).
Taoufik Makhloufi | Running Career
Early Career
As a junior, he ran his first international race at the IAAF World Cross Country Championships in 2007. The Algerian runner completed the 8 know race in 82nd place.
Slowly, he moved up to senior level and competed in the 2009 Mediterranean Games' 1500 m race, where he finished in fourth place. Nevertheless, the gold medalist won his first national title in 2009.
Later on, the athlete competed at the 2009 World Championships in Athletics but did not get past the semi-finals. However, in 2011, he took a big leap forward in his running career.
Makhloufi won his first gold medal at the African Games' 800m race. Moreover, Makhloufi also won a bronze medal at the 1500m race.
You Might Be Interested In Two-Time Olympic Gold Medalist, David Rudisha Bio: Training, Wife, Retired & Net Worth >>
2012 London Olympics and Controversy
Besides that, the 2012 season proved to be even more fruitful for Taoufik, who qualified for the London Olympics.
He was initially disqualified as the referee believed that his efforts were not "bona fide" in the 800m race.
Moreover, the Algerian runner was forced to run in the 800m race as Algeria failed to withdraw. However, after British doctors confirmed that a knee injury prevented him from giving his best, the IAAF revoked his disqualification.
Barely 24 hours later, Makhloufi went on to win his very first Olympic gold medal. His win made headlines that led many to suspect his sudden improvements, but he ensured that it was all because of his hard work and training.
The athlete had changed trainers and worked intensely for 7 months away from home to perform his best at the Olympics. Nonetheless, his win was immensely celebrated in his home country.
In 2012, Taoufik won gold at the African Championships' 800m race as well.
Second Olympic Appearance and Injuries
The runner barely ran any tracks in 2013 as he contracted hepatitis A, a liver disease. Hence, he was hospitalized for a long time but eventually recovered.
For the 2014 season, he started his preparations in the USA and Kenya. Moreover, Makhloufi won a bronze medal at the 2014 African Championships.
Besides that, he started to progress slowly and won a silver medal at the 2015 African Championships. Likewise, the athlete won the European Athletics Classic meeting's 1000m race in France.
Finally, in 2016, Taoufik made his second Olympic appearance at the Rio de Janeiro Olympics. However, he failed to secure any gold for Algeria.
Instead, he won two silver medals in the 800m and 1500m races. Furthermore, injuries led him to miss the entirety of the 2017 and 2018 seasons.
Don't Forget To Check About Long Distance Runner, Evan Jager Bio: Wife, Career, Olympics & Sponsors >>
Qualifying for the Tokyo 2020 Olympics
In 2019, he finally returned to running and getting back to business as usual. Upon his return, he won a silver medal at the World Championships in Athletics held in Doha.
Furthermore, the Algerian government honored him with the Medal of Order of Merit for his outstanding representation of Algeria on international platforms. Thereafter, Makhfouli started training for the Tokyo 2020 Olympics.
Moreover, he was in South Africa preparing for the Olympics when the pandemic struck. Unfortunately, due to the Covid-19 protocols, he could not travel back to Algeria and remained in South Africa for months.
During the time, the gold medalist was filled with frustration and criticized Algeria's government for not making enough efforts to bring him back to Algeria since the Tokyo Olympics had been postponed.
In Algeria, he continued his training for the 2020 Olympics that he qualified for after his 2019 World Athletics Championships.
However, his injuries did not allow him to fulfill his dream of winning another gold for Algeria in the Tokyo 2020 Olympics.
Taoufik Makhloufi | Girlfriend, Wife, and Kids
The runner is not married, and neither does he have a girlfriend. As of now, Taoufik is single and is putting all of his focus and energy into running and growing his career.
Furthermore, he spends most of his time training, preparing, and competing in races. As a result, he barely has time for his dating life.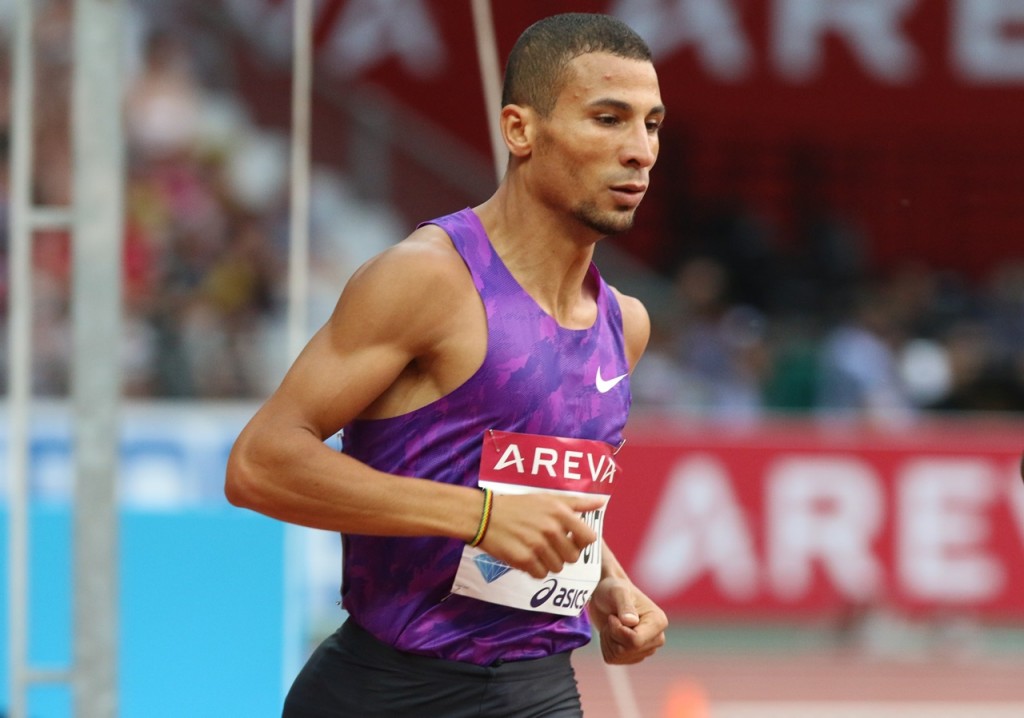 Besides that, he has always been pretty private when it comes to his personal life. Even in his social media accounts, the athlete barely mentions his family and friends.
Hence, Makhloufi might have a significant someone in his life and is very good at hiding it. Moreover, he likes living his personal life out of the limelight.
Learn More About Olympic Gold Medalist, Kyle Chalmers Bio: Olympics, Gold Medal & Net Worth >>
Taoufik Makhloufi | Net Worth and Salary
The Algerian athlete earns most of his wealth through his career as a middle-distance runner. However, Makhloufi's exact net worth estimation is unknown.
Nonetheless, many sources estimate it to be between $1 million and $5 million.
Similarly, his salary details are unspecified, and his incomes usually depend on the events he is running.
Besides that, Taoufik earns a good amount through endorsement deals and sponsorships. He can be seen wearing a lot of Nike apparel.
Since Nike is well-known for endorsing great athletes, he might have an endorsement contract with the sports company. Furthermore, the most decorated Algerian runner reportedly has deals from local brands in Algeria.
Taoufik Makhloufi | Social Media Presence
Makhloufi is active on social media platforms. Hence, he has an Instagram handle with 3.2 thousand followers.
The Algerian mostly shares his life as a professional athlete through his account. In most of his posts, he is either running or wearing his running attire.
Moreover, he has posted pictures of him running and winning important events. Besides that, the Olympian has posed for few pictures alongside his friends.
Likewise, he has clicked pictures with a lot of aspiring kids and fans who admire him. Similarly, the gold medalist has a Twitter account with 66.8 thousand followers.
The Algerian athlete mostly shares running-related news and highlights through his handle. He is comparatively more active on Twitter than on Instagram.
The runner recently posted a video of him picking up trash that was littered in the environment. His video encouraged his fans and followers to keep the environment clean.
Taoufik Makhloufi | FAQs
Does Taoufik Makhloufi celebrate Ramadan?
Yes, Makhloufi celebrates Ramadan as he is a Muslim. He even wished all his followers Ramadan Mubarak through his Instagram post.
Did the bag of doping substances belong to Taoufik Makhloufi?
In 2020, Taoufik was subject to an investigation after French authorities found a bag filled with syringes and paraphernalia containing a personal document.
The document was the only thing linking him to the bag full of drugs. Shortly after, French officials conducted a thorough investigation to determine whether the bag belonged to him or not.
Makhloufi did not comment on the matter even though several media outlets and news agencies picked up the news. Thus, the result of the investigation is either not published or intentionally kept private.
Since he qualified for the Tokyo 2020 Olympic and is preparing for the 2022 World Athletics, the bag may not be his. But, on the other hand, it could've been planted.
Furthermore, the Algerian athlete does not seem to care and is training without any worries, which leads us to believe that the investigation did not produce any evidence against him.
Moreover, he did not participate in any races or events in 2020, so there was barely any need for drugs and PEDs.