Do you know some famous top US figure skaters who never won Olympic medals?
We all know that the Olympics is a leading international sports event and is the world's foremost sports competition. Winning an Olympic medal equals the athletes being the best in the world.
However, it is not always that being the best will land you an Olympic medal. Sometimes, athletes suffer from injuries, ill-timing, or just bad luck that could result from not being able to participate or win an Olympic medal.
Without a doubt, figure skating is one of the most fascinating and elegant sports played on ice. Seeing the skaters glide through the ice is a fantastic sight while they perform incredible jaw-dropping moves.
The skaters make it look effortless, but we know it is easier said than done. Without proper training, extreme dedication, and body flexibility, it is impossible to be a figure skater.
Despite their training and dedication, some skaters could never win an Olympic medal. Thus, today we are looking at some top US figure skaters who, unfortunately, never won Olympic medals.
So, without any further ado, now, let us look at these top yet unfortunate US figure skaters!
Top 9 best US Figure Skaters Who Never Won Olympic Medals
We have prepared this list in reference to sources like SportsShow and Medium as our primary references. Let us peek at our overall rankings in the table below before moving on to the details.
| | |
| --- | --- |
| Name | Age |
| 9. Tiffany Chin | 56 years-old |
| 8. Surya Bonaly | 49 years-old |
| 7. Jill Trenary | 55 years-old |
| 6. Jenni Meno and Todd Sand | 53 years-old and 60 years-old |
| 5. Christopher Bowman | Deceased |
| 4. Elaine Zayak | 58 years-old |
| 3. Nicole Bobek | 46 years-old |
| 2. Rudy Galindo | 54 years-old |
| 1. Tonya Harding | 53 years-old |
9. Tiffany Chin
Tiffany Chin is the first figure skater on our list of top US figure skaters. She is a former figure skater who won the World bronze medal and Skate America Championship twice.
Chin was the 1985 US national champion. She started her career participating in the junior championship and was the winner of the 1981 World Junior Championship held in London.
In 1984, she made her senior debut at the 1984 US Championship. The same year, Chin made it to the US team participating in the 1984 Winter Olympics in Sarajevo. She came 12th in the compulsory figures but was ranked 4th overall.
Since her professional debut, Chin has qualified for the Olympics several times. However, Chin was not able to win any Olympic medals. Similarly, she also participated in many other tournaments and US Championships.
About ice skating couples, some are only on the ice (as a professional team), and some are off the ice. Read here about the 12 famous ice skating couples of all time!>>>
After her retirement, Chin continued to be part of the figure skating world. She has transitioned into a successful coach. In January 2022, Chin was inducted into the United States Figure Skating Hall of Fame.
8. Surya Bonaly
Surya Bonaly is a French-born former figure skater. She came into the limelight in 1990-1991 and was the first black woman to break the racial and regional boundaries in figure skating.
Bonaly was adopted from an orphanage when she was just eight months old. Her adoptee mother was a physical education teacher who practiced many sports and encouraged her to take different sports.
Around age two, Bonlay began to skate on double blades. Before age 12, she had joined the French National Team and was the center of media attention. She participated in and won numerous junior championships and began her senior career in 1990.
Since her senior debut, Bonaly has won a World silver medal three times, the European Championship five times, the 1991 World Junior Championship, and the French national Championship nine times.
Moreover, Bonaly is the only Olympic figure skater to land a backflip on one blade. She achieved the feat at the 1998 Winter Olympics in Nagano, Japan. However, Bonaly was never able to win an Olympic medal during her professional career.
7. Jill Trenary
Jill Trenary is our 7th top US figure skater who never won Olympic medals. This former figure skater is a three-time US national champion and was the 1990 World Champion.
As a junior figure skater, Trenary was the winner of the 1985 US junior title. The same year, however, she collided with another skater whose blade sliced her calf muscles and severed her left leg's artery.
Fortunately, Trenary was able to make a recovery, and the following year in 1986, she debuted in her first senior national championships. Moreover, she was able to win the US Olympic Festival.
Trenary first qualified for the Winter Olympics in 1988 and placed 4th. Although she qualified for the 1992 US Nationals, she could not qualify for the 1992 Winter Olympics, which was her last attempt.
Trenary was part of many championships and toured with the Tom Collins Tour of Champions and Stars on Ice. However, a life-threatening blood clot on her shoulder forced her to retire in 1997.
6. Jenni Meno and Todd Sand
We have not individual but pair skaters on number 6 of top US figure skaters who never won Olympic medals. Jenni Meno and Todd Sand are former pair skaters who are real-life married couples.
The pair teamed up together in April 1992. And immediately after pairing up, they successfully qualified for the 1993 World Figure Skating Championships. Similarly, they also finished in 2nd place at the US Nationals.
The win in the US Nationals made them qualify for the 1994 WInter Olympics held in Lillehammer, Norway. Although one of the strongest pairs on the ice, the pair finished 5th place.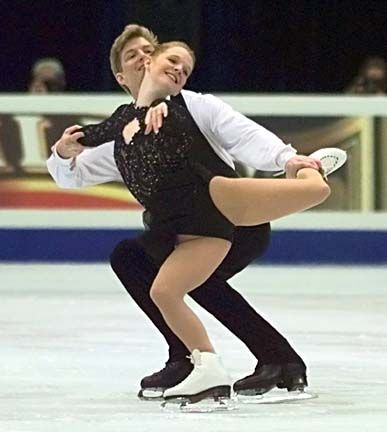 The pair are the 1998 World silver medalist, two World bronze medalists, and three-time US national champions. Their last Olympic appearance in the 1998 Winter Olympics was held in Nagano, Japan.
However, the couple could not perform well and finished in 8th place. Meno and Sand retired from competitive skating and then professionally skated in the Stars on Ice tour for six seasons.
5. Christopher Bowman
Christopher Bowman was a professional figure skater who competed in two Olympic Winter Games. He started figure skating early and was the winner of the 1983 World Junior Championships and US national junior title.
Bowman earned his nickname "Bowman the Showman" for his incredible crowd-pleasing performances. After starting his career at the junior level, he made his senior debut in the 1987 US World Championship.
However, Bowman was supposed to make his senior debut in the 1986 US Championship. However, he had a separation between his right tibia and fibula, forcing him to withdraw and delaying his senior debut.
After his senior debut, he became a World medalist two times US national champion. Bowman competed in the 1988 and 1992 Olympic Winter Games, finishing in 7th and 4th, respectively.
Scandals do not elude the sports world. Similar to the limelight world, athletes who have made it to the top of their field are often at the center of scandals. Read about some of the top sports scandals!>>>
After the 1992 World Championships, Bowman retired from competitive skating and toured with Ice Capades until 1993. Bowman, the Showman, passed away at 40 on January 10, 2008.
4. Elaine Zayak
Elaine Zayak is our 5th top US figure skater who never won Olympic medals. The former figure skater is the 1982 World Champion and the 1981 US National Champion.
The former national/world champion lost three toes on her left foot due to a lawn mower accident at age two. She began figure skating as physical therapy after her doctor's advice. It turned out to be an eye-opening move for her.
In 1982, Zayak was awarded the Dial Award for the national high-school scholar-athlete of the year. Since she had three toes missing, her left boot was stabilized with a wood mold.
Despite this, she proved to be a gifted figure skater. At the 1979 World Junior Championships, Zayak won gold; the following year, she made her senior international debut.
Zayak competed in only one Olympic Games during her professional career. She competed in the 1984 Winter Olympics Games, in which she finished 6th.
Although the former World Champion may not have won an Olympic medal, Zayak is one of the top American figure skaters. She was the first woman to land many triple jumps in her programs consistently. In 2003, she was inducted into the US Figure Skating Hall of Fame.
3. Nicole Bobek
Next, we have Nicole Bobek, a former figure skater who is the 1995 US national champion and 1995 World bronze medalist. Bobek was 11 years old when she won the novice silver medal at the 1989 US Championships.
Bobek was three years old when skating grabbed her interest. After her win at the 1989 US Championship, she worked her way up for the next few seasons at the national level.
She entered several World Junior Championships and made her senior debut in the 1994 World Championships. However, Bobek could not make it past the qualifying round.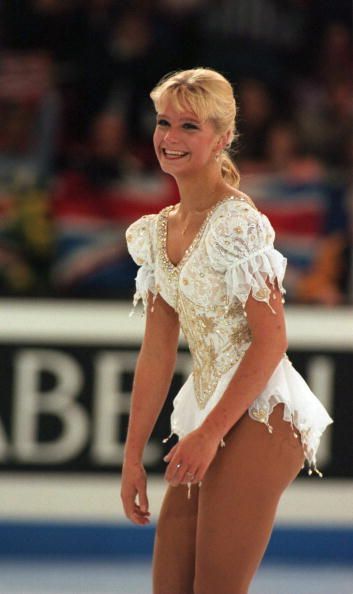 Injuries plagued her playing career. During the 1996-97 season, she struggled with back problems but still managed to win the bronze medal at the 1997 US Championships. She only competed once at the 198 Winter Olympics Games.
After missing her 2000 US Championship, Bobek never returned to competitive skating. But she toured with Champions on Ice until 2004 and appeared in various shows and professional competitions.
2. Rudy Galindo
Rudy Galindo is a former figure skater and the first openly gay skating champion in the United States. The talented skater has earned recognition in both single and pair skating.
Galindo started skating along with his sister early. As a junior skater, he won the 1987 World Junior title. Likewise, he also competed paired with Kristi Yamaguchi at the junior level 1985 US Championships.
Galindo competed in pair skating with his partner Yamaguchi from 1988-89 and 1989-90. Together they won the 1988 World Junior title and the 1989 and 1990 US senior championships.
After 1990, Galindo started focusing on his singles career. He won the 1996 US national championship and the 1996 World Bronze medal in his singles career. Unfortunately, he never qualified for Olympics Games.
There have been many incidents where athletes have gotten into severe incidents that threatened their careers and lives. Read here about the top 10 sports injuries till now!>>>
In the summer of 1996, Galindo retired from competitive skating. He then toured with Tom Collins' Champions on Ice and served as a judge on the WE tv Series Skating's Next Star. In 2012, Galindo was elected to the US Figure Skating Hall of Fame.
1. Tonya Harding
And our number 1 top US figure skater who never won Olympic medals spot goes to Tonya Harding. Not only is Harding a former skater, but she is also a retired boxer and a reality television personality.
Harding started skating at age three. She went through a tough childhood and began working her way up the competitive skating ranks in the mid-1980s. Then her career breakthrough came in 1991.
During the 1991 US Championships, Harding became the first American woman to execute a triple Axel. Furthermore, she made three more records in the 1991 Skate America competition.
The multi-talented athlete became the first woman to complete a triple Axel in the short program. Likewise, Harding became the first woman to successfully execute two triple Axels in a single competition and complete a triple Axel in combination.
Although Harding is a two-time Olympian, she never won Olympic medals. Her later career was marred by controversy. After being involved in the assault attack on her skating rival Nancy Kerrigan, she was banned from the sport for life.
Conclusion
An Olympic medal is the highest level of achievement that an athlete can get to prove that they are at the top of their game. However, not all the best athletes can earn an Olympic medal due to circumstances.
These US figure skaters are some athletes who, unfortunately, never won an Olympic medal. But, it does not mean they are not worthy, they are equally recognized, which means people acknowledge they are far-off on a different level of the sports, even though they haven't been so much lucky with the medals.
They are some of the greatest figure skaters and deserve their spot as the best US figure skaters. Suggest to us any skaters if you think they deserve to be on this list. Thank you for sticking with us!!