Zhang Jike, who was born in Qingdao, Shandong, China, on February 16, 1988, is considered to be one of the finest table tennis players in this generation.
The Chinese table tennis player has won many tournaments, including the 2011 WTTC, 2011 World Cup, and the 2012 London Olympics. He became the fastest table tennis player to have won the Grand Slam.
After winning the grand slam, Zhang went on to win the WTTC 2013 and World Cup 2014.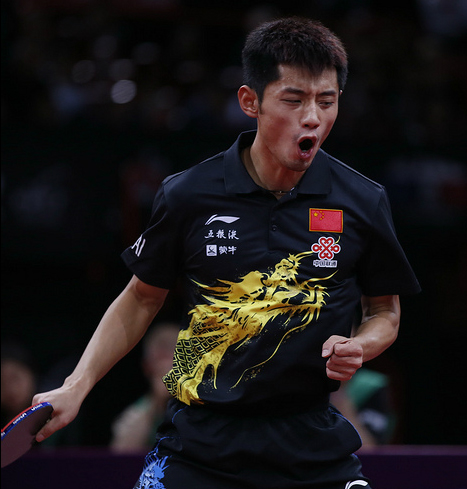 To know more about Zhang, stick with us till the last of the article, we bet you won't get bored. Here, we discuss everything about Jike, from his career to childhood to his love life.
First-of-all, let us have a look at the quick facts section.
Quick Facts
Name
Zhang Jike
Famous As
Dao Zhendong, Black Dragon
Chinese Name
张继科
Date of Birth
February 16, 1988
Place of Birth
Qingdao, Shandong, China
Nationality
Chinese
Religion
Not Known
Zodiac Sign
Aquarius
Ethnicity
Asian
School
Tianjin University of Science and Technology
Father
Zhang Chuanming
Mother
Xu Xiying
Sibling
Not Available
Age
35 Years Old
Height
5 ft.10 inches
Reach
Not Available
Weight
73 kg (161 lbs)
Eye Color
Black
Hair Color
Black
Profession
Professional Table Tennis Player
Country
China
Club
Shandong Luneng
Career Wins
16
Career Debut
March 5, 1992
Playing Style
Right-handed, shake hand grip
Equipment(s)

Butterfly Viscaria FL
DHS Hurricane 3 National (FH-Black)
Butterfly Tenergy 80 (BH-Red)

Highest Ranking
#1 (2012)
Current Ranking
#75
Marital Status
Unmarried
Wife
Not Applicable
Children
Not Applicable
Net Worth
$10 million
Social Media
Not Available
Merch
Butterfly Table Tennis Bat
Last Update
March 2023
Early Life and Education
Jike was born to Zhang Chuanming (father) and Xu Xiying (mother). Chuanming, Zhang's father, was a table tennis player, and his mother was a homemaker.
In many Asian countries, children are expected to walk in their father's footsteps which Zhang did. To everyone's surprise, Zhang started playing table tennis when he was only four years old.
Apart from that, Zhang did not have to go anywhere to find a coach as his father was a table tennis player, but he also was a children's table tennis coach at the Second Stadium in Qingdao.
Even though Jake's father was a table tennis player, he was a great football fan, and Zico was the best football player in Brazil at that time. So, he named his son Jike after Zico.
However, we do not know if Zhang is the only child or he has another sibling as the TT player has kept his personal life private.
But we assume that he does not have any siblings because China has a rule of the one-child policy, and having a second child is regarded crime there. However, this rule has changed now, but Zhang was born in that phase where it was not allowed.
Zhang went to Tianjin University of Science and Technology, where he graduated with a degree in IT.
Body Measurements of Jike
Zhang is 35 years old. Plus, he was born on February sixteen, just two days after valentines day, making his sun sign Aquarius.
Aquarius is usually said to be intelligent, charming, and clever as per the study of astrology. Plus, they believe in spirituality and are deeply rooted in their culture, and Zhang is the same.
You can also read about the 15 Best Table Tennis Players of All Time.
Zhang's black hair and black eyes make him look more attractive. Apart from that, he stands at 5 ft. 10 inches and weighs around 73 kg.
Zhang Jike: Career
In 2011 Jike won gold in WTTC Singles after defeating Joo-Sae Hyuk, Wang Liqin, Timo Boll, and Wang Hao.
To express his happiness, Zhang tore his t-shirt after winning the gold medal as a gesture of celebration.
The same year, he won the world cup after defeating Joo-Sae Hyuk in the finals by 4-1. To celebrate the victory, he thanked every audience for cheering him, and as a gesture of appreciation to his fans, and threw his t-shirt toward them.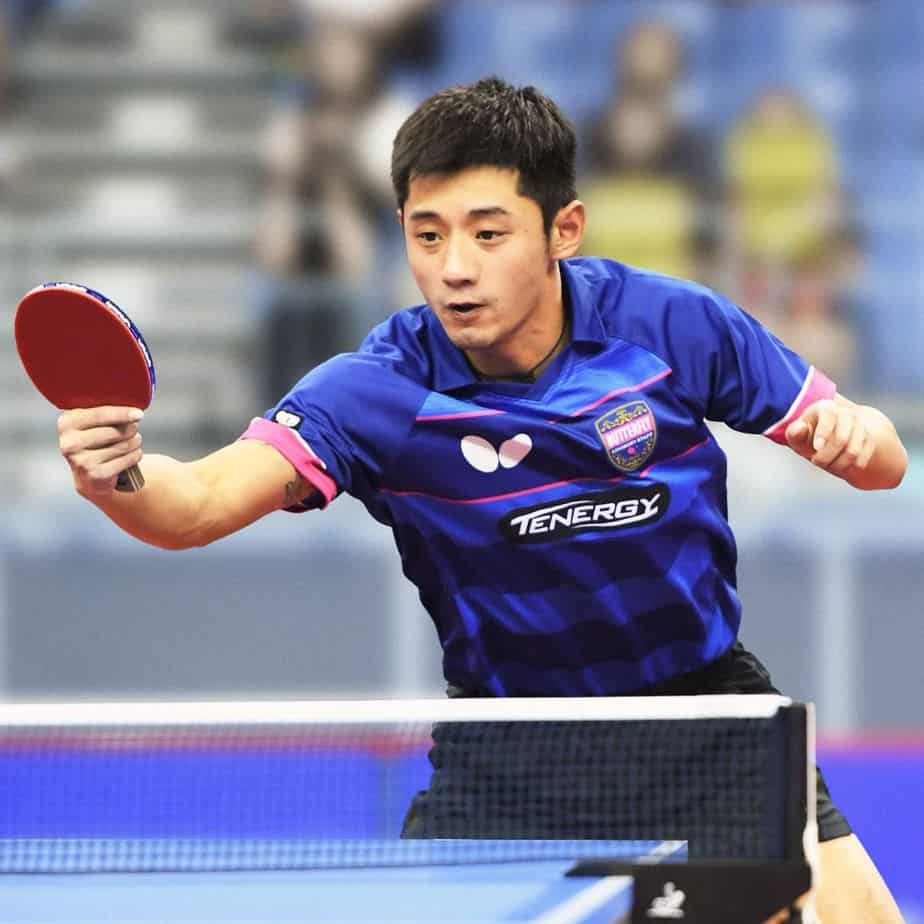 But 2013 was not a progressive year for Zhang in terms of his career. He started 2013 with a loss, and he lost to Chen Chien-an at the Asian Games.
As a result, his world tour was affected and brought drought in the title. His ranking dropped to #5 while he was #1 best table tennis player in 2012.
Further, Liu Guoliang, Zhang's head coach, criticized him for lacking focus and not enhancing his skills. Zhang took the criticism positively and, without losing hope, worked on himself.
Soon after, in 2014, he won the Chinese Table Tennis Super League title. In the same year, the athlete participated in the world cup and won again for the second time.
But Zhang went overexcited after winning the match; as a result, he was penalized $45,000, which was his winning amount.
Likewise, in 2015 WTTC, Zhang lost to Fang Bo by 1–4, but he won gold in the doubles tournament, where he played with Xu Xin. In 2016, Zhang participated in the Kuwait Open final, and his opponent was Ma Long. Nonetheless, Zhang easily defeated Ma Long and won the tournament.
Later Career
In 2016 WTTC Zhang could not play to his full capacity as he had a hip injury a month before. As a result, Zhang lost the match against Lee Sangsu by 1-4.
The following month due to the problem in his hopes, Zhang had to withdraw from his match against Masaki Yoshida.
Then, Jike decided to take a break from his career. After five months, Zhang returned to the world tour. As he was not present on tour for five years, his rank dropped to #176.
The last time Zhang appeared in any tournament was the 2018 World Tour. After that, he has not played any of the games. Neither has he announced his retirement, nor has he played any games.
It might be surprising to many that Zhang has acted in a reality TV show. Apart from him, his father, Zhang Chuanming, was also part of the series.
The name of the series was The Amazing Race China, and you can spot this father-son duo in The Amazing Race China 4.
Zhang Jike: Types of Equipment
A butterfly is a renowned company that mainly makes stable tennis bats, and they were Jike's sponsors.
Besides, the bat he uses is Butterfly Viscaria, and the backhand blade he uses is Butterfly Tenergy 80 (red).
You can also read about the 12 Top Paid Tennis Players in the World.
Also, he uses DHS Hurricane 3 neo National blue sponge (black) for his forehand, which is also from the Butterfly.
Zhang Jike: Playing Style
Zhang Jike mainly focuses on driving attacks, counters, and loops, his strength. Further, he is a two-winged shakehand player.
Likewise, Zhang uses the harder blue sponge H3 Neo for the maximum thrust.
In addition, Jike is a lightning-fast runner. Jike is considered the most talented player who has an excellent backhand technique among all the Chinese National Players.
Moreover, Jike usually uses this technique in the forehand corner, mainly when returning underspin serves and pushes.
His backhand flick is considered one of the best flicks of any table tennis player globally.
Zhang Jike: Coach's Support
When Zhang first joined the national team, coaches were worried about his forehand technique and considered entirely replacing it.
Xiao Zhan, who was Zhang's coach, noticed Zhang giving powerful forehand and backhand strokes and opted to preserve them. Because of his spin-oriented technique, Zhang Jike consistently has a topspin advantage over his opponents.
Zhang Jike: Serves
Tricky and unexpected are the correct terms to define Zhang's serves. Besides, his most popular service is quick reverse-pendulum serve to both table corners.
His side-spin with the backhand flick is above-average footwork and considered a world-class service.
Zhang prefers to have a backhand-oriented game plan; he plays against large forehand loopers like Ma Long or Fan Zhendong.
About Zhang's strategy, he contains his opponents in their backhand corner or tries for down-the-line blocking winners. He also puts the pressure, causing the opponent to make poor shot selections and causing them to make errors.
The best thing about Zhang is his mental strength and capacity to run his mind even in intense situations.
Zhang Jike: Personal Life
Zhang has always been a private person, and he has successfully managed to keep his personal life private.
However, in 2021, Zhang was spotted with a woman coming out of Zhang's apartment. They later sat in the car and went away. Nonetheless, they were again spotted together going back to the apartment.
Besides, this duo is often spotted together in malls, restaurants, and events. However, this girl has become a mystery girl as nobody knows about her.
Before, in 2018, Jike was in a brief relationship with Jing Tian, a gorgeous Chinese actress. But nobody knows why this duo broke up in 2019.
In 2020, Zhang participated in a program named "Span1span Love" there, he dated Jin Chen, a fellow contestant.
You can also read about the 6 Best Table Tennis Rubber Sheets for Outstanding Performance.
However, they never dated briefly, as it was part of the show. Zhang and Liu Shiwen dated each other met in 2004. But they broke up soon; as per sources their parents were against their relationship and thus, they had to end their relationship.
Likewise, Jike also dated Liu Shiwen. But, their breakup was mutual and was in acceptance with both sides.
Zhang Jike: Net Worth
It is expected that this amazing athlete has earned a net worth of $10 million. Whatever he has earned is from his tennis career.
Besides, Butterfly sponsors every bat he uses. But sadly, we do not know the exact income and expenditure of Zhang, but as soon as we gather any information about it, we will update you.
Social Media Presence
It is heartbreaking for Zhang's fans that he is not active on any social media platforms. However, we hope Zhang will open a social media handle soon for his fans.
Frequently Asked Questions (FAQs)
Has Zhang retired?
No, he has not retired. But after 2018, he has not been playing any of the tournaments, nor has he participated in any world tours.
What is Zhang Jike's ethnicity?
Zhang was born and brought up in China, making him an Asian.