Tennis is one of the popular sports with millions of spectators worldwide. Because of its popularity, the sport is also one of the highest paying in the world.
The top tennis players make millions of dollars on-court while earning from various deals and endorsements off-court. The prize money from winning the titles also adds to the player's earnings.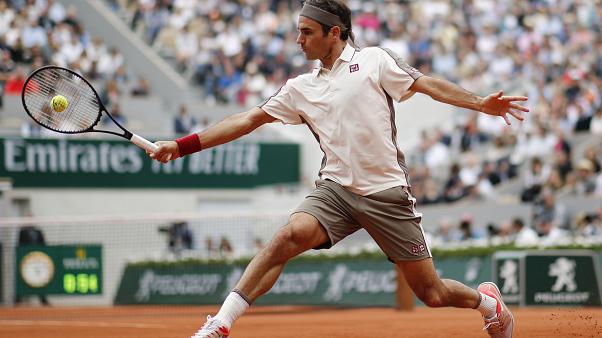 Therefore, here we compiled a list of the top paid tennis players. The list has been prepared, referencing recent data on the player's income.
So without further ado, let us look at the highest-paid tennis players in recent times.
12 Top Paid Tennis Players in the World
The list has been prepared with the help of various trusted sources like Forbes, Sportzpoint, etc. But before diving into the details, let us take a quick look at the table below.
12. Andy Murray
We will start our top-paid tennis player list with Andy Murray. He is on our number 12 with estimated earnings of $5 million. Murray is a 36 year-old player from England.
From an early age, Murray played tennis under his mother's influence. Thus, he was also part of the junior league and the 2004 Junior US Open winner. In 2005, he turned professional.
After turning professional, he became the youngest Briton to play in the Davis Cup. Similarly, Murray has reached eleven major finals while winning three Grand Slam titles. Likewise, he won 46 ATP singles titles and two Olympic medals.
Murray is considered a national hero in his home country. As his reputation precedes him and he is paid handsomely, he also has endorsement deals with various brands.
Some of his biggest endorsement deals include a five-year contract with Adidas worth £30 million and a $25 million 4-year agreement with Under Armor. Likewise, he has also endorsed brands like Rado, Castore, Highland Spring, etc.
Are you interested in knowing about some of the highest-paid athletes? Click here to read more!
11. Alexander Zverev
26 year-old German tennis player Alexander Zvere is a former world No.1 junior who has been ranked as high as No. 3 by the Association of Tennis Professional (ATP).
Zverev played his first junior match at age 13. As a former world No.1 junior and winner of junior Grand Slam singles, he had an early breakthrough in his professional breakthrough.
As a teenager, he had already had two ATP titles in the bag and became one of the youngest challenger title winners in history. Likewise, Zverev was also the youngest player to debut at age 20 in the top 20 since Novak Djokovic.
In the Tokyo Olympics 2021, he won a gold medal in the Men's singles. In addition, Zverev is the only active player other than the Big Four to win five ATP Masters 1000 titles.
Presently he is a world No. 7 player, and his net worth is well above $30 million. Similarly, he has endorsement deals with Adidas, Rolex, Richard Mille, Head, Z Zenga, and Peugeot.
In 2021, Zverev took the Western & Southern Open men's champion home and prize money worth $654,815.
10. Ashleigh Barty
Ashleigh Barty is an Australian tennis player whom the Women's Tennis Association (WTA) has ranked as No. 1 by ATP. Barty is also a former cricketer and started her career playing from junior rank.
27 year-old Barty enjoyed early success in doubles on the WTA Tour in 2013. Likewise, she also finished as a runner-up at three Grand Slam events.
Barty has won 15 singles titles and 12 doubles titles on the WTA Tour. Although she took a hiatus from tennis, where she played cricket, Barty returned to tennis in early 2016.
In 2021, she won the Wimbledon Championships and two WTA 1000 titles. She was also the winner of the 2022 Australian Open.
In 2019 alone, her prize money was estimated to be $11.3 million, the second-highest total on the WTA Tour. While in 2021, she had a total of $3.8 million in prize money, including $255,220 for winning the Western & Southern Open.
9. Stefanos Tsitsipas
On our number 9 is a Greek professional tennis player, Stefanos Tsitsipas, currently ranked world No. 4 by ATP. He is the highest-ranked Greek player in tennis history.
Tsitsipas belongs to a tennis-playing family. His mother was a professional player on WTA, while his father was a trained tennis coach. Therefore, he was exposed to tennis from early age.
In his junior career, Tsitispas was ranked world No.1 and was the third Greek player to win a junior Grand Slam title. He achieved this feat at the 2016 Wimbledon boys' double event.
Since his debut as a professional, he has won seven ATP singles. His win at the 2019 ATP Finals made Tsitispas the youngest winner of the year-end championships in eighteen years.
He is among the highest-paid tennis players, with prize money and endorsement deals with brands like Wilson, Rolex, and Adidas.
At the 2021 French Open, he appeared in a Grand Slam final. Additionally, at the 2021 Monte-Carlo Masters, he won his first Masters 1000.
8. Dominic Thiem
Dominic Thiem is an Austrian professional tennis player ranked as high as world No. 3 by ATP. 29 year-old Thiem is the second-highest ranked Austrian player in sports history.
Starting his career playing in the junior ranks, Thiem was junior world No. 2. He made his professional debut in 2014. The following year, he won his first ATP title at the 2015 Open de Nice Côte d'Azur.
Although Thiem had reached Grand Slam finals three times, it was only in the 2020 US Open that he won his first Grand Slam title. Similarly, he has won 17 ATP Tour singles titles.
Since 2014, Thiem has endorsed the Babolat racket and was involved in testing and developing the 2019 version he uses. Likewise, he also supports Adidas, Rolex, and Red Bull. Thiem is also the brand ambassador for the Bank of Austria and Duravit.
Due to a right wrist injury, Thiem had to withdraw from the 2021 Wimbledon Championships. Furthermore, he had to start from all matches of the 2021 season. Luckily, he has announced his plans to return in March 2022.
7. Daniil Medvedev
The next top-paid tennis player is a Russian professional player, Daniil Medvedev. He is a 27 year-old player who ranks as a world No. 2.
Medvedev dropped out of college to focus on tennis. Additionally, he trained at the tennis academy when his family moved to France. At age 13, he played his first junior match.
During his junior career, he reached his highest rank of world No. 13. Although Medvedev played many matches after turning professional, his real breakthrough came in 2019. Then, he was able to make his debut in the top 10.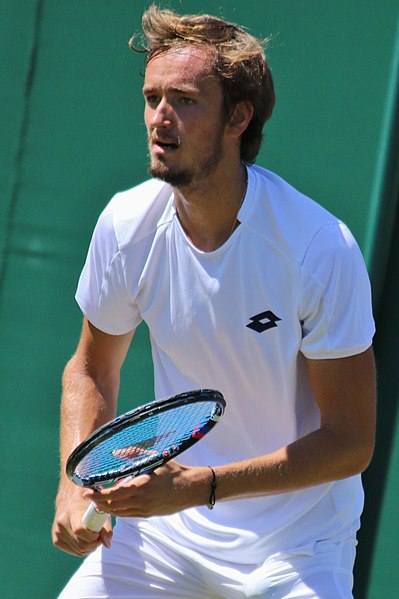 In the 2020 ATP Finals, he defeated former No. 1 Novak Djokovic. Similarly, Medvedev has 13 ATP Tour singles titles, including the 2021 US Open.
Although he has yet to win his Grand Slam title, his winnings have contributed to his earnings. In addition, Medvedev has endorsement deals with Lactose, Tecnifibre, Bovet, and Tinoff Bank.
Who are the top male tennis players who have left a lifetime legacy? Click here to read about the top 15 male tennis players!
6. Kei Nishikori
Next up is a Japanese professional tennis player Kei Nishikori. He is the first male tennis player from Asia to reach a Grand Slam singles final.
At age 5, Nishikori began playing tennis, and in 2001, he was the winner of the All Japanese Tennis Championships for Kids. In 2002, he played his first junior match at the grade 1 tournament in Japan.
Nishikori won his first ATP title in 2008. Since then, he has won 12 singles titles and became the second male Japanese player in the top 5.
His other notable victory includes being the first Asian man to qualify for the ATP World Tour Finals in 2014 and defeating Rafael Nadal to win a bronze medal at the 2016 Summer Olympics.
Nishikori has dozens of deals, from his home country brands to international ones. Some include Wilson Burn 95, Nissin Foods, TAG Heuer, Delta Air Lines, Japan Airlines, Morinaga & Company, etc.
5. Rafael Nadal
On our number 5 is a world No. 5 tennis player, Rafael Nadal. 36 year-old Nadal is a Spanish tennis player with the most Grand Slam titles, i.e., 21 in tennis history.
A former world No.1, Nadal had a natural talent for tennis. Before becoming a professional at age 15, he was one of the most successful teenagers in ATP Tour history.
Nadal was one of the youngest men to win a career Grand Slam in the Open Era. Similarly, he was the first man to win three Majors on three different surfaces (grass, challenging, and clay) in the same year.
Along with the most Grand Slams, Nadal has 90 ATP singles titles. Furthermore, he is also an Olympic gold medalist. Henceforth, his achievements made him one of the top paid tennis players.
Nadal has endorsement deals with huge brands like Nike, Emporio Armani, Armani Jeans, Richard Milles, etc. Moreover, at one time, he was paid up to $1 million per appearance at exhibitions and events.
4. Novak Djokovic
Novak Djokovic is the current No. 1 tennis player in the world. He is a Serbian professional player who is a 20-time Grand Slam men's singles title winner.
Although he played tennis early, Djokovic made his professional debut in 2003. However, by the time he made his professional debut, Roger Federer and Rafael Nadal had already established themselves as dominant players.
Djokovic climbed his way to success, and by 2010, he had made it to the league with the top dogs. Then he, along with Federer and Nadal, was called the Big Three for their dominance in the sport that lasted more than a decade.
Djokovic has won 86 ATP singles and is the only player to complete the career Golden Masters on the ATP Tour twice. This also means that he is one of the highest-paid players in tennis.
In addition to his prize money, Djokovic has several sponsor deals with Hublot watches, Raiffeisen Bank, Lactose, etc.
3. Serena Williams
We are down to our top 3 on our complete paid tennis players list. On our number 3 is American professional tennis player Serena Williams. The tennis player is widely regarded as one of the greatest tennis players.
Williams attended a tennis academy, and she made her professional debut in 1995 at age 14. In 1998, she won her first professional singles title at Open Gaz de France.
Now 41 year old, Williams has become the only American player to win more than 20 major titles. Similarly, she has the most significant titles in singles, doubles, and mixed doubles combined among the active players.
Williams was also ranked eight times as singles world No. 1 between 2002 and 2017.
Furthermore, she ranks among America's richest self-made women. Williams is currently the highest-earning women athlete and has nearly 20 endorsement deals with her.
2. Naomi Osaka
Naomi Osaka is the only Japanese professional tennis player on our list. This 25 year-old player is a four-time Grand Slam singles champion and is the first Asian player to achieve the top ranking in singles.
Since age 3, Osaka was raised in the United States and trained there. In 2013, she turned professional shortly before turning 16.
She soon caught the world's eye when she defeated US Open Champion Samantha Stosur in her WTA Tour debut at the 2014 Stanford Classic. She was 16 years old at the time. Since then, she continued climbing her way to the top.
The former women's singles No. 1 player became the first Japanese player to win a Grand Slam when she defeated Serena Willams in the US Open final. Similarly, she won her four Grand Slam titles in four consecutive years.
Naomi was one of the faces of the Tokyo Olympics. She is one of the most marketable athletes with several endorsement deals. A barbie doll modeled after her sold out within hours of its release.
Aside from endorsing Japanese brands, Osaka supports international brands and is the brand ambassador of Tag Heuer and Louis Vuitton. Likewise, she is also one of the highest-earning female athletes of all time.
Watching tennis at a stadium is quite an experience. The atmosphere itself is very enchanting. Click here to read about the most famous tennis stadiums!
1. Roger Federer
And the number 1 spot for the top paid tennis player goes to non-other than Roger Federer. Considered one of the most incredible tennis players of all time, Federer has been Forbe's highest-paid tennis player for their sixteenth year straight.
Federer dominated men's tennis along with Rafael Nadal and Novak Djokovic. The 1998 Wimbledon junior champion played his first junior match in 1996.
At age 21 in 2003, Federer won his first Grand Slam at Wimbledon. Similarly, he won three central singles titles and the ATP Finals the following year. Since then, he has won a total of 103 ATP singles titles.
In the 2008 Beijing Olympics, Federer and Stan Wawrinka won a gold medal in doubles. Likewise, he won a silver medal in singles at the 2012 London Olympics.
He is one of the top ten highest-paid athletes in the world. In addition, he was ranked first in endorsement income in 2020 with a $100 million earning. He has endorsement deals with Gillette, Wilson, Moët & Chandon, Rolex, Credit Suisse, etc.
Conclusion
Tennis players have always been some of the highest-paid athletes in the world. Since it is also one of the famous sports, the prize money is also some of the highest among the sports.
The players are also some of the most marketable athletes in the world. Hence, various brands approach them, adding to their earnings.