Many have put their names on the top list in the golf realm. Among all those names, one of the best female golfers in history is Annika Sorenstam, with a net worth of $40 million.
Annika has been on the field as a player for over a decade and a half as a retired golfer.
Furthermore, she is the only female golfer to shoot a 59 in competition and has 90 international tournament wins.
She is also the foremost lady golfer to play in a PGA Tour event since 1945.
Annika has garnered numerous accolades alongside a massive net worth throughout her career. Let's get into the depth of her net worth and lifestyle.
Quick Facts:
Full Name
Annika Charlotta Sörenstam
Nick Name
Ms. 59
Date of Birth
October 9, 1970
Birth Place
Bro, Stockholm County, Sweden
Religion
Christianity
Nationality
American, Swedish
Ethnicity
White
Zodiac Sign
Libra
Age
53 years old
Height
5 feet 6 inches (1.68 meters)
Weight
63 kg (138 lbs)
Hair Color
Blonde
Eye Color
Dark Brown
Build
Mesomorph
Father's Name
Tom Sorenstam
Mother's Name
Gunilla Sorenstam
Siblings
A sister, Charlotta Petra Sörenstam
Education
University of Arizona
Marital Status
Married
Spouse
Mike McGee (m. 2009), David Esch (m. 1997–2005)
Kids
A daughter Ava McGee, and a son William McGee
Current Residence
Orlando, Florida, U.S.
Profession
Retired golfer
Entrepreneur
Career's Tenure
1992-2008
Played Tours
LPGA Tour (joined 1994)
Ladies European Tour
Professional Wins
94
Net Worth
$40 million
Social Media
Instagram, Twitter
Merch
Golf Annika's Way(Book), Autograph, Signed Golf Visor
Last Update
November, 2023
How much does Annika Sorenstam have? Earnings and Income
Apparently, with her heavy net worth of $40 million, Annika also leads the Ladies Professional Golf Association (LPGA)'s career money list. To elaborate, she has earnings of over $22 million.
In addition, this makes Annika one of the only two professional female golfers to surpass the $20 million mark in tournament winnings.
Annika first bagged her big figure check worth $47,000 in her 1993 Ladies Europen Tour all along her journey.
The same year, she had crossed the $1 million earnings of her career, and by 2002, she had crossed $15 million on the list.
In 2002, she had the highest earnings by a female in a single year, with $2.8 million in her pockets.
Her $40 million net worth is from her career as a golfer.
To illustrate, in her 15-year professional career on the LPGA circuit, Sorenstam had made $21 million. While the remaining amounts, she earned from her brand endorsements.
Click to know about: <<Emma Lavy Bradford: Family, Married, Husband, Golf, Net Worth>>>
Net Worth of Annika Sorenstam's in Different Currencies
Let's look at Annika Sorenstam's net worth in different currencies.
Currency
Net Worth
Euro

34,985,800.00

€
Pound Sterling

29,529,800

£
Australian Dollar

56,317,000

A$
Canadian Dollar

50,870,200

C$
Indian Rupee

2,985,280,000

₹
BitCoin

935฿
Annika Sorenstam | Business, Brand Endorsements, and Sponsors
Annika Sorenstam has gathered several high-profile brand endorsements and sponsor deals. Indeed, these deals are the ones that sum up and add up to her net worth.
Well, Annika has an extended deal with the luxury watchmaker Rolex. Additionally, she was the Rolex Rookie of the Year on the LPGA in 1994.
Today, Annika also has an award under her name, titled the Rolex Annika Major Award.
Furthermore, Annika is also sponsored by the eyewear brand Lexus with whom she has been together for more than two decades.
Similarly, she has been wearing clothing apparel from Cutter & Buck.
Annika also maintains a partnership with Pacific Links International, one of the world's foremost golf course owners and operators.
Partnership with 3M
She served them as their International Ambassador during her tenure, promoting their membership programs at various global engagements.
Likewise, Annika also features Ahead's brand, and she wears their headwear, apparel, and accessories.
Additionally, she has had a long-term deal with the brand Callaway Golf since turning professional in 1993.
All in all, Annika is partnered with 3M. 3M sponsors the ANNIKA Award, a series of ANNIKA Invitational junior golf tournaments, and the ANNIKA Intercollegiate Golf Tournament worldwide.
The two have a global partnership and work closely together for charitable works and donations.
Besides, some of her brand endorsements include ADP (Automatic Data Processing Inc.) and Golfing World.
Businesses
Apart from being a golfer, Annika Sorenstam also appeared as an entrepreneur in her later life.
In addition to that, she has combined golf, fitness, clothing, charity, and many more under the single brand name, ANNIKA.
She has a huge team working for her and promotes her brand through a website.
Additionally, the website is monitored every day. All in all, they share a brand statement, "Share my Passion."
Also, read about: <<<Tiger Woods Bio: Net Worth, Girlfriend, Wife, Golf, Score>>>
Annika Course Design
Annika Course Design is simply a group to focus on creating a golf course design in various locations. Indeed, Annika had many ongoing talks about her during the projects as a lady on the field.
To elaborate, she had opened up in a CNN interview that many expect it to be 'short and easy as she designs the golf course.'
It is a stereotype people have of her. Anyways, to date, she has had loads of projects for it.
At first, she designed a golf course at Mission Hills Golf Club in Shenzen, China.
The other was in South Africa, called the Euphoria Golf Estate & Hydro, which was completed in 2006. However, it was only opened in 2008.
Her first project after retirement was in 2010 for the Golden Bay Resort in South Korea. Likewise, Hanhwa Hotels & Resorts Corporation developed Annika's design.
Some of her other projects are the Patriots Point Links Course near Charleston, South Carolina, and the course at Red Mountain Resort, British Columbia.
According to the sources, she is currently working on a new project at Mines Golf City, near Kuala Lumpur, Malaysia.
The ANNIKA Academy
The ANNIKA Academy is a boutique golf academy founded by Annika Sorenstam, which provides online or individual training.
This academy was first put into action in 2006 and opened later in 2007.
It was located at Ginn Reunion Resort in Reunion, Florida. Also, Annika's longtime coach Henri Reis stood as the head coach and instructor there.
Furthermore, her sister, Charlotte, starred as an instructor and club fitter while her trainer Kai Fusser looked after the fitness training.
As for Annika, she appeared to coach others on the golfing packages. Later, they closed this academy on May 31, 2016.
ANNIKA Vineyards
Like many male athletes in the wine industry, fewer lady athletes are associated with wine.
Well, this was the very concern Annika had before putting forward his new project, indulged in wine as ANNIKA Vineyards.
This project was her joint venture with family-owned Wente Vineyards, alongside which she created a 2009 red blend called 59 Red. Simply, this wine project depicts Annika's love for wine.
Also, her wine, 59 Red, depicts Annika's historic accomplishment on March 16, 2001.
Back then, she had become the first and only female to date to break 60 at Moon Valley Country Club in Phoenix, Arizona.
Annika's product delivers the diverse flavors of wild blackberry, mocha, and plum with hints of chocolate and toffee. Additionally, they aged the particular wine for sixteen months.
As it hit the market, per bottle of wine retailed at $59. At the same time, she gave her fans 20% off their entire purchase using coupon codes in the first few months.
Other Areas & Partnership
Likewise, Annika has tried her hands at numerous other aspects and fields. Annika also has a clothing line under her name, the Annika Collection.
This project is a partnership with Cutter & Buck apparel. This brand provides femininity and a modern design for women who love golf.
Later, she also indulged in making fragrances alongside SA Fragrances. Apart from her projects, Annika was also a host for the Ginn Tribute Hosted by Annika.
It was the 2007 and 2008 events on the LPGA Tour. Following it, she hosted the Scandinavian TPC for four years on the Ladies European Tour.
In 2015, Annika Sorenstam partnered with Capillary Concrete and purchased their shares. Therefore, she promotes the Company's revolutionary bunker liner technology.
You might be interested in reading: <<Paige Mackenzie Bio: Golf, Salary, Baby, Husband, Golf, Net Worth>>>
Annika Sorenstam | Lifestyle
Sorenstam leads a healthy and active life and focuses brightly on her fitness and nutrition.
Annika Sorenstam has her procedures with the workout and mainly focuses on strength training. It includes light running, cycling, or jumping rope.
Among all the workouts, Annika likes cycling and bodyweight circuits the most, which keep her in shape all year round.
House in Orlando, Florida
Annika Sorenstam purchased a $7,000,000 House in the Lake Nona community near Orlando, Florida.
The House expanded to an area of 9,237 square feet and was built in 1994. The House is located in the Lake Nona community and has a private residential golf club community.
Additionally, the neighborhood has homes priced from $200,000 to $9 million.
As for her House, it includes six bedrooms, seven full bathrooms, a swimming pool, a fireplace, and a boat dock.
Cars
Annika also portrays a great collection of cars. The first car she bought was a manual 1986 Ford Festiva for $2,000.
She repurchased it during her time at the University of Arizona. Additionally, she bought the car after saving all her money to go to the golf course.
Later, she purchased a sporty 1993 Toyota Celica in Arizona with her foremost sponsor check. Back then, she had earned $47,000.
Again, the car she used to learn her drive was a blue Volvo. Also she gained her driving license at first when she was eighteen.
She currently endorses the car manufacturer Lexus and drives their product, the 2007 Lexus GX 470. Apart from it, she also owns a 2002 Mercedes-Benz CL55 AMG and BMW.
Her collection also includes a 1999 Mercury Mountaineer, which she explains as her emergency car. As per Annika, her favorite road trip is from Sweden to Spain.
Book
Annika Sorenstam has written a book about her golf journey and career. The book is titled as. 'Golf Annika's Way: How I Elevated My Game To Be The Best-And How You Can Too.'
This book provides every piece of information about her swings, postures, and putting.
Furthermore, it explains the fundamentals of gripping and assists with advice on an innovative training regimen.
Charity and Donations
Annika Sorenstam has worked for numerous relief events and has made funds for the needed ones.
She has also commenced a charitable foundation named Annika Foundation for this specific purpose.
Furthermore, this foundation also has launched the "ANNIKA Foundation Crisis Relief Fund." Recently, it also assisted players and people in deep crises during the global pandemic.
Besides, Annika has also appeared in numerous events held to raise funds for the needed players.
Annika also raised $7.5 million in support of junior golf and a $50,000 commitment for Symetra Tour players.
Lists of Annika Sorenstam's equipment
Ball: Callaway Tour ix
Driver: Callaway FT-5, 8.5 degrees
4-wood: Callaway X-Tour, 15 degrees
7-wood: Callaway X, 21 degrees
Irons (4-6): Callaway X-18; (7-PW): Callaway prototype
Wedges: Callaway X-Forged (48, 54 degrees); Callaway X-Tour (60 degrees)
Putter: Odyssey White Hot 2-Ball Blade
You might want to read about: <<Patrick Reed Bio: Golf, Family, Controversies, Net Worth>>
Brief Glance on Annika Sorenstam
Annika Sorenstam (born October 9, 1970) holds dual American and Swedish citizenship.
Furthermore, she has also received eight "Player of the Year" awards and six Vare Trophies.
On January 1, 2021, Annika was appointed president of the International Golf Federation.
Just a week later, she also received the Presidential Medal of Freedom from President Donald Trump.
Not to mention, being a great athlete, Annika is an atheist. At present, she has her own small family.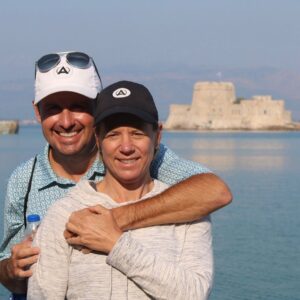 She married the managing director for the ANNIKA brand of businesses, Mike McGee. Additionally, Mike is the son of Jerry McGee, a former PGA Tour and Champions Tour player.
On January 10, 2009, the duo tied the knot at Lake Nona Golf & Country Club in Orlando, Florida.
Before her marriage with Mike, Annika was married to David Esch in 1994. Today, she has two children: Ava Madelyn McGee and a daughter named William Nicholas McGee.
Quotes
"I push myself to be the best I can be; I don't worry about what other people are doing, and I don't think about things I can't control."
"You just have to keep grinding and hope that things will turn around eventually."
"I think it's important for me to play well and set the tone."
Social Media Presence:
You can get in close touch with Annika Sorenstam through her social media sites. She is on Instagram as Annika Sorenstam (@annika59), with 51.3k followers.
Likewise, she is on Twitter as Annika Sorenstam (@ANNIKA59), with 119.9k followers.
Some FAQs:
How much is Annika Sorenstam's rookie card worth?
Annika Sorenstam's rookie card price ranges from $15.00 to $32.37.
Is Annika Sorenstam a Hall of Famer?
Annika Sorenstam was inducted into the World Golf Hall of Fame in 2003.
What is Annika Sorenstam's golf swing speed?
Annika Sorenstam's average golf swing speed is 120 mph.
Which driver does Annika Sorenstam use?
Annika Sorenstam uses Callaway Epic Speed with 9˚ loft driver fitted with a Fujikura Ventus Red 5R shaft.