Bones Hyland, an American basketball player, is a combo of guard & creative finisher who currently plays for the Los Angeles Clippers. In the 2022-23 mid-season, the point guard was traded from the Nuggets to the Clippers.
Hyland, the 2021 NBA draft pick of the Denver Nuggets, signed a four-year deal with the team and played for one season & a half.
With the Nuggets, he even played in the 2022 NBA playoffs but lost to the Golden State Warriors in the first round.
From watching his brother play to himself being one of the most talented new players in NBA history, Bones has come a long way in significantly less time.
Not only has he earned a name for himself, but he has also made his birthplace known to millions of people. In short, the player carries his roots wherever he plays.
Through his flourishing career, Hyland has much to offer his well-wishers and dear ones. Now, let's get to know more about Bones Hyland in the article below.
Quick Facts: Bones Hyland
Full Name
Nah'Shon Hyland
Nick Name
Bones or Bizzy Hyland
Birth Date
14th September 2000
Birth Place
Wilmington, Delaware, the United States Of America
Age
22 Years Old
Father's Name
Not Available
Mother's Name
Marshay Hyland
Siblings
Older Brother: Tyree Hyland
Nationality
American
Religion
Christianity
Ethnicity
African-American
Horoscope
Virgo
Height
6 feet and 3 inches/ 1.9 m/ 190 cm
Weight
78 Kg/ 173 lbs
High School
St. Georges Technical High School
University
Virginia Commonwealth University (2019-21)
Marital Status
Unmarried
Girlfriend Name
Ambeer
Children
None
Profession
NBA Player
Position
Point Guard
Team

Denver Nuggets (2021-2023)
Los Angeles Clippers (2023-Present)

Active Years
2021-Present
Net Worth
$1 Million
Salary (Of The 2022-23 Season)
$2.2 Million
Social Media
Instagram, Twitter, YouTube
Last Update
May 2023
Family & Early Life
Born on September 14, 2000, in Wilmington, Delaware, Nah'Shon "Bones" Hyland is 22 years old as of 2023.
He is the youngest of two children; he has an older brother named Tyree Hyland. Both were raised by their single mother, Marshay Hyland.
Often in the interviews, the NBA star talks about his mother & mentions that she guided him throughout his journey. However, no information about the player's father is out.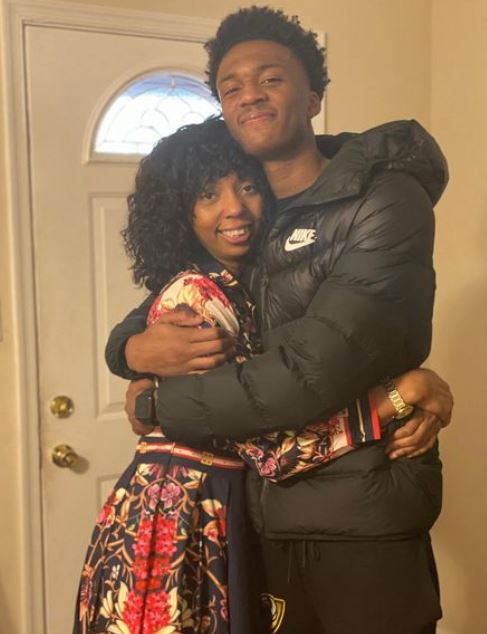 His mother, Mashay, is a hair designer at Wealthy Lady Styles LLC.
The mother-son duo often share pictures of each other on their Instagram posts.
Height & Weight
The basketball player with trademark black dreadlock hair has an athletic body build.
The point guard has a height of 6 feet and 3 inches (1.9 meters) and weighs 78 kg (173 lbs).
He has a wingspan of 6 feet 9 inches (2.05 meters) and a standing reach of 8 feet 5 inches (2.56 meters).
Another distinct feature of Hyland is his left shoulder, tattooed with the portrait of his late grandmother and the baby cousin who died in the housefire in late March 2018.
Collegiate Basketball At VCU
During his high school days at St. Georges Technical, he led the school's team to the semi-finals of the DIAA Boys Basketball Tournament.
The 2019 Delaware Player of the Year honoree then went to Virginia Commonwealth University for collegiate basketball.
With the VCU Rams, Bones Hyland made the freshman record of 63 three-pointers and averaged 9.0 points, 2.2 rebounds, and 1.8 assists per game.
In his sophomore year (2020-21), he averaged 19.5 points, 4.7 rebounds, 2.1 assists, and 1.9 steals per game & was named Atlantic 10 Player of the Year.
Later, he declared for the NBA draft forgoing his remaining college eligibility.
NBA Journey & Achievements
In the 2021 NBA draft, Hyland was the 26th overall (round-one) pick of the Denver Nuggets, being the VCU's draft pick in 11 years.
With that, he joined the list of VCU alums like Vince Williams Jr., Treveon Graham, & Larry Sanders, among others, to play in the NBA.
In August 2021, Bones Hyland signed a multi-year deal with the Nuggets, joining some NBA players like Nikola Jokic, Jamal Murray & Aaron Gordon.
His NBA debut came on October 25, 2021, against the Cavaliers.
In his rookie year, he scored his season-high 27 points along with 10 rebounds in a win over the Lakers on January 15, 2022.
In the 2022-23 season, while with the Nuggets, Bones recorded his career-high 29 points against the Dallas Mavericks on November 20, 2022.
Mid-Season Trade To Los Angeles Clippers
On February 9, 2023, during the 2022-23 mid-season, he was traded from the Nuggets to the LA Clippers as a part of a four-team trade involving Orlando Magic and Los Angeles Lakers.
In the Clippers, he joined the rotation off the bench with exceptional players like Kawhi Leonard, Paul George, and more.
Is Bones Hyland Married?
The basketball player, Bones, is not married to anyone as of now. Rather some online sources suggest that he is currently in a relationship with his girlfriend named, Ambeer.
Moreover, it is alleged that they are dating for more than a year.
However, further detail about his lover or their relationship is out of the media's reach. On top of that, the NBA star keeps his love life away from social media posts.
Instead, his Instagram & Twitter posts are about his basketball journey.
As of this writing, his IG handle @bizzybones has more than 285K followers, while his Twitter account @BizzyBones11 has 61.3K followers.
House Fire- His Biggest Nightmare
Bones had to suffer the most complex obstacle when his house caught fire on 25th March 2018. And at that not-so-good time, the player was just 17 years old.
After wrapping up his AAU Game, Hyland went to his house in Delaware to spend time with his family. When the basketballer was watching the intense match between the Kansas and Duke Elite Eight on his laptop, he noticed his room filled with smoke.
Then, Bones scanned the scene and discovered the fire had occurred in his house. He had to jump from his second-story window to save himself from such a drastic situation.
And during the process, Hyland fell into a brick staircase, severely injuring his right knee. The injury was not minor, as it tore apart the patellar tendon, threatening his basketball career. Due to this event, Bones had to be out of the court for six months.
As it was not enough, Bones lost his grandmother, Fay Hayland, and his cousin Maurice Williams (11 months old). His other cousin named, Isaac Williams, who was at the scene, survived.
Until today, the basketball player clearly remembers that heart-wrenching night.
Net Worth & NBA Contracts
As of 2023, Bones Hyland has an estimated net worth of $1 million.
Shortly after being the 2021 NBA draft pick of the Denver Nuggets, he signed a four-year contract worth $10.76 million on August 4, 2021.
The deal pocketed him $4.29 million guaranteed at the time of signing, with potential average annual earnings at $2.69 million.
In his rookie season, i.e. 2021-22 season, he earned a base salary of $2.09 million.
Since Hyland was traded to the Clippers in the mid of the 2022-23 season, he got $746K from the Nuggets, while the Clippers became liable to $1.45 million, totaling annual earnings at $2.2 million.
Endorsements
Along with NBA contracts, he summed a considerable amount of money from endorsements and sponsorships.
In February 2022, Bones Hyland signed a multi-year shoe & apparel deal with Under Armour. The financial detail of the deal is not out.
Moreover, the athlete also earns from his YouTube channel, Bizzy Bones, which he joined on 30th April 2021. His YouTube channel has more than 31.8K subscribers and over 1 million views.
Interesting Facts
Bones showed his interest in basketball when he saw his older brother, Tyree playing it with his friends in the park.
He was a four-star recruit during high school.
Due to his slim physique, Hyland got his nickname, Bones or Bizzy Bones, during his early days.
FAQs
What team Hyland plays for?
Currently, Bones Hyland is a point guard for the Los Angeles Clippers. He was traded to the Clippers from the Denver Nuggets in a four-team trade on 9th February 2023.
How much is salary of Bones Hyland?
Bones Hyland earns a base salary of $2.2 million in the 2022-23 season.
Is Bones Hyland a rapper?
Bones Hyland is a basketball player by profession. But he has dropped about two rap songs on his YouTube channel, Bizzy Bones.