Often many athletes fall into a deep abyss titled "outright villains." Well, we have no idea how we should be taking it; thus, it's all in your hands to decide while we narrate the story. Bryan Caraway, as we all know, is one of the most controversial fighters.
To date, Bryan has fought for many affiliations like the UFC, Strikeforce, EliteXC, and the WEC. And today, the mixed martial artist starrs in the South Korean MMA promotion Battlefield Fighting Championship.
Apparently, he commenced his fights in 2005, and now, he has established his own frame.
Quick Facts
Full Name
Bryan Caraway
Date of Birth
August 4, 1984
Birth Place
Yakima, Washington, United States
Nick Name
Kid Lightning
Religion
Christianity
Nationality
American
Ethnicity
White
Zodiac Sign
Leo
Age
36 years old
Height
5'8″ (1.73 meters)
Weight
135.5 lb (61.5 kg)
Hair Color
Blonde
Eye Color
Blue
Build
Athletic
Father's Name
Not Available
Mother's Name
Chris Caraway
Siblings
A brother, Thomas J. Caraway
Education
North Idaho College
Central Washington University
Marital Status
Unmarried
Ex-girlfriend
Miesha Tate
Profession
Mixed martial artist
Division
Bantamweight
Featherweight
Wrestling
NCAA Division II Wrestling
Affiliations
Xtreme Couture
Active Years
2004-present
Net Worth
$1 million
Social Media
Instagram, Twitter
Merch
Signed UFC Gloves, Autographed Trading Card
Last Update
2021
Body Measurements
Bryan Caraway is a bulky man with a toned athletic body. Physically, Caraway is blonde with neatly trimmed short hair with the light presence of a beard. Furthermore, he has light blue eyes and fair skin.
As for his bodily measurements, Caraway stands at the height of 5 feet 8 inches (1.73 meters) while weighing 135.5 lb (61.5 kg).
Bryan Caraway | Childhood
Caraway was born on August 4, 1984, under Leo's sun sign in Yakima, Washington, United States. Unfortunately, Bryan hasn't opened up about his childhood days, and very less is known about his early phase.
Apparently, his father's name is unknown; however, according to sources, his father used to serves in the military.
Furthermore, his father is even a two-time Purple Heart recipient and a Vietnam veteran.
Additionally, his mother is Chris Caraway, and he has a brother named Thomas J. Caraway. Growing up in Goldendale, Washington, Caraway was enrolled in the North Idaho College for a year.
However, he later attended Central Washington University, where he completed his academics.
Alongside his studies, Caraway commenced wrestling and was a part of it. But it was all dropped back in 2004 after they decided that the team lacked talent.
Bryan Caraway | Mixed Martial Arts
Right after the wrestling team was removed, Caraway's cousin UFC veteran Dennis Hallman introduced him to MMA. Herewith, Caraway started getting enrolled in the field and moved to train in his hometown of Yakima, WA.
During his early career in Washington, Bryan had accomplished a 6-1 amateur record. Following it, Caraway made his sorrowful debut over Ian Loveland.
However, his foremost loss gave him fuel to post four wins in a row thus, compiling a 4-1 record.
Likewise, he stumbled with a loss again, only to get up for six consecutive wins on the way.
Afterward, he moved to the Strikeforce, where he successfully debuted against Alvin Cacdac at Strikeforce: Melendez vs. Thomson.
Learn about Ariel Helwani Bio: MMA, Reporting, Controversies, UFC Ban, Family, Net Worth >>
World Extreme Cagefighting
After Strikeforce, Caraway first made his debut for the World Extreme Cagefighting on January 10, 2010. To elaborate, he lost his debut over to Mark Hominick at WEC 46.
However, Caraway was only gaining back-to-back losses; thus, his career in WEC was short-lived. Therefore, he was released from his contract.
Right after WEC, he entered TUF; however, he had a victory in the way before it. On February 19, 2011, he faced Marlin "Pit Bull" Weikel at CageSport MMA XIII and took the victory through the rear-naked choke.
The Ultimate Fighter
Jumping into TUF, he signed for The Ultimate Fighter: Team Bisping vs. Team Miller, where he could only reach the semi-finals.
During his journey, Caraway defeated Eric Marriott (unanimous decision) and Marcus Brimage (submission). Eventually, he lost against Diego Brandao through TKO.
Ultimate Fighting Championship
On December 3, 2011, Bryan Caraway debuted in the Ultimate Fighting Championship over Dustin Neace. Indeed, he claimed the victory via second-round submission (rear-naked choke).
Simultaneously, he successfully made his Bantamweight debut against Mitch Gagnon.
March 3, 2013: Caraway vs. Takeya Mizugaki at UFC on Fuel TV 8 (loss via split decision)
April 27, 2013: Caraway vs. Johnny Bedford at UFC 159 (win via third-round submission)
June 7, 2014: Caraway vs. Érik Pérez at UFC Fight Night 42 (win via second-round rear-naked choke)
October 4, 2014: Caraway vs. Raphael Assunção at UFC Fight Night: MacDonald vs. Saffiedine (loss via unanimous decision)
July 25, 2015: Caraway vs. Eddie Wineland at UFC on Fox 16 (win by unanimous decision)
May 29, 2016: Caraway vs. Aljamain Sterling at UFC Fight Night 88 (win via split decision)
March 3, 2018: Caraway vs. Cody Stamann at UFC 222 (loss by split decision)
November 30, 2018: Caraway vs. Pedro Munhoz at The Ultimate Fighter 28 Finale (loss via first-round technical knockout)
Battlefield Fighting Championship
After about six years with the UFC, Bryan Caraway joined the South Korean MMA promotion Battlefield Fighting Championship. Apparently, he parted his way with the UFC on May 25, 2019.
Bryan Caraway vs. Raja Shippen
Caraway made his Battlefield Fighting Championship debut on July 27, 2019, over Raja Shippen. Apparently, their bout took place in Sheraton Grand Macau Hotel at Battlefield FC 2.
Altogether, Caraway claimed the fight in Macau, China, through a unanimous decision.
Read about Bubba Jenkins Bio: Early Career, Bellator MMA, Net Worth >>
Missed Fight
To date, Caraway has missed many games either due to his injuries or some reasons. Such events have occurred with Caraway, and the first one was on March 6, 2010.
Back then, he was expected to face Fredson Paixão at WEC 47, but he had to withdraw due to his injury.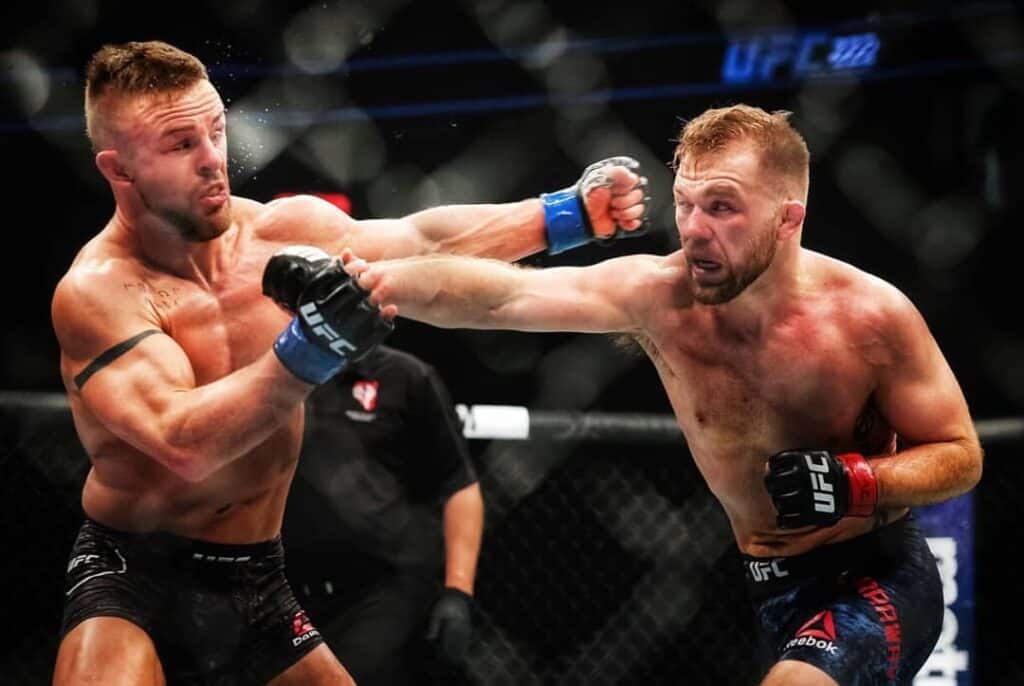 Right then, Courtney Buck replaced Caraway for the event. Following it, on December 8, 2012, Caraway was scheduled to fight over Mike Easton in place of injured T.J. Dillashaw.
However, he withdrew from the UFC on Fox 5, and Raphael Assunção replaced him in the bout. Well, in the other way round, Caraway had replaced the injured Érik Pérez in the event at UFC 159.
Back then, Caraway won the Submission of the Night honors. Actually, he won the honors after Pat Healy was rescinded after testing positive for marijuana. Afterward, he pulled out of his scheduled fight against Lucas Martins.
Consequently, UFC newcomer Aljamain Sterling replaced Caraway on February 22, 2014, at UFC 170. Similarly, he missed the fight on January 15, 2017, at UFC Fight Night 103.
However, Caraway pulled out the bout citing an undisclosed injury; thus, it was Marlon Vera who was the one to face Jimmie Rivera. All in the end, Rivera also pulled out of the fight.
Subsequently, he didn't face Luke Sanders at UFC Fight Night 123 due to some undisclosed reasons. Among all the undisclosed injuries, Caraway has also faced some reasonable injuries.
Issues
If you glance back in his early days, once the doctors had to halt his bout directly due to a deep laceration on the face of Caraway. Back then, it was his debut over Ian Loveland.
In his later career, Caraway had also struggled with a longstanding shoulder injury, a knee injury, and a stomach illness. Overall, the year 2016 and 2017 was personally a huge problem for Bryan Caraway himself.
Apart from his physical injuries, he was facing personal troubles in life. To elaborate, it was then when his longtime coach Robert Follis took his own life. Following it, he had to end his longtime relationship with his girlfriend.
Bryan Caraway | Achievements
Fighting out of Las Vegas, Nevada, Bryan Caraway now competes in the Bantamweight from the team Xtreme Couture. Prior to it, Caraway was featuring in the featherweight division.
For his fighting style, Caraway depends on wrestling, boxing, and BJJ. He has collected 21 wins with his techniques since his debut among the 30 total games he has played. Well, his wins are 17 by submission, 3 by decision, and 1 by knockout.
Similarly, his losses account 9, which are 2 by knockout, 2 via submission, and 5 via decision. During the tenure, Caraway has also competed on Spike TV's The Ultimate Fighter: Team Bisping vs. Team Miller.
Indeed, all the achievements he has gained today aren't simply the fights; he has the intense workout and thorough training. Actually, he used to have dual on Tuesday, on Thursday, and then three to four to five times on Saturday.
Fight of the Night (One time)
Submission of the Night (One time)
Net Worth
At present, Bryan Caraway has a net worth of $1 million with a career earning of $356,000.
Furthermore, back in 2013, his "Submission of the Night" title had provided him a bonus of $65000.
Also, back in the days, Caraway was sponsored by Reebok.
You might be interested in Alexander Volkavonski Bio: Family, MMA, UFC, Net Worth >>
Bryan Caraway | Personal Life
To date, Carway has been featured in numerous projects, and he has been living a sound life. However, he has indeed faced some bumps along the way while traveling.
Apparently, Caraway has been part of the award-winning mixed martial arts documentary Fight Life.
To illustrate, the documentary was featured in 2013, which was directed by indie filmmaker James Z. Feng and produced by RiLL.
Relationship
Currently, Bryan Caraway is dating a beautiful girl, Abby Garrabrants. Although she is not well-known in public, the duo has been happy together and traveling places.
You can find Abby Garrabrants on Instagram with @agarry605, and she has 1.5k followers.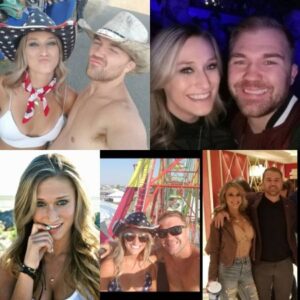 Before this, most must have heard of the power couple Miesha Tate and Bryan Caraway in MMA. They were one of MMA's well-known duos.
Apparently, they both started dating in 2005, right during their tenure at Central Washington University. Indeed, they were both just starting in their career, and the duo did last long.
Together, they have achieved many feats, but they broke up later in 2017.
Who is Miesha Tate?
Born on August 18, 1986, Miesha (fully named Miesha Theresa Tate) is a mixed martial arts pundit and submission grappler. Apparently, she started her professional career in 2007, and today, she is a former UFC Women's Bantamweight Champion.
Furthermore, Tate is also the winner of the 2009 bantamweight championship of the Freestyle Cage Fighting. Not to mention, she is the Strikeforce Women's Bantamweight Championship.
Tate portrays folkstyle wrestling, submission wrestling, Brazilian jiu-jitsu, boxing, and Muay Thai as a fighter. Fighting out of Las Vegas, the sin-city, United States, currently, she depicts an MMA win-loss record of 18-7.
Besides fighting, Miesha has also modeled for numerous websites and publications.
Today, she has her own beautiful family of four with Johnny Nunez. You can check her Instagram account with her real name, Miesha Tate (@mieshatate), with 1.9 million followers.
Breakup Phase
Apparently, with everything seemed to be fine, the power couple broke up in 2017. However, even after the breakup, it was after quite long that Bryan opened about the reasons, while Miesha chose to stay quiet.
According to Bryan, he believes they couldn't handle the relationship that was eyes in public. As they both struggled their way up, they couldn't manage their work alongside their relationship.
Additionally, he stated that being young and exposed to the public created hinders in their journey, and they were unknown about the issues.
Indeed, at times public could be harsh with their words, and yes, they were one time titled as "the most hated couple."
In fact, with such, we can't deny that they had their own troubles going on. Moreover, once the Ufc star Ronda Rousey had also even stated that their relationship wasn't worth it.
Back then, she had commented on their relationship and said Bryan was Tate's "pet" boyfriend.
Altogether, Ronda had stated her opinion that Miesha deserved more than "douche" like Caraway.
"You make mistakes when you are young, and sometimes it's hard to come back from it. Just being in the public eye really put a strain on our relationship."
-Bryan Caraway
Miesha As a Saviour
Actually, the story dates way back to 2014, when Miesha stood as a heavenly angel to save a life. Apparently, Bryan Caraway had taken his then-girlfriend and family on vacation to Mexico.
To illustrate, the incident happened in Cancun, in the Caribbean Sea. They had a snorkeling trip package that included lunch, a nice boat ride. Right then, as Caraway's mother (in her sixties) did a little swim, she had a sudden asthmatic attack.
As a matter of fact, Chris Caraway is an asthmatic woman, and she had carried her inhaler in the bathing suit. However, the inhaler was long gone before she realized it and tried to use it.
Therewith, as she turned blue without air, the guides started trying to help her medically in vain. Even Caraway himself and his father were all shocked seeing something they didn't have an idea about.
Round that corner, Miesha was doing everything she could think of! Indeed, she was doing CPR, trying to get her to inhale the inhaler. Also, the help from a helicopter would take a long time.
Thus, which others thought of useless technique, Miesha did it again and again. She had taken the inhaler in her mouth and was transferring it to Chris' lungs through mouth-to-mouth respiration.
Furthermore, with Tate's continuous act, she helped Chris breathe slowly again. That was when her vacant eyes seemed to gain life again. Altogether, she was later thoroughly treated in a Mexican hospital.
"To go from that, where my mom was basically dead, to having her be OK, it was almost this crazy high. It made me feel so thankful for so many things."
-Bryan Caraway
Learn more about Ciryl Gane Bio: Family, Muay Thai, MMA, UFC, Net Worth >>
Forgery, Theft, And Insurance Fraud Charge
Recently, in February 2021, Bryan Caraway was charged with forgery, first-degree attempted theft. Additionally, he also has a charge for filing a false insurance claim and making a false statement on a vehicle application certificate of title.
Apparently, it is about the 2015 Polaris RZR all-terrain vehicle, which as per Bryan, was gifted by his then-girlfriend, Miesha, over his name in January 2018. With that, he bought a policy from GEICO in December 2018.
Therefore, as the investigation proceeded, they found out that the vehicle's ownership title was forged. As a matter of fact, it was owned by and in possession of the ex-girlfriend; thus, Bryan had later withdrawn the claim.
Likewise, in June 2019, Bryan Caraway was charged with grand larceny and possession of a stolen vehicle.
Initially, Bryan had tried to file a claim with his insurance company on a policy that his vehicle was just bought.
In the meantime, he had reported the ATV to be stolen, which he again claimed was gifted by Miesha. This time, Miesha cleared that she hadn't gifted that vehicle to him, and he had forged the title.
Overall, they investigated to find out that Bryan had forged Tate's signature, title, and documents.
Also, they find him stealing Tate's vehicle two times from her home with the surveillance video.
As of now, Bryan is on the top-five most wanted list until the results of the hearing.
Social Media
Although Bryan Carway isn't the regular updater or an active user on social media platforms, he does uploads from time to time.
You can check out his Instagram handle which goes by his real name, Bryan Caraway (@bryancaraway), with 16.5k followers. Similarly, his Twitter account is his real name, @BryanCaraway, with 20.4k followers.
Bryan Caraway | FAQs
How much is Bryan Caraway's reach?
Bryan Caraway's reach is 172.7 cm.