Young National League Football fans may not have seen Dan Fouts play on the pitch. But the quarterback gave tough competitions for his opponents when he used to play with the San Diego Chargers.
He played in the top flight league for 15 years from 1973, making it to the NFL 1980s All-Decade Team. Douts had a grand induction into the Pro Football Hall of Fame in 1993.
The six-time Pro Bowl player served as a color analyst for NFL broadcasts on CBS Network and Westwood One radio.
However, the Chargers' No. 14 came short in leading his team to any of the years he played. 1982 seemed the best year for him as he led the NFL in passing touchdowns and passing yards.
Accordingly, he was honored with the Offensive Player of the Year in that season. Moreover, the Chargers fan elected him the 'Greatest Charger of All Time.'
Without delay, let's dive into his personal and professional life.
Quick Facts:
Full Name
Daniel Francis Fouts
Birth Date
June 10, 1951
Birth Place
San Francisco, California, United States
Nickname
Dab Fouts
Religion
Christianity
Nationality
American
Ethnicity
White
Education
Marin Catholic High School, Kentfield, CA
St. Ignatius College Preparatory
University of Oregon, Eugene, Oregon
Horoscope
Gemini
Father
Bob Fouts
Mother
NA
Siblings
Two sisters and two brother
Brothers
Bob, John
Sisters
Patty, Nancy
Age
71 years old
Height
6 feet 3 inches (191 cm)
Weight
93 kg (204 lbs)
Build
Athletic
Eye color
Blue
Hair Color
Grey
Profession
NFL player (retired)
Analyst
Color Commentator
Playing Position
Quarterback
Active years (Senior Career)
1973 – 1987 (player)
1988 – 2020 (Broadcasting)
Team
San Diego Chargers (1973 – 1987)
Associations
CBS Network
ABC Sports
Westwood One radio
Sexual Orientation
Straight
Marital Status
Married
Wife
Jeri Martin
Ex-Wife
Julianne Mehl
Children
Four (Two sons and two daughters)
Sons
Ryan
Dominic (died in 2012)
Daughters
Shannon
Suzanne
Net Worth
$10 million
Salary
$750 Thousand
Social Media
Instagram
Merch
Jersey, Poster, Autographed Jersey
Last Update
June, 2023
Dan Fouts | Early Life, Family, and Education
Daniel Francis Fouts, shortly, Dan Fouts was born in San Francisco, CA, on June 10, 1951. His father, Bob Fouts, is a Bay Area Radio Hall of Fame inductee.
Notably, Bob served for the NFL club San Francisco 49ers as a play-by-play announcer. Besides, he had four siblings, two brothers and two sisters.
After all, Dan grew up in his hometown with his dad teaching him the fundamentals of football.
In the meantime, Dan joined Marin Catholic High School in Kentfield. No surprise, he joined the school's football team as a starter.
Later, he completed his final two years of school-level education after shifting to St. Ignatius College Preparatory. Eventually, in 1969, Dan graduated from high school.
Collegiate football
Soon after leaving school, Dan received a scholarship offer from the University of Oregon in Eugene. Immediately, he accepted the offer to play for the Oregon Ducks.
Owing to his brilliant performances with the Ducks, he was included in the All-Pac-8 team as a quarterback.
Furthermore, Dan made as many as 19 records in the college. Notably, he led the Ducks' history in passing yardage and total offenses.
Similarly, he recorded 54 interceptions and 37 touchdowns in three years there. As a result, he secured a glorious spot in the university's hall of fame in 1992.
Dan Fouts | Playing career
Early days
The San Diego Chargers or now called Los Angeles Chargers, poached Fouts in the third round of the 1973 NFL Draft.
However, he could not play up to his caliber in his early days at the club. In 1978 the Chargers hired a new head coach Don Coryell who changed the fortunes there.
Coryell's Air Coryell gained popularity as a passing scheme and philosophy that required the tight end as a key receiver.
As a result, the team and the new tactics required its quarterback to step up mental and physical abilities. Consequently, Dan began improving himself and eventually became the best fit.
Pro Bowl
Notably, Fouts was selected to play Pro Bowl for six years from 1979-1983 and 1985. During this, he secured his position in the All-Pro team in 1979 and 1982, and second Team All-Pro in 1980 and 1985.
Moreover, Dan became the first player to have more than 4,000 passing yards in three successive NFL seasons during 1979-1982.
Likewise, Dan broke Joe Namath's record for most yards in the American Football League until Dan Marino broke again.
Besides, Dan had an average of 320 yards passing per game in the NFL that was a record until Drew Brees surpassed it in 2011.
AFC titles
In the meantime, Fouts led the Chargers to the playoffs from 1979 to 1982. During the period, he played in the AFC championship title matches in 1980 and 1981.
However, he could not earn the Chargers the titles there. Also, he could not lead the team to any of the Super Bowls during his reign at the club.
In fact, the Chargers received criticisms for the poor defense they had during the times. Also, they did not show much interest in returning the ball.
But after having Chuck Muncie in the team in 1980 and James Brooks in 1981, their game improved in terms of running.
Individual records and role in the team
As a matter of fact, Fouts' teammates and coaches say he was the most physical player on the team. Likewise, he used to drop back from the center to look for a group of receivers.
Moreover, Dan found the wide receiver Kellen Winslow on so many occasions that Kellen led the NFL in receptions for two seasons.
Similarly, Fouts was protected by an excellent offensive line at the Chargers. With Fouts in the offense, the Chargers were the no. 1 team in NFL for six successive years from 1978-1983 and in 1985 in passing yards.
Furthermore, Dan led the league in passing yards in four successive seasons from 1979. Also, he surpassed 20 touchdowns for six seasons in his career, with his highest 33 in 1981.
Similarly, he recorded his career-high passing yards of 4,802 in the 1981 season, setting an NFL record.
Notable wins with the Chargers
With Fouts, the chargers had a 3-4 win-loss record in the playoff games. Individually, he threw for over 300 yards in five of those games.
The Chargers' 41-38 win over the Miami Dolphins in an AFC playoff game in 1982 is remembered as The Epic in Miami.
Fouts had completed 33 out of 53 passes with 433 yards and three touchdowns at the game.
Identically, the game against Cincinnati Bengals, also called the Freezer Bowl, saw the chargers devasted with a 27-7 loss.
Next season, he recorded 333 yards passing and three touchdowns in a 31-28 victory against the Pittsburgh Steelers.
On the whole, Dan became the all-time leader in passing and touchdowns for Chargers when he retired in 1987.
You might want to buy Dan Fout's signed jerseys, click to follow!
Dan Fouts | Career Stats
Career Stats
Passing
Rushing
Year
Team
G
Att
Comp
Pct
Yds
TD
Int
Rating
Att
Yds
Avg
TD
1973
San Diego
10
194
87
44.8
1126
6
13
46.0
7
32
4.6
0
1974
San Diego
11
237
115
48.5
1732
8
13
61.4
19
63
3.3
1
1975
San Diego
10
195
106
54.4
1396
2
10
59.3
23
170
7.4
2
1976
San Diego
14
359
208
57.9
2535
14
15
75.4
18
65
3.6
0
1977
San Diego
4
109
69
63.3
869
4
6
77.4
6
13
2.2
0
1978
San Diego
15
381
224
58.8
2999
24
20
83.0
20
43
2.2
2
1979
San Diego
16
530
332
62.6
4082
24
24
82.6
26
49
1.9
2
1980
San Diego
16
589
348
59.1
4715
30
24
84.7
23
15
0.7
2
1981
San Diego
16
609
360
59.1
4802
33
17
90.6
22
56
2.5
0
1982
San Diego
9
330
204
61.8
2883
17
11
93.3
9
8
0.9
1
1983
San Diego
10
340
215
63.2
2975
20
15
92.5
12
-5
-0.4
1
1984
San Diego
13
507
317
62.5
3740
19
17
83.4
12
-29
-2.4
0
1985
San Diego
14
430
254
59.1
3638
27
20
88.1
11
-1
-0.1
0
1986
San Diego
12
430
252
58.6
3031
16
22
71.4
4
-3
-0.8
0
1987
San Diego
11
364
206
56.6
2517
10
15
70.0
12
0
0.0
2
Career Total
181
5604
3297
58.8
43,040
254
242
80.2
224
476
2.1
13
Dan Fouts | Broadcasting career
Starting at CBS Network
Fouts received an offer from the CBS network in 1988 to work as an analyst, which he accepted.
During his five-year tenure at the job, he worked with many play-by-play announcers, including James Brown and Tim Ryan. Notably, Fouts remained at the network until 1993.
ABC Network
Soon, Fouts started a profession as a sports anchor at KPIX-TV in San Francisco in 1994. Later, he was a college football analyst for ABC Sports in 1997 with Brent Musburger as a play-by-play announcer.
Similarly, a new role was given to him as a commentator on Monday Night Football at the network.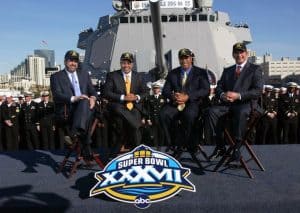 Likewise, anchor Al Michaels and comedian Dennis Miller were his peers at MNF during those times. Again, Fouts called Pac 10 action with Keith Jackson during the broadcast of college football.
Later, Tim Brant joined him at the show as Jackson retired from ABC in 2006. However, Fouts could not continue as the show moved to ESPN in 2008.
Return to CBS Network
Notably, USA Today reported in August 2008 that Fouts was returning to the CBS Network for NFL games.
First, he partnered with Dick Enberg as the number 3 NFL broadcasting team. Then, they were promoted to the number 2 team with Jenny Dell behind Tony Romo after 2014.
Meanwhile, Fouts also called the NFL games, including the Super Bowl 50 for Westwood One radio.
Also, during 2012-2016 he announced play-by-play for the preseason games of the Chargers on CBS channels.
Similarly, he continued as a color commentator and analyst for the network's NFL broadcast in 2018. Eventually, he left the network in April 2020.
Don't forget to check out: <<John Malecki Bio: Wife, Builder, NFL Career & Net Worth>>
Dan Fouts | Awards and Achievements
In particular, Dan is one of the greatest players to ever play for the San Diego Chargers. He played there for 15 seasons, recording a total of 254 touchdowns and 242 interceptions.
Also, he came only after Y. A. Tittle in recording 30+ touchdowns passing in two consecutive seasons. Accordingly, his shirt no. 14 is retired by the franchise.
The Sporting News ranked him at the 92nd position in the 100 Greatest Football Players list in 1999.
Besides, the University of Oregon and State of Oregon Sports honored him with Hall of Fame induction in 1992. Similarly, he was inducted into the Pro Football Hall of Fame in 1993.
Furthermore, Dan received the Davey O'Brien Legends Award in 2010. Also, the San Diego Hall of Champions inducted him into the Breitbard Hall of Fame in 1989.
Likewise, Pro Football Writers Association and Newspaper Enterprise Association named him the NFL's Most Valuable Player in 1981.
However, he was not just good at football only. Dan was also ranked No. 4 in 2019's best NFL announcer rankings by Awful Announcing readers.
How much is Dan Fouts worth? Net Worth and Salary
Fouts played 15 seasons in the top-flight football league. During the time, he earned several individual awards and victories for the team.
After that, the Pro Football Hall of Fame inductee started a career in broadcasting the game.
Likewise, he worked until 2023 in the profession for sports networks, including ABC and CBS.
"Dan Fouts has an approximate net worth of $10 million as of 2023."
Notably, Fouts earned $750 thousand annually as a commentator. As a result, he has made more fortunes from his broadcasting career than his playing career.
Around 1983, he earned a total of $1 million per season, including bonuses in a season.
Who is Dan Fouts married to? Relationship and Children
Dan Fouts married Julianne Mehl in April 1977. The couple had two children, a daughter and a son. Suzanne and Dominic are their children.
However, the relationship could not work well, and they divorced soon. Sadly, his son Dominic, born in July 1978, died of colon cancer in 2012.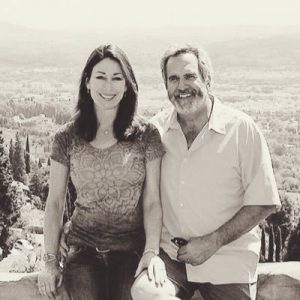 Later, on July 23, 1994, Fouts married Jeri Martin after dating for a while earlier. Similarly, with her, too, he had two children, a son and a daughter named Ryan and Shannon.
As of now, Dan is having a happy married life with his wife and children. Furthermore, no affairs are heard about him apart from his marriage.
You might also want to read: <<Charlie Whitehurst Bio: Early Life, NFL, Girlfriend Jewel & Net Worth>>
Social Media Presence:
As a matter of fact, Dan Fouts prefers a pretty much private lifestyle. Accordingly, he has not made an appearance on any sorts of social media platforms.
Perhaps his busy schedule may be another reason for it. Meanwhile, here is the Instagram account of his wife, Jeri.
Jeri Fouts Instagram: 399 Followers (Private)
You might be interested in buying Dan Fouts' rookie card. Click to follow!
Some FAQs:
Did Dan Fouts feature on the NFL GameDay video game?
989 Sports and Sony Computer Entertainment America chose Dan Fouts as a color commentator for the NFL GameDay 2004.
Furthermore, Dick Enberg had joined him, providing their voice for the 9th game of the series.
Did Dan Fouts appear in movies?
The 1998 American sports comedy film, The Waterboy featured Dan Fouts playing a role as himself.
Precisely, he appeared with Brent Musburger as ABC Sports' broadcast team for a fictitious 'Bourbon Bowl' NFL game.
Notably, Chris Berman also had an appearance in the movie starring Adam Sandler.
Did Dan Fouts leave CBS?
Dan Fouts parted ways with CBS in April 2020. According to multiple reports, Dan has been let go by CBS Sports.
His contract expired at the end of the 2019 season, and the network did not renew the contract. Later, the network replaced him with Fox analyst Charles Davis.
What did Dan Fouts say about Justin Herbert?
Justin Herbert is an American professional football quarterback for the Los Angeles Chargers of the NFL.
He is the first Oregon quarterback taken by the Los Angeles Chargers since they drafted Dan Fouts in 1973.
Likewise, Dan says that he really admires Justin and is very excited to watch him play. He mentioned in one of his interviews with The Bulletin saying,
"I am a real fan of Justin's. Because I played the position, I see there are so many things he's doing and experiences that I had that I can relate to and empathize with him on certain things especially losing early in your career. But he certainly is playing like a winner."
Is Dan Fouts a Hall of Famer? What is his jersey number?
Dan Fouts was inducted into the Pro Football Hall of Fame in 1993. Well, Dan Fouts wears a jersey number 14 for the Los Angeles Chargers.
How much is a Dan Fouts football card worth?
Dan Fouts football card worth $11.50-$19.99.