Often great advancement leads some people toward the grumpy sides of life. However, it's quite the opposite for professional curler John Shuster.
He has showcased his modesty on or off the field or even in front of the media. Not to mention, he has been married to curling itself.
He makes a living out of it and continues the legacy of his forefathers on the field.
Herewith, we will discuss and venture into the career choices and life journey of John Shuster. But let us first dive into a quick dose of his basic fun facts.
Quick Facts
Full Name
John Shuster
Date of Birth
November 3, 1982
Birth Place
Chisholm, Minnesota
Nick Name
None
Religion
Unknown
Nationality
American
Ethnicity
White
Zodiac Sign
Scorpio
Age
40
Height
1.83 meters (6 feet)
Weight
88 kg (194 lbs)
Hair Color
Dark Brown
Eye Color
Dark Brown
Build
Athletic
Father's Name
Name Unknown
Mother's Name
Name Unknown
Siblings
Unknown
Education

Chisholm High School
University of Minnesota Duluth

Marital Status
Married
Wife
Sarah Shuster
Kids
Two sons, one named Luke Shuster
Profession
Curler
Club
Team
Chris Plys (Third), Matt Hamilton (Second), John Landsteiner (Lead), Colin Hufman (Alternate)
Position
Skip
Mixed Doubles Partner
Cory Christensen
Net Worth
$1 million
Social Media
Instagram, Twitter
Merch
Curling Shoes
Last Update
May, 2023
Body Measurements
John Shuster is a well-known curler on the field who stands at a decent height of 1.83 meters (6 feet) while weighing 88 kg (194 lbs).
As for his physical appearance, John is a fair man with short trimmed dark brown hair. Furthermore, he also has a similar color eye.
Follow on about the details of the Canadian Curler, Ben Hebert!
Workout Routine
According to John Shuster, he spends three hours a day training and working out for curling. It is divided into two hours at the gym and one hour at the curling club.
He often has several Olympic lifting for strength work out at the gym, and then he focuses on his stability and flexibility. However, he doesn't have a typical workout routine, which differs from time to time.
Usually, during the offseason, John segregates four strength days a week and two to three cardio days a week. Likewise, he commences all his work through a dynamic warmup initially.
John Shuster | Early Life
John Shuster was born on November 3, 1982, in Chisholm, Minnesota, under the star sign of Scorpio. Although he hasn't revealed any details regarding his family and parents, it is sure that he did grow up in a curling background.
During his early childhood, John and his mother often went to a curling club, where his interest in curling grew. As a fun fact, his Father also used to be a curler (a skip).
Likewise, John's curling life grew through a bribe as he and his mother were bribed with Dr. Pepper, and they had the best popcorn and pool table at the concession stand.
Often going there, even when they wouldn't watch the game, they did have loads to keep them busy. However, with the passing days, John became increasingly interested in curling and intently watching it.
Moving on, his dad wouldn't let him throw the rocks during men's league as they organized junior's league on Saturdays for those who wanted to try it. Well, he had his first throw at curling when he was twelve.
But again, he did not dip into curling all at once as he often played basketball during winters.
Education
Talking about his educational background, John Shuster accomplished his high school studies at Chisholm High School. Following it, he graduated from the University of Minnesota.
Similar to his family background, parents' names, and siblings, his education is also not well described. We will be sure to update any news that comes along the way about the topic.
All About Brad Jacobs: Curler, Wife, Net Worth!
John Shuster | Career
Before making his professional debut, John Shuster commenced in the field of curling during his preteen years. It all started when he saw a flyer at school for a junior curling program during his sixth-grade year.
Later, John entered the match, and he fell in love with the sport. Moving on in December 1997, he traveled to Duluth to watch the final Olympic trials. Eventually, this became the turning point that got him determined and devoted to curling.
Professional Curler
John Shuster began his curling career by playing lead for Pete Fenson's team. Likewise, his major international arena was at the 2003 Ford World Men's Curling Championship.
Two years later, John featured at the 2005 Ford World Men's Curling Championship alongside his team. Sadly, they lost during the tiebreaker match. However, they were back after winning the 2005 United States Olympic Curling Trials.
This particular match paved the way for the 2006 Winter Olympics. John and his team bagged bronze during the event, eventually becoming the USA's first-ever medal in the curling field.
Shuster's Team
John Shuster left the team and formed his own following the Olympics event. As a skip, he appeared at the 2009 Ford World Men's Curling Championship.
As the match occurred in Moncton, New Brunswick, his team lost the event during a tiebreaker game. Following it, he and his team bagged the 2009 United States Olympic Curling Trials competition.
Well, this game defined the team representing the United States at the 2010 Olympic Games in Vancouver. John then missed several last-rock shots; hence, the coaches replaced him with his alternate, Chris Plys.
"It scared me pretty hard. People were mean. Social media went kind of crazy then, and it was hard to deal with and painful." – John Shuster on being replaced.
After the match, he yet again formed his team. This time, his team consisted of Zach Jacobson, Jared Zezel, and John Landsteiner.
The next year, John's longtime teammate Jeff Isaacson joined his team as third, replacing Zach. Right then, John bagged his second world tour win with the 2012 St. Paul Cash Spiel.
Afterward, John posted back-to-back bronze medal win at the 2012 and 2013 United States Men's Curling Championship. However, John slowed during his third Olympics season even after bagging the first in the qualifying round.
Who is Canadian Curler Rachel Homan?
Rejection at High-Performance Program (HPP)
Before the start of the 2018 Olympics, the U.S team had already lost several matches ahead. Keeping that in mind, the United States Curling Association held an athlete combine.
As they aimed for better results at the Olympics, they dropped Shuster and teammate Landsteiner at the High-Performance Program (HPP).
Hence, he created a new team named "The Rejects," with Landsteiner in the lead, Matt Hamilton in second, and Tyler George in third.
Together, their team tossed the HPP-selected squad at the 2015 National Championships and bagged gold.
Similarly, their team bagged another bronze medal against Japan's Yusuke Morozumi. With this, they earned the first World Men's medal for the United States since 2007.
Following it, the team went over their path to their fourth Olympics appearance after bagging the 2017 United States Olympic Curling Trials.
Pyeongchang Victory
During the 2018 Winter Olympics in Pyeongchang, John Shuster and his team lost four matches. However, they later bagged all three remaining games.
Likewise, in the semifinals, they won over Kevin Koe, a two-time world champion. Altogether, they bagged the first Olympic gold medal in curling for the United States.
"I guess they figured: this guy failed in the 2010 and 2014 Olympics, and he's getting a little older. It was a learning experience. But I didn't learn it until halfway through the 2018 Games, which is kind of sad and crazy." – John Shuster
Post Olympics
Right after his glory at the Olympics, the cruel slurs of #JohnShusterSucks trending on Twitter were long gone. Moving on, his team bagged the 2019 United States Men's Curling Championship.
Furthermore, he secured his title at the 2020 United States Men's Championship. Additionally, he was all set to represent the United States at the 2020 World Men's Curling Championship.
However, the event was soon canceled due to the ongoing pandemic. Following it, he played through several matches during the constant uproar of the pandemic.
A Short Biography About Joe Polo!
Mixed Doubles Curling
Cory Christensen is the mixed doubles partner of John Shuster in curling. Together, the duo bagged second place at the 2017 United States Mixed Doubles Curling Olympic Trials.
Later, they again bagged the title at the 2019 National Championship while bagging bronze at the 2019 World Championship.
Current Pace
At the moment, John Shuster is all hyped up to join and appear in his fifth Olympics match that will be held in Beijing this February 2022.
"I loved the Olympics so much growing up, and I knew everything I worked for in my entire life wasn't for nothing." – John Shuster.
Awards
To date, John Shuster has appeared and played in nine matches for the World Championships. Likewise, he has one appearance at the World Mixed Doubles Championship.
All in all, he has had four Olympic appearances to date.
Olympics (one gold and one bronze)
World Curling Championships (one bronze)
Winter Universiade (one gold)
U.S. Men's Championship (seven gold, one silver, and one bronze)
U.S. Olympic Trials (five golds)
World Mixed Doubles Curling Championship (one bronze)
U.S. Olympic Trials (one silver)
The United States Mixed Doubles Curling Championship (one gold and one silver)
John Shuster | Net Worth
John Shuster hasn't opened up about his earnings and salary to date. However, it is estimated that he has a net worth of about $1 million.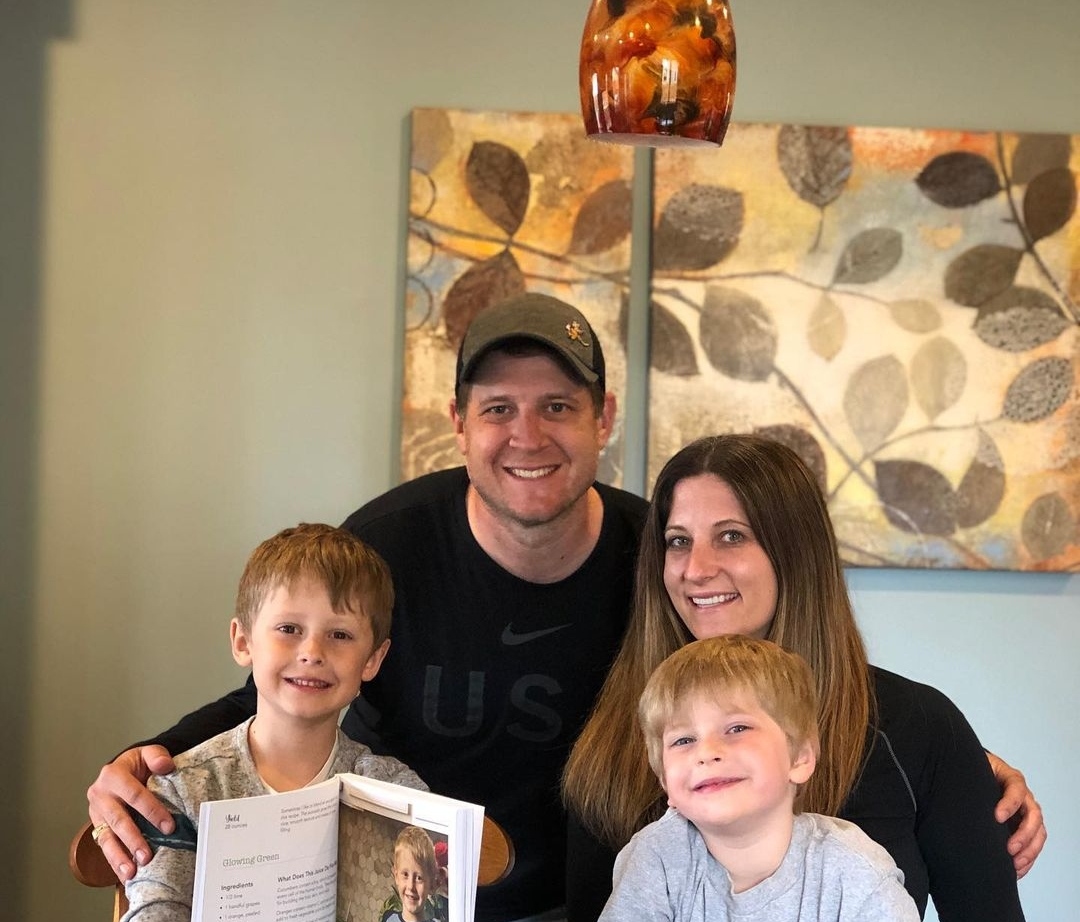 In May 2020, John launched his family's new book, Juicing With The Kids. This is a simple project that portrays his family's vision through pictures.
Furthermore, he has several brand sponsorships like Think Rice and Columbia Sportswear.
All About Olympic Gild Medalist Curler Jennifer Jones!
John Shuster | Personal Life
Currently, John Shuster is married to his sweetheart, Sarah Shuster, and together the duo has two beautiful sons. Although not many details about their wedding and sons are known, they have an adorable family.
According to the Instagram posts, Sarah Shuster seems to be a pharmacist. You can find her on Instagram as Sarah Shuster (@shuster.sara), with over 1k followers.
Covid and Quarantine
In March 2020, Sarah Shuster attended the U.S. Club National Championships. She then contracted the novel coronavirus along with three-quarters of the attendees at that event.
Hence, John Shuster and his family underwent self-quarantine as his wife awaited the test result. Initially, Sarah showcased symptoms as major back pain, shortness of breath, and no sense of smell and taste.
"It was a pretty close-knit group. We were in a small space, so we were using the same rocks. It's scary to see how fast it could spread and how contagious it is, and we were in a group of athletes, right, so a lot of us are young, healthy individuals." – Sarah Shuster.
John and his kids were negative when Sarah came out positive for the virus. During the pandemic, John lost 25 pounds (just over eleven kg).
After everyone was over the virus, the family would spend time together and even go fishing. John dropped his mobile phone into the water while fishing on a frozen lake.
Well, he didn't even try to search for his phone that day, stating he would never see it again. However, he again went back to the lake after the Olympics, and by god's grace, he found his phone, which worked pretty well.
Social Media
If you are interested in following John Shuster's posts and uploads, check out his social media accounts. He is on Instagram as John Shuster (@shoostie) with 4.8k followers.
Likewise, he is on Twitter as John Shuster (@Shoostie2010) with 17.6k followers.
Read Martin Rios's Bio, career, awards, and net worth!
John Shuster | FAQ
Where is John Shuster's apparel from?
John Shuster wears customized jerseys and sportswear from Columbia Sportswear.
As per one of the news portals, the apparel includes "4-way stretch fabrics to optimize mobility, abrasion-resistant materials, and the brand's proprietary Omni-Wick technology for accelerated moisture evaporation."