Johnny Manziel (pronounced as man-ZEL) is one of the renowned football industry faces for his supreme gameplay.
He is a former American football quarterback who played two seasons with the Cleveland Browns of the National Football League (NFL).
Besides, he has also featured for the Hamilton Tiger-Cats and Montreal Alouettes in the Canadian Football League (CFL) in 2018 and of the Memphis Express of the Alliance of American Football (AAF) in 2019.
Manziel is a sensational face for football who has dedicated all his life to the love of the game. Furthermore, he was drafted for the national team just out of high school as a dual-threat quarterback.
Not to mention, he successfully made a perfect platform for the commencement of the career and a notable coach, Mark Smith. Hence, during his sophomore years of high school, he was nicknamed "Johnny Football," which followed him until Texas A&M University.
At first, he enrolled in Texas A&M University as a redshirt in Kevin Sumlin's Air Raid offense during A&M's first season in the Southeastern Conference (SEC) in 2012.
Right after it, he started breaking all the freshman records, and by the end of the season, he had bagged the Heisman Trophy, Manning Award, and the Davey O'Brien National Quarterback Award.
Before the dive into his milestone, we have tabled some general must-know facts about him.
Quick Facts
Full Name
Johnathan Paul Manziel
Date of Birth
December 6, 1992
Birth Place
Tyler, Texas
Nick Name
Johnny Football
Religion
Christianity
Nationality
American
Ethnicity
White
Zodiac Sign
Sagittarius
Age
30 Years Old
Height
6 ft 0 in (1.83 m)
Weight
210 lb (95 kg)
Hair Color
Dark Brown
Eye Color
Dark Brown
Build
Athletic
Father's Name
Paul Manziel
Mother's Name
Michelle Manziel
Siblings
A younger sister, Meri Manziel
Education

Tivy High School
Texas A&M University

Marital Status
Divorced
Ex-Wife
Bre Tiesi (m. 2018 and split in 2019)
Profession
Football player
Position
Quarterback
Jersey number
2
Affiliations

Cleveland Browns (2014-2015)
Hamilton Tiger-Cats (2018)
Montreal Alouettes (2018)
Memphis Express (2019)

Active Years
2012-2019
Net Worth
$6 million (estimated)
Social Media
Instagram, Twitter
Merch
Autographed Items, Jersey, Rookie Card, Autographed Jersey
Last Update
June, 2023
Physical Attributes
Manziel is a man of huge athletic built with a large chest and strong body. He stands at 6 ft 0 in (1.83 m) and weighs 210 lb (95 kg), having a shoe size of 15 (US).
To illustrate, he is fair-complexioned with dark brown hair and eyes of the same color. Not to forget, he has large hands with tattoos on his right hand and chest.
Besides, the tattoo in his hand is a Rolex crown with the numbers 12, 6, and 92, which represent the date December 6, 1992, for Johnny Manziel's birthday. Also, the tattoo on his chest is of proverbs.
Johnny Manziel | Early Life
Manziel was born on December 6, 1992, under Sagittarius's star sign to his parents Paul Manziel and Michelle Manziel.
He grew up along with his younger sister Meri Manziel in Tyler, Texas. In fact, they are of Italian and Syrian descent on his maternal side.
In 1907, Manziel's paternal great-great-grandfather Joseph immigrated to the United States from Lebanon and settled in Louisiana.
From an early age, Johnny was enthusiastic and passionate about sports and played various games like baseball, golf, basketball, and football.
Later, he focused on baseball and football and played for his high school team at Tivy High School in Kerrville, Texas.
Right from his early days, he drew comparisons to quarterbacks like Brett Favre, Michael Vick, and Drew Brees, while his sportswriters, coaches, and parents stated him as a folk hero.
Johnny Manziel | High School Career
Freshman Years
Manziel served his high school team for four years, and for his first year, he played with the varsity team as a receiver.
However, Johnny had started his sophomore year as a receiver but started the fourth game at quarterback. Manziel had 1,164 yards passing, 806 rushings, and 408 receiving for a combined 28 touchdowns as a receiver.
By the end of the season, he had 2,903 passing yards, 1,544 rushing yards, 152 receiving yards, and 55 touchdowns.
Additionally, he was also voted All-San Antonio Area Offensive Player of the Year and District 27-4A MVP.
Senior Years
Manziel had closed the senior years' chapters with 228-of-347 (65.7%) passing for 3,609 yards with 45 touchdowns and five interceptions.
To add, he also maintained 170 carries for 1,674 yards and 30 touchdowns in which one of the touchdowns was a reception and returned a kickoff for a touchdown for a combined 77 touchdowns.
Alongside, he also bagged the title of San Antonio Express-News Offensive Player of the Year (second year in a row) and the Associated Press Sports Editors Texas Player of the Year.
Additionally, he was honored as the District 28-4A MVP (unanimous selection) and Class 4A First Team All-State (AP).
He even got Sub-5A First Team All-Area (SA Express-News), No. 1 QB in Texas by Dave Campbell's Texas Football, DCTF Top 300, PrepStar All-Region, and Super-Prep All-Region.
Years as a Starter
Manziel contributed three whole years as a starter, which earned him 520-of-819 passes (63.5%) for 7,626 yards and 76 touchdowns.
Following it, he recorded 531 times of rush for 4,045 yards and 77 touchdowns and caught 30 passes for 582 yards and another five touchdowns.
The year 2010 came in by surprise, giving him the Mr. Texas Football award and also becoming the only quarterback in America named as a Parade All-American in his senior years.
Besides, he was also titled The National High School Coaches Association (NHSCA) Senior Athlete of the Year in football.
In the year 2010, Manziel was the one to dominate the national stage in the game as a teammate with Oregon QB Marcus Mariota.
Back then, he got named to the NUC All World Game (started by David Schuman and National Underclassmen Combine) in 2010, where he rushed for over 100 yards and threw for over 200.
End of High School
As Manziel left high school, he was highly sought by other universities and Texas A&M, likewise; Baylor, Colorado State, Iowa State, Louisiana Tech, Oregon, Rice, Stanford, Tulsa, and Wyoming.
At first, Manziel was to play for Oregon; however, the influence from then-quarterbacks coach Tom Rossley changed his commitment to the Aggies.
There were surfacing rumors that the Texas team wanted Manziel at defensive back, which was later denied by the Texas coach Mack Brown.
Johnny Manziel | College Career
Manziel commenced his college career after attending Texas A&M on a full scholarship in the year 2011. Right then, he was coached by Mike Sherman; however, he didn't play for 2011 as he was redshirted; thus, he made a travel squad.
Therefore, he began his gameplay in 2012 and had a new coach Kevin Sumlin from 2012 to 2013.
Season 2012
Debut Game
Manziel had a good record from his spring ball and fall practices; thus, as the quarterback, Ryan Tannehill left for the National Football League after the 2011 season; he was chosen for the starting job.
Before the commencement of the season, he won the position over Jameill Showers and Matt Joeckel.
Similarly, he was scheduled to face Louisiana Tech in Shreveport, Louisiana, on Thursday, August 30, 2012, as his debut game.
However, it was postponed until October 13 due to Hurricane Isaac hitting the Louisiana coast two days before game time.
Thus, he had to debut against the Florida Gators before a home crowd at Kyle Field as a redshirt freshman.
Before the National Recruitment
During his later years, Manziel broke Archie Manning's 43-year-old total offense record of 540 against the game, with Arkansas with 557 yards of total offense.
Likewise, in a match against No. 24 Louisiana Tech, Johnny surpassed his own total offense record by 576 yards of total offense. This titled him the first player in SEC history to have two 500+ total offense games in one season.
Manziel showed up in the national Heisman Watch list since his eighth game with Texas when he had three passing and two rushing touchdowns through only the first half plus one series in the second.
Launch in the National Scene
At the game against No. 1 Alabama in Tuscaloosa, Johnny scored 345 of A&M's 418 yards of offense, including two passing touchdowns leading Texas A&M to a 29–24 victory. Right after it, he stood as a frontrunner for the Heisman Trophy in most national watch lists.
Afterward, on November 24, Manziel struggled with a knee injury during the game against the Missouri Tigers before a home crowd.
Therefore, for his next series, he appeared with a knee brace and finished the game with 439 yards of total offense, including three passing and two rushing touchdowns.
Right then, he surpassed Cam Newton and Tim Tebow, notable recent Heisman Trophy winners. Thus, he took another single-season record for offensive production in the SEC with 4,600 yards.
He closed off the year as the first freshman and only the fifth player in NCAA history to pass for 3000 and rush for 1,000 yards in a season. To illustrate, he won the SEC Freshman of the Year Award and College Football Performance National Freshman of the Year Award.
Furthermore, he moved forward as the first freshman to win the Davey O'Brien Award on December 6 and the Heisman Trophy on December 8.
2013 Season
Before the commencement of the 2013 season, reporters questioned the ability of Manziel, and there surfaced a rumor that he had signed autographs for money in January 2013.
Anyhow, Texas A&M commenced the 2013 season with a No. 6 rankings in the Coaches Poll.
Afterward, during the game against Rice, Johnny was suspended from the first half of the game. However, against No. 1 Alabama, Johnny slashed a school record of 464 yards and five touchdowns in the 49–42 loss.
During the gameplay, his primary target was Mike Evans, who compiled seven receptions for a school record of 279 yards.
Moreover, Manziel claimed his single-game career-high five touchdowns while also throwing for 446 yards but three interceptions.
Therefore, leading Texas for their 51–41 win over Mississippi State. In the meantime, he also stood fifth for the Heisman Trophy voting in 2013.
Johnny Manziel | Baseball
Manziel used to be a midfielder at Tivy High School; however, to graduate early, he had to give it up and focus on football.
Even so, his passion for baseball was no less; hence, he talked with the coaches from Texas A&M's baseball, but after starting to play as a quarterback, he couldn't give time to it.
Even with it, the San Diego Padres drafted him in the 28th round (837th overall pick) for the 2014 Major League Baseball Draft as a shortstop.
Johnny Manziel | Professional Football Career
In January 2014, Manziel entered the 2014 NFL Draft, where he became the first-round pick (top five), and as of January 15, 2014.
After it, Manziel chose to throw during Texas A&M's Pro Day on March 27, 2014, instead of during the NFL Combine and had 64 of 66 passes to six different receivers.
However, before the draft, former NFL head coach Barry Switzer had stated, "I don't like his (Manziel) antics. I think he's an arrogant little prick. I've said that, and I'll repeat it."
However, Manziel's scouting report got improvised from "undraftable" to "rare competitor."
On the draft day, Cleveland Browns made a contract him as the 22nd overall pick, as he became the shortest quarterback drafted in the first round until Kyler Murray in 2019.
Johnny Maziel | Cleveland Browns
2014 Season
Nearing the end of the season on August 24, NFL fined $12,000 to Manziel as he made the hand gesture (flipping the bird) that he made in a preseason loss to the Washington Redskins.
Hence, he was replaced by the quarterback Brian Hoyer as a starter for the opening regular-season game.
Similarly, the Browns have to go through another 26–10 loss against the Buffalo Bills during the fourth quarter on November 30. Back then, Johnny had 5 of 8 for 63 yards and scored his first NFL touchdown on a 10-yard rush.
During the Browns' Week 15 game, Manziel made his start in the NFL against the Cincinnati Bengals, where he recorded 10 of 18 passes for 80 yards and two interceptions for a 27.3 passer rating.
Likewise, the game came in a 30-0 loss to Browns after Manziel was sacked three times.
On December 21, Manziel suffered from a hamstring injury during the end of two minutes against the Carolina Panthers.
The very instant, Hoyer replaced him, and the Browns went again to 17-13 loss. In the season finale, Manziel wasn't included in the match against the Baltimore Ravens.
By the end of the season, Johnny had 18 of 35 passes for 176 yards and two interceptions and rushed nine times for 29 yards and one touchdown. Hence, He was not taken seriously by anyone and was questioned about his gameplay.
2015 Season
As of August 27, Manziel was not included for the rest of the preseason due to his right elbow's recurring pain. Then, on September 13, as starting QB Josh McCown was injured in the first half, Manziel appeared for the New York Jets game.
He bagged his first career passing touchdown with a 54-yard pass to WR Travis Benjamin during the gameplay.
However, the match ended with a 31-10 loss as Manziel recorded three turnovers in the second half. Afterward, the match against the 2014 Heisman Trophy winner Marcus Mariota and the Tennessee Titans came as a 28–14 win.
He had completed 8 of 15 passes for 172 yards and 2 touchdowns to Travis Benjamin.
Manziel again featured in the game after McCown suffered a shoulder injury in the fourth quarter of a Week 7 game against the St. Louis Rams.
The very game came as a 24-6 loss as Johnny had 4 of 5 passes for 27 yards. Similarly, in the 8 Week game, he re-appeared against the Arizona Cardinals after McCown suffered another injury.
Following it in Week 10, the game against the Pittsburgh Steelers went great for Manziel as he had 33 of 45 passes for 372 yards and one touchdown. However, the Browns ended up with a 30-9 loss.
Games as a Starting Quarterback
On November 12, Manziel was kept in the starting quarterback position, which was dismissed after seeing a Texas party over the 'bye' week. Nonetheless, he restored the position after the Bengals defeated the Davis-led Browns 37–3.
Following it, the match against the San Francisco 49ers came as a 24-10 victory, and Johnny recorded 21 of 31 passes for 270 yards and one touchdown thus, ending the losing streak of the Browns.
As for the end game of the season, Johnny was reported to have a concussion and thus couldn't attend. However, rumors surfaced that he was in Las Vegas instead of Cleveland with the team that weekend.
2016 Season
NFL Network's Ian Rappaport and ESPN's Pat McManamon stated to dismiss Manziel out of the league in early February, and following it, Johnny was investigated for the domestic violence case.
Therefore, the Browns released him on March 11, disregarding their "expectations for our players on and off the field."
Hamilton Tiger-Cats
Canadian Football League's Hamilton Tiger-Cats announced on March 31, 2017, that they had kept Johnny on the negotiations list.
Right then, it had been a year since Manziel was out of the football field; hence, he was to go through a series of physical and medical tests from August 23 to 24, 2017.
After the workout, Manziel's representative asked for the contract with the Tiger-Cats; thus, they had 10 days to trade his rights or relinquish his rights.
In the bargain, CFL expanded the 10 days time frame to "facilitate a process of evaluation for the player."
As in September, Manziel talked out with the CFL commissioner Randy Ambrosie and concluded not to let Johnny play with any CFL team for the year 2017 but could play for the 2018 season if he met certain terms.
CFL Negotiation
On December 8, CFL announced to let Johnny play in the league, and the Tiger-Cats had time until January 7 to either sign a contract with him or trade his rights.
Manziel's agent, Eric Burkhardt, stated to have them pay in the same realm as Tiger-Cats' quarterback Zach Collaros was last season, i.e., $500,000 to $550,000.
Therewith, on February 14, Johnny was to play in The Spring League, a non-paying developmental league, for the 2018 season.
Thus, it concluded on May 19, 2018, when Johnny and Tiger-Cats agreed to a two-year contract.
Montreal Alouettes
On July 22, 2018, the Tiger-Cats traded Johnny Manziel and offensive linemen Tony Washington and Landon Rice to the Montreal Alouettes for defensive lineman Jamaal Westerman and wide receiver Chris Williams.
The Alouettes announced on July 31 that for the debut match in the team, Manziel would face his former team Tiger-Cats.
Furthermore, on the first CFL start of Johnny's, he threw four interceptions, including two by Jumal Rolle in the first start, which ended in a 50–11 loss. Thus, for the second start, he improved by not throwing an interception on August 11.
In the third quarter, Johnny gained a hard hit to the head from Ottawa's Jonathan Rose, due to which he ended in the concussion protocol; thus, missing out on his practices.
Manziel was added to the injured list, and therefore, Pipkin started a total of 4 games. In Week 15, Johnny returned to take place where they ended up losing 31–14 to the Blue Bombers.
By the end of the season, Manziel had played in eight games as he recorded 106 of 165 pass attempts (64.2%) for 1,290 yards with five touchdowns and seven interceptions.
Although Manziel had a hard time during the first half of the season, he gradually improved until the end, fitting into CFL rules.
Dismissed from the CFL
Manziel was looking forward to the competition with Antonio Pipkin and Vernon Adams for the starting role in 2019.
However, he was released by Montreal on February 27 as per the orders from the CFL league. According to the CFL journalist Justin Dunk, the CFL cut the link with Johnny as he missed several of his therapies and submit to weekly lithium tests.
Memphis Express
Following the events, Memphis Express signed an agreement with Manziel to replace the injured quarterback Zach Mettenberger and the struggling Christian Hackenberg.
On March 16, 2019, he had joined the Alliance of American Football through the waiver system. The San Antonio Commanders signed him under the league's regional allocation process.
Moreover, Johnny made his debut for the team against the Birmingham Iron on March 24, where he played in the second and third quarters as a backup to Brandon Silvers.
As for his game record, he had 48 yards, along with running for 20 yards as the Express won 31–25.
On March 30, Manziel suffered a concussion in an attempt to throw an interception during the game against the Orlando Apollos. Three days later, the AAF suspended football operations.
Johnny Manziel | Retirement
In September 2020, in an interview with TMZ in the talks of the NFL, Manziel announced his retirement, stating: "I think football is a little bit behind me…Football for me is not at the forefront of my mind."
Johnny Manziel | Controversies
June 2012 Arrest
On June 29, 2012, at the age of 19, Manziel was arrested for disorderly conduct, failure to produce identification, and possession of a fictitious driver's license.
According to the police reports, it happened a late night as Manziel was taking his friend him but ended up with a brawl in the street after another man started provoking him.
When the officers reached the scene, Johnny presented a fake Louisiana driver's license that showed him 21 years of age.
Hence, he was arrested and kept in jail for a night, and in July 2013, he pleaded guilty to failure to produce identification, and the other two charges were dismissed.
2013 Offseason Behavior
During the 2013 offseason at Texas A&M, Manziel's behavior was recorded as a nasty one that raised many public controversies.
The foremost one was when he tweeted he "can't wait to leave College Station" after receiving a parking ticket and getting kicked out of a University of Texas fraternity party.
Not to mention his rumors about charging money for his autograph in January 2013.
Although no evidence was found that stated he took the money, however, he was suspended for the first half of the season opener against Rice University due to an "inadvertent violation" of NCAA rules.
2015 Season
At first, in October, Manziel was pulled over by a policeman after fighting in his car with his then-girlfriend, Colleen Crowley. It was informed that he had drunk earlier that afternoon.
Secondly, on November 24, the video of him partying boomed on the internet, due to which he was shifted to the third-string from the starter.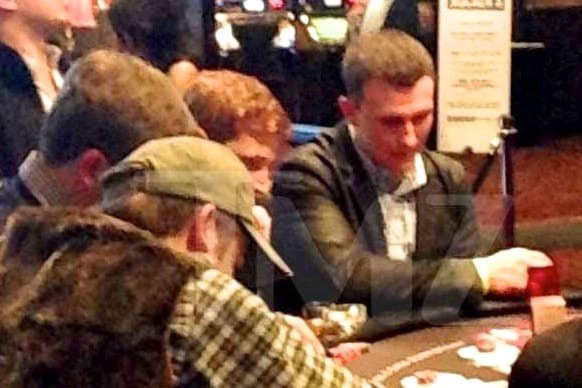 Lastly, on January 2, 2016, before the end of the 2015 season, he was seen partying in the Las Vegas casino; however, he posted him being in the home with his dog on Instagram.
Therefore, Johnny failed to report to the Browns for the game hence, covering it up by the news of concussion.
The Year 2016
After the tons of hanging news and controversies, Manziel's marketing agency, LRMR, and his agent, Erik Burkhardt, called it quits on January 6.
Following it, on February 6, the Dallas Police Department reopened the domestic violence case of Johnny with his ex-girlfriend, Colleen Crowley.
They read the case to go by Manziel, forcing her into a car, pulling her by the hair, and threatening to kill both her and himself.
Hence, Dallas grand jury announced misdemeanor assault charges for the incident on April 24. On April 19, agent Drew Rosenhaus terminated Manziel as a client, while Nike ended its sponsorship with Manziel.
Furthermore, Manziel's attorney, Bob Hinton, accidentally sent a message to the Associated Press, which stated the defense in the domestic violence case alongside a $1,000 bill from The Gas Pipe, a drug paraphernalia store.
The same day on June 24, Manziel's father, Paul, told ESPN: "He's a druggie. It's not a secret that he's a druggie. Hopefully, he doesn't die before he comes to his senses. I mean, I hate to say it, but I hope he goes to jail.
I mean, that would be the best place for him. I'm doing my job, and I'm going to move on. If I have to bury him, I'll bury him."
On June 30, Manziel violated the NFL's substance-abuse policy and was suspended for the first four games of the 2016 season.
Johnny Manziel | Honors and Awards
College (Full Season Awards)
Heisman Trophy winner for 2012 (first freshman to win)
Davey O'Brien National Quarterback Award winner for 2012 (first freshman to win)
Manning Award winner for 2012(first freshman to win)
First-team All-American by Associated Press, Football Writers Association of America, Walter Camp Football Foundation, Sporting News, ESPN, CBS Sports, Scout.com, and Sports Illustrated
Sporting News College Football Player of the Year (2012)
SEC Offensive Player of the Year (2012)
SEC Freshman of the Year (2012)
2012 All-SEC First-Team Quarterback
2013 Cotton Bowl Classic – Offensive MVP
2012 ESPN.com All-Bowl Team
2013 SEC Male Athlete of the Year
2013 Chick-fil-A Bowl – Offensive MVP
Weekly awards
2-time Walter Camp National Offensive Player of the Week
3-time AT&T All-America Player of the Week
4-time SEC Offensive Player of the Week
9-time SEC Freshman of the Week
Net Worth
Manziel is one of the football industry's impressive names, although he flopped in the NFL industry.
Still, he has an impressive net worth of around $6 million. In fact, he had an $8.25 million contract; however, as he was cut from the NFL, he could only earn 67.1 percent of the total amount.
He had also earned $5.5 million from the Browns, which cost him millions to cut before his rookie deal expired.
You might be interested in Marcus Spears Bio: Wiki, Wife, Net Worth, Career & Salary>>>
Johnny Manziel | Love Life and Social Media
Many controversies are surrounding the life of Manziel, either be it professional or personal. Consequently, he has had quite a few affairs with several women.
To illustrate, his foremost date was an American actress Sarah Savage in 2013, which did not last much at all. Secondly, in 2014 Johnny had a fling with American model Lauren Hanley.
Furthermore, he dated model Colleen Crowleyin 2015, which soon came to an end in 2016. In the end, he dated glamour model Bre Tiesi in 2016, and the couple got engaged on March 10, 2017.
Hence, being in love, they tied the knot in 2018; however, it also came to an end in 2019.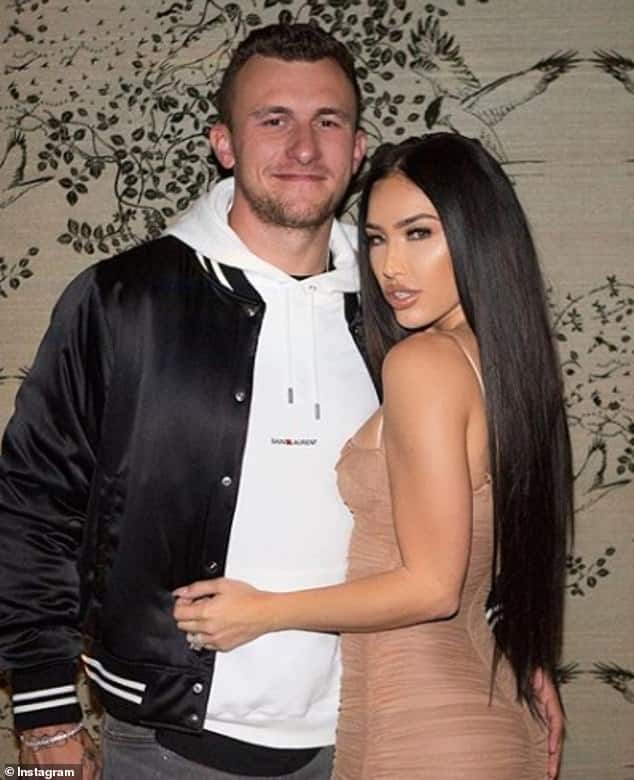 Besides love life, he is a close friend of rap artist Drake, and in April 2014, Drake released a track entitled "Draft Day," which includes a shoutout to Manziel.
Moreover, in an interview in February 2018, Manziel stated that he had been diagnosed with bipolar disorder.
Manziel is one of the most loved footballers and has quite an impressive amount of followers on his social media.
Johnny Manziel FAQs
What is Johnny Manziel doing right now?
Johnny Manziel is currently spending his time playing golf in Scottsdale, Ariz.