Kento Momota is an exceptional skillful badminton player from Japan who is well known for his style of play on the court. He won his first badminton title at the All-Japan Elementary School Championships. Now he has won two World Championships titles, two Asian Championships titles, and one All England title with the Guinness Book of World Records.
Giving up when life knocks you down will lead you nowhere. Every step becomes difficult as you begin to chase your dream.
After running into a mishap en route to Malaysia, Kento Momota thought of giving up all of his careers.
Instead, Kento almost broke his spirit after a road crash at Kula Lampur International Airport.
However, the words of encouragement from his family, friends, and followers kept him going.
Despite all that, Momota's ranking, which he had in his badminton career, remained intact.
Get to know Kento's personal life, family, Career, accident, and net worth in more detail here. Let's start with quick facts first.
Quick Facts:
| | |
| --- | --- |
| Full Name | Kento Momota |
| Name in Japanese | 桃田賢斗 |
| Birth Date | September 1, 1994. |
| Birth Place | Mino, Kagawa, Japan |
| Religion | Unknown |
| Nationality | Japanese |
| Ethnicity | Asian |
| Education | Fukushima Prefectural Tomioka Senior High School |
| Horoscope | Virgo |
| Father's Name | Nobuhiro Momota |
| Mother's Name | Not Available |
| Siblings | Momota Meiko |
| Age (as of 2020) | 28 years old |
| Height | 1.75 m (5'9″) |
| Weight | 68 kg (150 lb) |
| Shoe Size (UK) | Not available |
| Hair Color | Brown |
| Eye Color | Black |
| Body Measurement | Not available |
| Married | Unmarried |
| Relationship Status | Single |
| Profession | Badminton Player |
| Handedness | Left |
| Racquet | Yonex Astrox 99 Racquet |
| Plays for | National Team (Japan) |
| Coach | Yosuke Nakanishi |
| Badminton World Federation (BWF) rankings | #1 (Men's singles) |
| Net Worth (approx.) | $3 Million |
| Salary (as per 2019) | $120,000 |
| Playing Status | 2011 to present |
| Social Media | Facebook, Instagram, Twitter |
| Merch | Kento Moota Edition Yonex Racket, Yonex Limited Edition Men's Indoor Court Shoes |
| Last Update | March, 2023 |
Where Is Kento Momota From? Early Life, Education & Family
Kento Momota, born under the Virgo sign, is a professional badminton player. 'The Badminton Samurai' was born on 1 September 1994 in Mino, Kagawa Prefecture, Japan.
Born to Japanese parents, Kento is the son of a famous Father, Nobuhiro Momota, and his mother, Michiyo Momota.
Likewise, Kento is the second child of his parents and has one sister, Momota Meiko. And no, he does not have a brother.
The Japanese star Kento is the world's top-ranked badminton player and holds the ethnicity of an Asian.
Momota is a genuinely gifted badminton player who unveiled tremendous talent in his junior-level matches.
He used to play badminton with his parents when he was still in the second grade of elementary school.
Not to mention, little Momota won the All Japan Elementary School Championships title during his elementary level. This was his life's first achievement.
Kento attended Junior High School after elementary school in Fukuoka Prefecture. Again, he won the All-Japan Junior High School Championships at his junior level.
After graduating from Fukuoka High School, Momota began his professional Career in Badminton.
You might be interested in reading about: <<Usain Bolt's Lifestyle: Net Worth & Endorsements >>
How Old Is Kento Momota? Age, Height & Body Measurement
Born in the '90s, Kento Momota is 28 years old as of 2023.
About his height, Momota is five feet and nine-inch tall, weighing approximately 68 kilograms.
Kento has a decent body measurement as an athlete, although the exact figures are not available.
Through the facial appearance, Momota has a pair of beautiful glowing black eyes. Moreover, he looks dashing in his earthy-colored hued hair.
Kento Momota | Career
Ranked first as of March 2021, Momota has been into badminton since early childhood. Kento began his badminton training in grade first in elementary school.
As a left-handed player, Kento is popularly known for his explosive movements on the court.
Momota grabbed a fairly prestigious title in Japan's tournament, the All Japan Elementary School Championships, when he was in the sixth grade.
If Momota hadn't won the title, he would have opted for baseball. However, after winning, he realized his badminton talent and decided to go with it.
Although Momota's badminton career began at his junior high level, he gained popularity in badminton only after competing in a bigger race, the 2011 World Junior Championship, held in Taiwan.
Kento bore a defeat in the semifinal round against Malaysian Zulfadli Zulkiffli and still won a bronze medal.
Later, at the end of 2011, in the same tournament in Japan, Kento Momota lost the finals game.
He was defeated by the All Japan Badminton Championship champion, Kenichi Tago. However, his talent was appreciated by the Nippon Badminton Association (NBA).
Afterward, Kento joined the Japanese national team and started playing for the national team in various championships.
Since then, young Momota has been shining brightly in his Career and, up until now, is the world's top-ranked badminton player in men's singles.
Don't forget to check out:<<Jason Isaac Cutler – Wife, Career, Net Worth & Bodybuilding >>
Career Highlights Of Kento Momota
Even though Kento was brought to the knees in the semifinal round by the 2011 Championship, he did not stop learning from his defeats.
Instead, young and talented Momota continued to push himself. And finally, he overcame the defeat from 2011 by winning the 2012 Asia Junior Championship.
The championship was held in South Korea. And in two straight games with 21-13, 22-20 points, he won against the Malaysian representative, Soong Joo Ven.
Later that same year, Kento grabbed the World Junior Championship after defeating the Chinese representative, Xue Song.
He also won the gold medal for his home country.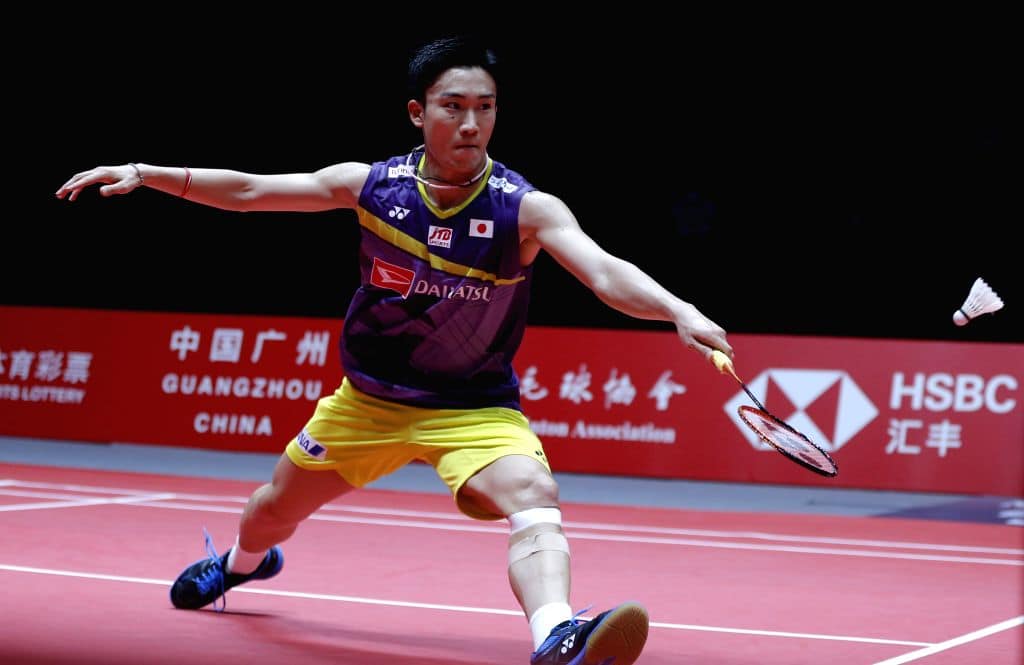 In 2013, Kento Momota officially joined the badminton club of NTT (Nippon Telegraph and Telephone East Corporation).
After that, he started participating in youth competitions and emerged in various superseries throughout 2013.
Tournament Results & Records
In 2014, Kento won Thomas Cup and seized the Singapore Open a year later. After winning the title, he became the first Japanese player to capture a Super Series in a men's single.
Similarly, Momota created history in the Badminton World Federation (BWF) Championship held in Jakarta by winning a medal in the Men's Singles category.
Despite losing the semi-final game against Chen Long, Kento became the first Japanese player to win a medal in the prestigious tournament.
Likewise, in the same year, Momota won the 2015 BWF World Superseries Final in Dubai. The following year, he competed in Asia Team Championship, held in Hyderabad.
Unfortunately, the year 2016 was not fruitful for Kento. He was banned for almost a year by Nippon Badminton Association (NBA) four months before the Rio Olympics.
The NBA suspended Momota after he confessed to a gambling scandal where he visited an illegal casino.
Significant Achievements: Guinness Book Of World Record
After a year of suspension, Kento Momota returned to the national team in 2017. In his badminton career, he had won several championships and titles.
Moreover, he recorded his name in the Guinness Book of World Records for "The most badminton men's singles titles in a season."
However, the skillful badminton player could not participate in the 2018 All England Open due to his low points.
Nevertheless, he prevailed in the 2018 Asian Championship held in Wuhan, China, after beating Shi Yuqi.
The triumph of Momota's Career continued with four BWF titles, viz. Indonesia Open, Japan Open, Denmark Open, and Fuzhou China Open.
Accordingly, in September, Kento became the first Japanese men's singles badminton player to take up the BWF World Ranking's No. 1 position.
In 2019, Kento Momota won his season's first title after winning the German Open, a Super 300 tournament.
Similarly, in the All England Open championship, Kento won against Viktor Axelsen and became the first Japanese player to win the All England Open title.
After defeating Shi Yuqi in three games in April, Momota won his second Asian Championship title in Wuhan.
Likewise, Kento also won the Singapore and Japan Open titles. During his 2019 season, he won the World Tour Finals' 11th title by beating Anthony Sinisuka Ginting.
As the men's singles world no. 1, Kento started his 2020 season by competing in Malaysia Masters as the first seed.
He defeated Kashyap Parupalli and H.S. Prannoy from India in two straight games in the first and second rounds.
Grievously, Momota was involved in an accident after returning from Malaysia's Master's game.
How Much Does Kento Momota Earn In A Year? Networth & Career Earnings
Kento Momota is a professional badminton player and is the world's top-ranked player. Therefore, we can guess his yearly income.
In 2019, his yearly income was expected to be approximately $120,000. It sure;y must have gone up by now.
Likewise, the two times World Champion Momota brings all of his attractive cash through his profession.
"Furthermore, Kento's net worth is estimated to be $3 millions."
Besides this, Momota is also heavily befitted from the endorsement and sponsor deals with several brands. In addition, he is the ambassador of Herbalife nutrition.
You can find the latest news, results, live score, and match details related to Kento Momota on the Flashscore website.
Kento Momota | Personal Life & Wife
When it comes to relationships, as an athlete, Momota has remained a hush-hush individual.
Correspondingly, the 28 year-old young player has never spoken a word about his romantic life.
Likewise, he opts to keep his private life secret instead of his professional life. Not to mention, there are no rumors about him dating young ladies or having a wife.
It shows that, as an athlete and a competitor, Momota focuses more on his professional life and Career rather than indulging himself in relationships.
Therefore, Kento Momota, as of now, is single and unmarried.
Know more about: <<Nathan Chen Bio: Career, Education, Net Worth & Family >>
Controversy And Scandal
Momota acknowledged attending an illegal casino in Tokyo on April 7, 2016, after casino personnel had complained that he frequently gambled there.
It was disclosed at a board meeting that he lost 0.5 million yen gambling over the course of six trips to the casino alongside Kenichi Tago, a teammate who spent 10 million yen after 60 trips to various casinos.
Momota's participation in the Rio 2016 Olympics would "probably be difficult," according to Kinji Zeniya, secretary general of the Nippon Badminton Association because frequent gambling is punished by law with a prison term of up to three years.
For this, he was prohibited from playing until the end of 2017.
An Accident That Almost Changed His Life
On Sunday, Momota had an easy win against Denmark's former world champion, Viktor Axelsen. This was Kento's first BWF 2020 World Tour season win.
However, the world's top-ranked male Japanese badminton player was involved in a mishap en route to the administrative capital of Putrajaya.
He was injured in a pre-dawn vehicle collision. The incident happened at around 4:40 am on Monday in Malaysia after Kento captured the Malaysia Masters title.
According to the local Fire and rescue department, the hired van where the players were, rammed into the rear of a 30-ton truck.
And as per the report, the truck was moving slowly. In the accident, Momota and the three other badminton players were lightly injured.
However, the following accident killed a 24-year-old van driver, Bavan Nageswarau, on the spot at around 4.45 am.
The Rescue Department said the injured passengers were hurried to the Putrajaya Medical clinic for immediate treatment.
According to the doctors, all four injured patients were recovering well and were in stable condition.
Mr. Saddiq said that the doctors monitored them closely and did their best to ensure they recovered well.
Consequently, the fatal crash evicted Badminton's No.1 player Momota from Kuala Lampur Open.
The mishap clouded Kento's prospect of participating in the 2020 Olympics that was going to be held in Japan in July.
Moreover, Japan's Badminton Association's spokesperson said that Kento would be aiming to return to the court for England's Championship in March if he recovers fully.
Click here to know more about: <<Andrew Cashner Bio: Baseball Career, Injuries & Family >>
The Popularity Of Kento Momota
Kento is the world's top-ranked men's singles badminton player, which makes him famous in the virtual world, too; through his popularity graph, we can see how often people search for him on the internet.
BWF World Championships | 2022 Update
HS Prannoy beats World No. 2 Kento Momota.
In recent news, Prannoy completely outclassed Momota, defeating the local challenger 21-17, 21-16.
This one will stand out as his greatest ever, even by his giant kill standards. After eight matches, Prannoy had never faced Momota before.
Is Kento Momota Active In Social Media? Social Media Presence
As a famous athlete, Momota is active on social media platforms like Facebook, Instagram, and Twitter.
To know more about his daily life and activities, follow him on various social networking sites.
Instagram 648k Followers
Twitter 170.1k Followers
Facebook 5k Followers
自分の追い求める機能性、デザイン、カラー、全てにおいて
こだわり抜いた1本で
常に挑戦し続けたい。

完成までの道のりをぜひ見てみてください!https://t.co/xjInRcH459@yonex_jp @yonex_badminton#yonex #ASTROX99 #桃田賢斗 #kentomomota pic.twitter.com/uRkaBcdImB

— 桃田賢斗 (@momota_kento) September 6, 2021
Some FAQs:
Which hand does Kento Momota play with, left or right?
Kento Momota is among those left-handed. He plays with his left hand.
Who is Kento Momota?
Kento Momota is a Japanese badminton player who became the first Japanese man to win the reputable All England Open in 2019.
When did Momota begin to play badminton?
Kento Momota began playing badminton in the first grade at elementary school. Then he participated in the All Japan Elementary School Championships.
What badminton racquet does Kento Momota use?
Kento Momota is currently using Yonex Astrox 99 Racquet as he thinks this racquet is his playing style.
What was the reason behind Kento Momota's banning in 2016?
Kento Momota admitted to his visit to an illegal casino in Tokyo. And for this reason, the Nippon Badminton Association banned Kento Momota indefinitely four months before the Rio Olympics.
How did Kento Momota get injured?
Kento Momota, the world's top-ranked Japanese badminton player, injured himself when the hired van collided with the truck from behind in Malaysia airport on the 13th of January, 2020, after securing a season's victory at Malaysia Masters.
Did the car accident affect Kento in playing badminton?
Yes. World champion Kento Momota suffered from a fatal accident and had to undergo eye surgery. Because of this, he had to setback from playing badminton for a few months.
Is Kento Momota recovering from the injuries?
Yes, the Japanese badminton king, Kento Momota, had recovered entirely from the eye injury in Malaysia. And has returned to the court.
Does Kento Momota use 3U or 4u?
Kento Momota, for his play in the badminton matches, uses the ASTROX series in which he uses the Atrox 99 4u G6.
Is Kento Momota out of the Tokyo 2020 Olympics?
Kento Momota got Knocked out of the 2020 Tokyo Olympics after losing South Korean badminton player Heo Kwang-Hee 15-21, 19-21 in the final Men's single Group Play- Group A event r on 28 July 2021.
What is Kento Momota's current ranking? Are they retired?
Kento Momota is currently ranked as world number #1 as of 6 July 2021, which is also his highest ranking.
No, Kento has not retired.
Has Kento Momota won the Olympic gold medal?
No, Kento Momota hasn't won any Olympic gold medal to date.
Is Kento Momota in Guinness world record?
Kento Momota is in the Guinness Book of World Records for "The most badminton men's singles titles in a season" after winning 11 titles in the 2019 season.
Who is Kento Momota's Malaysia coach?
Izuan Ibrahim is the Malaysian coach of Kento Momota. He helped and trained Kento during his youth. Kento regards him as one of the best coaches.
Watch Kento Momota's secret to wearing the bracelet. Click to follow!