The Hip-Hop world has seen many rappers come and go. One such rapper who remains a prominent figure in Hip-Hop's world for his personal and unique approach to rap through R&B and singing method is Mac Miller.
For those unknown, Miller was an American rapper loved and adored by many of his fans for his personal style of music and charisma.
Miller's interest in music from a young age propelled him to become a successful artist from Pittsburgh, Pennsylvania. Similarly, his career followed constant hard work, and overnight success struggles with substance abuse and mental health issues, and his popularity and connection with fans.
Today we will cover Mac's life and his work and craft in detail to get a glimpse of his wonderful journey to stardom. But before that, let's get a look at some quick facts about him.
Mac Miller: Quick Facts
| | |
| --- | --- |
| Full Name | Malcolm James McCormick |
| Birth Date | January 19, 1992 |
| Birth Place | Pittsburg, Pennsylvania |
| Death | September 7, 2018 |
| Location of Death | Los Angeles, California |
| Nick Name | Mac Miller |
| Religion | Jewish |
| Nationality | American |
| Ethnicity | White |
| Education | Taylor Allerdice High School |
| Horoscope | Capricorn |
| Father's name | Mark McCormick |
| Mother's name | Karen Meyers |
| Siblings | Miller McCormick |
| Age | 26 |
| Height | 5'9''(175 cm) |
| Weight | 73 kg/ 161 lbs |
| Shoe Size | Not available |
| Hair Color | Light Brown |
| Eye Color | Green |
| Married | No |
| Girlfriends | Yes |
| Spouse | No |
| Profession | Rapper, Singer, Producer, Artists |
| Net Worth | $10.1 million |
| Broadcast Affiliations | Warner Bros |
| Number of Studio Albums | Six |
| Number of Live Albums | Two |
| Mixtapes | Thirteen |
| Extended Plays | Two |
| Singles | Forty-One |
| Music Videos | Sixty-two |
| Social Media | Instagram, Twitter, Facebook, YouTube |
| Merch | Poster, Vinyl Records, Hoodie |
Mac Miller: Early Life, Family, and Education
Mac Miller, also known as Malcolm James McCormick (January 19, 1992- September 7, 2018), was a professional rapper, singer, songwriter, and producer.
Born in Pittsburgh, Pennsylvania, to Karen Meyers and Mark McCormick, Mac, along with his older brother, Miller McCormick, grew up in a Jewish household.
Likewise, Miller's father, Mark, is an architect while his mother is a photographer. Despite being raised Jewish, Mac attended a Catholic grade school to attain a good education and a chance to play football and lacrosse.
Mac went on to study in Winchester Thurston School before graduating from Taylor Allerdice High School.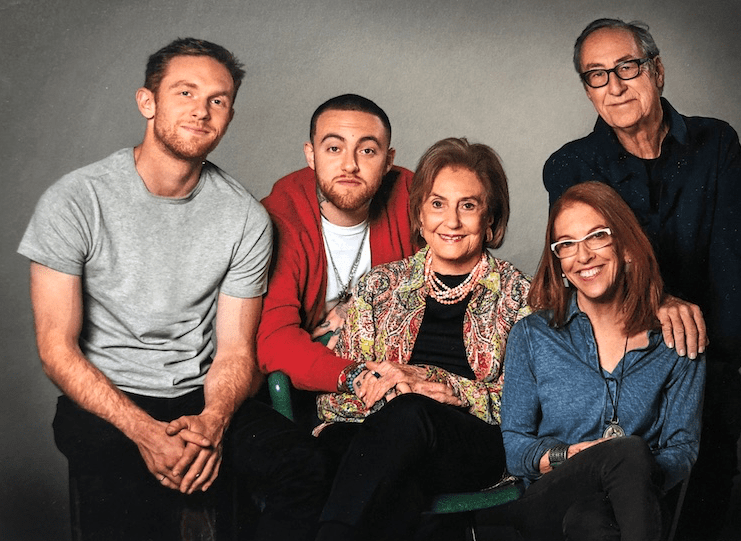 Contrary to popular opinions, Miller never intended to be a rapper. Before reaching fourteen, he wanted to be a singer.
Aside from that, Mac is American by nationality, while his ethnicity happens to be white.
Mac Miller | Early Steps in Hip-Hop and Music
Mac had a keen interest in music from his early life. As a result, by age six, he had learned to play the guitar, drums, piano, and bass all by himself. His musical interest and enthusiasm would later help him develop as a musician and a rapper.
Firstly, Mac wanted to be a singer and was highly active in high school sports and parties.
Julian Wallace Bio: Wife, MMA, Career, Assault & Record >>
However, he started rapping from the age of fourteen, and by the age of fifteen, he became serious about it, as he realized Hip-Hop could be done as a job.
"Once I hit 15, I got real serious about it and it changed my life completely…But once I found out hip-hop is almost like a job, that's all I did."
Therefore, his focus then became on Hip-Hop rapping. And what a phenomenal decision it was!
Career: Mixtapes & Awards
Initially, Mac went by the name Easy Mac (EZ Mac) and had released a mixtape titled "But My Mackin' Ain't Easy" in 2007 at the age of fifteen. However, by 2009, he became known as Mac Miller.
He would then release two additional mixtapes titled "The Jukebox: Prelude to Class Clown" and "The High Life."
Among many awards and recognitions, the earliest awards given to Mac were 21 & Under of the Year and Best Hip Hop Video for "Live Free" at the 2010 Pittsburgh Hip Hop Awards.
Recording Deals and Rise to Fame
Mac signed his recording deal with an independent recording label 'Rostrum Records' in July 2010, while his fourth mixtape 'K.I.D.S' was still in the works. During that time, Rostrum president Benjy Grinberg was in conversation with Miller.
However, he showed little interest in working with him until he observed a maturation in Mac's style of music. At this point, Mac had gathered interest from other record companies.
However, he continued with Rostrum due to its location in his hometown and its association with the famous artist and rapper Wiz Khalifa.
During this time, Miller worked on a perfect breakthrough into mainstream music by his loud social media engagements and presence, digital sale of his music, and constant touring.
'Best Day Ever,' Miller's fifth mixtape was released in March 2011, from which its single 'Donald Trump' became his first-ever song to chart on the US Billboard Hot 100, ranking at number 75.
The song also received a platinum certification from the Recording Industry Association of America (RIAA).
Mac Miller | Debut Album Release & Charting
On November 8, 2011, Miller released his debut studio album titled 'Blue Slide Park.' This album debuted at number 1 on Billboard 200, crossing 144,000 sales in its first week of release.
Moreover, songs such as 'Smile Back,' 'Frick Park Market' and 'Party on the Fifth Ave' charted on the Billboard Hot 100, reaching peak positions of 55, 60, and 64, respectively.
Most importantly, his success with 'Blue Side Park' brought him wide popularity in the Hip Hop genre and made him a national celebrity. Despite gold certifications in the US and Canada and an impressive debut sales number, Blue Side Park received mixed reviews from the critics.
Establishing REMember Music
After multiple mixtape releases, Miller founded his own record label REMember Music, named after a close friend who had passed away. The label's primary focus was on rising artists from Pittsburgh and different alter egos of Mac.
Above all, Miller went on to release multiple mixtapes until he collaborated with Ariana Grande on her single 'The Way,' which went on to peak at number 9 on Billboard Hot 100, Miller's highest position, and was certified triple platinum by the Recording Industry Association of America (RIAA).
Miller's second studio album, Watching Movies with the Sound Off, which went on to rank number 3 on Billboard 200, was released on June 18, 2013. The album, due to its psychedelic approach, received positive reviews.
Meanwhile, Miller released and produced mixtapes under different aliases and released his live album Live from Space on December 17, 2013.
Malcolm Washington Bio: Net Worth, Movies, Actor & Wife >>
Deal with Warner Bros. Records
Miller soon parted ways with Rostrum Records and signed a recording contract and distribution deal with Warner Bros. Records. His major-label debut with Warner Bros. Record was GO: OD AM, released on September 18, 2015.
The said album charted at number 4 on the Billboard 200. Miller immediately started working on his next album as he wanted to explore the emotion of love.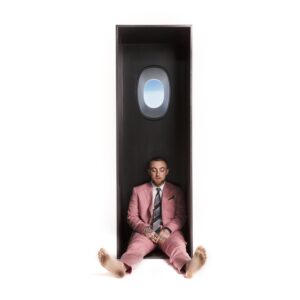 His next album, The Divine Feminine, featured him singing as much as him rapping and included blends of R&B, jazz, and funk. He received positive reviews for his artistry and exploration of love.
His final album was his fifth studio album, Swimming, released on August 3, 2018. Miller spoke through the album about his personal struggles, heartbreak, and issues with mental health. Swimming debuted at number 3 in the Billboard 200.
The single 'Self Care' from the album rose to number 33 on the Billboard Hot 100 after Miller's death.
Battle with Substance Abuse and Death
Miller had long struggled with issues with drugs. On September 7, 2018, Miller was unconscious and unresponsive at 11:51 (PDT) and was found by his personal assistant in his Studio City home.
Meanwhile, his personal assistant gave Miller CPR until the paramedics had arrived. However, the rapper was pronounced dead at the scene.
Consequently, the coroner's report revealed that Miller had died due to an accidental drug overdose and a fatal combination of fentanyl, cocaine, and alcohol. He was only 26 when he died.
Ariana Grande's post on Instagram, few days after Miller's death
Miller had a long history of battles with drugs. Despite pursuing complete sobriety, he had few slip-ups here and there. A week before his death, Miller had spent a whole day with bassist Thundercat and his daughter.
They celebrated Thundercat's daughter Sanaa's 12th birthday and had spent their time singing songs and watching Sanaa's favorite TV shows. Thundercat later explained in an interview that Miller was happy that day and the happiness in Miller wasn't fake.
Mac Miller | Dating Life, Relationships and Girlfriends
Mac Miller had an interesting romantic life, which included one high profile celebrity who he dated. Nomi Leasure was reported to be Miller's high school lover, and references to their relationship were included in a song called 'Congratulations' from the album The Divine Feminine.
Miller dated high profile celebrity Ariana Grande soon after splitting up with Leasure. They had previously collaborated on Grande's hit single 'The Way' and were rumored to be together.
However, this was officially confirmed only in 2016 after weeks of rumors as Grande posted a picture of her and Miller with the caption 'baabyyy'. They collaborated in song projects such as 'My Favorite Part' and appeared together, live on stage a couple of times.
Sadly, the two broke up in May 2018, and it was reported that they were too busy for a relationship. They remained friends post-breakup and wished well for each other.
After his relationship with Ariana Grande, it is believed Mac had an alleged relationship with Tana Mongeau and Julia Kelly, both of who revealed their relationship with Mac through Instagram.
Tana Mongeau sharing a screenshot of a text between her and Mac.
You might also be interested to learn about professional baseball player: Alex Rodriguez. Alex Rodriguez Bio: Net Worth, College, ESPN, Wife & Kids >>
Mac Miller | Net Worth
Mac had a long career of 10 years in music as he produced multiple studio albums and many mixtapes through different record labels. He did many live shows, festivals, and concerts. It is estimated that Mac's net worth is around $10 million. Moreover, he wanted his father, mother, and brother to inherit his wealth in his will.
Social Media Presence
Mac was quite a popular figure in the world of social media. During his years, he was active on Twitter, Facebook, Instagram, and YouTube accounts, all of which are still online but inactive.
His social media handles, along with his number of followers, are listed below.
Twitter– 8.1 Million Followers
Instagram– 6.8 Million Followers
Mac Miller– 5 Million Followers
YouTube– 3.4 Million Subscribers
Frequently Asked Questions
When did Mac Miller die?
Mac was found dead on September 7, 2018, in his studio home.
Did Mac Miller dated Ariana Grande?
Yes, Mac Miller dated Grande for two years, until breaking up in 2018.