Matt Leinart, a former professional football player, is widely recognized for his impressive career as a quarterback in the National Football League (NFL).
Hailing from Santa Ana, California, Matt first made a name for himself during his college years at the University of Southern California (USC).
He garnered significant attention by winning the prestigious Heisman Trophy and culminating in a victory in the 2005 BCS National Championship.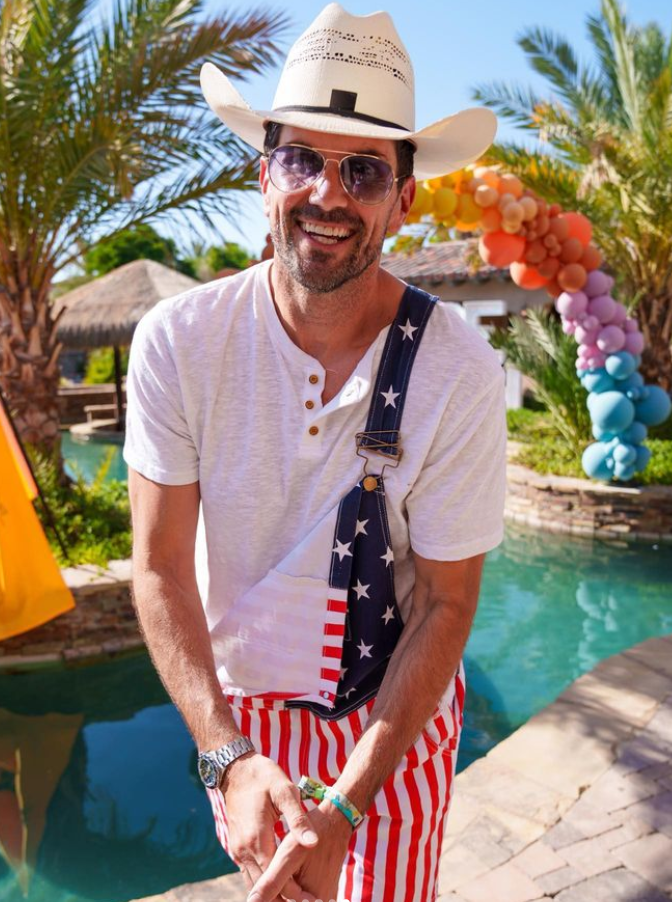 The player was selected as the 10th overall pick by the Arizona Cardinals in the 2006 NFL Draft. Leinart was also inducted into the College Football Hall of Fame in 2017.
Please read the full article to know in detail about Matt Leinart, his NFL journey, and his aspirations.
Before that, look at some of the quick facts about him!
Matt Leinart Bio | Quick Facts
| | |
| --- | --- |
| Full Name | Matthew Stephen Leinart |
| Date of Birth | May 11, 1983 |
| Birth Place | Santa Ana, California |
| Religion | Christianity |
| Nationality | American |
| Zodiac Sign | Taurus |
| Age | 40 Years Old |
| Height | 6 feet 5 inches (1.96 m) |
| Weight | 225 lb (102 kg) |
| Hair Color | Black |
| Eye Color | Brown |
| Build | Athletic |
| Father's Name | Bob Leinart |
| Mother's Name | Linda Leinart |
| Siblings | One older brother (Ryan) |
| High School's Name | Mater Dei High School |
| College Name | University of Southern California (USC) |
| Marital Status | Married |
| Wife | Josie Loren |
| Children | Cayson Asis Leinart, Cannon Asis Leinart, Cole Leinart |
| Profession | Former NFL player, College football analyst |
| Position | Quarterback |
| Teams | Arizona Cardinals, Houston Texans, Oakland Raiders, Buffalo Bills |
| Years Played | 2006-2013 |
| NFL Draft | 2006, Round 1, Pick 10 |
| Net Worth | $12 Million |
| Social Media | Instagram |
| Last Update | September 2023 |
Matt Leinart Bio | Early Life & Family
Matt Leinart was born in Santa Ana, California, on May 11, 1983. His parents are Bob and Linda Leinart.
The player also has an older brother named Ryan, who played baseball at Cal State Fullerton.
His parents divorced when he was young, and he mainly lived with his mother. However, Matt had a close relationship with his father, who supported him throughout his football career.
Matt was born with a condition called strabismus, commonly known as "crossed eyes," where his left eye was not aligned correctly with his right.
When he was three years old, the player underwent surgery to correct the issue and wore special glasses.
Education
Matt went to Mater Dei High School in Santa Ana, California, where he was a letterman in football and basketball. He led his team to a California Interscholastic Federation Division I co-championship.
Likewise, he was named the state's Gatorade High School Football Player of the Year in 2001. Further, he was also a first-team Parade All-American.
Matt attended the University of Southern California (USC) from 2001 to 2005 for further education, majoring in sociology. He redshirted his first year and became the starting quarterback in 2003.
The player graduated from USC with a 3.5 GPA and was twice named to the Pac-10 All-Academic first team. He also received the Wuerffel Trophy for his community service and academic excellence.
Matt Leinart Bio | Career
During his NFL career, Matt Leinart played for multiple teams and primarily served as a backup quarterback.
He was selected as the tenth overall pick by the Arizona Cardinals in the 2006 NFL Draft. Leinart played 11 games in his rookie season, throwing for 2,547 yards and 11 touchdowns.
After leaving the Cardinals, Leinart joined the Houston Texans in 2010 as a backup to Matt Schaub. He saw limited playing time during his first season with the Texans.
Leinart joined the Oakland Raiders in 2012 as a backup to his former college teammate Carson Palmer. Unfortunately, he did not secure a long-term contract with the Raiders.
The player briefly joined the Buffalo Bills in 2013 but was released before the regular season began.
In this way, although Matt was selected as 10th overall by the Arizona Cardinals, he never lived up to his potential as a pro. He primarily served as a backup for Kurt Warner and later for other teams.
Career Highlights
2004: BCS National Champion (vacated)
2003, 2004: AP National Champion
2004: Heisman Trophy Recipient
2004: Walter Camp Award Winner
2005: Johnny Unitas Golden Arm Award Recipient
2004: Manning Award Recipient
2003, 2004: Archie Griffin Award Recipient
2004, 2005: First-team All-American
2004, 2005: Quarterback of the Year
2004, 2005: Pac-10 Offensive Player of the Year
USC Trojans No. 11 Retired
Wife & Kids
Matt Leinart is married to Josie Loren, an American actress and attorney. They married on May 26, 2018, in Asheville, North Carolina.
They have two sons: Cayson Asis Leinart, born in January 2020, and Cannon Asis Leinart, born in May 2021.
Josie Loren is best known for her role as Kaylie Cruz on the TV series Make It or Break It. Likewise, she also appeared on The Mentalist, Hannah Montana, Cory in the House, and 17 Again.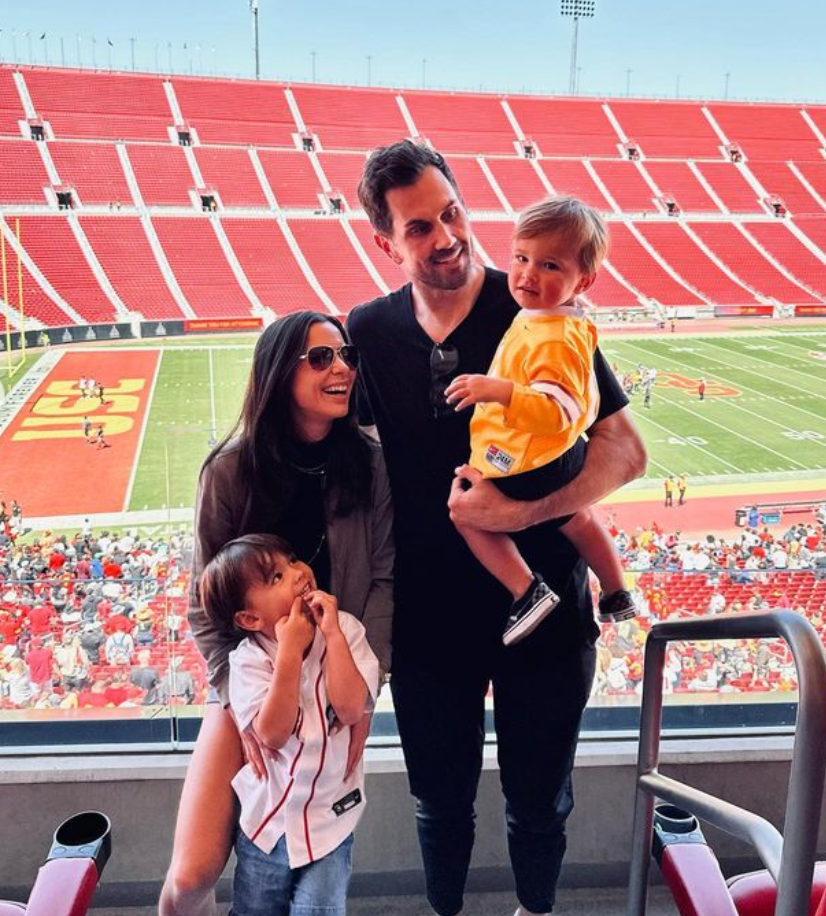 Josie graduated from UCLA with a degree in mass media communication and from LMU Law School with a Juris Doctor degree.
Apart from Cayson and Cannon, Matt is also the father to Cole Leinart. Cole was born on October 24, 2006, to Leinart and his former girlfriend Brynn Cameron.
Interestingly, Brynn also dated former NBA player Blake Griffin for nearly a decade and has two kids with him: Ford Wilson Cameron-Griffin and Finley Alaine Griffin.
Matt Leinart Bio | Age, Body Measurements, & More
The former NFL player was born in the year 1983. Hence, he is currently 40 years old. His zodiac sign is Taurus.
Matt Leinart stands at 6 ft 5 in (1.96 m) and weighs 225 lb (102 kg). Likewise, his arm length measures 33+1⁄2 in (0.85 m), and his hand span is 10+1⁄8 in (0.26 m).
He has black hair and brown eyes.
Career Earnings and Net Worth
The accomplished former NFL player Matt Leinart commands a substantial net worth of approximately $12 million.
The bulk of his financial success stems from his illustrious NFL career, during which he secured a monumental six-year contract worth $51 million with the Arizona Cardinals in 2006.
Although his tenure with the Cardinals was not without its twists, as he was released in 2010, he still managed to accumulate a noteworthy portion of that contract.
It's worth noting that while he didn't ultimately receive the full contracted amount due to his release, his NFL salary during his career amounted to an impressive $18 million, reflecting his undeniable contributions to the sport.
Beyond his gridiron achievements, Leinart has diversified his income streams through his foray into television.
He thrives as a college football analyst for both Fox Sports and the Pac-12 Network, leveraging his insights and expertise to enrich his profile and his financial portfolio.
Adding another layer to his portfolio, Leinart has ventured into the world of podcasting. He co-hosts a podcast alongside former Notre Dame quarterback Brady Quinn, solidifying his presence in the digital landscape and further augmenting his net worth.
Unknown Facts
Matt took ballroom dancing as a fifth-year senior at USC to earn his Sociology degree and remain eligible for the Heisman trophy.
The player was inducted into the Rose Bowl Hall of Fame in 2019 for his MVP performances in the 2004 and 2005 editions of the game.
He had to wear special glasses to correct his cross-eye problem. This made him an easy target, and he was bullied for that during his early years.
Frequently Asked Questions
What is Matt Leinart doing now?
As of 2023, Leinart is an analyst on Big Noon Kickoff for Fox Sports 1.
What are some of his philanthropic deeds?
Matt has been involved in several charitable causes, such as the Matt Leinart Foundation, which supports underprivileged children through sports and education programs. He also supports the Pat Tillman Foundation, the Boys & Girls Clubs of America, and the Phoenix Children's Hospital.