OG Anunoby, with already six NBA seasons, plays as a small forward for the Toronto Raptors (2017- now). The London, England-born is considered one of the best British players to ever play in the NBA.
The Raptors selected him as the 23rd overall pick (first round) in the 2017 NBA draft & have been playing for the team ever since.
After the end of his four-year rookie contract, Anunoby signed an extension worth $72 million with the Raptors for four years in December 2020.
It makes him committed to the team throughout the 2024-25 season.
As a rookie, OG Anunoby made his post-season debut in the 2018 NBA playoffs, where they lost to the Cleveland Cavaliers in the conference semi-finals.
The Raptors won their first-ever NBA title as the 2019 NBA Champion. However, Anunoby didn't get any playtime on the court due to appendectomy surgery.
Upon recovery, there is no denying that his tenacious defense and versatile offensive skills led the team to two further playoff appearances (2020 & 2022) but didn't win the title.
In this article, we will take a closer look at the life and career of OG Anunoby, exploring what makes him such a standout player and what we can expect from him.
Quick Facts
| | |
| --- | --- |
| Full Name | Ogugua Anunoby Jr. |
| Nick Name | OG |
| Date of Birth | July 17, 1997 |
| Age | 25 Years Old |
| Birth Place | London, England |
| Nationality | British |
| Ethnicity | African roots |
| Religion | Christianity |
| Father's Name | Ogugua Anunoby Sr. (late) |
| Mother's Name | Grace Ndidi Okereke (late) |
| Siblings | Six (Adaeze, Adaora, Chigbogu, Ogonna, Ifeoma & Olisamaka) |
| Zodiac Sign | Cancer |
| Height | 6 feet 7 inches / 2.01 m / 201 cm |
| Weight | 231 lbs / 105 kg |
| High School | Jefferson City High School |
| University | Indiana University Bloomington (2015-2017) |
| Girlfriend | N/A |
| Children | None |
| Profession | Basketball player |
| NBA Draft | 2017 NBA draft/ Round 1: 3rd overall pick (by the Toronto Raptors) |
| League | NBA |
| Position | Small forward / Power forward |
| Team | Toronto Raptors (2017-present) |
| Jersey Number | 3 |
| Net Worth | $10 Million |
| Social Media | Instagram |
| Merch | Signed Rookie Card, Signed NBA Photos |
| Last Update | June 2023 |
Parents & Other Family Members
Anunoby Jr. was born to Nigerian parents, on July 17, 1997, in the Harlesden area of London, UK. He is 25 years old as of 2023.
OG's late father Ogugua Sr., was a professor at Lincoln University in Jefferson City, while his mother, Grace Ndidi Okereke, a college athlete, died of cancer on May 12, 1998.
The future NBA player was only one year old when he lost his mother.
Ogugua Anunoby Jr. has six siblings: Adaeze, Adaora, Chigbogu, Ogonna, Ifeoma & Olisamaka.
His older brother Chigbo Anunoby (b. January 4, 1989) is a former NFL player who played as a defensive linesman for the Cleveland Browns, Tennessee Titans, Minnesota Vikings, and Indianapolis Colts.
Chigbo retired from football in 2017 & currently works as a business manager at ACO Trade (June 2017- now).
Death of Father, Ogugua Sr.
OG's father Ogugua Sr., passed away on September 27, 2018, at the age of 66, in his residence in Jefferson City, Missouri.
Ogugua Sr., born on August 15, 1952, grew up in his hometown of Akwa Village in Nigeria.
After graduating from the University of Nsuka-Enugu, he moved to England & attended the University of Strathclyde, where he obtained a Mater's degree in Science.
Then, he went to the University of Glasgow & graduated with a degree in Masters of Business Administration.
Ogugua Anunoby Sr. completed his Doctor of Philosophy degree from Brunel University in England.
Afterward, he became a lecturer at the University of Lagos & at Oxford Brooks University. In 2001, he joined as a professor for Lincoln University in Jefferson City & worked there until his demise.
High School & Collegiate Basketball
From a young age, Ogugua Anunoby was into sports & played football initially but switched to basketball at around eight years old.
The Jefferson City High School attendant averaged 19.1 points and 8.6 rebounds per game as a senior. By the end of high school, he was a three-star prospect.
For his collegiate basketball career, Anunoby committed to Indiana University over offers from Georgia, Iowa, George Mason, and Ole Miss.
There, he majored in sports marketing and management.
As a freshman for the Hoosiers, he averaged .9 points, 6.6 rebounds, and 0.6 assists per game.
However, during his sophomore year (2016-17), Anunoby's suffered a season-ending knee injury during a game against Penn State on January 18, 2017.
So, he ultimately declared for the NBA draft.
Career As An NBA Player
In the 2017 NBA draft, OG Anunoby Jr. was the first-round (23rd overall) pick of the Toronto Raptors.
He & Thomas Bryant were the only alumni of Indiana University to get picked in that year's draft.
With the Raptors, OG made his NBA debut on October 19, 2017, against the Chicago Bulls, scoring nine points and grabbing two rebounds.
In the 2018 NBA Playoffs (2017-18 season), he averaged 7.9 points per game from 10 games as they lost to the Cavaliers in the conference semi-finals.
In the 2018-19 season, OG Anunoby missed most of the post-season games due to appendectomy surgery, where the Raptors won their first-ever NBA Championship (2019 NBA Finals). They defeated the Warriors in the finals.
During the 2019-20 season, the NBA player scored five double-doubles & scored a season-high 32 points (vs. the Nuggets on March 1, 2020).
In the 2020 NBA playoffs, the Raptors lost to the Celtics in the conference semi-finals.
Anunoby made his career-high 36 points in the 2021-22 season against the Knicks on November 1, 2021.
With the team, he even entered the 2022 playoffs but was defeated by the 76ers in the first round.
The basketball player made three 30+ points in the 2022-23 season, inclusive of the season-high 32 points two times (against the Heat on November 16 & against the Magic on December 3).
Injuries
Injuries have ridden OG Anunoby's NBA career. Anunoby suffered a hip injury during practice on Wednesday, November 17, 2021. He first appeared on the injury report on December 10, 2021, with hip soreness.
The player missed 10 games before returning to action on January 12, 2022, against the Milwaukee Bucks.
Again, Anunoby suffered a fracture on his right ring finger on February 25, 2022, which caused him to miss several games.
He sustained the injury before the All-Star break but played through it until X-rays revealed a small fracture.
Then, on January 28, 2023, Anunoby injured his left wrist when he fell hard on a drive to the basket against the Golden State Warriors. The player was fouled by JaMychal Green and landed awkwardly on his left arm.
After missing nine straight games, he returned to the rotation against the Pelicans on February 23, 2023.
Altercations & Fines
Toronto Raptors forward OG Anunoby is known for his defensive prowess and physicality on the court. However, his aggressive play has sometimes landed him in trouble with the league, resulting in fines and ejections.
Here are some notable incidents where Anunoby was fined or ejected for his involvement in on-court altercations with other players:
The Altercation With Montrezl Harrell
On April 8, 2021, Anunoby was fined $30,000 and ejected from a game against the Los Angeles Lakers for his role in a scuffle with Lakers forward Montrezl Harrell.
The altercation occurred in the first quarter of the game after Lakers guard Dennis Schröder fouled Anunoby during a fast break.
Anunoby slammed Schröder down to the ground, and Harrell came in to defend his teammate. This led to a shoving match between the two teams, resulting in the ejections of Anunoby and Harrell.
The Altercation With Rudy Gobert
On March 9, 2020, Anunoby was ejected from a game against the Utah Jazz for shoving Joe Ingles after a hard foul. He was later fined $2,000 for that incident.
The altercation happened in the fourth quarter of the game when Anunoby seemingly tried to land a vicious elbow at Rudy Gobert as he was crossing halfcourt.
Gobert retaliated by shoving Anunoby, and both players exchanged words before being separated by their teammates. After reviewing the video, the referees ejected both Anunoby and Gobert for their roles in the altercation.
Who Is OG Anunoby's Girlfriend?
Like many high-profile athletes, OG Anunoby chooses to keep his private life out of the public eye, perhaps due to the intense media attention that comes with fame.
However, in mid-2022, a picture of Anunoby with a girl surfaced on the internet, leading to his dating rumors.
The two seemed cozy as the basketball player held a bouquet, presumably to congratulate his alleged girlfriend on graduation.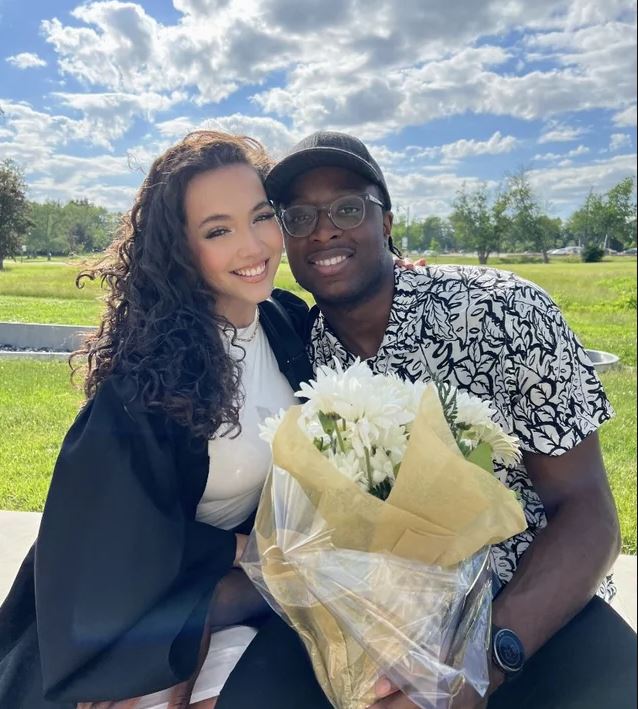 But the NBA player never confirmed if he was dating.
Also, he has never talked about his relationship or girlfriend in the media.
Moreover, no hints about his lover have surfaced on his Instagram (@oanunoby), where he has more than 220K followers.
Often his social media posts are about his basketball journey & moments on the court.
Height, Body Measurements & More!
With a height of 6 feet 7 inches (2.01 m) and a weight of 231 lbs (105 kg), the player has a solid build to hold his own against even the most formidable opponents on the court.
He also has an impressive wingspan of 7 feet 2.25 inches (2.19 meters) and a standing reach of 8 feet 11.5 inches (2.73 meters). The player has black hair that he often styles in braids or twists.
OG also likes to wear anime-themed clothing, such as Naruto headbands or jackets. He also likes wearing colorful suits and accessories like scarves or glasses.
Net Worth & Contract
As of 2023, OG Anunoby has an estimated net worth of $10 million.
The 2017 NBA draft pick signed a four-year rookie contract worth $9.75 million with the Raptors on July 9, 2017. It saw him $1.64 million in his rookie year (2017-18) & then $1.95 million in the 2018-19 season.
For the 2019-20 season, Anunoby inked an option deal of $2.28 million & later, another option of $3.87 million for the 2020-21 season.
On December 21, 2020, the NBA player signed a fully guaranteed four-year extension worth $72 million, with an average annual salary of $18 million.
With a base salary of $17.35 million in the 2022-23 season, OG became the fourth highest-earning player of the Raptors, behind Pascal Siakam, Fred VanVleet & Gary Trent Jr.
Endorsements
Along with his NBA contracts, his endorsement contributes a significant sum to his fortune.
The player signed a deal with Adidas in 2017, before his rookie season with the Toronto Raptors.
In 2019, he inked a deal with Chipotle, becoming one of their first NBA ambassadors.
Further, Og recently signed a deal with Google in 2021, promoting their Pixel 6 phone. The player also signed a deal with Gatorade in 2022, joining their roster of elite athletes.
Interesting Facts
OG Anunoby is not only a talented basketball player but also passionate about inspiring kids in Great Britain to pursue basketball as a sport and aim for a career in the NBA.
Despite being a basketball star, Anunoby is also an avid fan of the English football club Arsenal FC.
Anunoby's impressive skills and performance in the NBA have earned him recognition as one of the best British players to ever play in the league.
Frequently Asked Questions
What jersey number is OG Anunoby?
OG Anunoby has been wearing number 3 since he joined the Toronto Raptors in 2017. He also wore number 3 when he played college basketball for Indiana University from 2015 to 2017.
When did Og Anunoby make NBA debut?
OG Anunoby made his NBA debut on Thursday, October 19, 2017, scoring nine points in 17 minutes of gameplay in a 117-100 victory against the Chicago Bulls.
What is Og Anunoby's yearly salary?
From his four-year extension with the Raptors, Anunoby's annual salary for the 2022-23 season is $17.35 million.