The Met Gala is a Costume Institute Extravaganza, also known as the Costume Institute Benefit; it is an annual fundraising gala conducted in New York City for the benefit of the Costume Institute at the Metropolitan Museum of Art.
An invitation is highly sought after because it is often recognized as the most prestigious fashion event in the world. The fashion magazine Vogue is hosting a gala, inviting stars from a variety of industries, including fashion, cinema, television, theater, music, business, sports, social media, and politics.
The theme for Met Gala 2021 was In America: A Lexicon of Fashion and the theme for this year's Met Gala 2022 was Gilded Glamour," a concept that leaves plenty of room for interpretation and pulls inspiration from New York's Gilded Age.
Additionally, numerous favorite athletes from the NBA, NFL, tennis, and gymnasts served us with exhilarating looks.
10 Best Looks Served by Athletes in The Met Gala 2021- 2022.
Here, we present the top ten looks of athletes that kicked off the red carpet with grace at the Metropolitan Museum of Art in Manhattan. Also, it's not usual to see our favorite athletes dolled up with gorgeous looks and fashion tastes.
Altogether, we put forward the iconic looks and let it be known that the list below has nothing to do with the rankings.
Serena Williams
Worldwide renowned tennis player Serena Williams is the GOAT. Well, our superstar arrived at the event donned on a Gucci silver bodysuit with embellished stars and a feather-laden cape with a long ombré train.
All in all, she completed her look with a pair of silver heels and looked painfully beautiful. Serena described her looks as "superhero-inspired."
Her husband, Alexis Ohanian, also accompanied her on the red carpet. He was adorned with a simple suit and silver bow tie.
Serena Williams At the Met Gala 2022, Serena Williams flaunts a stunning green gown with a baby bump on the Red Carpet wearing Versace.
Were you feeling low? Read about 79 exciting quotes from Serena Williams.
Venus Williams
Shortly after Serena Williams, her star sister, Venus Williams, arrived on the red carpet in her red ensemble. She did full justice to Prabal Gurung's red dress.
The dress also included a bow tail at the lower back. Likewise, Venus had her hair on a high bun, thus, making the Atelier stand out.
At the Costume Institute Gala at the Metropolitan Museum of Art in 2022, Venus Williams made her mark.
The 2023 years old star athlete on the Met Gala red carpet on Monday in a timeless black Law Roach jumpsuit with a seductive corset top and embroidered pants. She completed her ensemble with knee-length beaded braids, a furry black purse, and a silver choker with a green gemstone in the center.
Naomi Osaka
Naomi Osaka serves one of the best fashion tea whenever she gets the chance. The Met Gala red carpet saw her honor her heritage through her fashion aura. Osaka was donned in a colorful gown from Louis Vuitton, drawing inspiration from her Japanese and Haitian roots.
Well, her huge gown also included a ruffled cape. Naomi had an ensemble to represent herself as an American, while in the meantime, she also had a bright-red obi belt representing her Japanese roots.
Additionally, her bold shades signified Caribbean island ancestry. Altogether, this design was put alive by the French house's creative director, Nicolas Ghesquière, while her sister Mari Osaka contributed to the plans.
Altogether, Naomi completed her look with black ankle boots and bright red-pink eye shadow with a knotted-braid updo.
Sadly, we did not find any information regarding her appearance at Met Gala 2022
Stephen Curry
The NBA veteran star Stephen Curry locked his Met Gala debut alongside his other half, Ayesha Curry. The power couple looked stunning together and had looks to serve.
The duo wore outfits designed by Jason Bolden with complementary colors and shimmers. On the one hand, Stephen presented himself in a navy blue blazer with his stylish ensemble. But on the other hand, the blazer was adorned with an intricate jewel design on the sleeves and the back.
On the other hand, Ayesha looked glamorous in a diamond-embellished Atelier Versace dress. As she accessorized her look with glitzy jewelry pieces and silver pumps, she glimmered all the way long.
Unfortunately, no information is available on the internet regarding Stephen's appearance at Met Gala 2022
You might be curious to dive into top quotes from Stephen Curry quickly!
Simone Biles
Simone Biles, as accurate as a Queen, is not to be messed with on the field or the red carpet. This year, Biles served us a jaw-dropping look with her three-in-one outfit.
Well, she walked the red carpet with the dress weighing 88lbs, and it did require her six men to walk on the stairs. This particular outfit is designed by Beckett Fogg and Piotrek Panszczyk of Area.
To explain, she stood in a glittering black catsuit combo, a minidress donned with Swarovski crystals. Indeed, those crystals that are the stars on her dress represent Athleta's logo.
"How do I feel in this dress? It's heavy, but I feel beautiful, strong, and empowered. I don't think anyone's dress will be better than mine."
– Simone Biles
Russell Westbrook 2021
This Los Angeles NBA star is best-known as a fashion icon who dares and plays with different styles. This year, Russell Westbrook came on formal with a dark, dusty navy suit and a black bow tie.
He also wore velvet loafers. Additionally, he accessorized a sapphire Patek Philippe watch and an 18K gold-and-135-carat sapphire necklace.
However, Russell had his unique hairstyle for the tea! Russell dyed his hair to coordinate with the tux and even had the stars on them.
As per him, they initially thought of dying his hair into a copper brown color but later matched his hair color to compliment his outfit.
Russel Westbrook 2022
Westbrook wore a tuxedo jacket with tails and a crisp white shirt. He broke up the black on the bottom with a pair of striped socks.
Read the top quotes from superstar Russell Westbrook!
Megan Rapinoe
While everyone emitted their fashion aura, the soccer superstar Megan Rapinoe served her opinions and more than just her taste. She arrived stunningly on the red carpet alongside her ensemble that read, "In Gay We Trust."
Indeed, she slew the carpet alongside her fashion sense with a Sergio Hudson suit. Megan stood in a formal suit attire in bright red. Underneath, she wore a blue shirt with stars and paired the outfit is pretty accessories and earrings.
Altogether, she had a complete look with her light lavender hair color.
Lewis Hamilton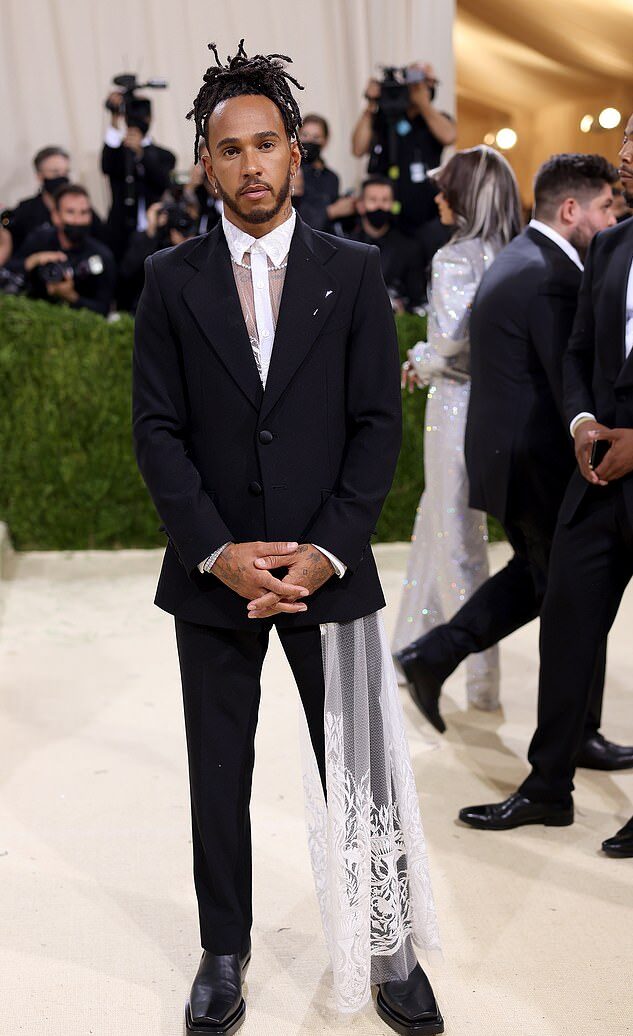 Formula 1 driver Lewis Hamilton is best known for his yearly Met Gala looks. Indeed, he has impeccable taste in fashion, and nothing holds him back from it. This time, he rocked the outfit created by Kenneth Nicholson.
He rocked the red carpet in a slick black suit with shiny black loafers. Well, it isn't just to it. Lewis Hamilton blended classic with a modern touch as he paired a black blazer and trousers with a see-through mesh shirt and netted veil skirt.
At the same time, at this Met Gala, like always, Lewis promoted young black designers, hosting Theophilio, Kenneth Nicholson, and Jason Rembert on his table.
Emma Raducanu
Young and classy, Emma Raducanu made her Met Gala debut this year. As she has won the hearts of many on the field, this Met Gala look sure did melt off many.
Emma walked down the red carpet for this event in printed monochrome separates from Chanel's Resort 2022 collection. This look comprises a flowing midi skirt, matching robe, and crop top.
Virginie Viard designed this ensemble that she paired up with the pearl-embellished belt around her waist. Furthermore, she completed the look with large Tiffany & Co diamond earrings and pointed black patent boots.
Altogether, she kept her look simple with winged eyeliner and a loose curl.
Nia Dennis
Arriving at the Met Gala's red carpet, Nia Dennis passed a relaxed ambiance with her unique entrance. She walked the event in a blue-hued bespoke Adidas by Stella McCartney that kept her on her comfort level.
She made a bright blue eye shadow and shimmered to complement her outfit. Likewise, she has her hair in a high ponytail with colorful clips. Overall, Nia gave a dramatic entrance with her floor routine.
Indeed, she did all the flips and danced to an instrumental version of "New York" by Alicia Keys. But, initially, she made her way with backflips on Bruno Mars's "Uptown Funk."
Follow to read the beautiful quotes from Naomi Osaka!
Some Other Mentions
Similarly, several other athletes ran the show and served their iconic looks on display. Tennis player Sloane Stephens stepped on with her pink rose gold high slit dress with elongated sleeves in a comprehensive fashion manner.
Likewise, gold medallist gymnast Sunisa Lee stood with all gold looks while Nyjah Huston gave us an all-white crispy look. Also, Maria Sharapova entered the red carpet with her body-skimming gold dress.