Nhooph Al-Areebi, a Canadian-born pro wrestler, is currently signed to WWE & performs in its top-flight brand Smackdown. As of 2023, she holds the record for the quickest victory in WWE history, in just 3.17 seconds.
From a Middle Eastern background, Nhooph is the first female Arab-Canadian wrestler to win a championship for WWE.
In October 2022, when she lost her Tag Team Champion title to Damage Control (a tag team of Dakota Kai and Iyo Sky), Al-Areebi got injured.
Though even after earning a clearance with recovery in December 2022, she is yet to enter the wrestling ring as of this writing.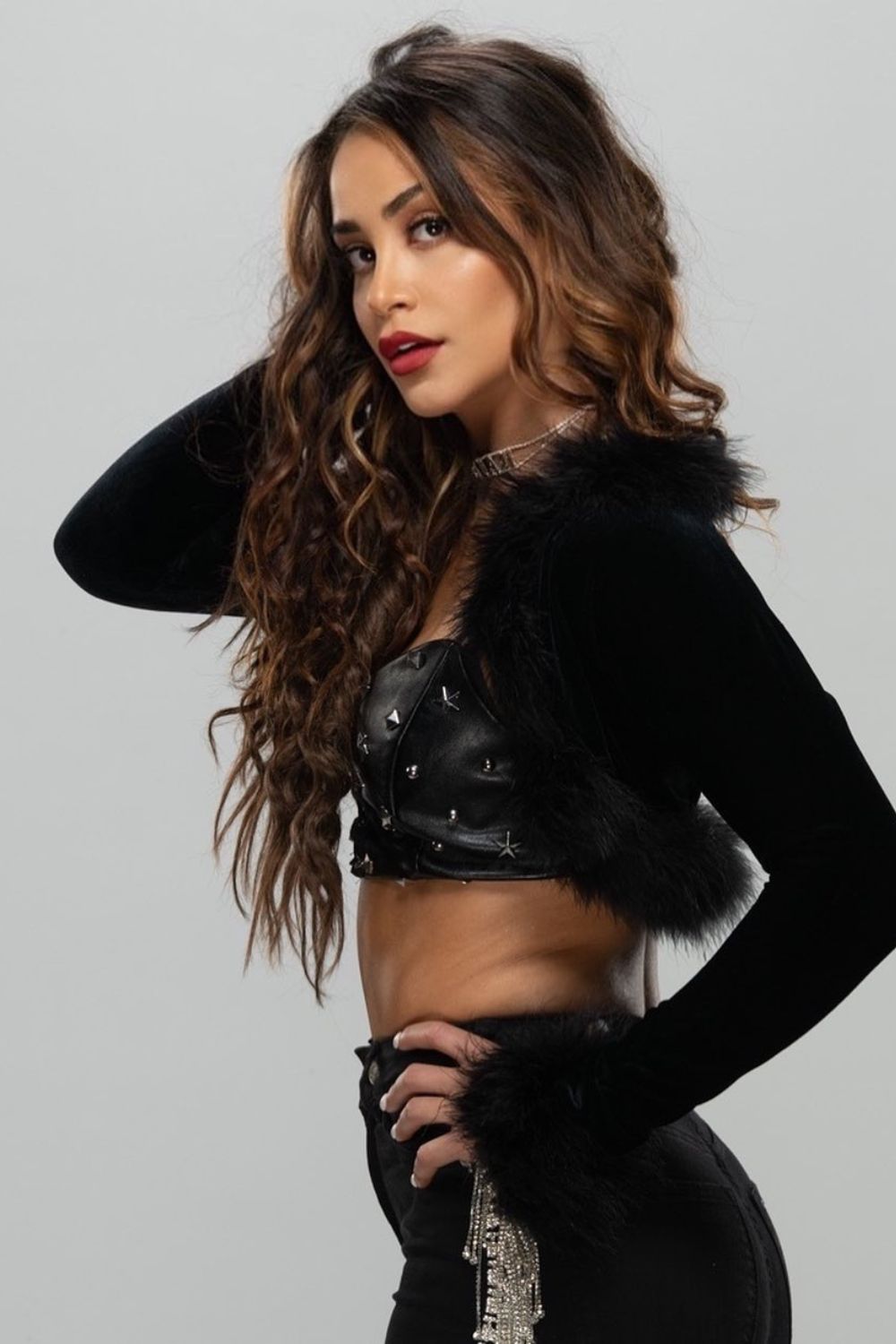 In the ring, she goes by the name Aliyah, but it's not only her wrestling career & achievements that got her media limelight.
In the early years of her wrestling career, a major controversy erupted over her racist social media posts.
And not to mention, her wrestling journey was full of challenges; her parents didn't support her initially, and she was still struggling to stand out from the crowd.
Want to know more about Nhooph Al-Areebi aka Aliyah? Get everything about her personal life, net worth & controversy here.
Quick Facts
Full Name
Nhooph Al-Areebi
Ring Name

Aliyah
Jasmin Areebi (former)

Date of Birth
November 23, 1994
Age
28 Years Old
Birth Place
Toronto, Ontario, Canada
Nationality
Canadian
Zodiac Sign
Sagittarius
Father's Name
Jasim Areebi
Mother's Name
Unknown
Siblings
Two
Education
George Brown College
Degree
Nursing
Profession
Professional Wrestler
Height
5 feet 3 inches/ 160cm/1.60m
Weight
112 lbs/ 51kg
Marital Status
Unmarried
Net Worth
$1-$2 Million
Social Media
Instagram, Tiktok
Last Update
November 2023
Early Life & Education
Al-Areebi was born on November 23, 1994, in Toronto, Ontario, Canada, in a family of Middle East background. She has half-Syrian and half-Iraqi ancestry.
Professionally famous as Aliyah, the Canadian wrestler's father is Jasim, who was a jockey in Kuwait before he immigrated to Canada.
Her mother's details are not publicly disclosed.
Nhooph Al-Areebi has two siblings, an older brother & a younger sister, but further information on them is not out.
While growing up, Al-Areebi got fascinated with wrestling- thanks to her big bro for that.
So, during her teenage (from 2008 to 2012), she ran a YouTube channel (@chickkick21), featuring videos related to professional wrestling for the internet wrestling community.
Areebi graduated from St. Joseph's College School in 2012.
Despite all the craze and love for wrestling, she still studied nursing at George Brown College and also attended a circus training school.
How Nhooph Al-Areebi Turned To Wrestling?
Nhooph never dreamt that she would be pursuing wrestling as her career- especially when her family was conservative. But nothing goes ahead of one's compassion, no?
As reported, her interest in wrestling began because of her brother, a huge WWE fan who played its video games.
After seeing her brother's interest in WWE, she too developed an interest in them and started watching wrestling shows alongside him.
On May 5, 2008, at the age of 14, Areebi decided to pursue a career in wrestling after watching the performances of Beth Phoenix and Mickie James at Raw.
Her favorite wrestlers are John Cena, Edge, Jeff Hardy, Mickie James, and Trish Stratus.
Challenge In Convincing Parents
When Nhooph Al-Areebi aka Aliyah asked her parents if she could pursue her career in wrestling, it was a red flag.
That's why when then-16-year-old Aliyah received an opportunity for wrestling training at a nearby warehouse, she did not inform her parents about it.
Moreover, she would make stories about working shifts to cover up her wrestling training until her parents busted her after six months.
Nevertheless, they became more encouraging and supportive of her decision to pursue a wrestling career over time.
Professional Wrestling Career & Achievements
Independent Circuit
Having made her debut at Squared Circle Wrestling (SCW) in January 2013, under the ring name, Jasmin Areebi, she later wrestled for a variety of promotions including Pure Wrestling Association (PWA) & New England Championship Wrestling (NECW).
Seven Years In NXT (2015-21)
On March 17, 2015, Al-Areebi agreed on a developmental contract with WWE, i.e in the NXT, which became official on April 13.
Aliyah is part of the same recruitment group as the wrestlers who later gained popularity: Apollo Crews, No Way Jose, and Peyton Royce.
After a cameo in NXT TakeOver: Unstoppable in 2015, she made her TV debut on January 12, 2016, in a battle royal, where Carmella became victorious.
The battle royal was to find out the contender to wrestle against defending champ Bayley in the NXT Women's Championship.
In NXT, she would later team up with Robert Stone Brand; who would escort her in her matches.
Though, Aliyah (full name: Nhooph Al-Areebiaka) would lose most of the matches: against Kayden Carter, Rhea Ripley & Kacy Catanzaro.
Steps Into 'SmackDown'
Aliyah was drafted to the SmackDown brand as part of the 2021 Draft.
On November 5, 2021, she made her official main roster debut and took part in a backstage segment with Sami Zayn and one of her favorite wrestlers, Jeff Hardy.
On January 14, 2022, Aliyah set the record for the fastest victory in WWE history by defeating Natalya in just 3.17 seconds.
Aliyah won her first WWE championship on August 29, 2022, alongside Raquel Rodriguez when they defeated Dakota Kai and Iyo Sky to win the vacant WWE Women's Tag Team Championship.
However, their reign was short-lived (14 days) as they lost the titles to Dakota Kai and Iyo Sky on September 12, 2022.
Nhooph Al-Areebi's Controversy
Old Tweets from Nhooph Al-Areebi containing n-bombs were discovered on Reddit on September 9, 2015. The tweets were from February 11, 2012, and September 25, 2011.
In 2014, Al-Areebi also posted a photo on Instagram featuring herself and a black male wrestler, referring to him as her slave.
Following the circulation of these posts online, Al-Areebi deactivated her Twitter account and deleted the Instagram photo.
In defense of Al-Areebi, WWE issued the following statement to 411: "WWE conducted a thorough investigation and has determined that Nhooph Al-Areebi's (aka Jasmin) Twitter account was used without her knowledge when she was 16 and 17 years old. Jasmin remains apologetic for any offensive remarks that were made."
Al-Areebi also responded, "Unfortunately, I had bad judgment sharing my Twitter account with another person. I am truly sorry for any offensive comments that have been posted."
Aliyah's Relationship Status | More On Personal Life!
The 28 years old Canadian female wrestler appears to be among those who don't want to discuss their love life with the public.
No current update on her boyfriend or dating story is out.
There is no evidence to confirm her relationship status. Probably, Aliyah is simply keeping her personal life private.
Recalling her strict and conservative Arabic family background, she told in a WWE interview in 2015 that she had to stick to certain regulations such as dress codes, not having boyfriends and strict curfews.
She also mentioned that her parents closely monitored her academic performance and had to maintain good grades.
Social Media & Hobbies
Aliyah is an avid user of social media profiles: Instagram (@aliyahwwe), Twitter (WWE_Aliyah) & Tiktok.
Her Instagram followers are more than 503K, while her TikTok followers count 42.3K.
Aside from being a good wrestler, the 1.6 m tall wrestler is also a skilled horsewoman.
Her social media posts mainly consist of pictures of her in wrestling attire, wrestling clips, and her passion for horse riding.
Nhooph Al-Areebi, as a trained circus performer & horse rider, got her acrobatics and flexibility that proved beneficial in her wrestling career.
Net Worth & Earnings
With nearly a decade into professional wrestling, Al-Areebi came into mainstream fame & success in the early 2020s.
As of 2023, Aliyah Al-Areebi has an estimated net worth between $1-$2 million. Most of her earnings are from her wrestling career.
According to Triple H, WWE Superstars who are part of the main roster receive a minimum base salary of $250,000 per year. So, as an uprising figure, her salary is likely within that range.
FashionNova, a clothing brand, has sponsored her, and she promotes it by posting on social media.
Interesting Facts
She made history by becoming the first Arab woman to participate in the main event of SmackDown, a show that has been on the air for over 20 years.
During a November 2019 episode of NXT, Aliyah faced off against Li but ended up losing. In the course of the match, Li delivered a spin kick that kayfabe injured Aliyah's nose. The purpose of this was to remove Aliyah from television so she could undergo cosmetic surgery on her nose.
Aliyah and Raquel Rodriguez emerged victorious on August 29, 2022, defeating Dakota Kai and Iyo Sky to claim the vacant WWE Women's Tag Team Championship. It was later revealed that Aliyah pinned Dakota Kai, who was not the legal competitor, but their team was still crowned champions.
Popularity Graph
The above graph represents the search interest of Aliyah over the past twelve months. People tend to search more based on her ring name rather than her original name.
Frequently Asked Questions (FAQs)
Is Aliyah from WWE married?
Aliyah from WWE is low-key about her relationship status. So far, no report on her married life, husband or dating profile is out. She seems focused on her career.
What is Aliyah 3.17?
Aliyah defeated Natalya in 3.17 seconds, which is the fastest match win in WWE history.