'Hurricane Phyl,' as called by her daughter, is undoubtedly the best nickname that describes the late Phyllis George.
As a risk-taker and pioneer, her boundless energy has indeed proven the fact that nothing is impossible to accomplish once you set your mind to it.
Altogether, her career seamlessly transitioned from being crowned Miss America in 1971 to becoming the first female national sportscaster, former First Lady of Kentucky, to appearing on the big screen. She indeed was an expert in reinventing herself.
Furthermore, let's dive a little deeper into the life of the most inspiring 'Trailblazer' for women.
Here, we will be providing you with all the details about her early life, education, booming career, kids, husband, and the cause of her death.
Before we dive in, let's jump into some quick facts first.
Phyllis George | Quick Facts
Full Name
Phyllis Ann George
Birth Date
June 25, 1949
Death Date
May 14, 2020 (age 70)
Cause of Death
Polycythemia vera
Birth Place
Denton, Texas, U.S.A
Resting Place
Lexington Cemetery, Kentucky
Nick Name
Hurricane Phyl
Religion
Christianity
Nationality
American
Ethnicity
White
Education
University of North Texas

Texas Christian University

Horoscope
Cancer
Father's Name
James George
Mother's Name
Diantha Cogdell
Siblings
No
Height
5'8" (1.73 m)
Weight
55 kg
Shoe Size
8
Hair Color
Blonde
Eye Color
Blue
Body Measurement
Unknown
Figure
Curvy
Married
Divorced
Spouse(s)
Robert Evans (M. 1977- Div. 1978)

John Y. Brown Jr. (M. 1979- Div. 1998)

Boyfriend
None
Children
Lincoln Tyler George Brown

Pamela Ashley Brown

Profession
Sportscaster, Actress, Entrepreneur
Awards
Humanitarian of the Year (1995)

Celebrity Businesswoman of the Year (1991)

Leading Women Entrepreneurs of the World (2001)

Known For
Miss America 1971

Miss Texas 1970

Net Worth
$10 Million
Broadcasting Affiliations
CBS Sports (The NFL Today)

CBS Morning News

Former Movies
My Wife is Retarded (2007)

Meet the Parents (2000)

Social Media
Instagram, Twitter
Merch
Books
Last Update
2023
Phyllis George Bio | Early Life, Family, & Education
Phyllis Ann George was born on June 25th, 1949, in Denton, Texas, to her proud parents, James George and Diantha Cogdell. She was an only child.
As for her education, she attended the University of North Texas for three years until she won Miss Texas in 1970.
However, She left North Texas and enrolled at Texas Christian University. Later in the fall was crowned Miss America in 1971.
She enrolled in a sorority as a member of Zeta Tau Alpha.
According to Zodiac charts, George is cancer. The most common Cancer traits are Tenacious, highly imaginative, emotional, and sympathetic.
Without a doubt, these traits can be seen in George through her life as a pageant queen, sportscaster, First Lady of Kentucky, author, and businesswoman.
Her potent combination of wisdom and optimism inspired many to believe that anything is possible.
George proves that Magic Happens when you say YES! to YOURSELF, which is her mantra in life.
Amanda Busick Bio: Personal life, career & FOX Sports>>
Phyllis George | Career
Pageantry
George's career kicked off when she won the Miss Texas 1970 crown, but she didn't win the crown on the first go. Later, George competed for Miss Texas as Miss Denton in 1969 and was declared fourth.
The next year she competed again as Miss Dallas and won the crown as Miss Texas 1970.
She entered the Miss America 1971 pageant with utmost integrity and determination to win, and as a result, was crowned Miss America 1971 on September 12th, 1970.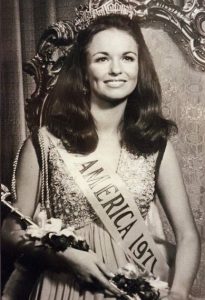 Likewise, George traveled to different parts of the country and appeared at numerous press conferences and talk shows.
She answered all types of questions ranging from teen problems, and fashion to world affairs during her press conferences and talk shows.
In August 1971, George traveled to Vietnam and six other beauties and participated in a 22-day United Service organization tour for American troops there.
CBS Sports
After winning the national title, George paved the way in the overwhelming world of sportscasting filled with only men.
She became the first woman co-anchor of the national football pregame show 'NFL Today,' hence, we call her 'Trailblazer' for women in sports media.
George became one of the first women with a nationally prominent role in television sportscasting.
Although she showed a promising role as a sportscaster, she often received criticism for not retaining traditional sportscaster qualifications as a former beauty queen.
CBS News later replaced George after three seasons on The NFL Today, but she soon returned to the show in 1980 and worked until 1984.
Along with The NFL Today, George worked on other shows with CBS Sports, including Preakness Stakes and Belmont Stakes.
Do Check Out Famous Broadcaster, Jenny Taft Bio: Husband, Age, Net Worth, Kids, Instagram Wiki>>
CBS Morning News
In 1985, George received an offer as a permanent anchor by CBS News in the 'CBS Morning News,' where she received a three-year contract.
During her eight-month term on The CBS Morning News, an incident occurred during an interview in May 1985 with Gary Dotson and Cathleen Webb, which received many criticisms towards George in the press.
According to news reports, George was cast by CBS to raise the ratings of the program.
As a result, CBS News members were baffled as to why George, with little to no journalism experience, was selected, although there were many qualified candidates for the show.
After a few months, CBS News dismissed George from the program.
More on George's Career
George then hosted her prime-time talk show in 1994 called Phyllis George Special, where she interviewed then-President Bill Clinton.
In 1998 she appeared on a talk show named Women's Day on the cable network PAX. George also appeared on The Muppet Show in 1979.
She also worked as a commentator in 'The Legend of Jimmy the Greek,' named after Jimmy Synder.
Controversy
George was criticized for having received easy paths to enter into the sportscasting business. She didn't have the traditional qualifications required to be a sportscaster.
Pam Shriver Bio: Tennis, Hall of Fame & Net Worth>>
Phyllis George | Business Interests
Our Texan Trailblazer paced her way into the business world with pageantry and sportscaster.
She was the mastermind behind Chicken by George, which shook the retail chicken industry. Later, George sold the venture to Hormel foods in 1988.
George created Phyllis George Beauty in 2003, which sells a line of cosmetics and skincare products through the television shopping network HSN.
George also wrote or co-authored five books- named: The I Love America Diet (1982), along with three books about crafts and Never Say Never: 10 Lessons to Turn – 'You Can't into Yes, I Can!' (2002).
Furthermore, George was a passionate folk and traditional art collector. She was a founder of the Henry Clay Center for Statesmanship and the Kentucky Museum of Art and Craft.
Phyllis also starred in Meet the parents (2000) and My Wife is Retarded (2007).
Phyllis George | Net Worth
George's career spanned over three decades while reinventing and transitioning seamlessly as a beauty queen, sportscaster, actress, and businesswoman, money, and fame had a decent form of worth throughout her profession.
Phyllis George's net worth falls around $10 million.
Nonetheless, the details regarding her net worth and assets remain in secrecy.
Net Worth of Phyllis George in Different Currencies
Below is the net worth of Phyllis George in different currencies, including the Euro and Pound.
Currency
Net Worth
Euro
€

8824550

Pound Sterling
£

7,407,250

Australian Dollar
A$

13,765,950

Canadian Dollar
C$

12,788,500

Indian Rupee
₹

743,620,000

BitCoin
฿

211
Phyllis George | Husband & Children
George was married twice. Her first marriage was with Robert Evans, a Hollywood producer, on December 12th, 1977.
However, the couple ended their 8-month marriage and divorced on July 22nd, 1978.
George's second marriage was to John. Y. Brown Jr is a politician and "Kentucky Fried Chicken" owner, a multimillion-dollar restaurant chain.
George served as Kentucky's First Lady with Brown as a Governor.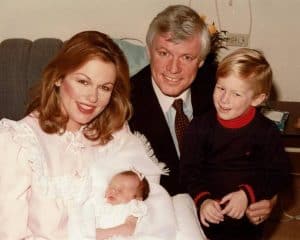 During her second marriage with Brown, she had two children, Lincoln Brown, a technology entrepreneur, and Pamela Brown, a CNN news reporter. However, George and Brown's marriage ended in divorce in 1998.
Phyllis George | First Lady of Kentucky
Phyllis George came into the political spotlight after marrying a self-made millionaire running for governor John. Y. Brown Jr. in his home state.
During Brown's campaign, various media described them as 'Phyllis of the multimillion-dollar smile, and John Y. of the multimillion-dollar checkbook.'
George attracted a lot of criticism for being overly involved in the campaign and with too much pre-eminent role while most candidates' wives stayed in the background.
She addressed this criticism to the New York Times as "you can't expect a person like me who's been an achiever to stay in the background.
They used to say, 'Behind every strong man, there's a woman.' Well, I like to say, 'Besides every strong man, there's a strong woman.'"
During George's four years as the first lady, she helped raise money to renovate the Governor's Mansion on the Capitol's grounds.
Phyllis George | Awards
Phyllis George was indeed an extraordinary woman. Some of her accomplishments were –
Humanitarian of the Year 1995, from Rosen Group,
Celebrity Businesswoman of the year 1991, from the National Association of Women Business Owners
Leading Women Entrepreneurs of the World 2001, and
One of the 50 Greatest Women in Radio and Television in 2001, by the American Women in Radio and Television.
Lieke Martens Bio: Football, FC Barcelona, Family & Awards>>
Phyllis George | Cause of Death
Phyllis George, former Miss America trailblazing sportscaster, the pathbreaker for women sportscasters, left this world on May 14th, 2020, at the Albert B. Chandler Hospital.
Phyllis lost her life because of polycythemia vera, a type of blood cancer.
Moreover, she inspired all young men and women to thrive for success. After her death, many shared their condolences through social media.
ESPN sportscaster Hannah Storm reminisced George as "the ultimate trailblazer" who was the first to show the world how wonderful the sportscaster world is for women.
Neal Pilson, a former president of CBS Sports, recognized George's recruit as part of "The NFL Today" team, a "groundbreaking decision" that "changed the face of sports television."
Brent Musburger tweeted, remembering Phyllis George as special, whose smile lit up millions in the NFL.
He emphasized that Phyllis didn't receive nearly enough credit for opening the sports broadcasting gateway for dozens of talented women.
Phyllis George was an astonishing figure in the sportscasting and business world. Although she has left us, she will stay in our hearts and memories forever.
You can find the obituary here.
Phyllis George | Social Media Presence
George's social media presence is absent. However, people can't stop tweeting and posting about this incredible Trailblazer.
We have provided you with her hashtags on various social media platforms-
Instagram- #phyllisgeorge
Twitter- #phyllisgeorge
Common Queries about Phyllis George
Was Phyllis George married at the time of death?
No, Phyllis George was not married at the time of her death. However, she divorced her second husband, John Y. Brown Jr., in 1998.
Phyllis remained single for almost 22 years between her divorce and death.
Who was the runner-up to Phyllis George?
When Phyllis George became Miss America in 1971, Claudia Turner stood up as the first runner-up.
Phyllis was Miss Texas, while Claudie was Miss South Carolina. Claudie demonstrated a ballad from the Broadway musical "All American."
Did Phyllis George have grandchildren?
Yes, Late Phyllis George has grandchildren: Benny and Vivienne.
Is Katie George Related To Phyllis George?
No, Katie George and Phyllis George are not related to one another.