Are you looking for some sportswear? Do you want to know which are the top brands? Well, you're in for a treat as we will be discussing the 13 leading sports brands in the world.
Sport wear these days has outgrown the entire market by producing everything from clothes to footwear.
Similarly, people love these top sports brands as they wear them in football, soccer, basketball, and many more.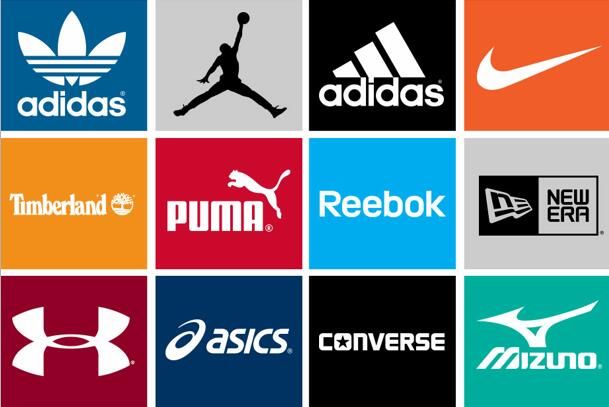 Not to mention, they have become a significant symbol of fashion that has no border as it globalized like a wildfire.
Further, with players such as Ronaldo, LeBron, Messi, Jordan, and many more associating with such top sports brands, the sales are going off the roof.
13 Top Sports Brands in the world
The top sports brands mentioned below are assembled based on their sales, popularity, and designs. Most of them are compiled in reference to forbes.com, Sporty Tell, and Ecommercedb.com.

Further, before jumping into the details about the 13 top sports brands globally, let us quickly view the names present in the list.
| | |
| --- | --- |
| Brand Name | Year Founded |
| 13. Fila | 1911 |
| 12. Champions | 1919 |
| 11. Kappa | 1978 |
| 10. Hoka One One | 2009 |
| 9. Reebok | 1958 |
| 8. Asics | 1949 |
| 7. Columbia Sportswear | 1938 |
| 6. Li-Ning | 1989 |
| 5. New Balance | 1906 |
| 4. Under Armour | 1996 |
| 3. Puma | 1948 |
| 2. Adidas | 1949 |
| 1. Nike | 1964 |
13. Fila
Fila is an Italian-originated South Korean brand that is famous for its retro looks and designs.
Although we know limited about its net income, its popularity suggests it to be a million-dollar company.
Further, with collaboration with famous Kpop band BTS, they evidently became the second most popular brand in 2018.
As a result, they have turned their market around by featuring many prominent personalities. Fila also has sponsorship deals in basketball, golf, and especially tennis.
With its bulky sneakers and comfortable appeal, the brand is well appreciated. The bulky sneaker design comforts the player that enhances their playing ability.
12. Champions
Coming off with its US$1.4 billion in global sales in 2018, the Champions have revived themselves.
After falling off the radar for a long time, it's good to see 90's nostalgia fashion come up. For example, champions were a massive brand in the mid-90s' where they sponsored an entire NBA team.
Similarly, they also dealt with most big NFL teams: the Chicago Bears, Indianapolis Colts, New York Jets, and many more.
No doubt, if the brand makes a profit the way it has been making, we might again get to see this partnership very soon.
You might also like to read about the 5 Nike Deadlift Shoes To Hit Gym >>
11. Kappa
Kappa is an Italian sportswear brand that has been in the industry for over 40 years. Their style has no boundaries; it is famous for endless sportswear designs for any purpose.
From apparel and workout to skating and casual venture, the Italian brand offers it all. Likewise, Kappa hauls in a net income of over US$300 million.
As a result, they have sparked as an international sportswear brand. Besides, they are one of the top dogs in the European sportswear market.
10. Hoka One One
Hoka One One might seem new to many as it was founded in 2009 and doesn't have that rich history as others on the list.
However, please make no mistake that they are more significant than what you imagine. In just a short time, Hoka One One held a firm place in the running industry.
Furthermore, being a French sportswear brand, they also have a good reputation in the fashion world.
Hence, they manufacture stylish maximalist running shoes, which have been featured in fashion shows. Likewise, the collaboration with Kanye West has helped further its name.
As a result, their total revenue last year was US$213.1 million. Undoutabley in the coming years, Hoka One One will turn into a billion-dollar brand.
9. Rebook
Another brand that is running the market by reviving its 90's look is the UK brand Reebok. After being acquired by Adidas, they have had the same success as their parent brand.
With revenue of US $200 million, the US-headquartered brand is seemingly rising to new heights. However, with global net sales of US$298.6 million, they look under-ranked.

Nonetheless, shortly, they undoubtedly will be ranking high due to their great partnership deals. One of the sponsorship deals was with UFC that came to an end in 2021.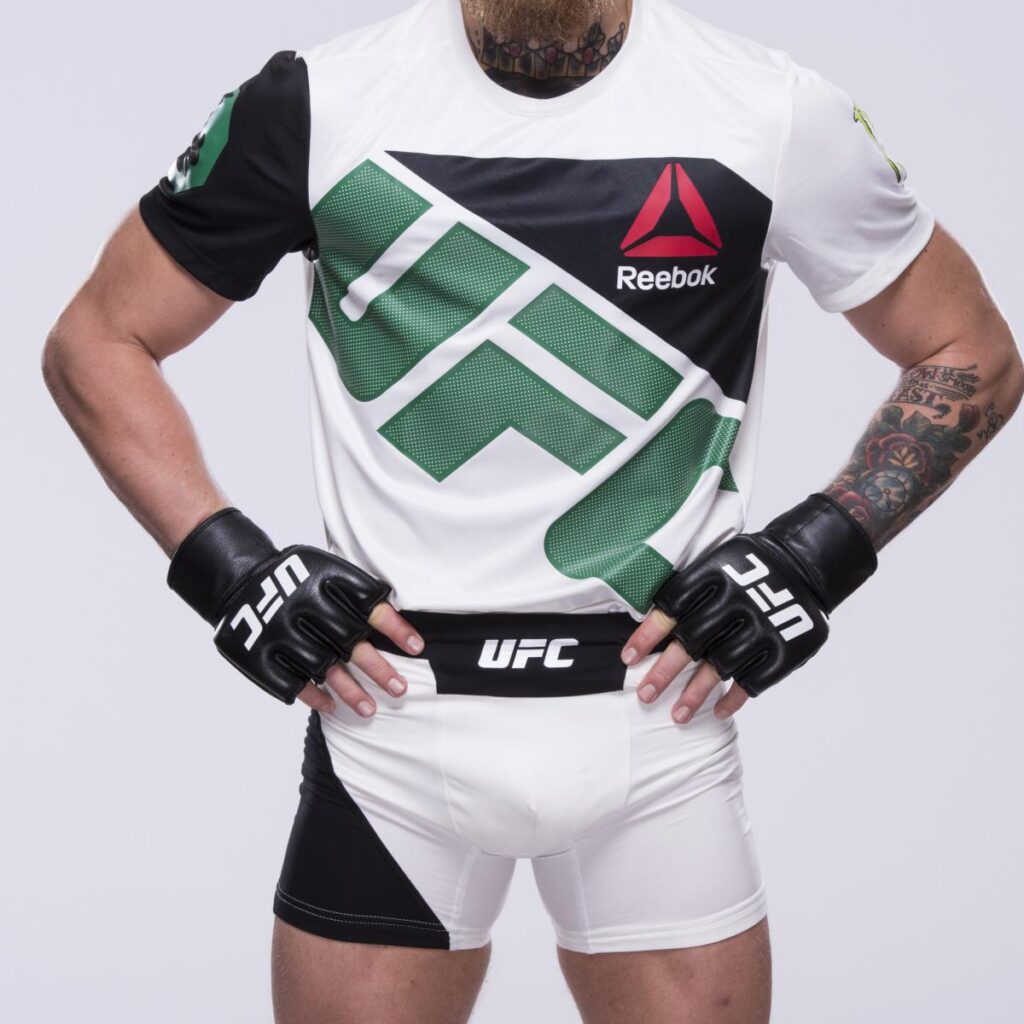 However, the deal did wonders for the brand as some big names such as Conor McGregor, Khabib Nurmagomedov, Jon Jones, and many more appeared in its merch.
Nevertheless, sources do believe the years of relationship with UFC might continue after renewing their contract.
If this happens then, Reebok is set to be more profitable than ever. Similarly, it also has dealt with Spartan Race and Les Mills, increasing their market further.
Enjoy the write about, Top Ten Best UFC Fights of All Time >>
8. Asics
Few brands focus on their quality as well as their design. One of those companies is Asics which has always made sure to release a top-notch product satisfying their consumers.
From the Olympics to local games, athletes worldwide have expressed their gratitude for the brand's reliability under heavy pressure.
Likewise, with multiple colorways and designs out, the brand sales are looking more incredible than ever. Therefore, their revenue was roughly over US$3 billion last year.
Of course, the Japanese brand was also affected by the pandemic, but it is looking to bounce back this year.
Indeed, they would profit more if they looked into international sponsorship with different companies. However, they also have profited from deals with Japanese companies.
7. Columbia Sportswear
Columbia sportswear is one of the earliest brands in the sportswear business out there. It is trendy amongst trail runner athletes who prefer durable products.
Also, it is pretty famous amongst hikers who travel through different weather. Therefore, they have made sure to provide a premium quality product that satisfies their customer.
Further, this brand has mastered their product to be affordable on the market, compared to more prominent brands. As a result, they had a revenue of approximately US$2.5 billion last year.
Hence, you can imagine why Columbian Sportswear's demand is rising every few years. For anyone looking to add that durable product to their sportswear wardrobe, Columbia is an excellent option.
6. Li-Ning
Li-Ning has always been a significant brand in South Asia. For example, they were the brand that sponsored the 2008 Summer Olympics held in Beijing, China.
Further, it got significant international recognition after signing former NBA star Dwyane Wade and other NBA players.
As a result, with eye-catching apparel, they have seemingly made a place in the international market as well.
Moreover, the hype began to build up when the Li-Ning sneakers were featured at the York Fashion Week.
Slowly but steadily, they built themselves into a mega-brand with a revenue of US$2.2 billion.
Don't forget to check out about The 20 Most Expensive Sneakers Ever Made >>
5. New Balance
One might argue that the New Balance design kind of looks outdated. However, that would be an understatement as they are the brand that understands the generation gap.
As a result, from grandpas to grandchildren, they offer designs and colorways suited for every generation. Likewise, they might be the only brand smart enough to do so.
No doubt why the company had revenue of US $4.4 billion last year. Kudos to their clever marketing strategies, which have earned them global net sales of US$163.6 million.
Further, they announced a multi-year deal with the NBA and one of its players Kawhi Leonard. This signing looks prominent as New Balance would be featured on national TV.
Similarly, they have also made their presence felt in other sports like MBL by signing a multi-year sponsorship deal with New York Mets.
4. Under Armour
If you're a Steph Curry or The Rocks fan, then you know how big the US sportswear brand is. There is no denying how rapid their growth has been in the past few years.
Under Armour, out of nowhere, entered the big leagues after signing Curry as their signature athlete. As a result, their revenue was over US$4.5 billion last year.
Likewise, with prominent personalities such as Dwayne Johnson joining the party, the US brand has grabbed the youth's attention.
As a result, they will surely catch up to the big bulls that run the sports industries. Moreover, their focus as of now is associating big names with their brand.
However, they are also looking into providing unique looks to their products. A good example would be A$AP Rocky's Osiris D3-indebted SRLo that has a unique and bulky look.
3. Puma
Another German-based big sports brand is Puma that is in equal competition with Adidas. Not only that, it is growing faster than Nike or Adidas in North American.
However, Puma might not ever be able to out shadow Nike, but they sure have made their presence felt in the sports market.
Further, with an approximate revenue of over US$6.4 billion in the previous financial year, they are looking to grow even more.
Moreover, Puma owes its sparkling success to most of its collaboration and its cross vintage looks.
Likewise, it was a dominating figure in the late '80s in places such as the NBA, now famous for Nike sportswear, a ruling ground for Puma sportswear.
Hence, this is the reason why the vintage look is gaining so much attraction. On top of that, athletes such as Usain Bolt and pop-star Rihana represent the brand.
2. Adidas
The three stripes brand is the second-largest sportswear manufacturing company in the world. Their distinct style has made a successful path in the athletic community.
Further, with an approximate revenue of over US$22.6 billion, the German brand has given a tough battle for other companies to remain on top of the market.
Moreover, their roots are so grounded that they even produce balls for FIFA World Cup, Olympic Games, and UEFA Championship League.
The Adidas product, such as their shoes, might look lighter compared to others. But make no mistake, they are top-notch when it comes to supporting your feet.
As a result, multiple athletes such as Derrick Rose, James Harden, Justin Rose, Sidney Crosby, and others represent this brand.
Similarly, with Kanye West's YEEZY production, Adidas has seen a significant uplift in its market.
1. Nike
It was pretty obvious where the list would end when the conversation was about the top sports brand. It's pretty self-explanatory as we see Nike's products in everything.
From football, basketball to tennis and every other sport has known, Nike's products have ruled thoroughly.
Further, with the variety of designs offered and its inspiring phrase of 'Just Do It,' Nike is the foremost customer choice worldwide.
Similarly, the quality has never seemed to be decorated in such a long time—no doubt why Nike is the leading sports brand in every location on the planet.
Moreover, with an approximate revenue of over US$38.5 billion, there is just no closing the gap for any other companies.
Also, with a vast diversity of athletes such as LeBron James, Rafael Nadal, Tiger Woods, Mo Farah, and many more representing the brand, it is the most influential brand.
Likewise, with designs, in particular, the Air Jordan, Nike Air Force, and Tailmax have entirely dominated the sports world.
Furthermore, this brand's product is all over Amazon, from where one can easily find premium quality products.
You might be interested in The Top Ten Best Nike Shoes >>
Conclusion
Sportswear is the new trendy thing everyone is wearing, from the gym to games or even casual days; sportswear is the go-to clothes.
Significantly, these 13 top sportswear brands who had remarkably maintained a good reputation worldwide are in high demand.
Consequently, most of them have created a dominant dynasty that will never be dethroned.