It's not common for athletes to earn several nicknames during their playing career. Few athletes are more popular with their nicknames rather than being known by their real names.
For example, Kobe Bryant is popularly known by his nickname Black Mamba, Diego Maradona was called the golden boy, etc. However, few athletes legally changed their names.
These athletes are well-known by the names they legally changed into rather than the ones they were born with. So you might say, "What's in the name?" But, of course, people take this a little more seriously when you are famous.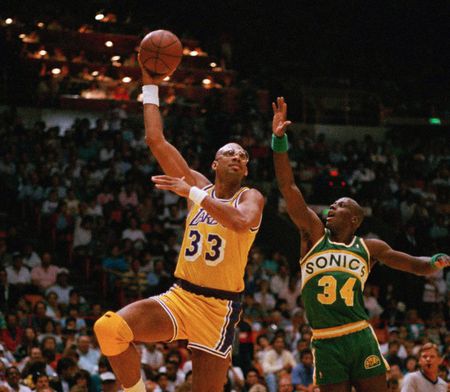 While several changed their names to increase their popularity, some changed for religious reasons. Similarly, few athletes changed their names just found the name catchy.
Whatever might be the reason, today, we have compiled the list of some who have changed their names and have the best athlete names.
8 Best Athlete Who Are Known by Different Names
We have come up with this list with the help of internet sources like the SportzBusiness, SportsAspire, etc. Let us look at our rankings.
| | |
| --- | --- |
| Athletes Names | Sports |
| 8. World B. Free | Basketball |
| 7. Marvelous Marvin Hagler | Boxing |
| 6. Sugar Ray Robinson | Boxing |
| 5. Bo Jackson | Baseball |
| 4. Mark Super Duper | Football |
| 3. Kareem Abdul-Jabbar | Basketball |
| 2. Pele | Soccer |
| 1. Muhammad Ali | Boxing |
8. World B. Free
We are starting our list with World B. Free on our number 8 of the best athlete names. Born on December 9, 1953, he was born Lloyd Bernard Free. He is a retired basketball player who played in the NBA.
Free also earned the nickname "Prince of Mid-Air" and "All-World during his career." He started his NBA career with the Philadelphia 76ers in 1975.
After that, he played with other teams like the San Diego Clippers, Golden State Warriors, Cleveland Cavaliers, Miami Tropics, Houston Rockets, and Atlanta Eagles. His career in NBA lasted until 1988.
Free legally transformed his first name to World a day before his 28th birthday on December 8, 1981. The player stated that the name was given to him in junior high at Brownville.
The reason for calling him World was because all-city and all-country were not good enough, and hence, they came up with the nickname "World."
Free became famous with this name. After his retirement as a professional player, the "All-World" became the director of player development and community ambassador for the Philadelphia 76ers.
Do you know about some of the best Muslim athletes of all time? Click here to read about the 13 best Muslim athletes of all time!
7. Marvelous Marvin Hagler
Our number 7 of the best athlete names go to Marvelous Marvin Hagler. Born Marvin Nathaniel Hagler was an American professional boxer and film actor.
Hagler took up boxing in 1969 after he was roughed up on the street by a local boxer. The athlete had to lie about his age, saying he was born in 1952 instead of 1954, as he needed to be 16 to enter the amateur tournaments.
Hagler was nicknamed "Marvelous." However, he was annoyed that the announcers often did not refer to him with the name. Therefore, in 1982, he legally changed his name to "Marvelous Marvin Hagler."
Since then, the fan remembers Hagler with the name. His career spanned from 1973 to 1987 and held the highest knockout percentage of all undisputed middleweight champions.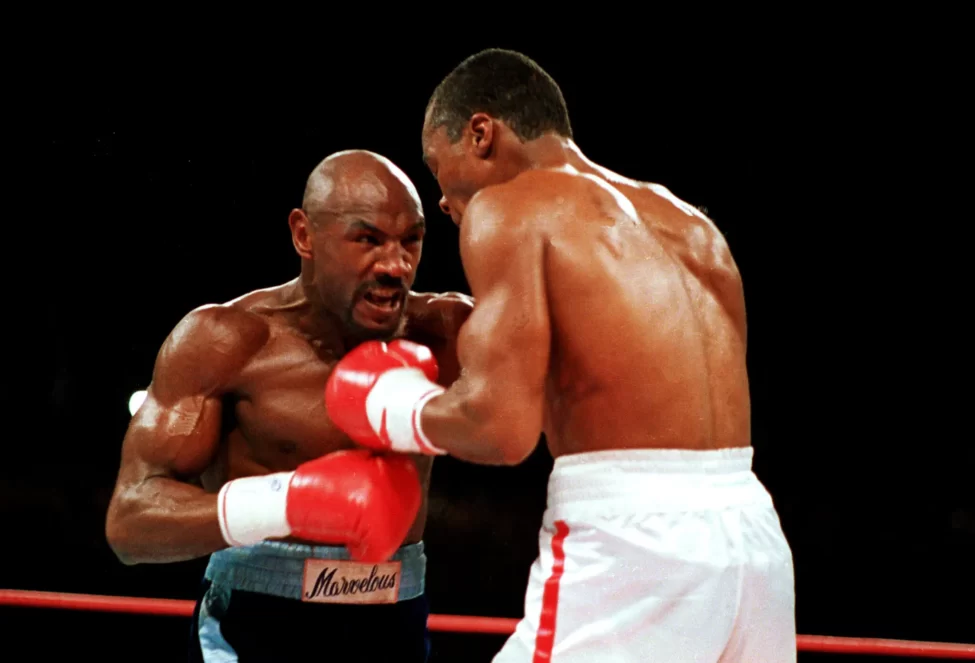 Similarly, the Marvelous also holds the record for the sixth-longest reign as champion in middleweight. In addition, he was both the International Boxing Hall of Famer and the World Boxing Hall of Famer.
Many sports illustrators, magazines, including the Boxing Writers Association of America, named Hagler Fighter of the Year twice.
Such a great boxer with talent and with one of the most chins in boxing history, Marvelous Marvin Hagler left the world at the age of 66 on March 13, 2021.
6. Sugar Ray Robinson
Born as Walker Smith Jr., we have the famous Sugar Ray Robinson on our number 6 of the best athlete names. He was born on May 3, 1921. Robinson is a former American professional boxer.
He was called Ray Robinson in the first bout of his career in 1936 as he had borrowed somebody else's Amateur Athletic Union card of another boxer.
He used that boxer's name to enter the ring. Then Robinson earned the nickname "Sugar" from Gainford, who described him as "sweet as sugar."
The athlete found the name Sugar Ray Robinson had a nice ring to it. So naturally, he never used his birth name for the rest of his career.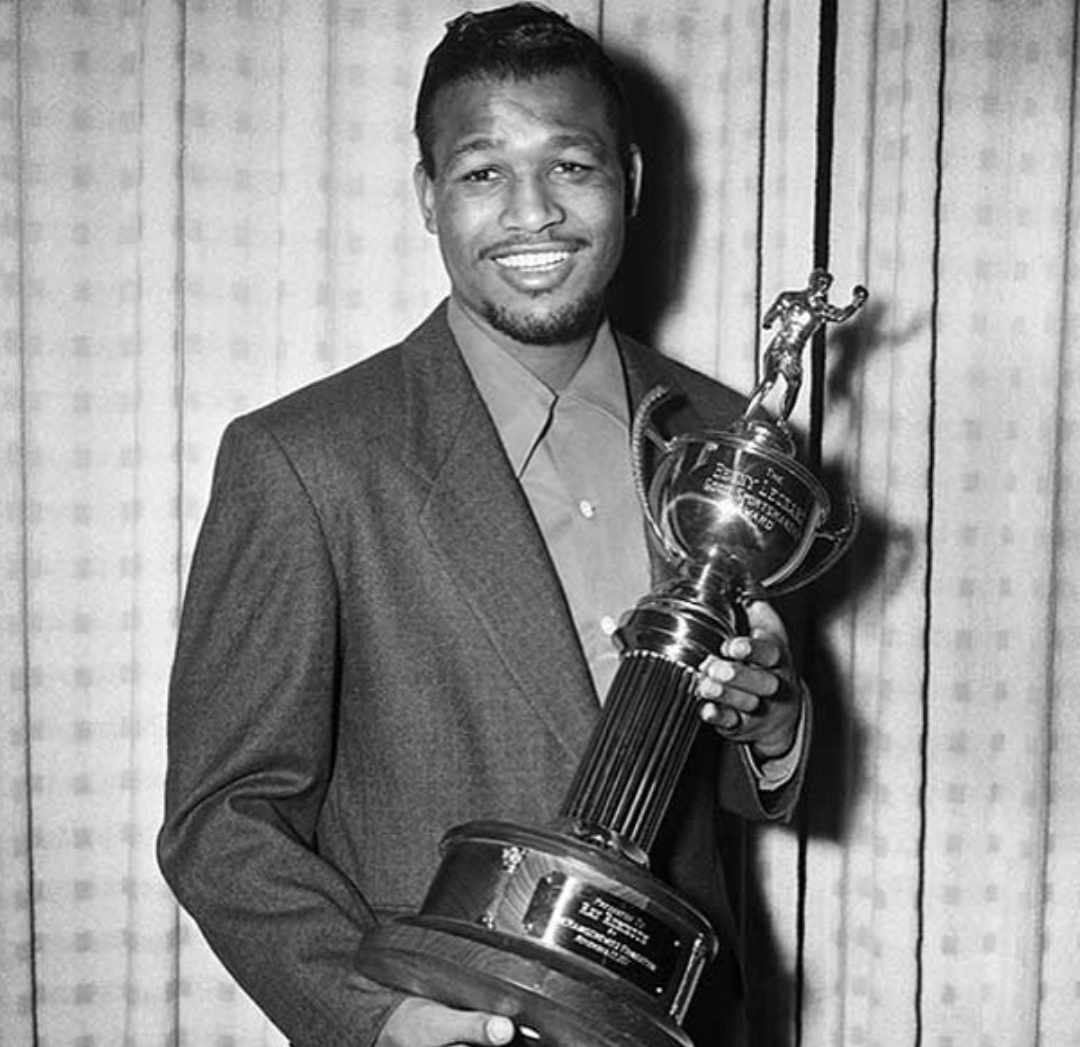 Robinson is regarded as the most prominent boxer of all time. His professional career spanned from 1940 to 1965. During his career, he retained the World Welterweight title from 1946 to 1951.
Similarly, he became the first boxer to win a Divisional World Championship five times in 1958. He amassed 175 wins, 110 knockouts, and only 19 losses in his professional career.
Aside from his catchy name, Robinson was famous for his classy and flamboyant lifestyle outside the ring. Unfortunately, the legendary boxer passed away at age 67 on April 12, 1989.
There are also many good-looking athletes in the sports world. Click here to read about the 15 best-looking male athletes in the World!
5. Bo Jackson
Bo Jackson is a former professional baseball and football player. He is the only professional athlete in sports history who became an All-Star in baseball and football.
He was born Vincent Edward "Bo" Jackson on November 30, 1962. Jackson played both baseball and football. Moreover, he became renowned in both sports and achieved multiple recognitions.
Jackson became popular as "Bo," thanks to a hugely successful national advertising campaign with Nike. The advertisement featured Jackson with the motto "Bo Knows."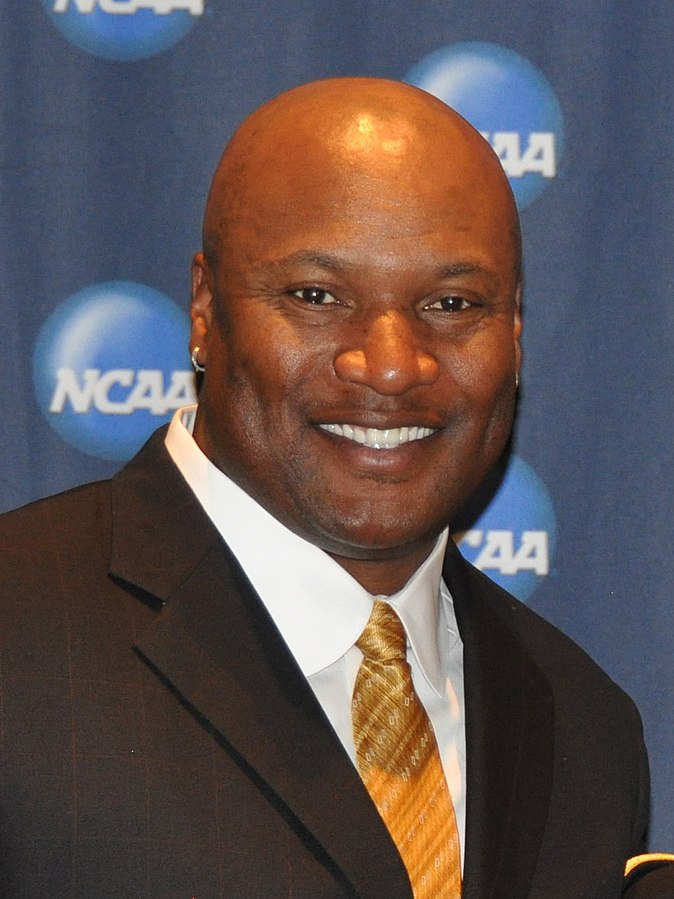 Bo played baseball for various MLB franchises like the Kansas City Riyals, Chicago White Sox, and California Angels. Likewise, he played for the NFL's franchise Los Angeles Raiders.
In 1991, Jackson suffered a hip injury which ended his football career. And later, in 1994, his baseball career also came to an end. After his playing career, Bo made small appearances on T.V. Shows.
Jackson is considered one of the most prominent athletes of all time. He is popular worldwide as "Bo Jackson" and is our number 5 on the best athlete names.
4. Mark Super Duper
Nobody thinks of it as someone's legal name when one hears Super Duper. However, on our number 4 of the best athlete names we have is a former football wider receiver named Mark Super Duper.
He was born Mark Kirby Duper on January 25, 1959. He played in NFL from 1982 to 1992 after the Miami Dolphins drafted him in the 2nd round of the 1982 NFL draft.
Duper played 11 seasons in the NFL, all of whom he spent with the Dolphins. Then in 1994, the Miami Hooter (now Florida Bobcats) of Arena Football League (AFL) signed him for a year.
In 1985, Duper legally changed his name to Mark Super Duper. He had earned the nickname "Super Duper" from his teammates for his incredible skills. He officially changed his name with his selection to the Pro Bowl.
Super Duper earned Pro Bowl three times and All-Pro two times during his career. Likewise, when it comes to the athletes known by different names, Mark Super Duper's name is one of the most unique.
In 2003, Duper was inducted into the Miami Dolphins Honor Roll.
3. Kareem Abdul-Jabbar
Kareem Abdul-Jabbar was born Ferdinand Lewis Alcindor Jr. He is called one of the greatest basketball players and one of the best players in NBA history.
Abdul-Jabbar changed his name legally before starting his career in NBA. In the summer of 1968, the player was in his college at UCLA. There Alcindor Jr. converted his religion to Islam. Then he took the Arabic name, Kareem Abdul-Jabbar.
His name translates into "noble one, servant of Almighty." However, Abdul-Jabbar did not make his name public right away and was still known by his old name during his rookie year.
In his second season in NBA, Abdul-Jabbar released his name in a press conference. Abdul-Jabbar was playing for the Milwaukee Bucks at the time.
After the news broke, his fans were still supportive of him. He played with the Bucks until 1975, after which he signed with the Los Angeles Laker. He retired from the NBA in 1989, but he still holds many records.
After retiring from his playing career, Abdul-Jabbar transitioned to a coaching career. In 1995, he became the Naismith Memorial Basketball Hall of Famer.
2. Pele
On our number 2 of the best athlete names is Pele. He was born Edson Arantes do Nascimento on October 23, 1940. He is a former Brazilian soccer player regarded as one of the greatest players of all time.
When Pele was born, electricity had just been introduced in his hometown. Thus, he was named after Thomas Edison. Pele was his nickname before he became renowned by this name.
According to the legend, the nickname is linked to a teammate goalkeeper Bile of his father when he played for Vasco de Sao Lourenco.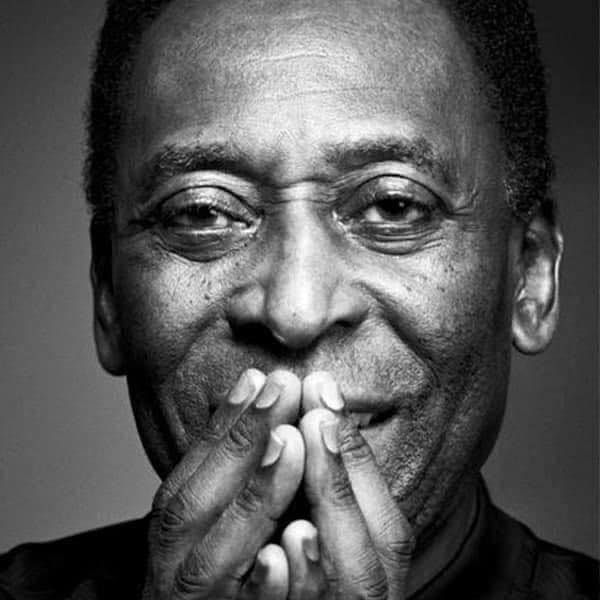 When Pele shouted Bile, it sounded Pile due to his slightly off pronunciation. Then afterward, it became Pele. Although he wasn't fond of the name initially, he later embraced it.
Pele is one of the most successful and popular sports figures of the 20th century. He was 15 when he started playing soccer for the Brazilian sports club Santos. Similarly, he started playing for the national team at 16.
Pele has gathered many achievements during his career. His 1,279 goals in 1,363 games are the Guinness World Record. He became a legend with a nickname that he initially hated.
One of the styling aspects for the NBA players is their hair. Read here about the 12 players with the best hair in the NBA!
1. Muhammad Ali
Muhammad Ali is a world-renowned athlete and a legendary figure in sports history. The boxer is one of the most significant, celebrated sports figures of the 20th century and, thus, on our number 1 spot.
On January 17, 1942, Ali was born Cassius Marcellus Clay Jr. He started his boxing career as an amateur in 1954 while he made his professional debut in 1960 against Tunney Hunsaker.
In 1961, Ali converted his religion to Islam and changed his name. During the era, America was infested with racism. The boxer's eyes fell on an article with a cartoon message where Christianity was forced on enslaved people by the white establishment.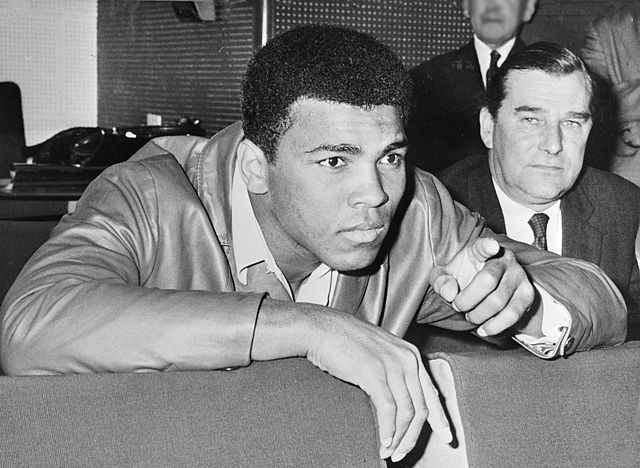 It made Ali realize that he had not chosen his religion Christianity on his own, and thus, he changed his religion. The boxer renounced his birth name as a slave name.
The change in his religion defined Ali's career and legacy in many different ways. Then, he announced the change right after winning the heavyweight championship. Likewise, he also made a personal declaration of independence.
Ali played many historic matches during his career. He became an iconic symbol for American Muslims. After his retirement, he became a philanthropist and an activist.
Unfortunately, this legendary icon passed away at the age of 74 on June 3, 2016.
Conclusion
These players changed their names for various reasons. Furthermore, they have become famous with their later names, and thus, the World has also come to know them with these different names.
Whatever the reason, we feel like they have the best athletes' names in the sports world.