The NBA has been around since 1946; plenty of great players have played and retired since then. Hence, today we will be talking about the best retired NBA players.
The NBA is a huge hub of great athletes. More than 4509 players have been a part of an NBA roster. Therefore, it is always hard to rank players based on huge numbers.
Since the style of play keeps evolving in each generation, comparison between multiple eras becomes tougher.
For instance, today's game style is dominated by shooters, whereas a few years back, centers dominated the game.
Therefore, comparing and ranking the best players is hard with all these different sets of skills, IQ, athleticism, and play style, even for the retired NBA players.
However, this article consists of players based on each year. Henceforth, without further due, let's quickly look at the name.
13 Best Retired NBA Players
The players mentioned below are assembled based on their success throughout their NBA careers. Most of them are collected from Nba.com, ranker.com, and bleacherreport.com.

Furthermore, before jumping into the details about the top 13 best retired NBA players, let's quickly view the names present in the list.
| | | |
| --- | --- | --- |
| NBA Players | Retired Year | Final Team |
| 13. Paul Pierce | 2017 | Los Angeles Clippers |
| 12. Ray Allen | 2014 | Miami Heat |
| 11. Steve Nash | 2015 | Los Angeles Lakers |
| 10. Vince Carter | 2020 | Atlanta Hawks |
| 9. Dwyane Wade | 2019 | Miami Heat |
| 8. Tracy McGrady | 2013 | San Antonio Spurs |
| 7. Kevin Garnett | 2016 | Minnesota Timberwolves |
| 6. Dirk Nowitzki | 2019 | Dallas Mavericks |
| 5. Allen Iverson | 2011 | Philadelphia 76ers |
| 4. Tim Duncan | 2016 | San Antonio Spurs |
| 3. Shaquille O'Neal | 2011 | Boston Celtics |
| 2. Kobe Bryant | 2016 | Los Angeles Lakers |
| 1. Michael Jordan | 2003 | Washington Wizards |
13. Paul Pierce
"The Truth" really asserted its dominance in the early 2000s. With the Boston Celtics, he recreated a championship-caliber team.
Kevin Garnett, Rajon Rand, Ray Allen, and himself created a super team. They had huge success with the roster, but their time ran out faster than expected.
As a result, Pierce only won one championship with the Boston Celtics in 2008. Likewise, he also got the final MVP award due to his outstanding performance.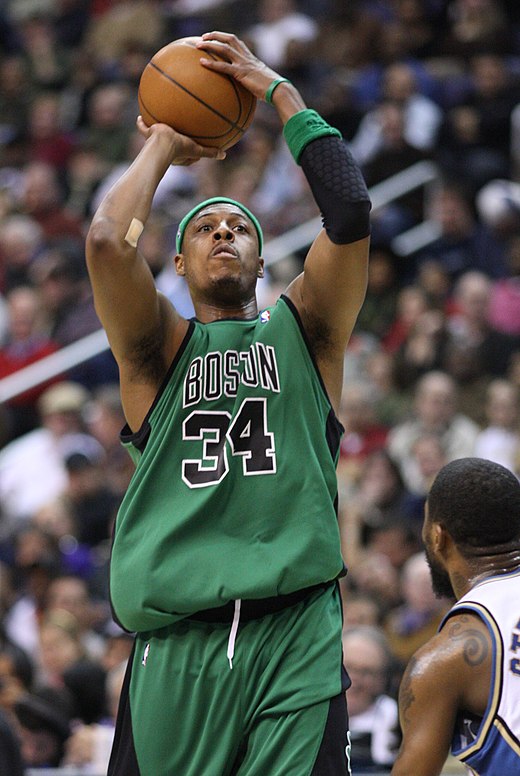 Moreover, the small forward was all about buckets. He led the Boston team in scoring and free throws made during his 15-year career with the team.
Similarly, he is one of three Celtics athletes who scored more than 20,000 career points. The rest two are Larry Bird and John Havlicek.
Besides that, he also played for the Brooklyn Nets, Washington Wizards, and the Los Angeles Clippers. Further, he is a ten-time All-Star and member of the NBA 75th Anniversary Team.
Get on 6 Best Jordans For Wide Feets>>>
12. Ray Allen
Before Steph Curry claimed the thrones on being the best shooter in the league, this title was taken by Allen.
Sugar Ray held the record for most three-pointers made in NBA before Curry broke it in 2021. Nevertheless, he still goes down as one of the greatest shooters.
Allen was an asset for every team. During his prime, he was targeted by almost all teams in the NBA.
However, Ray was very picky about where he wanted to be. Therefore, he only played for some great teams such as Boston, Miami, Milwaukee, and Seattle.
Likewise, he is a two-time NBA champion with Boston and Miami. He is widely famous for his clutch three-point shot to save Miami's playoff run.
Moreover, he had quick success with Kevin Garnett and Paul Pierce in Boston. Nevertheless, they couldn't get over LeBron's Heat after the 2009 season.
Hence, Allen decided to change sides and join the Heats. But unfortunately, this action creates very bad blood between Garnett and Pierce.
Overall, along with being the greatest shooter in the league's history, he is also one of the best retired NBA players.
11. Steve Nash
The current Brooklyn Nets head coach, Steve Nash, once created havoc in the league as a guard. However, he never won a championship in his 19-year career.
Nevertheless, as a consultant to the Golden State Worriers, he won two rings. Further, as a head coach of the nets, he is set to win multiple rings.
Besides that, he is a two-time league MVP and an eight-time NBA All-Star. His final years were with the Lakers, with whom he had created a super team.
Nonetheless, that team miserably failed to make a statement in the league. The team consists of Kobe Bryant, Dwight Howard, Paul Gasol, and Metta World Peace.
All these players made a super team. They had high hopes for the team, but the chemistry wasn't there for them.
Besides that, Nash is considered as the legend of the Suns. Despite Steve not being able to capture the championship, he was close most of the time.
Likewise, he is also one of the most intelligent players in the league. Hence, Nash is also a member of the NBA 75th Anniversary Team.
10. Vince Carter
If longevity had a face, it would look like Vince Carter. But instead, he is the only player in the league for 22 seasons.
Further, he played in the league for four different decades. From 1999 to 2020, Carter put on his jersey and was ready to fight each night.
This comes as a surprise to see him play for such a long time. Even for his body to hold up for such a long period is a miracle.
Despite his long season, he never won an NBA championship or a league MVP award. However, he is well respected across the NBA for his amazing dedication.
Likewise, his famous signature dunks in the 2000 NBA Slam Dunk Contest are still remembered and recreated to this date.
Throughout his career, he played with eight different teams. Further, if his body had not given up on him, he would still be jumping with most young players.
Even in the final phase of Carter's career, Vince was not shy to show his hoops. He still used to rise with the same intensity to dunk as in his early days.
Therefore, Carter ranks high among one the best retired NBA players.
9. Dwyane Wade
The flash modeled the NBA into what we know it to be today. The 90s era was filled with dominating centers and power forwards.
However, people like Wade and Iverson showed that height isn't the only thing required to be great in playing basketball.
Within three years of arriving in the Miami Heat, Wade delivered them with an NBA championship.
While most rookies were figuring out their roles, Wade became the youngest leader for his team. Not to mention, he also won the Finals MVP award.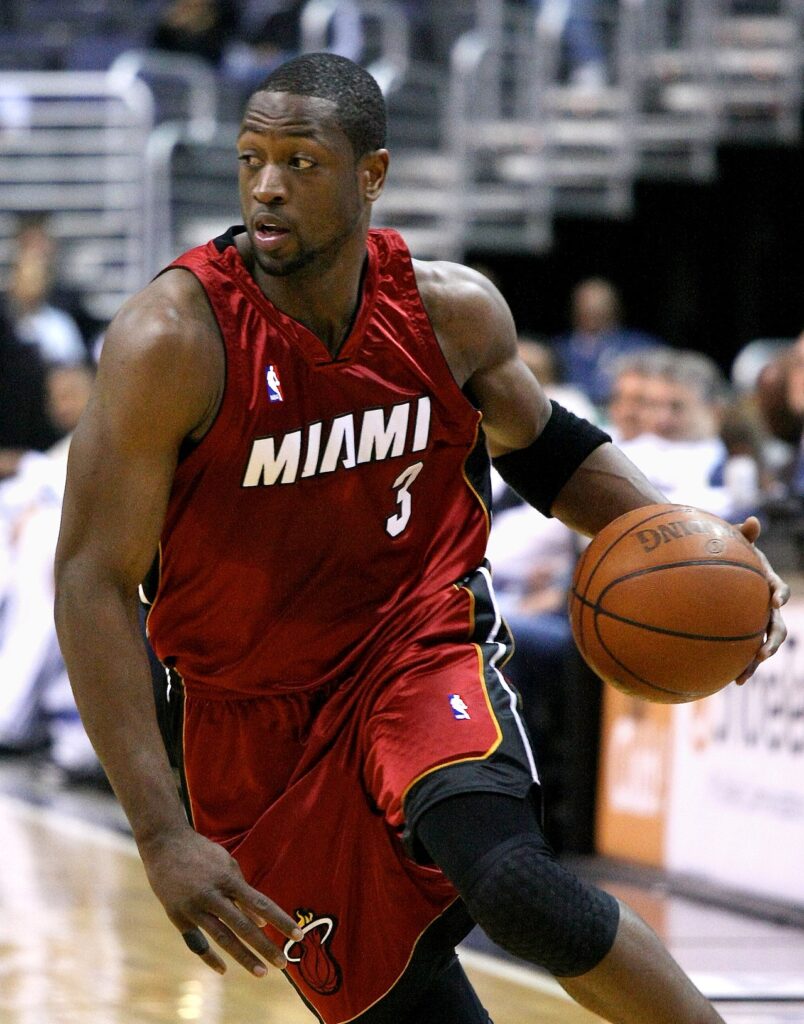 Further, Wade became just the ninth guard in NBA history to have won a Finals MVP. Although the award mostly went to centers or forwards, guards rarely won that award.
Hence, Dwyane winning this award in just three years of being drafted into the league tells a lot about his successful career.
Overall, he is a legend and a huge role model for the Heats. His dedication and hard work have made him a star and one of the best retired NBA players of all time.
8. Tracy McGrady
Talking about the offensive threat in the early 2000s, Tracy McGrady made a list first. He was an enhanced offensive weapon who could score from anywhere.
If he could have only dealt with championships caliber teams, then he would've helped them reach their goal quickly and more efficiently.
Nevertheless, McGrady has solidified his legacy as the greatest shooter. His prime came during his time as a member of Huston Rockets.
He was tearing the league's defense with his offensive skills. He just wouldn't stop scoring, and if you double-teamed him, Tracy's teammate Yao Ming finished the job for him.
However, the playoff-contending Rockets team fell apart due to the lack of good role players and Ming often getting injured.
Further, there were even rumors that Tracy might need up with Kobe's Lakers. But that just remained to be rumor and nothing much.
It would have been epic to see the two best shooters be paired up. Pretty sure they would have been known as the original "Splash Brothers", instead of Klay and Steph of GSW.
7. Kevin Garnett
Garnett has always been known for his hard-fought victories. He was a ferocious competitor who never allowed his opponent to win.
His efforts clearly showed during the regular games where he defensively used to lock a star player. Further, KG used to hold them to fewer points offensively.
Primarily, he was recognized during the Boston Celtics' big 3 eras. The big 3 consists of Rajon Rondo, Paul Pierce, and himself.
With this three-player lineup, they won the 2008 NBA Playoffs. However, after the departure of Ray Allen and the formation of LeBron's Heat team, they were no longer on top.
Nevertheless, they formed another big 3 in the Nets Pierce, himself, and Deron Williams. Also, they had a solid player in the form of Joe Johnson.
However, they could never prevail against the LeBron-led Miami Heat team. Nonetheless, he has done plenty to solidify his career as a great basketballer.
He is a 15 time NBA All-Star, 1-time defensive player of the year, 9-time All-Defensive first team, and 3-time All-Defensive Second Team.
He would give trouble to a lot of active NBA players if he decided to come out of retirement. But, overall, Kevin is one of the best retired NBA players.
Don't forget to check out the Ten Best Power Forwards Ever in NBA >>
6. Dirk Nowitzki
Nowitzki is not only the best European player of all time but also is one of the greatest power forwards of all time.
His signature one-legged shot created more than a revolution in the league. In addition, his 7ft height, paired with his offensive game, makes him the perfect defender.
As a result, prime Nowitzki gave a tough battle to multiple stars in the league. This also wrote the success story in the 2011 playoff, which the Mavericks won.
He doesn't get enough credit for his impressive stretch in the successful playoff. They not only beat Kobe's Lakers but also went on to beat LeBron's Heat.
No one believed they would win as they were the third seat in the West. Also, the three-headed hydras in the form of Heat big 3 were waiting for them in the next conference.
However, they overcame all the odds and beat Miami, winning 4 out of 7 games. But, of course, the credit should also go to his teammates Jason Kidd and many others.
Furthermore, even though he only won one ring, that ring certainly solidified his career to be tagged along with some of the greatest in the business.
Besides that, he acts as a special advisor for the Dallas Mavericks. Similarly, he has a great bond with his fellow European player and an NBA rising star Luka Doncic.
5. Allen Iverson
Allen Iverson born on June 7, 1975, was one of the most polarizing players of the mid-90s. He was a hooping and cross-over machine that led the league in scoring four times.
However, he was a bad defender with his height disadvantage, yet he led the league in steals. All in all, AI was the whole package for an elite point guard.
Despite having all the skills, he never won an NBA championship. His failure in capturing a ring is due to him not having another star-caliber player in his team.
Therefore, Iverson was hung on to do more offensive work himself. At the same time, other teams had many star-caliber players playing together, for instance, Kobe and Shaq for the Lakers or Jordan and Pippen for the Bulls. Hence, he single-handedly couldn't keep up with these elite duos.
As a result, he finished his NBA career without winning a ring. Nevertheless, he won the hearts of his fans with the crazy hands he possessed.
Many fans even called him the "point-god" as his game was at the next level. Likewise, he was a magnet and a fashion icon outside the basketball court.
He is the person who set many trends in the NBA, such as the headbands and wristbands for shooting.
4. Tim Duncan
Tim Duncan is a true Spurs legend who was with the team throughout all hardships and victories. He helped create the Spurs dynasty in three different decades.
In the late 1990s, early 2000s, and mid-2010s, Duncan stuck around long enough to be claimed as the greatest power forwards.
His presence in the game always tipped the favors in his directions. His long stretched arms could stop and score the ball at any given instance.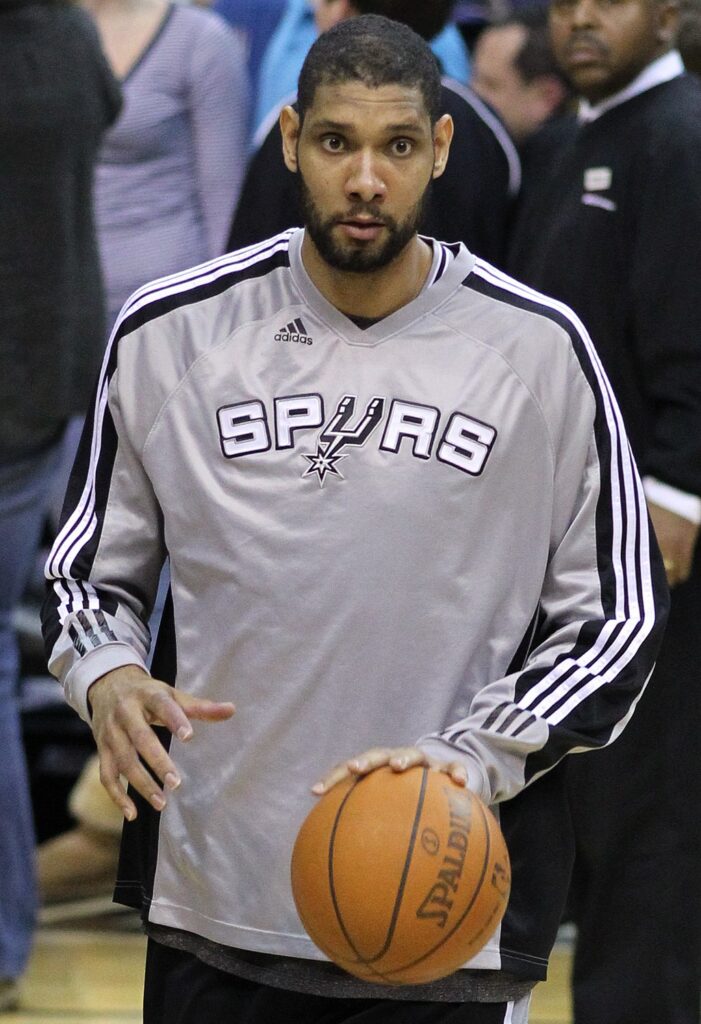 Further, his mid-range game was soo good that no one could stop it. Tim's go-to move was banging the ball off the glass to score.
He was so good at the go-to move that he rarely used to miss. Similarly, being six foot eleven inches tall gave him all the advantages in scoring and stopping the ball.
As a result, he was an eight-time All-NBA Defensive First team and a seven-time All-NBA Defensive second team.
However, his body couldn't keep up after playing 19 seasons with the Spurs. Hence, he retired and came back as an assistant coach for the 2019-2020 season.
3. Shaquille O'Neal
Suppose you've seen Shaq play, then you know how dominating he can be down the post. His size is enough to intermediate his opponents.
In addition to his size, his basketball skills make him one of the most unstoppable players in the league.
Only Yao Ming, the former Huston center, could have matched his size and strength. But, except for Ming, no one could figure out a way to keep Shaq out of the paint.
Hence, his strength and size have been the success story for O'Neal. He is a four-time NBA champion and a three-time finals MVP champion.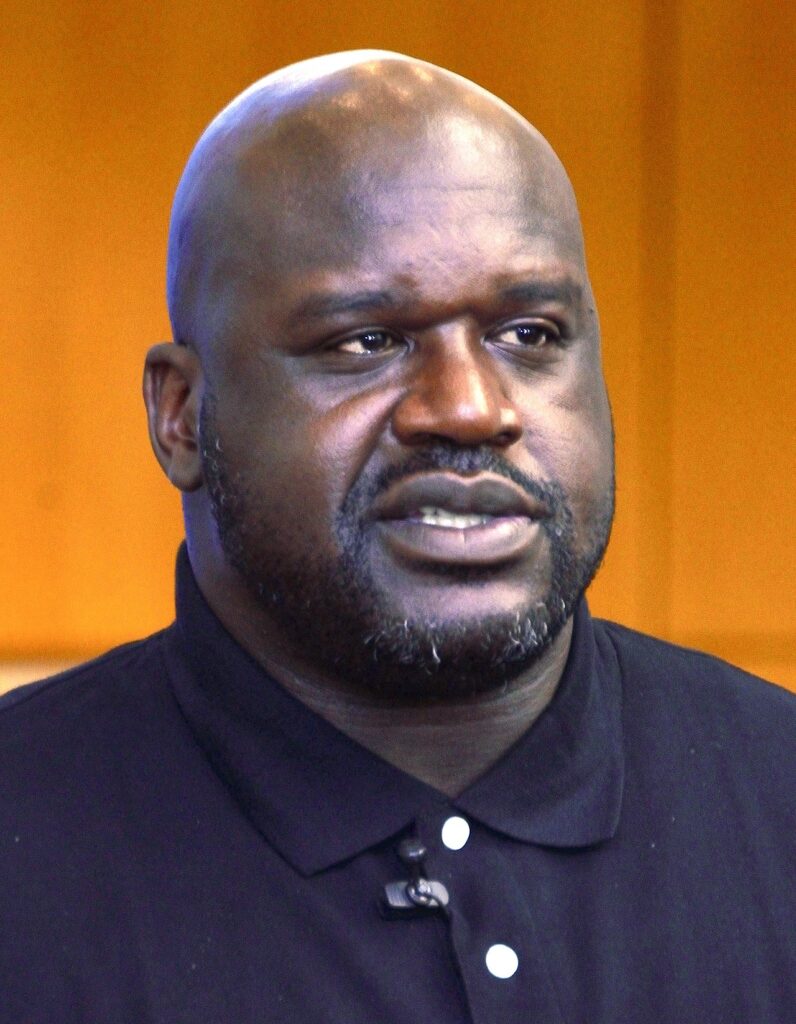 He was the running force of the early 2000s Los Angles Lakers squad. With a young Kobe and an experience yet dominating Shaq, the Lakers three-peated.
Further, each of the times, Shaquille dominated the paint. So even triple-teaming him during the match didn't work.
He just overwhelmed every defender and found out a way to score. Likewise, in the defensive end getting around the huge body of Shaq was impossible for any player.
Even as a retired player, his size is bigger than most of the centers in the league today. He says most of today's centers are soft as they aren't dominant.
Enjoy the write about The 20 Richest NBA Players in the World >>
2. Kobe Bryant
It's sad to live in a world where the great Kobe Bryant doesn't exist. But unfortunately, the NBA will never be the same with the mama mentality.
However, his legacy is continued by numerous emerging basketball stars. Some of them are Devin Booker, Jason Tatum, Kyrie Irving, and many more.
Besides that, retirement is a part of the game which every player has to face in their career. When Kobe had to face retirement, the whole NBA was shell-shocked.
He was a five-time NBA champion and two-time finals MVP. Overall, he was the second greatest shooting guard to play the game of basketball after Jordan.
His competitive spirit and incredible skills made him an instant fan favorite. The entire league praised him for his work ethic.
Nevertheless, no matter how great a player's mentality, their body has a limit. Further, Kobe dealing with multiple injuries knew his body had reached its limit.
Therefore, the 2015-16 season marked Kobe's final basketball season. However, he didn't just retire without putting up a show for his fans.
Hence, he dropped a season-high 60 points against the Utah Jazz in the mamba's season finale. He then said his final words to the entire NBA family, "Mamba Out."
1. Michael Jordan
This goes without saying that Michael Jordan is one of the greatest basketball players. But unfortunately, it has been over two decades since he retired.
However, his name frequently pops up in various conversations relating to basketball. For starters, MJ three-peated the NBA championship twice.
Winning one championship in itself is a difficult task. But, in addition to that, three peating twice take him to another level.
Not to mention, his 6 Finals MVP shows how much of a difference-maker he is. However, no matter how good a player one is, they always have to retire.
Nonetheless, no one expected Jordan to retire so early. His first retirement came in 1994 after some carjacker killed his father.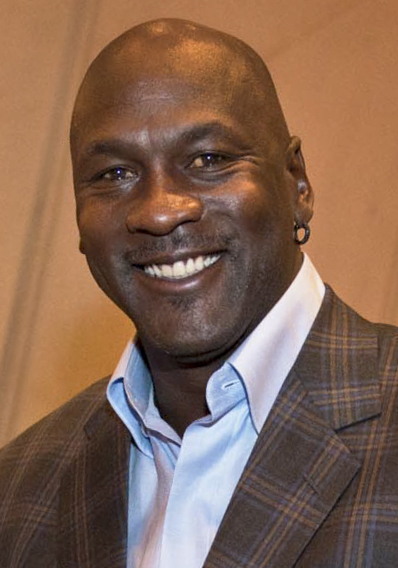 Michael's father always dreamt of his son playing Major League Baseball. Therefore, after his death, Jordan decided to honor his wish and pursue baseball.
He joined the Chicago White Sox of the Minor League Baseball. Nevertheless, the dream got cut short as the Bulls failed to make the 1994-45 playoffs.
Further, his second retirement came in 1999. After that, MJ decided to come back to the NBA as part-owner and president of basketball operations for the Washington Wizards.
He spent one year with the Wizards after announcing his comeback with his new team. However, injuries to the best of Jordan as he only played 60 games.
Therefore, he finally decided to retire for good. Nonetheless, he will always be one of the best-retired NBA players.
Conclusion
The players mentioned above may be way past their prime. However, greatness isn't defined by the longevity of one prime.
Greatness is defined by the career each of these athletes had. No matter if they haven't won a ring, they have created a legacy that will forever be remembered.
Hence, let us cherish and respect these 13 best retired NBA players for their wonderful dedication and hard work.