Who are the major athletes in the world right now?!
Has the question ever crossed your mind? Well, you just came at the right place to start. In this article, you will read about the twelve major athletes in the world at the moment.
First, let the word athlete knows. The word "athlete" is defined as a proficient person in sports and other forms of physical exercise.
For that reason, we have taken five aspects such as strength, speed, agility, endurance, and hand-eye coordination to categorize our athletes. In addition, we have tried hard to include athletes from each sport as far as possible.
12 Major Athletes in the World Right Now
The athletes from a different sport and falling into the above-mentioned factors are listed as below:-
12. Caeleb Dressel (Swimming)
Caeleb Dressel is an American swimmer and a two-time Olympic gold medalist. He has specialized in two styles of swimming stroke being Front Crawl (freestyle) and Butterfly.
In Rio 2016 Olympics (first Olympics), he swam in the Men's 4X100 m Freestyle Relay final alongside Michael Phelps, Ryan Held, and Nathan Adrian and won a gold medal for the USA that year.
At the 2017 World Championships, Dressel landed a record-equaling seven gold medals tying a record set by a swimming legend.
Similarly, in the 2019 World Aquatics Championships, he won a record-breaking total of eight medals.
Equally, he holds the world records in 100-meter butterfly both long and short course.
11. Connor McDavid (Ice Hockey)
Canadian professional ice hockey player Connor McDavid is considerably one of the major athletes in the world right now.
The combination of speed, playmaking, and goal-scoring along the I.Q. of hockey makes him the major athlete in the current scenario.
Likewise, he is the best player to come into the league in the last 30 years, along with Mario Lemieux, Sidney Crosby, and Wayne Gretzky in 2015.
10. Simone Biles (Gymnastics)
The daring, skilled, and powerful Simone Biles is considered the best gymnast in history. The young woman entered the sport in the year 2013.
Winner of six Olympic medals (four gold, one bronze) at the 2016 Olympic Games in Rio and one silver medal at Tokyo 2020 Olympic, and twenty-five World Championship medals(nineteen gold medals), the gem remains a dominant field of gymnasts.
In addition, Biles is also a seven-time U.S. national rounds champion and the first woman to win five World all-around titles, three world balance beam titles, five world floor exercise titles, and two-time world vault titles.
Simone holds high resistance in the game.
Fours skills named after her are Double layout with half twist (floor), Double backflip, triple twist(Biles floor), Double twisting, double backflip dismount (Balance beam), and Yurchenko half-on with two twists (Vault).
The young gymnast hasn't lost a major competition since her debut in 2013, until now at Tokyo Olympic (2021/07/27).
Due to her mental health, she struggled to land her dismount on vault and dropped out of the U.S. team gymnastics finals. Nevertheless, Biles has received love and support from her fans all around the world.
9. Rafael Nadal (Tennis)
When the best tennis player is the talk of the town, Novak Djokovic, Rodger Federer, and Serena are the unmissed names ever.
However, considering athleticism in tennis, the only name that rules the category is Rafael Nadal.
Rafael Nadal, regarded as the greatest clay-court player of all time, proves enough for his grit, mental focus, and endurance. In addition, he holds an incredible win record of 92 percentages.
With the recent advances in fitness levels, athletes have become more agile than ever before. Saying that Rafael Nadal, King of clay, will remain one of the major athletes in the world.
8. Roman Reigns (Wrestling)
Roman Reigns is defined to be one of the strongest and unbeatable wrestlers of the current WWE era.
The three-time WWE Championship and two-time Universal Championship owner hold the record for eliminating the highest number of wrestlers ever, in a single Royal Rumble match (2014).
In addition, he has lifted several powerful wrestlers like Big Show, Kane, Braun Strowman, Undertaker, and many more for a Samoan drop(a professional wrestling move).
Reigns are equally known for his powerful wrestling move, proving his legacy in the professional wrestling industry.
7. Tyson Luke Fury (Boxing)
Tyson Luke Fury from Britain is the top and best heavyweight boxer in the world in 2021.
Heavyweight boxing is one of the popular sports admired and loved by many. It is one of the tough sports which include incredible endurance and strength along with durability.
Tyson Fury debuted as a professional boxer from the year 2008.
By 2009 he became English Heavyweight Champion. In 2015, he earned worldwide fame and became the WBA (Super), IBO, WBO, and IBF Heavyweight Champion, defeating Wladimir Klitschko.
However, Tyson took a three-year break off the ring due to depression. Later, Tyson came strong as ever in 2018. The year 2019 bagged him two wins and a title, defeating the Deontary Wilder.
6. Tom Brady (American Football)
Tom Brady is undoubted, one of the most accomplished players in sports history. Still, at 43 years of age, Brady shows great performance in every game.
Brady is the perfect example of proper hand-eye coordination.
As a quarterback, Brady exhibits tremendous passing motion-revolving around techniques and extreme coordination. Aligned to this, his footwork, arm strength, touch on football is just perfect.
In addition, he's faster in the 40 dashes having good balance and space awareness.
Brady is the winner of seven Super Bowl victories. He is named Super Bowl Most Valuable Player five times and won the NFL MVP award three times.
In addition, Brady holds the record for the most regular-season wins (230) and playoffs wins (34).
Some may disagree with Tom Brady being called a major athlete at the age he is now. The group mainly defines graceful, agile, body control, speed, strength, and reflex as athleticism.
However, one of the other major factors, i.e., hand-eye coordination, is inseparable that defines this athlete.
5. Cristiano Ronaldo (Football)
Athleticism for a footballer depends on stamina, strength, and finesse alongside physique and speed.
Using this factor mentioned above, Cristiano Ronaldo beats all other footballers on the planet regarding athleticism.
The real Madrid superstar Cristiano Ronaldo is the perfect combination of power, speed, and agility.
Not only this, but he is better known for his finishing ability, powerful long shot, and leadership, together with his dedication.
With 674 clubs goals, 5 Ballond'Or awards, two best FIFA men's player awards, 4 European gold shoes, and fur league player of the year title, CR7 best fits this list.
4. LeBron James (Basketball)
Can this list even be complete without LeBron James? He is a pure and major athlete of the present time in the world, hands down!
From an athletic point of view, James has no weaknesses. On the contrary, he is the perfect combination of size, strength, speed-agility, endurance, body control, the vertical leap we have ever seen.
As an American professional basketball player, James started his career in 2003. From 2018 till the time he plays for the L.A. Lakers of NBA. He is frequently compared to Michael Jordan.
Also, James is the only player to win the NBA championship with three franchises as NBA Finals.
3. Thomas Joshep Reid (T.J. Reid) (Hurling)
TJ Reid is an Irish hurler who started as a regular player in 2010. He currently plays as a right-wing-forward for the Kilkenny senior team.
He has won four All-Ireland winners' medals, three Leinster winners' and two National League winners' medals. Last but not least, he also has ended up as an All-Ireland runner-up on one occasion.
Reid belongs to the sport where hand-eye coordination and toughness counts.
The Irish superstar hurler holds incredible strength alongside great anticipation skills.
2. Jon Jones (MMA)
Jon Jones, the dominant athlete to the MMA (Mixed Martial Arts) ground, obtains the second position in today's list of major athletes worldwide.
MMA sport is a platform to exhibit one's physical strength, speed, endurance, and coordination. Therefore, this is no surprise Jones falls to the list.
Jones has won the light heavyweight title in 2011 and held the same for nine years. In addition to this, he has won UFC record 14 title fights, not losing any fight since 2009.
In 2020, he decided to move up to the heavyweight division. He last fought on Feb 8, 2020, securing his third consecutive light heavyweight title defense against Dominick Reyes.
1. Kevin Mayer (Decathlon)
Kevin Mayer is a French athlete who belongs to decathlon sport.
Decathlon is a two-day sports event that consists of ten track and field events. The sport is extremely physically demanding and time evaluating.
For this reason, the decathletes are considered to be major athletes in the world.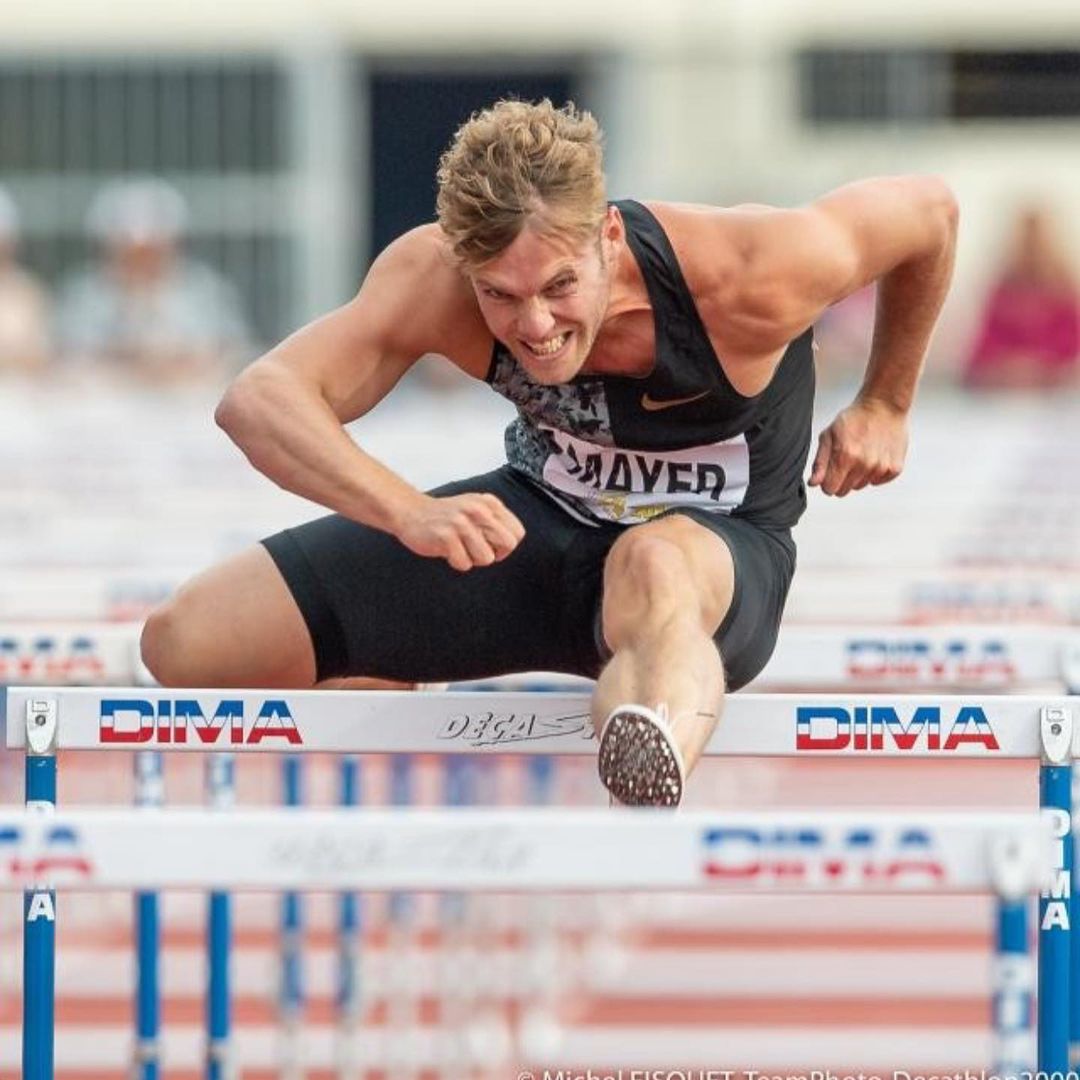 Applying the same, Kevin Mayer tops our today's list. He is the perfect combination of brain and physique fits just right in the list as the top first of the major athletes of the world.
Mayer has been the world champion in 2017, 2016 Rio Olympics silver medalist, and a world holder in the decathlon.
With 9,126 points set during the 2018 Decastar, Kevin Mayer of France holds the current decathlon world records. The record is approved by the International Association of Athletics Federations (IAAF).
However, his Achilles tendon injury didn't allow this champ to compete further in the 2019 World Championship in Doha, where he retired midway through the pole vault (7th event in decathlon).
Nevertheless, being injury-free lately, Mayer has now secured qualification for the Tokyo 2020 Game in 2021.
Kelvin is the most popular athlete and role model status to many upcoming athletes.
Honorable Mentions
Besides the athletes listed above, some other athletes have proven to be influential and important. Here are some of the honorable mentions on our list.
Muhammad Ali (American pro boxer),
Pele (Footballer),
Michael (Basketball player),
Jess Owens (track and field athlete),
Usain Bolt (Track and Field),
Serena Williams (Tennis),
Mike Tyson (Boxing),
Bruce Lee (Martial artist),
Jim Brown (American Football),
Bo Jackson (Baseball and Football),
Jim Thorpe (Football).
Conclusion
To be best at games and to stand as an athlete are poles apart things. One may be a GOAT, but athleticism is not about being greatest but exhibiting the athletic traits whenever one is at the games.
However, limiting the list to just twelve, we tried to mention the foremost major athletes of 2021.
We hope you all enjoyed our today's list.